MLB.com Columnist
Roger Schlueter
Stats of the Day: Price cashes in on road
Blue Jays lefty improves to 11-2 with 2.05 ERA away from home this year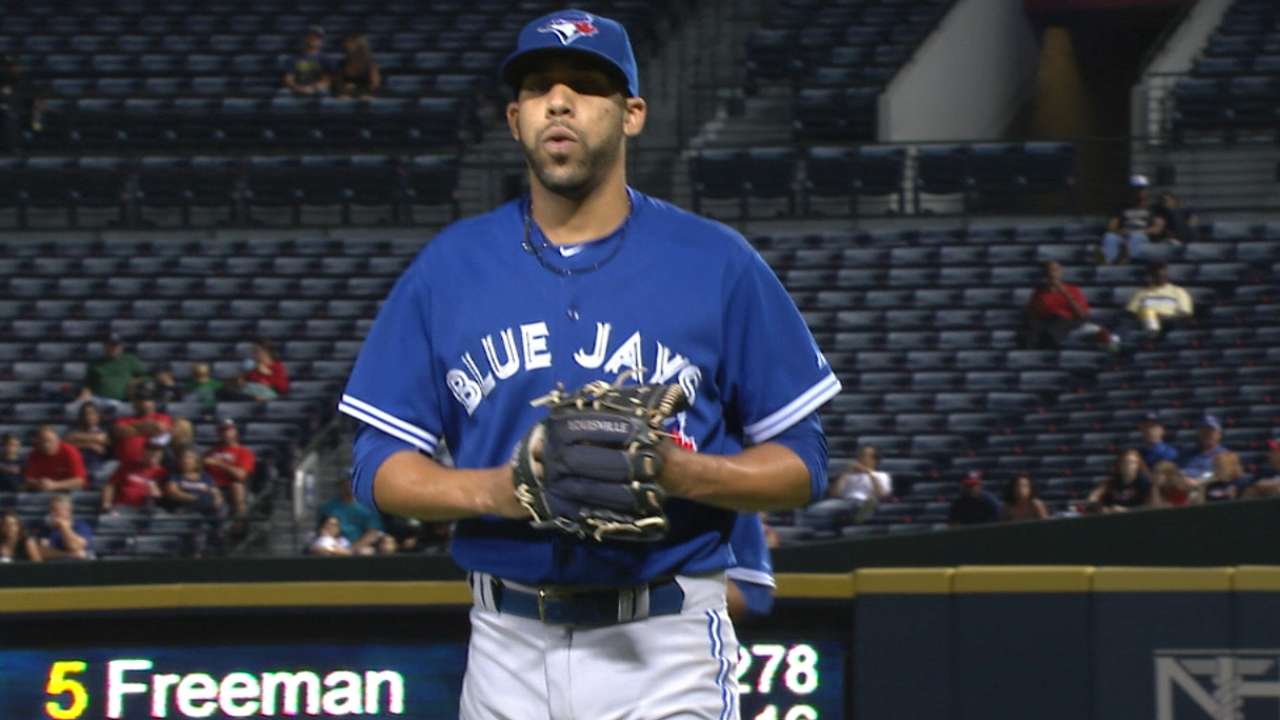 Here are five interesting items from around the big leagues on Wednesday …
• Toronto's David Price allowed one run in seven innings to lead the visiting Blue Jays to a 9-1 victory over the Braves. Price improved to 11-2 with a 2.05 ERA on the road. The most recent American League pitcher to have at least 11 wins on the road and finish the year with a road ERA below 2.10 was Boston's Pedro Martinez, who went 12-1 with a 1.66 ERA away from Fenway Park in 2000. Price took over the AL lead in ERA, dropping his mark to 2.42. Price also paced the AL in '12, when he posted a 2.56 ERA. In the expansion era, there have been three left-handers to claim multiple AL ERA titles: Gary Peters, Ron Guidry and Johan Santana (two each).
• Regarding road excellence, Price has a counterpart in the National League this season: Jake Arrieta. After his start in Pittsburgh on Wednesday (a no-decision in which he allowed one earned run in eight innings), Arrieta is 12-1 with a 1.68 ERA on the road. The most recent NL pitcher to win at least 12 road games with a road ERA below 1.75 was Greg Maddux in 1995, when the Braves right-hander went 13-0 with a 1.12 ERA outside Atlanta.
• Bryce Harper connected for his 40th home run in Washington's 12-2 victory against Philadelphia, becoming the eighth player to be in an age-22 or younger season and reach the milestone. Thanks in part to his 112 walks, Harper -- the NL leader in homers, runs, batting, on-base percentage and slugging -- is averaging one home run for every 11.75 at-bats, which also leads the league. That figure would be tops among the eight players to have at least 40 bombs in an age-22 season or younger. The top mark comes from Eddie Mathews, who hit one homer for every 11.90 at-bats in 1954 and ended his season with 40 long balls. The other six players who welcomed Harper into their club: Mel Ott (42 homers in '29), Joe DiMaggio (46 in '37), Mathews (47 in '53), Johnny Bench (45 in '70), Juan Gonzalez (43 in '92) and Alex Rodriguez (42 in '98).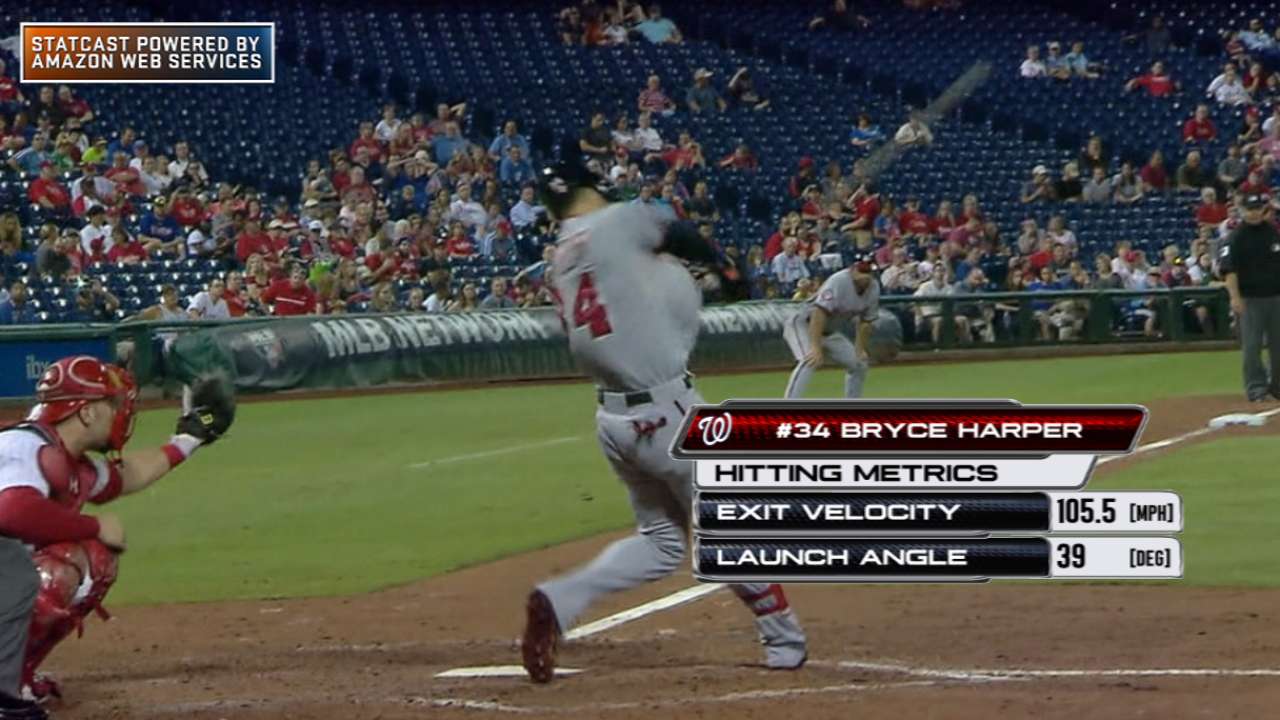 • Andrew Miller fanned the side in the ninth inning of the Yankees' win over the Rays to record his 34th save of the year. Among the 28 Yanks to have a 30-save season, Miller's 41.0 strikeout percentage would be the highest; his 4.58 hits per nine would be the lowest; his 0.800 WHIP would be the second lowest behind Mariano Rivera's 0.665 in 2008; his .434 OPS against would be the second lowest behind Rivera's .423 in 08; and his 97.1 save percentage would be the second highest, behind Rivera's 97.5 in '08.
• Jake Peavy became the fifth Giants pitcher to homer this season when he connected for a solo shot in the fourth inning, and he ultimately picked up a win in San Francisco's 5-3 victory over Cincinnati. The Giants tied a modern Major League record for the number of pitchers to homer in a season, with the most recent other team to do this being the 2002 Dodgers. For San Francisco, Peavy, Tim Hudson, Mike Leake and Ryan Vogelsong have each hit one, while Madison Bumgarner has gone deep five times. In '02, Odalis Perez, Andy Ashby, Hideo Nomo, Omar Daal and Kevin Brown each hit one homer. The Giants most recently had five pitchers go deep in 1935: Hal Shumacher, Carl Hubbell, Slick Castleman, Al Smith and Allyn Stout.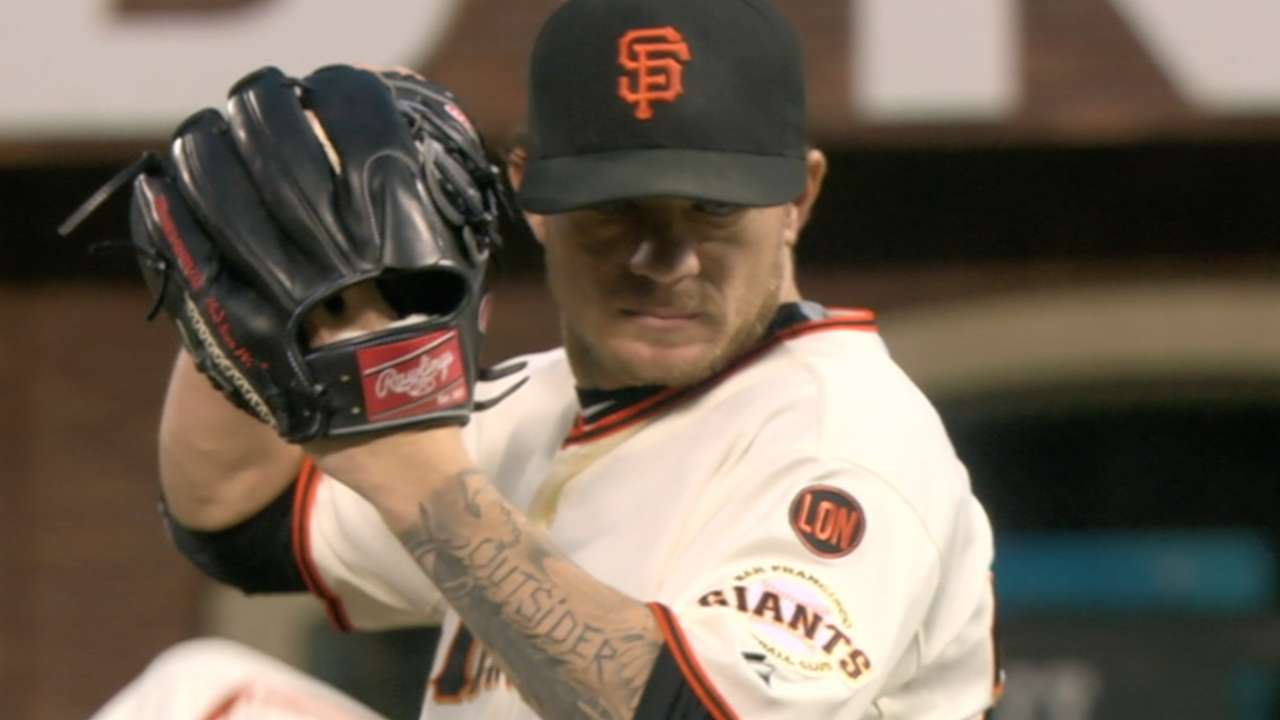 Milestone watch for Thursday
• Harper needs two home runs to tie Vladimir Guerrero (42 in 1999) for the third most in a season in Expos/Nationals franchise history.
• Manny Machado needs one home run to join Boog Powell (39 in 1964) as the only players in Orioles franchise history to have at least 30 in an age-22 season or younger.
Roger Schlueter is a contributor to MLB.com. This story was not subject to the approval of Major League Baseball or its clubs.