Montero extends mastery of Weaver with big HR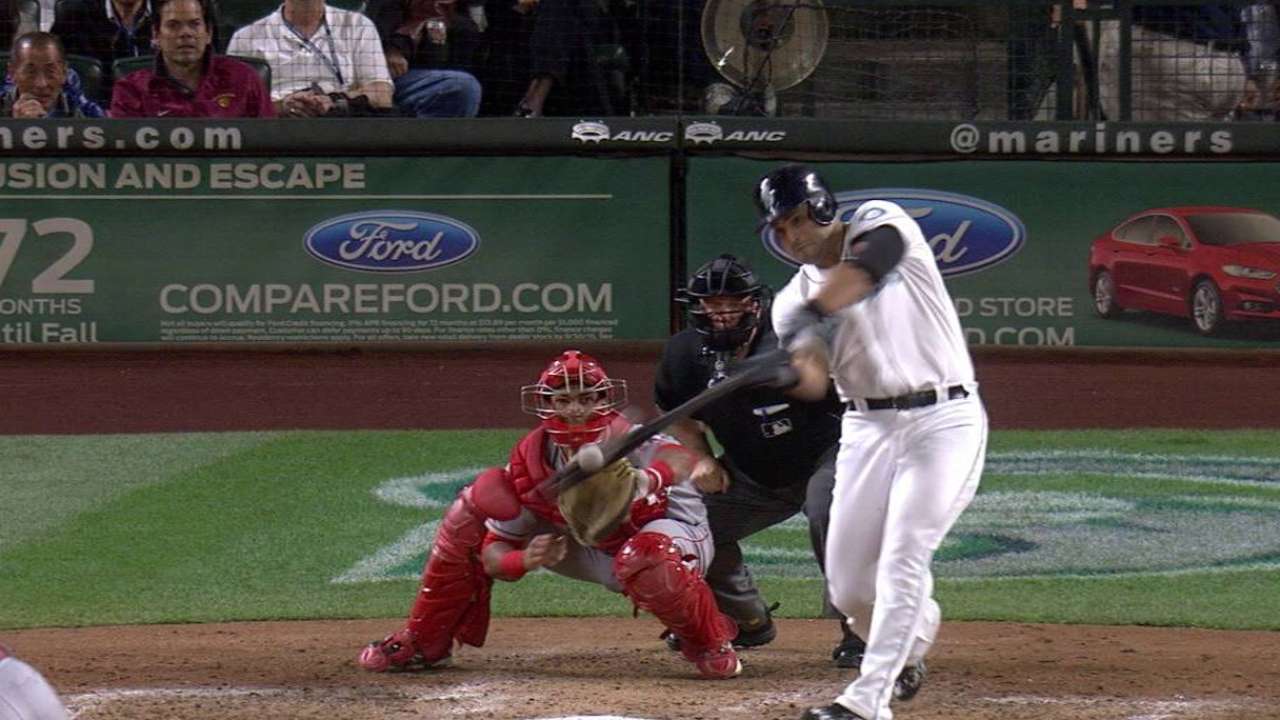 SEATTLE -- When asked before the Mariners' 3-1 win over the Angels on Wednesday whether Jesus Montero was in the lineup because of his past success against starter Jered Weaver, manager Lloyd McClendon's answer was simple.
"Yup."
But did that track record mean anything if the two hadn't faced each other since 2012?
"Let me tell you something, it means everything in the world," McClendon said. "The hitter knows he hits him and the pitcher knows he hits him. Trust me, they know."
In his second at-bat, Montero looked like he knew. The 25-year-old first baseman pounced on a 1-0 breaking pitch from Weaver with two outs in the fourth for a three-run shot to score Seattle's only runs of the ballgame. The home run was Montero's fourth of the season.
With a 1-for-2 showing against the Angels' starter, Montero is now 6-for-12 with with five home runs and nine RBIs against Weaver, making him just one of three Major League players, along with Curtis Granderson and Alex Rodriguez, to have hit five home runs off Weaver.
"I hit him really good before, so all I'm thinking is to hit the ball to right field," Montero said. "Middle, right field."
In his first at-bat with one out in the second inning, Montero saw one pitch -- a 69 mph curveball -- and grounded it to Angels first baseman C.J. Cron for an easy 3-1 putout. The same pitch missed out of the zone on the first pitch of his next at-bat. The third time he saw it, hanging near the top of the strike zone, he didn't miss. The result was his first three-RBI game since April 22, 2013.
"Yeah, it was right in the middle and he got me out in the first at-bat with the same curveball. He threw me that slow one right there," Montero said. "The next one I just sat on it and I saw it in the middle and it was good."
While the right-hander's velocity might have gone down since their last faceoff in 2012, Montero said he approached the at-bats the same. Given his history of success against Weaver, he came to the plate with a little more confidence.
"I think it's the same," Montero said. "I've seen the guy before, I know how he throws. I see the videos today and I talked to [hitting coach] Edgar [Martinez], too, about how we could hit against him and it worked good."
After going 0-for-16 to close out his August, Montero is now 5-for-17 in September, with one big home run that yet again proved his success against a familiar face.
It was also one that proved his manager right.
"He did a nice job," McClendon said. "Big hit."
Andrew Erickson is an associate reporter for MLB.com. This story was not subject to the approval of Major League Baseball or its clubs.