Statcast: Goins' rangy play ups ante for Price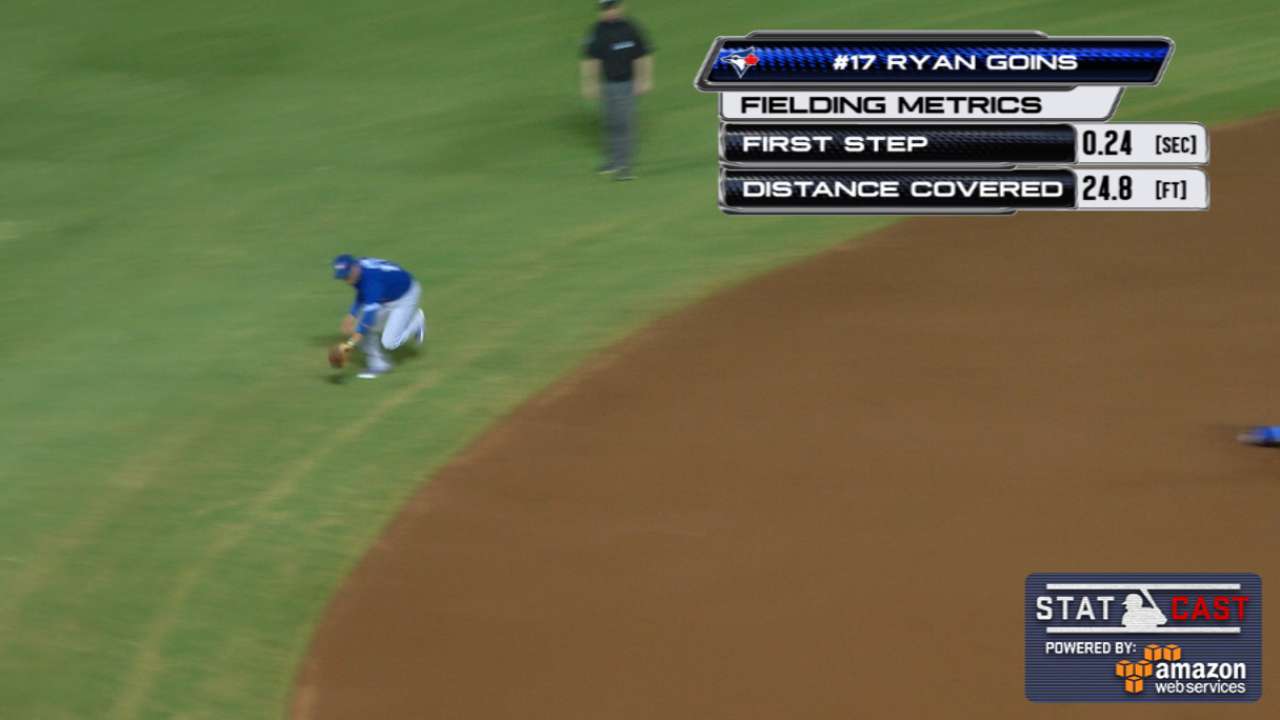 Though the Blue Jays have become known for their offensive prowess in recent weeks, it was a defensive gem by an infielder on Wednesday night that left their starting pitcher clamoring for the Statcast™ breakdown after the game.
Given the highlight-reel nature of the thievery, Statcast™ is more than happy to oblige. The innovative technology will take an in-depth look at that play, as well another play by a shortstop who showed off a cannon on a potentially game-saving play.
Statcast™ will also take a look at the home runs hit by a pair of Nationals teammates, including a milestone shot from a National League MVP candidate. Here's a closer look at each of those plays, courtesy of Statcast™.
Goins saves a hit, much to Price's pleasure
Blue Jays shortstop Ryan Goins made a jaw-dropping play -- literally in the case of starter David Price -- on Wednesday night that left Price in disbelief on the mound at the time and asking for a Statcast™ breakdown after the game. Per Price's request, Statcast™ shows that Goins took his first step just 0.24 seconds after the ball left Nick Markakis' bat. He then covered 24.8 feet of ground as he ranged back onto the outfield grass before making an off-balance, jump throw across the diamond that still managed to register 64.5 mph on its way to narrowly beating Markakis to the bag.
I need this play #statcasted RT @MLB: .@rgoins5 gets that @DAVIDprice14 seal of approval: http://t.co/OzsUQJ0OPv pic.twitter.com/FpbMHvKNyw

— David Price (@DAVIDprice14) September 17, 2015
Baez nails potential tying run at plate
Cubs shortstop Javier Baez helped thwart a late Pirates rally in the eighth inning with an absolute strike to home plate to retire potential tying runner Pedro Florimon. With the Cubs clinging to a one-run lead and Florimon standing at third, Baez fielded a Josh Harrison grounder and rifled a throw home at a scorching 95 mph. The throw covered 104.5 feet and arrived just in time to prevent Florimon from scoring the tying run. Though the Pirates ultimately tied the game two batters later, Baez's arm certainly helped slow the rally and could have prevented further damage, as the Cubs went on to win 3-2 in extra innings.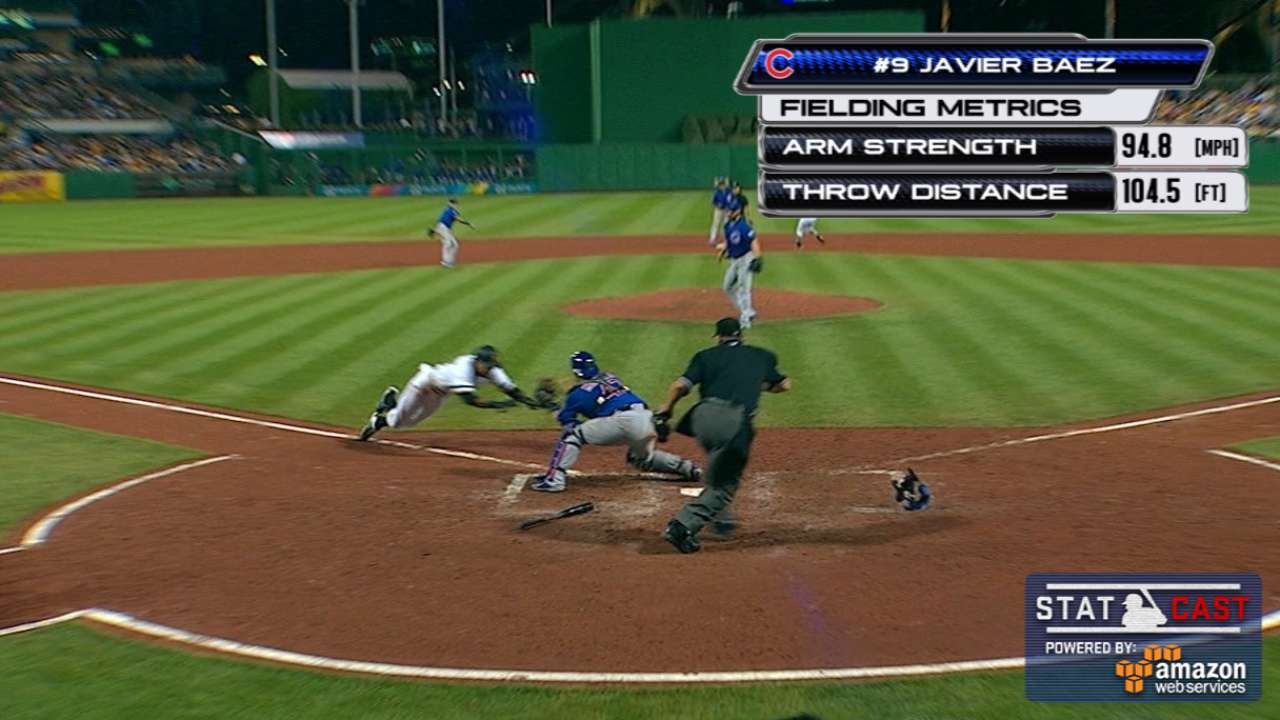 Harper hits a moon shot for No. 40
Bryce Harper joined some exclusive company on Wednesday night when the 22-year-old outfielder hit a towering fly ball to right-center field for his 40th home run of the season. The ball left Harper's bat at 105.5 mph and a steep launch angle of 39 degrees. That led to a projected hang time of a whopping 6.8 seconds on a ball that traveled a projected 378 feet in just clearing the wall.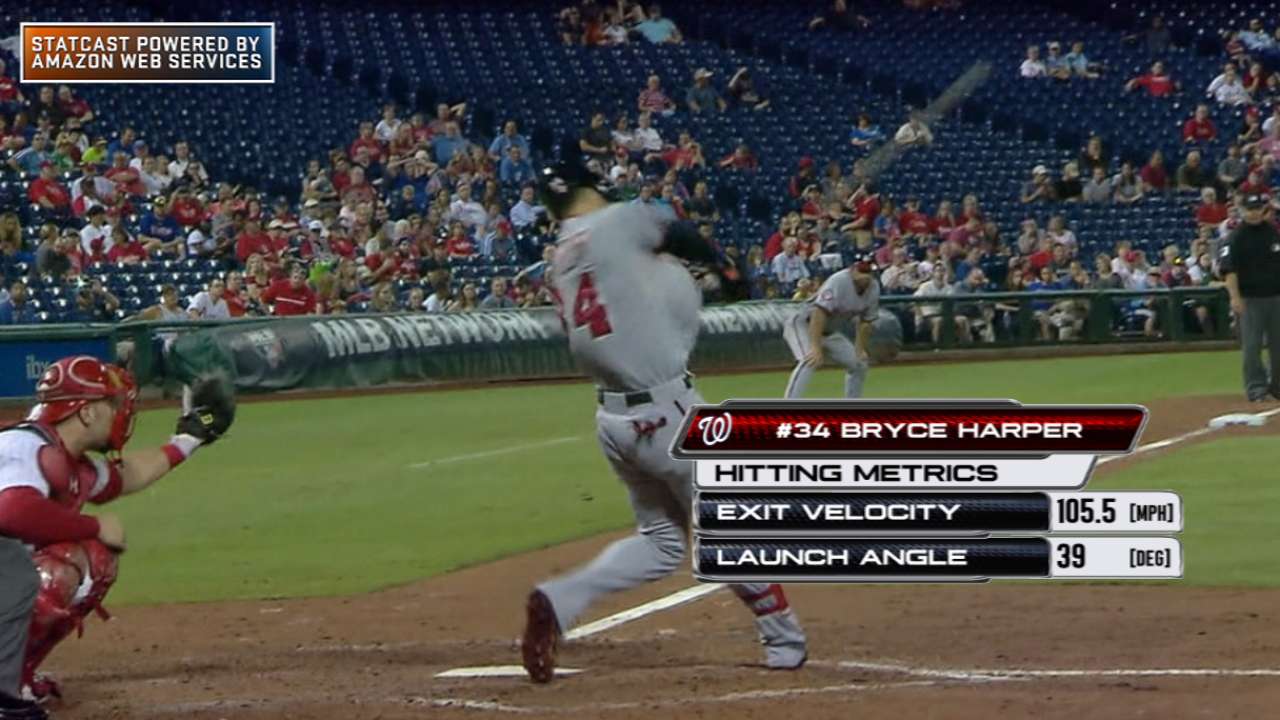 Werth leaves no doubt with second homer
Harper's teammate Jayson Werth crushed a mammoth blast in the sixth inning Wednesday night against the Phillies for his second home run of the game. Werth teed off on a pitch from reliever Hector Norris, sending the ball off the bat at a blistering 112.6 mph. It traveled a projected distance of 448 feet before finally landing in the left-center field seats at Citizens Bank Park. There was far less suspense on his second homer than the one he hit two innings earlier, which left his bat at 99.6 mph and traveled a projected 377 feet in clearing the left-field wall.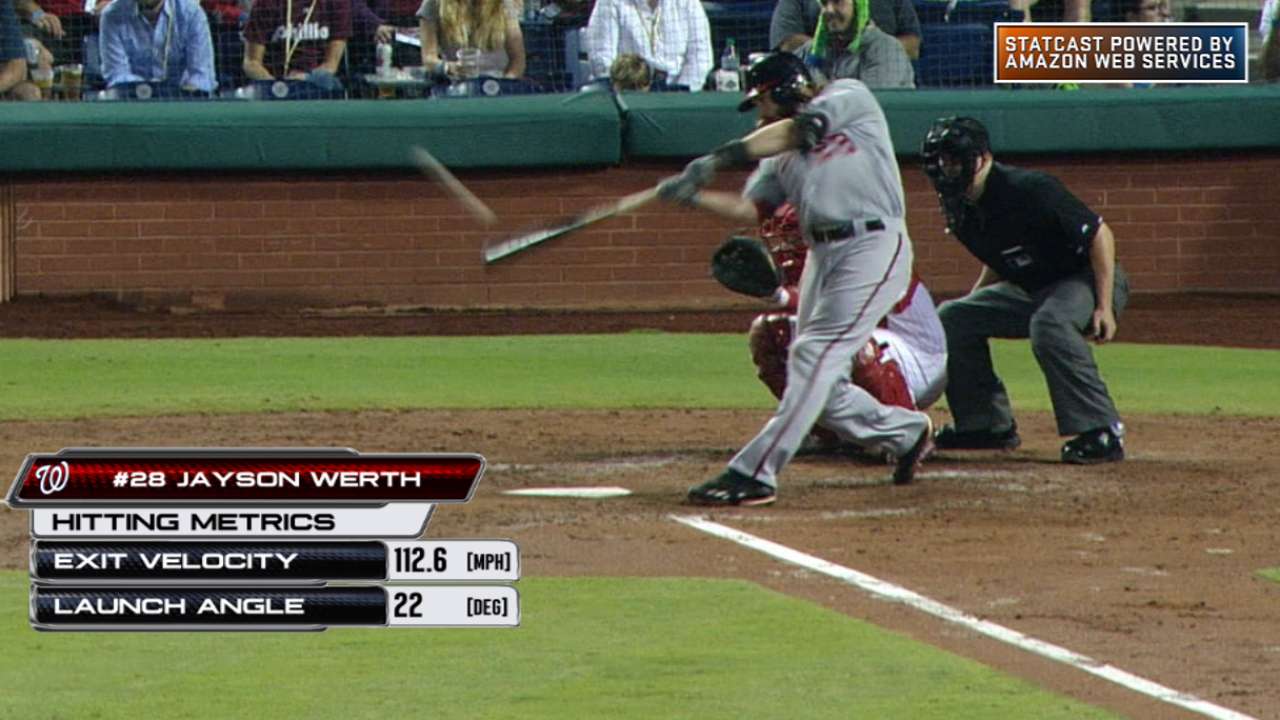 Paul Casella is a reporter for MLB.com. Follow him on Twitter @paul_casella. This story was not subject to the approval of Major League Baseball or its clubs.