MLB.com Columnist
Mike Bauman
Pham shows off Cardinals' depth of talent
Young outfielder crushes two homers, triples in victory over Brewers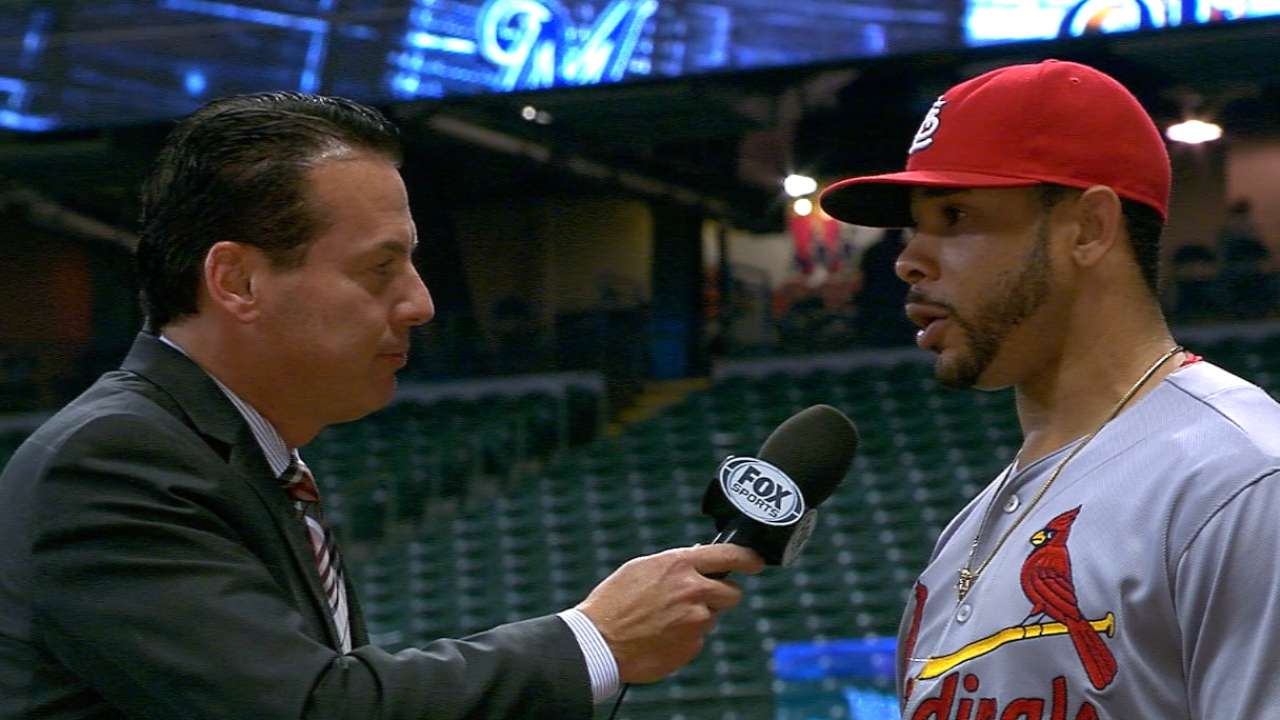 MILWAUKEE -- The musical score for this St. Louis Cardinals' victory had to be a variation on the Sister Sledge hit that was the theme song of the 1979 World Series champion Pittsburgh Pirates.
In this case, that would be: "We Are Phamily."
This 5-4 victory on Wednesday night over the Milwaukee was Tommy Pham's game. The seemingly inexhaustible supply of talent coming up through the St. Louis organization was personified by Pham, a rookie outfielder.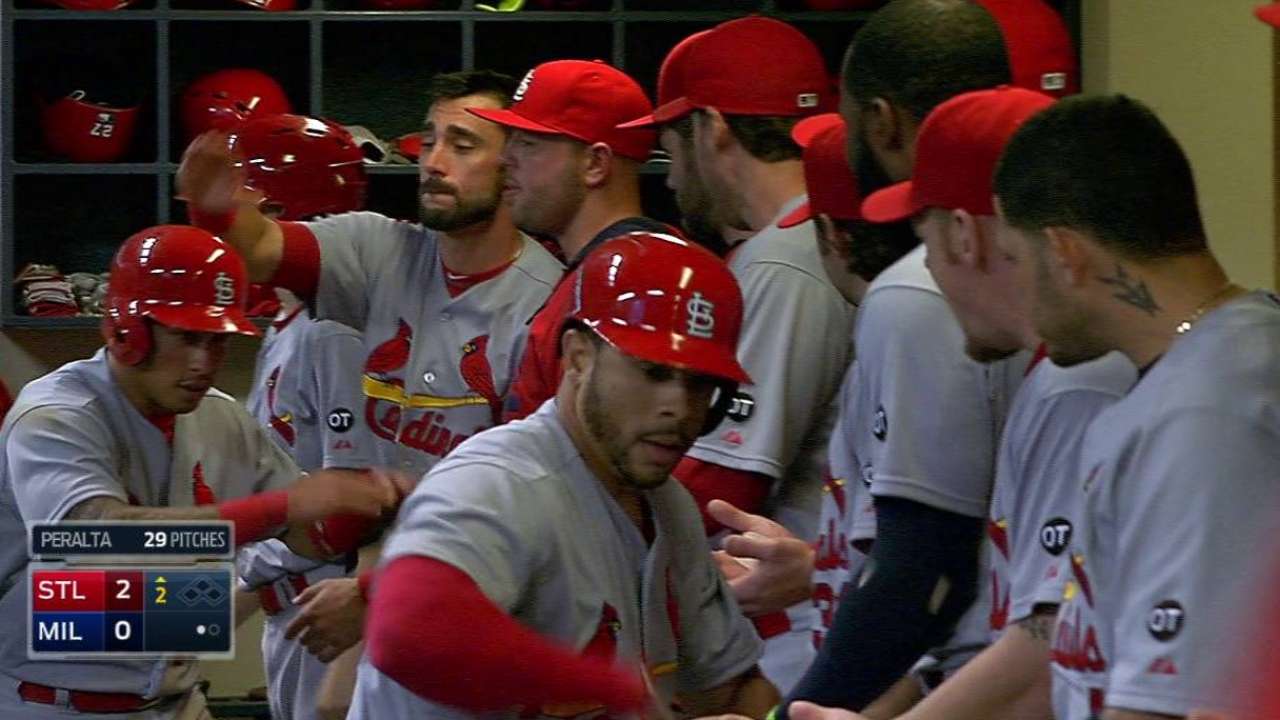 Pham can run, he can play defense and he can hit with power. And as he demonstrated on this night at Miller Park, he can come through when it matters most. Deep into September, in the midst of a pennant race that had recently become much more heated, Pham produced a splendid performance.
Wednesday night, Pham hit two two-run homers in leading the Redbirds to victory over the Milwaukee Brewers. He also tripled, and he narrowly missed a third home run in the eighth, flying out to the wall in center.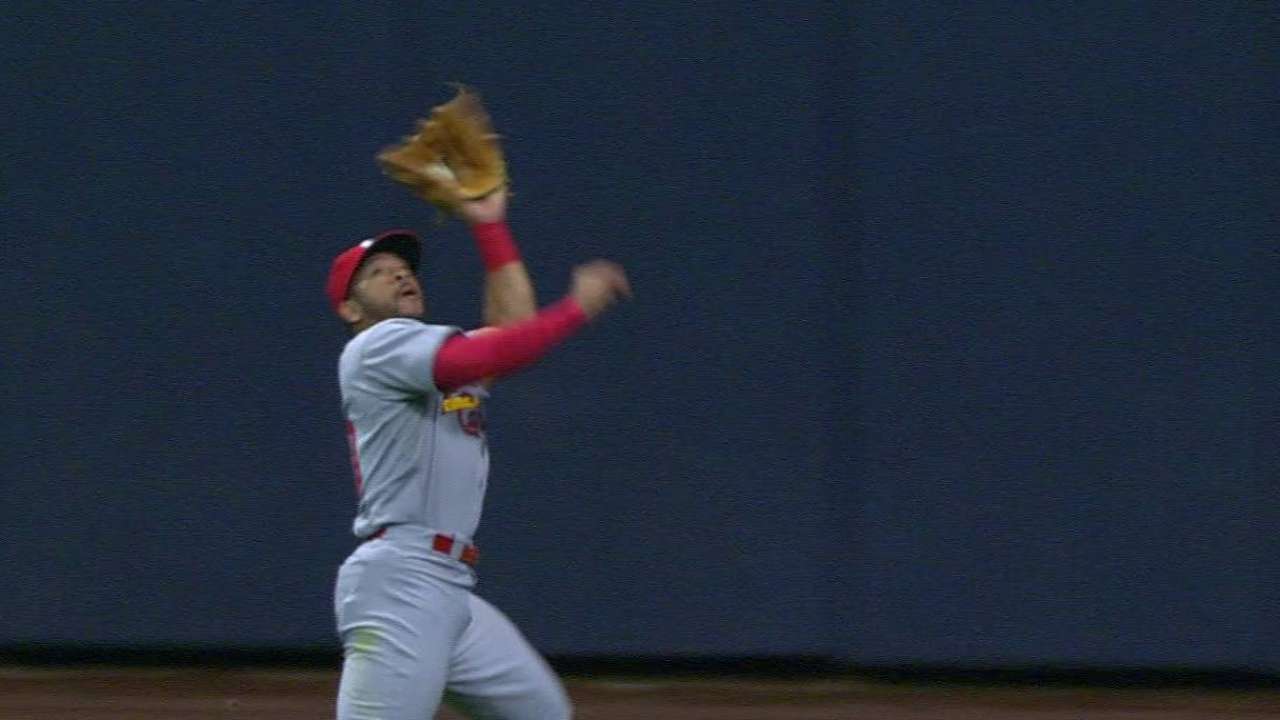 And for good measure, with two outs and nobody on in the Milwaukee eighth, Pham tracked down a drive to deep center by Elian Herrera, making a fine running catch, nullifying what would have been at least a double. Pham had played the first seven innings in left and moved to center in the eighth, taking over for Jon Jay.
Pham was remarkably matter-of-fact, not to mention modest, regarding this breakthrough performance that included four RBIs and 11 total bases.
"I didn't try to do too much today," Pham said. "I went into the game with the mindset of having some good at-bats. I laid off some pitches, that put me in good hitter's counts. And when they put it in the zone, I put good swings on it.
"The byproduct was just a result of me laying off his pitches and getting the good ones," Pham said, referring to Brewers starter Wily Peralta. Pham homered off Peralta in both the second and fourth innings.
Pham hit the first home run on a fastball and the second on a breaking ball.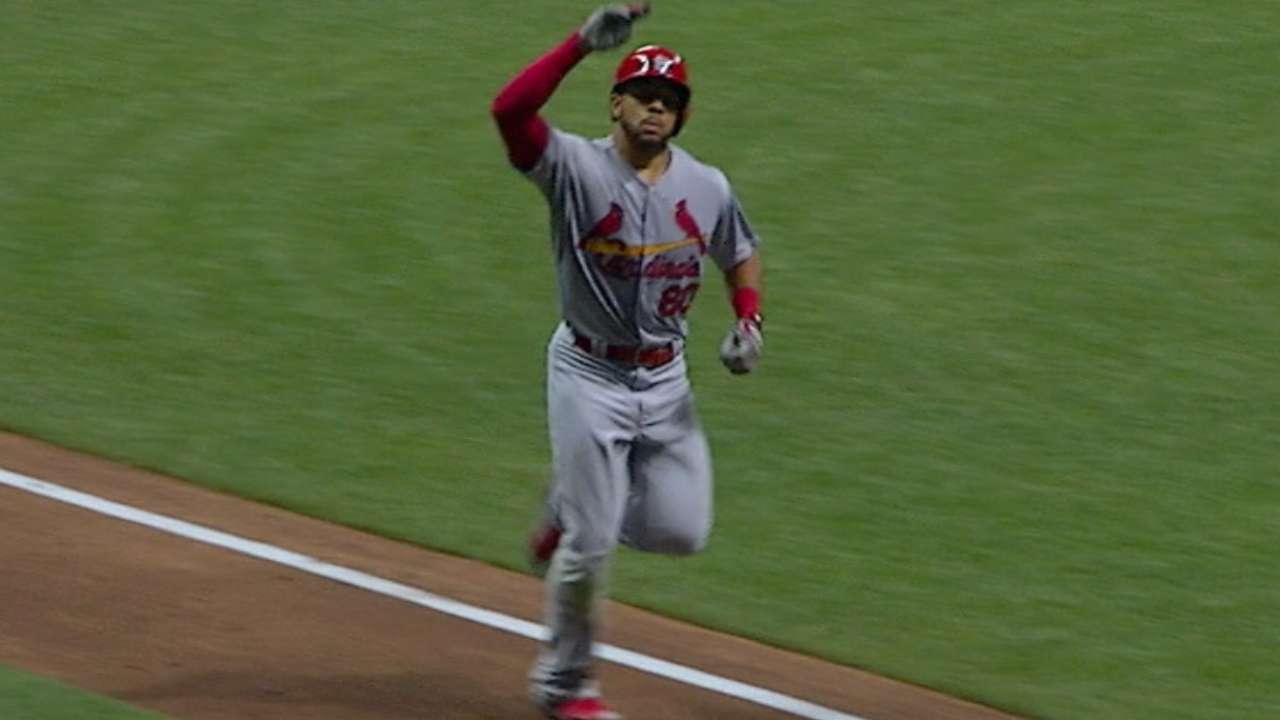 "Once you hit the fastball good, you know they're going to try to attack you maybe a little different," Pham said. "When you hit the breaking ball after that, it makes it harder for them to adjust to you."
Pham struggled some during a July callup, but between his talent, his work ethic and his intelligence, he is making this stretch with the Cardinals memorable. Asked what it meant to be able to contribute with so much riding at this time of the season, Pham responded:
"It's better than not contributing, I can tell you that, because my first time up here, I struggled. When I got sent back down, I was really disappointed within myself. Now that I'm doing a little bit more, it's just a blessing."
"A little bit more," is a truly modest measurement of what Pham brought to this game. But that's the way the Cards like young players to present themselves. Everybody else understood how much Pham has contributed.
"It was huge," Cardinals manager Mike Matheny said of Pham's performance. "We're real happy that we're able to put a young player in and watch him make the adjustments. You can see that he's been doing some work, trying to figure out the holes, trying to figure out the league."
"Defensively, he made a really nice catch back there; and offensively, you saw what he did," starting and winning pitcher Jaime Garcia said. "He's a kid who's been working really hard, and I'm proud of him."
Pham made an impression on Wily Peralta.
"First time I've faced him, and so far, he's good; two at-bats, two homers," Peralta said with a chuckle. "I think in one more week I get to face St. Louis again, and I'll try to get him out."
So in the space of a few ultra-pleasant September nights, the Cards' season had regained traction and moved in the expected direction, which with this club is upward.
After a recent slump, there is now, for instance, a three-game winning streak, modest, yet important, stretching the Cardinals' lead in the National League Central to four games with 17 left to play. The second-place Pirates lost to the third-place Cubs in extra innings on Wednesday night. The Redbirds, in first place every day since April 17, once again had breathing room, even in baseball's best division,
This game was one more piece of evidence about the talent that the Cardinals possess. In the outfield, Matt Holliday is still not at full strength. Neither is Randal Grichuk. These might be situations that a lesser team could not overcome. But the Cards meet adversity with ability, and in this case, an exciting, dynamic player, Tommy Pham.
Mike Bauman is a national columnist for MLB.com. This story was not subject to the approval of Major League Baseball or its clubs.