Mariners deal Angels tough blow in series win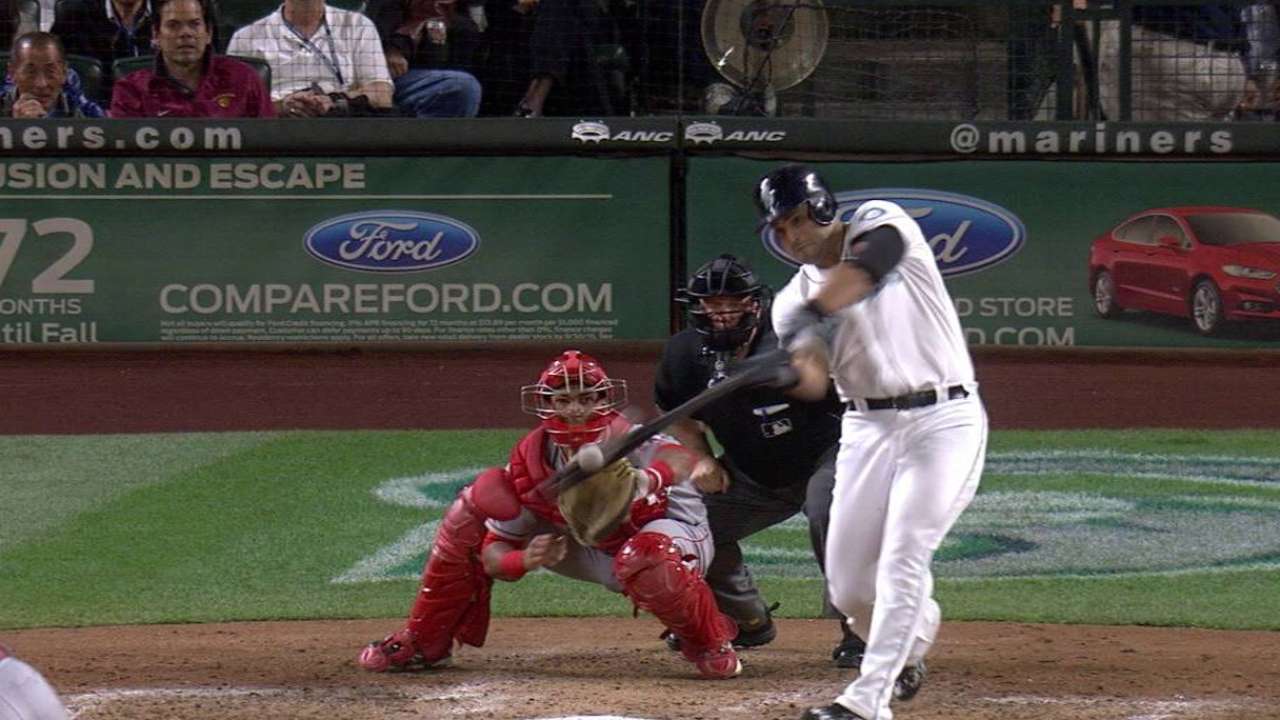 SEATTLE -- Mariners first baseman Jesus Montero blasted a three-run homer in the fourth, Angels starter Jered Weaver got ejected in the fifth and Seattle edged out a victory at Safeco Field on Wednesday night, winning 3-1 to take two of three in the series.
The Angels (73-72) moved five games back of the Rangers for first place in the American League West and 3 1/2 back of the Astros for the second Wild Card spot. Weaver, now 7-11 with a 4.74 ERA, said the more frustrating game came Sunday, when the Angels gave up five two-out runs to the Astros in the ninth inning and were denied a sweep.
"That was a tough one to swallow," Weaver said, "but knowing that, we had to come in here and try to sweep these guys, and it didn't happen. But there's still things that can happen if we keep winning, and that's all we have to worry about."
Hisashi Iwakuma allowed just one run in six innings, scattering four hits, walking none and striking out nine to lower his ERA to 3.90 and lead the Mariners (71-76) to their fifth win in the last eight games. The 34-year-old right-hander has given up three runs or less in four straight starts.
"He threw the ball good. He kept the ball down and made quality pitches, pitched in when he had to," said Mariners manager Lloyd McClendon. "I thought he was outstanding."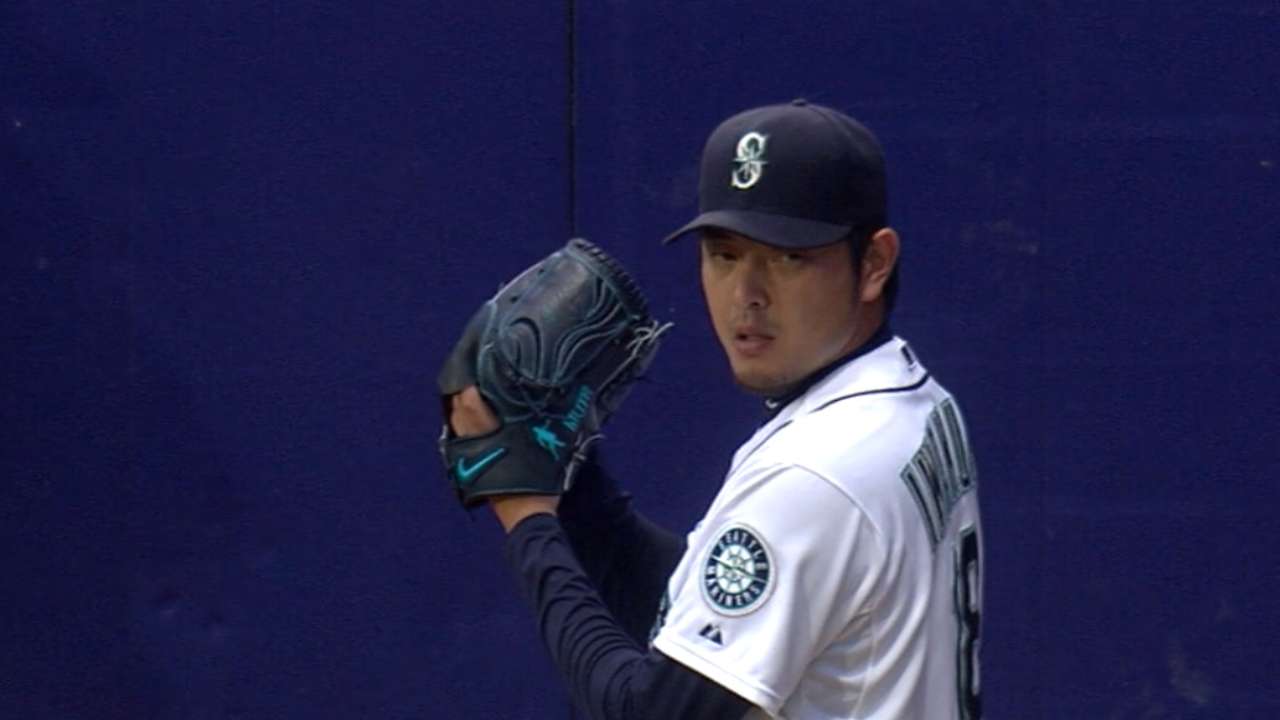 MOMENTS THAT MATTERED
Enough of you: Mariners third baseman Kyle Seager kept trying to call timeout with the count 1-0, two outs and nobody on in the bottom of the fifth, and Weaver didn't like it. The two exchanged words, and on the next pitch, Weaver plunked Seager in the right arm with an 83 mph fastball, prompting his second career ejection after throwing only 78 pitches. Weaver denied throwing at Seager intentionally, but was admittedly irked by his mannerisms in the batter's box. More >
"It's not when he's ready; it's when we're both ready," Weaver said. "I was on the rubber ready to go, he's standing in the box. Just because he has his hands up doesn't really mean anything. If you're going to do that, step out of the box or keep a foot out or do something. When you've got both feet planted in there and you're looking at me, I assume that you're ready to go."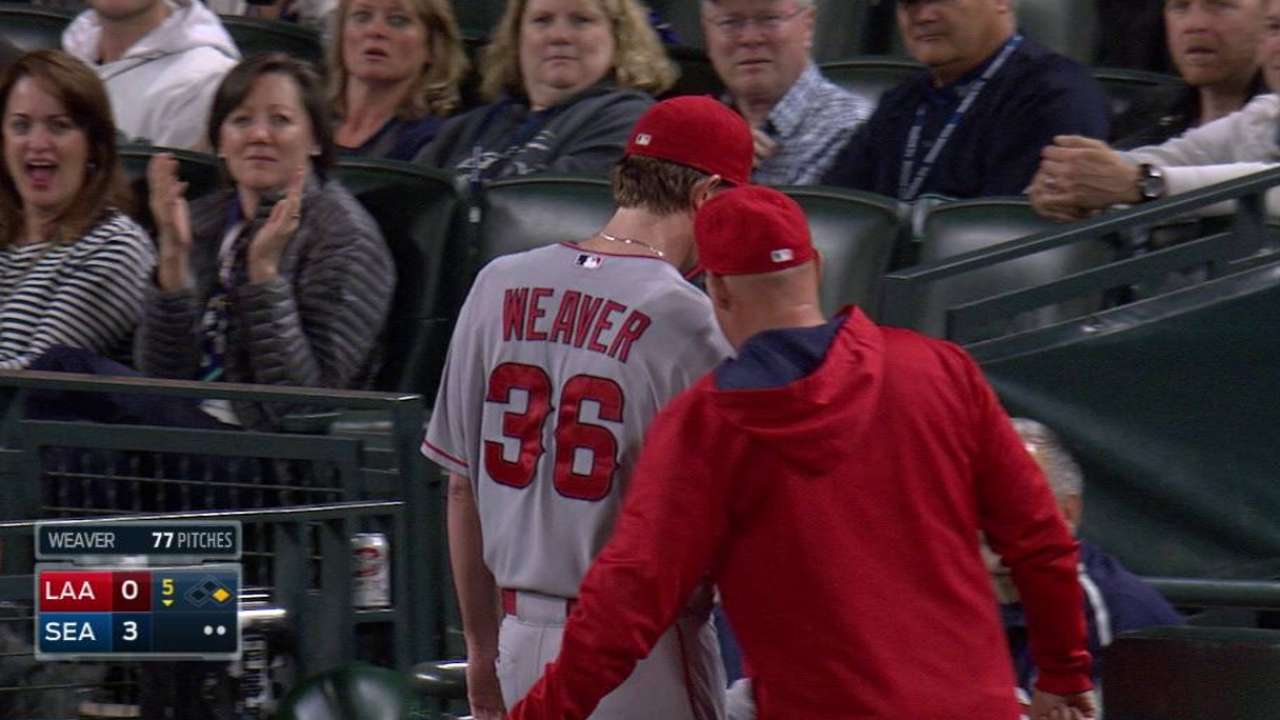 Montero's mash: Montero hadn't faced Weaver since 2012, but the 25-year-old made up for lost time on Wednesday. After Nelson Cruz singled to left to lead off the fourth inning for his career-high-tying 166th hit and Seth Smith dribbled an infield single to the left side with one out, Montero cranked a 1-0 pitch from Weaver to left for his fourth home run of the season, his highest single-season total since 2012. The home run, which gave the Mariners a 3-0 lead, was Montero's fifth against Weaver in 12 at-bats. More >
"I'd like to pick his brain a little bit," Weaver said of Montero hitting him so swell. "You will have guys like that who run into you who see you well. I was trying to bury a curveball and trying to get him to swing over the top, but it hung and ran right into his bat."
Nothing brewing: David Murphy homered in his second straight game in the sixth inning, then hit a chopper over the head of first baseman Logan Morrison in the eighth, putting runners on the corners with one out. But Kole Calhoun and Mike Trout both struck out swinging against Carson Smith to end the threat. The Angels, who have scored four runs or less in eight straight games, went 0-for-7 with runners in scoring position. Two of their innings began with a double and ended with no runs.
"Especially late, we had opportunities and just couldn't get a hit here or there to get close to the game," Angels manager Mike Scioscia said. "We had some guys in scoring position and couldn't cash in on them."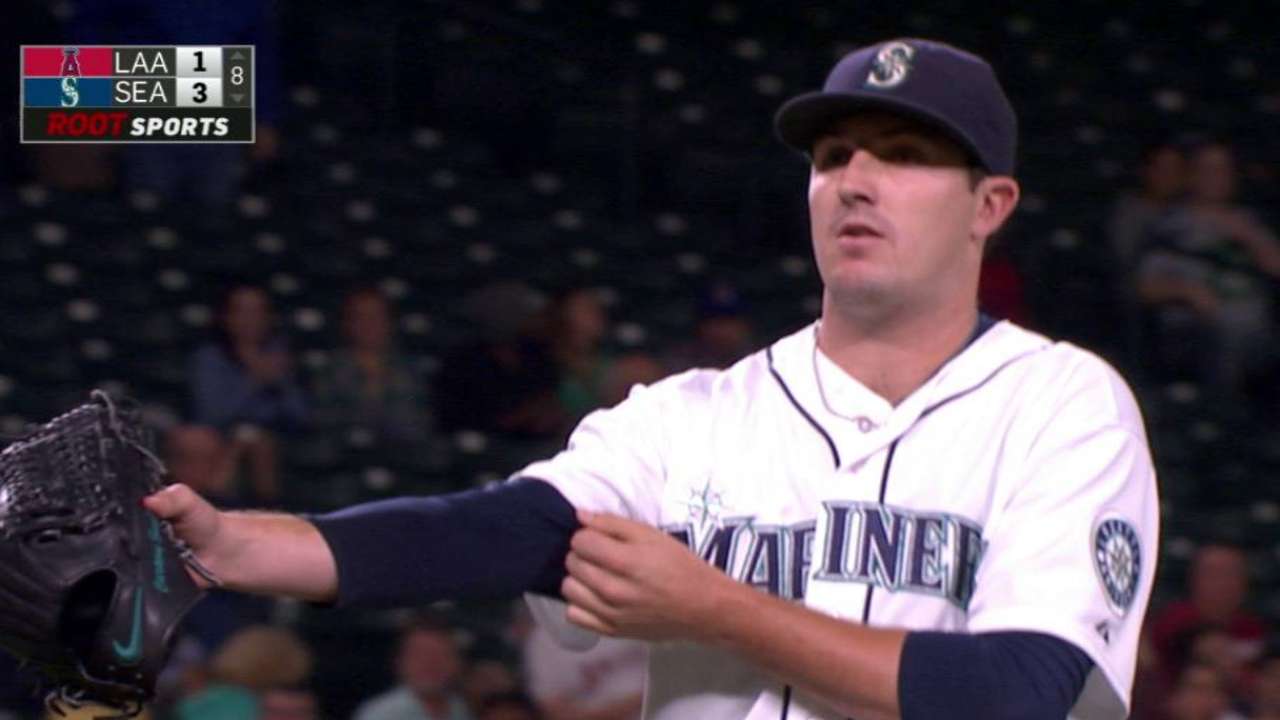 Doubles? No trouble: After allowing a series of five straight hits to derail his start against the Rockies on Friday, Iwakuma didn't allow the Angels' hits to snowball on Wednesday. Carlos Perez doubled to lead off the second and Erick Aybar doubled to lead off the fifth, but neither scored. Iwakuma got a couple of ground balls and a key strikeout of Calhoun to strand Perez on third base in the third and struck out the side in the fifth to again keep the Angels off the board.
"You want to come back with the zero after scoring the three," Iwakuma said through interpreter Antony Suzuki. "Although I did give up that double I was able to make them put the ball in play and get out of the inning. I thought that was big to lead the game to victory."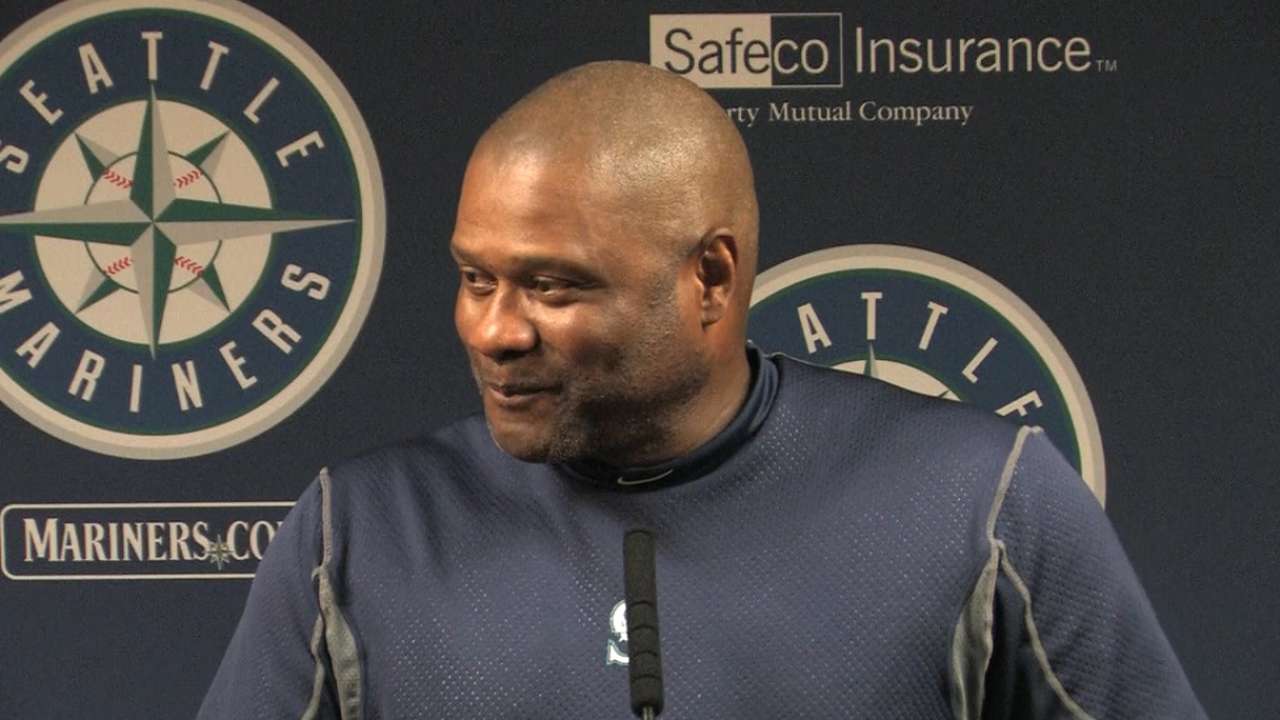 QUOTABLE
"He definitely started the conversation. It kind of definitely escalated and he handled it the way he wanted to but from my perspective he quit on his team and I didn't quit on mine. I was surprised he hit me because if you hit me there it's pretty obvious what was going to happen. He's going to be out of the game and I guess he was tired of pitching." -- Seager, on the back-and-forth with Weaver before Weaver's ejection
"There's no doubt that his base and his strength isn't quite the same, not only because of his foot but obviously it affects other parts of his body and his swing. It's tough for him to leverage it right now. He's still hitting the ball hard, in general, but no doubt it's affecting him a bit. But he's a gamer. He's going to go out there and do everything he can." -- Scioscia on Pujols, who's batting .160 in September while dealing with pain in his right foot
INJURY UPDATE
Iwakuma left the game before the seventh inning with what McClendon said was a tight lower back. McClendon said he didn't expect the injury to change the configuration of the Mariners' rotation over the next week.
"It's nothing major, it's minor. I've been battling this situation for a while now and it got tight," Iwakuma said. "It came gradually. Each inning it started to get tighter and tighter so it's a little better to manage. [Between starts I will] just stay loose, work out, do a lot of stretching and training in the weight room."
REPLAY REVIEW
Angels first baseman C.J. Cron made a diving stop to his left, slapped first base with his hand and fired to second to attempt a double play in the eighth inning. Ketel Marte was ruled safe on the slide, but his foot briefly came off the bag and Aybar kept the tag on him. The Angels got the call overturned after umpires checked replay. Marte was also ruled out on an appeal in the third inning because he didn't touch second base when he slid in for a steal and then broke to third on a throwing error.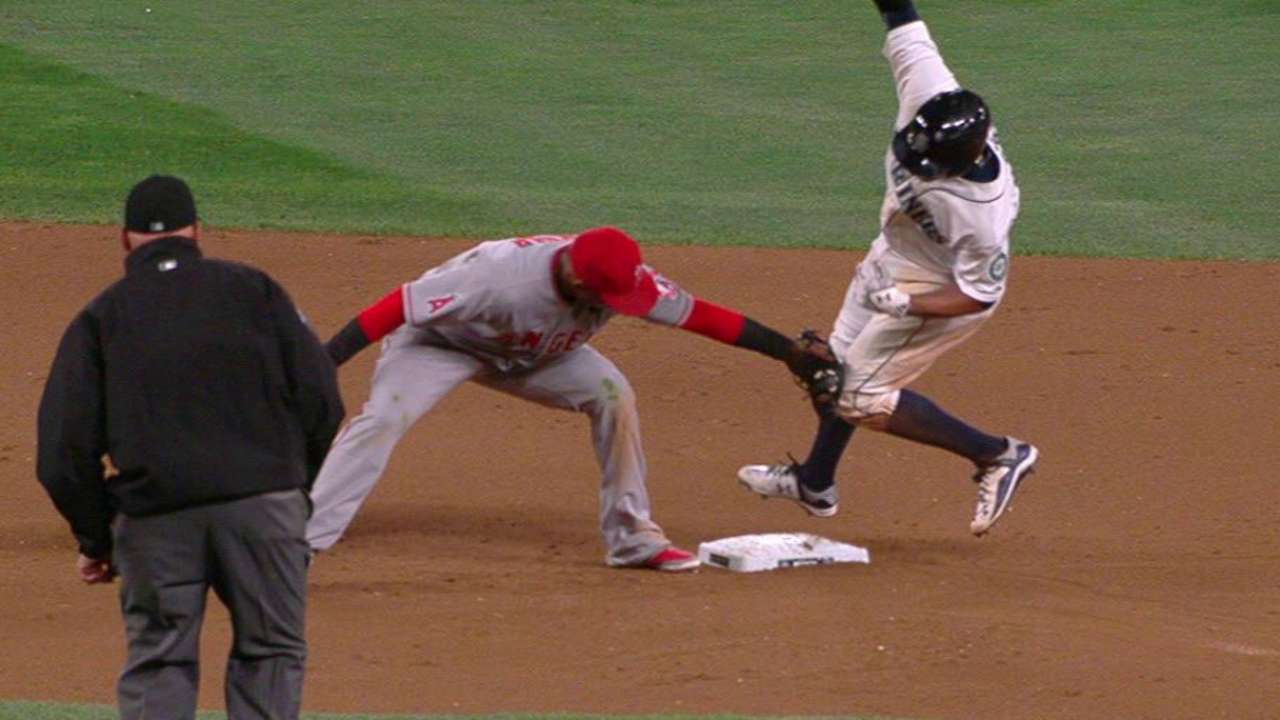 WHAT'S NEXT
Angels: Hector Santiago (8-9, 3.21 ERA) takes the ball on Thursday, when the Angels open up a critical four-game series in Minnesota against the Twins, who are two games ahead of them in the race for the second AL Wild Card spot, currently occupied by the Astros. Santiago, who will oppose fellow lefty Tommy Milone (8-5, 3.73 ERA), has given up just two runs in 13 innings in two starts this month. First pitch from Target Field is 5:10 p.m. PT.
Mariners: Following a Thursday off-day, the Mariners embark on a 10-day, nine-game road trip starting with a three-game series against the Rangers that begins Friday at 6:05 p.m. PT at Globe Life Park. Left-hander James Paxton (3-4, 3.82 ERA) makes his second start since returning from the disabled list, looking to improve on his three-inning, three-run outing in a 3-2 Sunday loss to the Rockies.
Watch every out-of-market regular season game live on MLB.TV.
Andrew Erickson is an associate reporter for MLB.com. Alden Gonzalez is a reporter for MLB.com. Follow him on Twitter @Alden_Gonzalez and listen to his podcast. This story was not subject to the approval of Major League Baseball or its clubs.