Weaver ejected after hitting Seager with pitch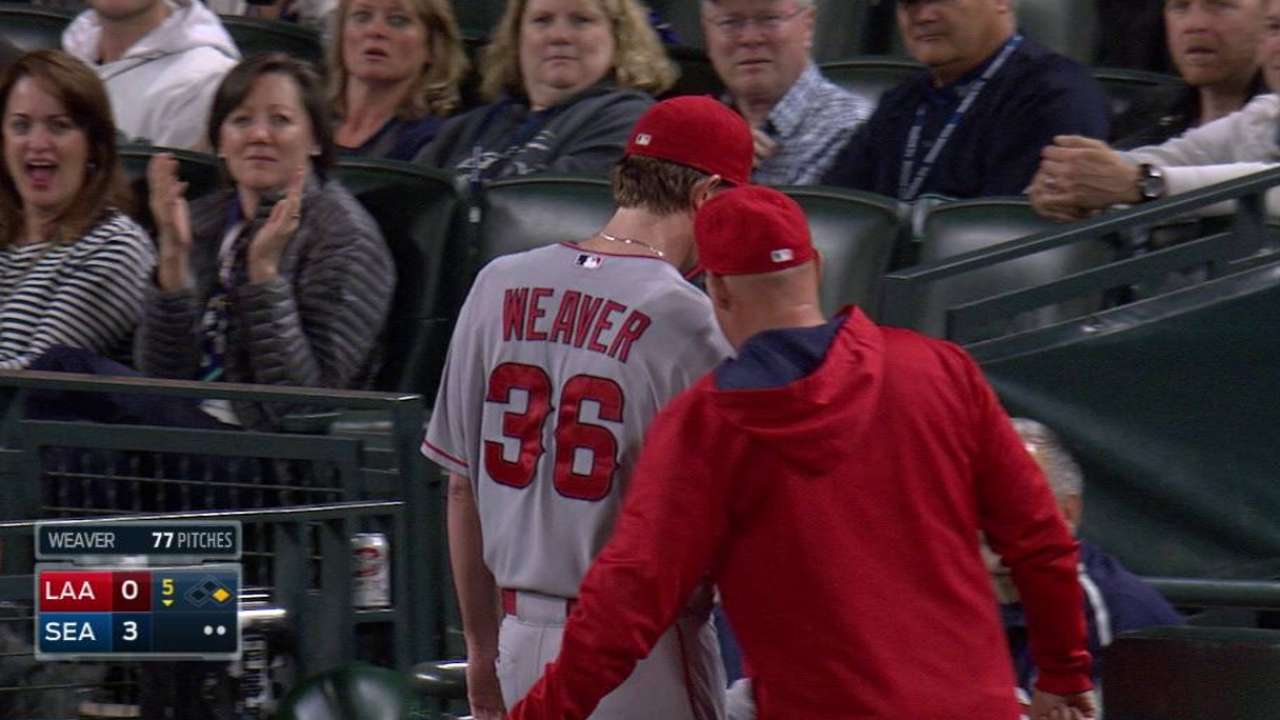 SEATTLE -- Mariners third baseman Kyle Seager kept his left hand up with both feet in the batter's box in the fifth inning of Wednesday's game, demanding timeout and irritating the Angels' irritable starting pitcher, Jered Weaver. The two had words, and the next pitch, an 83 mph fastball, caught Seager square in his right arm. Weaver was gone, ejected with only 78 pitches in the Angels' eventual 3-1 loss from Safeco Field.
The loss put them five games back of the Rangers for first place in the American League West, while 3 1/2 back of the Astros for the second Wild Card spot.
Postgame, the Angels' longtime ace denied throwing at him intentionally.
"I just wanted to get a good fastball in there and it hit him," Weaver said, but he couldn't hide his frustration over Seager's antics.
"It's not when he's ready, it's when we're both ready," Weaver added. "I was on the rubber ready to go, he's standing in the box. Just because he has his hands up doesn't really mean anything. If you're going to do that, step out of the box or keep a foot out or do something. When you've got both feet planted in there and you're looking at me, I assume that you're ready to go. I don't know if Derek Jeter did that in his third year or fourth year or not. I don't know. It seemed like he was ready and I was ready, so I was ready to make a pitch."
Seager thought Weaver "quit on his team."
"I was surprised he hit me because if you hit me there, it's pretty obvious what was going to happen -- he's going to be out of the game," Seager said. "I guess he was tired of pitching."
The fifth-inning plate appearance began with Weaver missing low and inside on a fastball, with two outs and none on.
Seager stepped out, settled back into the batter's box and kept his left hand in the air. He was about to put it down, then picked it up again, prompting home-plate umpire Brian O'Nora to stand up and make sure a pitch wasn't thrown. Weaver grew visibly annoyed and said something to Seager, who pointed to home plate to indicate that he needed more time to get ready.
"It takes me a while to get in the box," Seager said. "I had my hand up the whole time. He started to pitch and I kept my hand up, and he didn't particularly care for it. … I did the same thing the first couple at-bats. If I'm calling time, it's all on my time. If I'm in the box and I'm ready to go, then he can take as much time as he'd like."
Seager glared at Weaver, emphatically raised his left hand once again and then told the Angels' pitcher that he was ready. The next pitch caught Seager in the arm and O'Nora immediately tossed Weaver, who had surrendered the decisive three-run homer to Jesus Montero an inning earlier.
"It was only 82 [mph] or something, so I think it'll be all right," Weaver said of Seager. "I don't think it'll keep him out of the lineup."
Weaver's only other ejection came in Detroit on July 31, 2011, when the 32-year-old right-hander got upset at how Carlos Guillen admired a home run and then threw up and in to the next batter, Alex Avila.
Weaver was suspended six games, the equivalent of one start, for that incident.
He was asked if he's worried he'd get suspended again.
"It is what it is, man," said Weaver, now 7-11 with a 4.74 ERA. "What am I going to do? It happened to hit him. I was just trying to make a good pitch there, and it got away from me."
Alden Gonzalez is a reporter for MLB.com. Follow him on Twitter @Alden_Gonzalez and listen to his podcast. This story was not subject to the approval of Major League Baseball or its clubs.