MLB.com Columnist
Richard Justice
Prince providing Rangers with crucial boost
Everything is coming together for Texas as postseason nears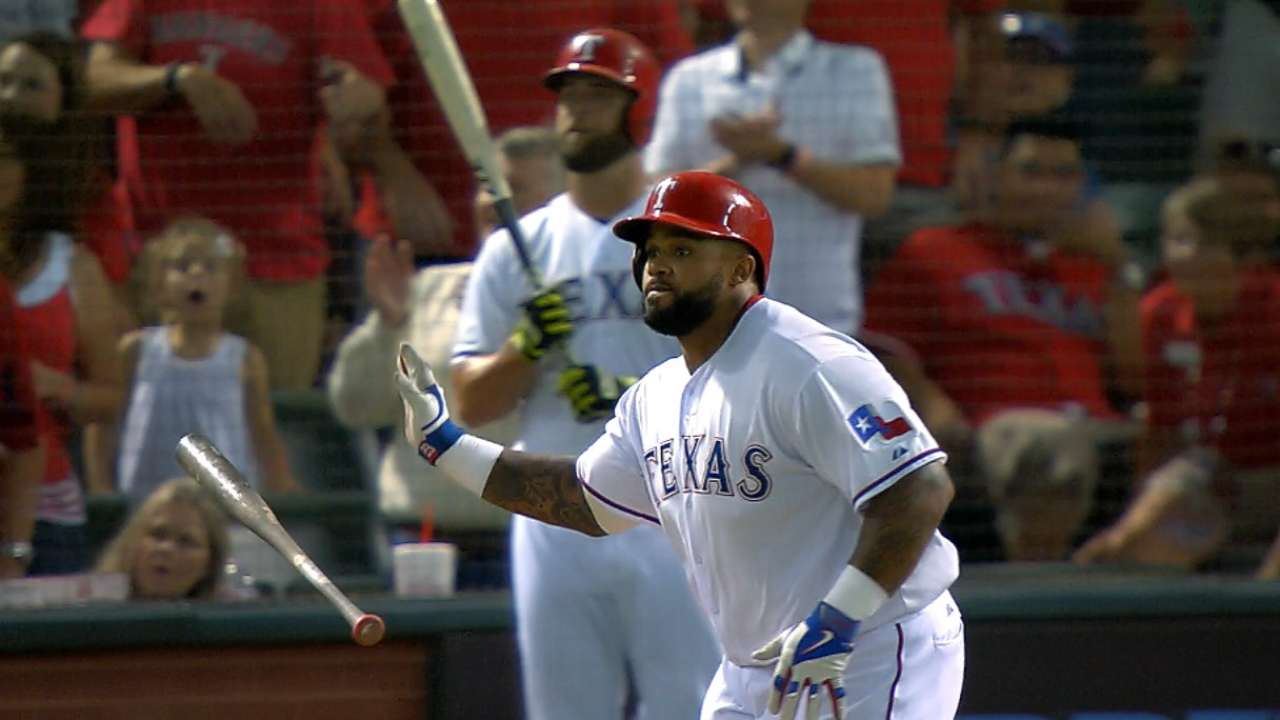 ARLINGTON -- Around this time last year, Prince Fielder wasn't sure he'd ever play another baseball game.
"I definitely had doubts," Fielder said after homering twice to help the Rangers beat the Astros, 14-3, on Wednesday night at Globe Life Park. "It just motivated me to work hard to get healthy and see what happened."
Fielder spent most of last summer recovering from surgery to repair a herniated disk in his neck, and for a guy who had played an average of 160 games in his first eight big league seasons, it was a frightening and frustrating experience.
"Any time you have surgery on the spine, that's pretty scary," Fielder said. "I didn't know where I'd be."
This is the payoff: Fielder is again one of the great hitters of his generation -- .314 batting average, 26 doubles, 21 home runs and 83 RBIs. Better yet, the first baseman/DH is on a first-place team that's playing its best baseball at the most important time of the year.
Fielder collected three hits, including the two home runs, and drove in five runs as Texas beat Houston for a third straight game. At 78-67, the Rangers lead the second-place Astros (77-69) in the American League West by 1 1/2 games. Their sprint into first place is even more impressive considering they were eight games out Aug. 2.
After winning two close games, the Rangers blew things open early on Wednesday, jumping Astros ace Dallas Keuchel for six first-inning runs, and tagging him for a career-high nine in 4 2/3 innings. In the biggest series Texas has played in at least two years, Fielder is 8-for-13 with three home runs, eight RBIs and eight runs.
"It's amazing. It's like [Fielder is] unconscious," center fielder Delino DeShields Jr. said. "He's relaxed. He's seeing the ball, making good contact. He went through some adversity the last month or so, but this is the time we need him the most."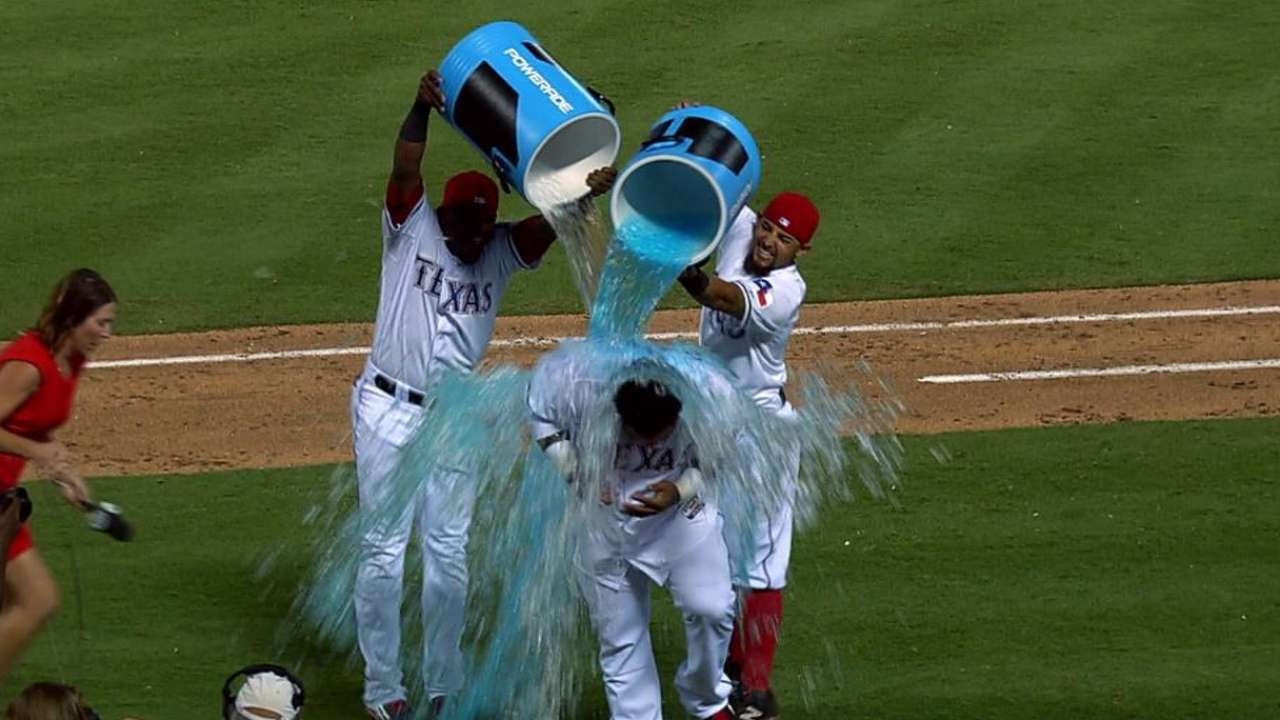 Fielder batted .235 with three home runs in 44 games before the Rangers returned home last week. His team had gone 27-17 without him to get back into contention. But a little slump is nothing to what Fielder experienced in 2014.
"This time last year, I was on the couch watching Cartoon Network or playing video games with my kids," Fielder said. "To be out here playing playoff atmosphere baseball, and have a chance to go to the playoffs, feels really good.
"I knew I loved it, but it just reminded me of what matters, and that's winning and being able to play hard every day. Not your numbers. Not any of that. Just be able to do what you can to help the team win."
The Rangers acquired Fielder from the Tigers in the offseason before the 2014 season. In doing so, they agreed to take on seven years and $138 million of the remaining $168 million on his contract.
That's the kind of trade that sends fans a message about the ownership's commitment to winning. The Rangers have always had big sluggers in their best seasons, and Fielder had averaged 35 home runs, 33 doubles and a .918 OPS in his eight full seasons.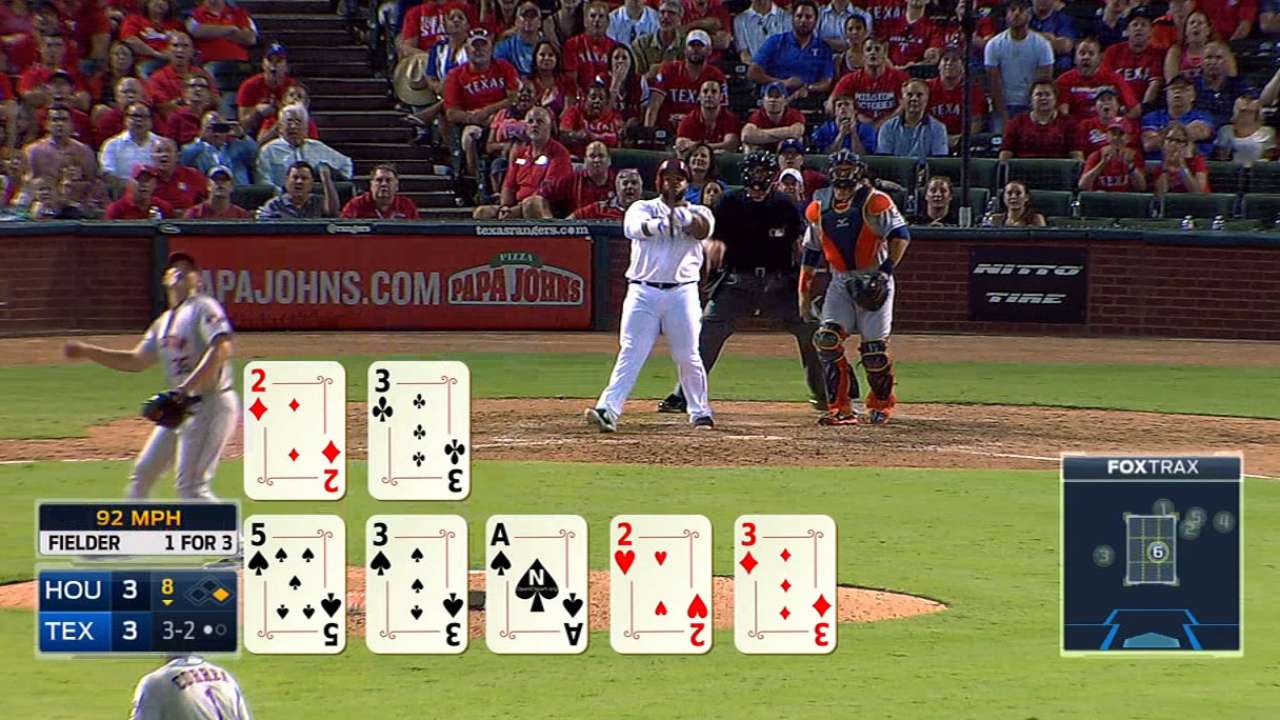 Fielder's injury was one on a long list that sent Texas on a hard downward spiral to 67-95 and last place in the AL West. This season has been a redemption tour of sorts for both Fielder and for a franchise that averaged 93 victories and made three playoff appearances between 2010 and '13.
One great slugger in the middle of a lineup can change the look of everything. The Rangers have a good thing going with DeShields at the top. They're 56-38 with him in the starting lineup.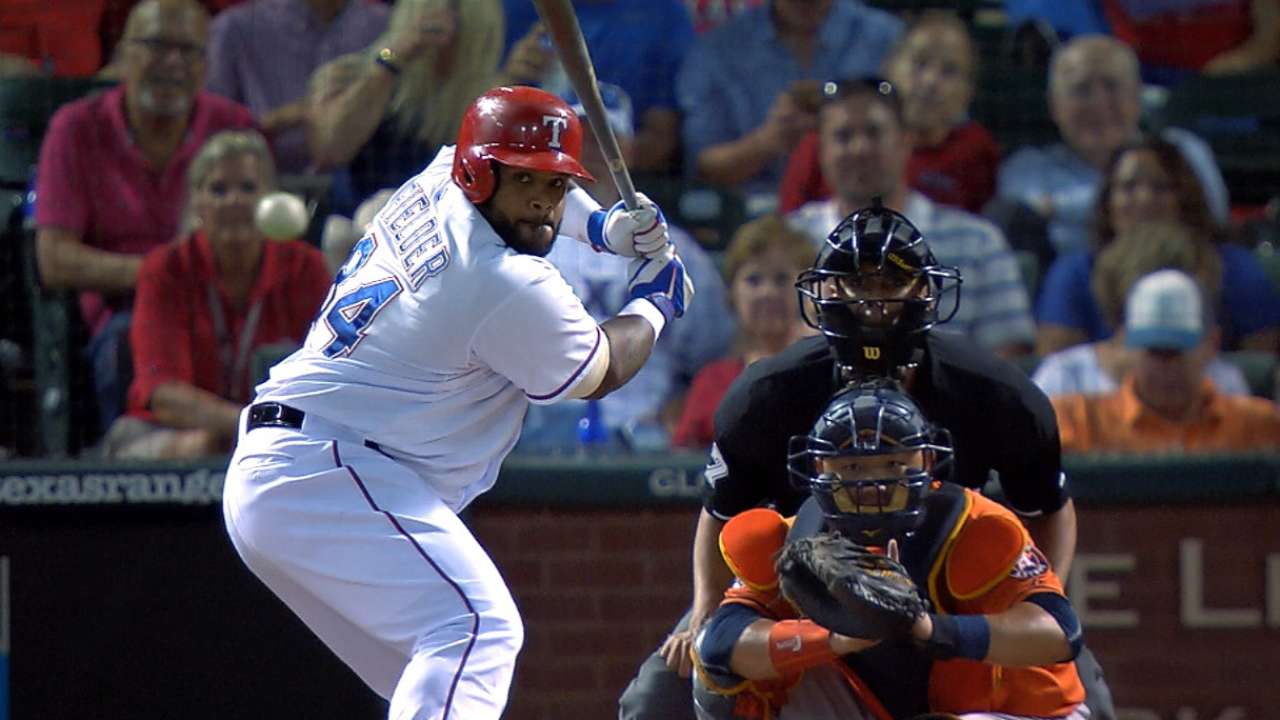 Fielder and third baseman Adrian Beltre anchor the middle of the lineup, and manager Jeff Banister has added to the depth by giving newly acquired Mike Napoli playing time in left field against left-handed pitching. Napoli's defense hasn't hurt the Rangers, and his three-run first-inning home run off Keuchel broke the game open.
"It's not only big for me, for the team, too," Fielder said. "It was terrible last year. It's definitely a good feeling."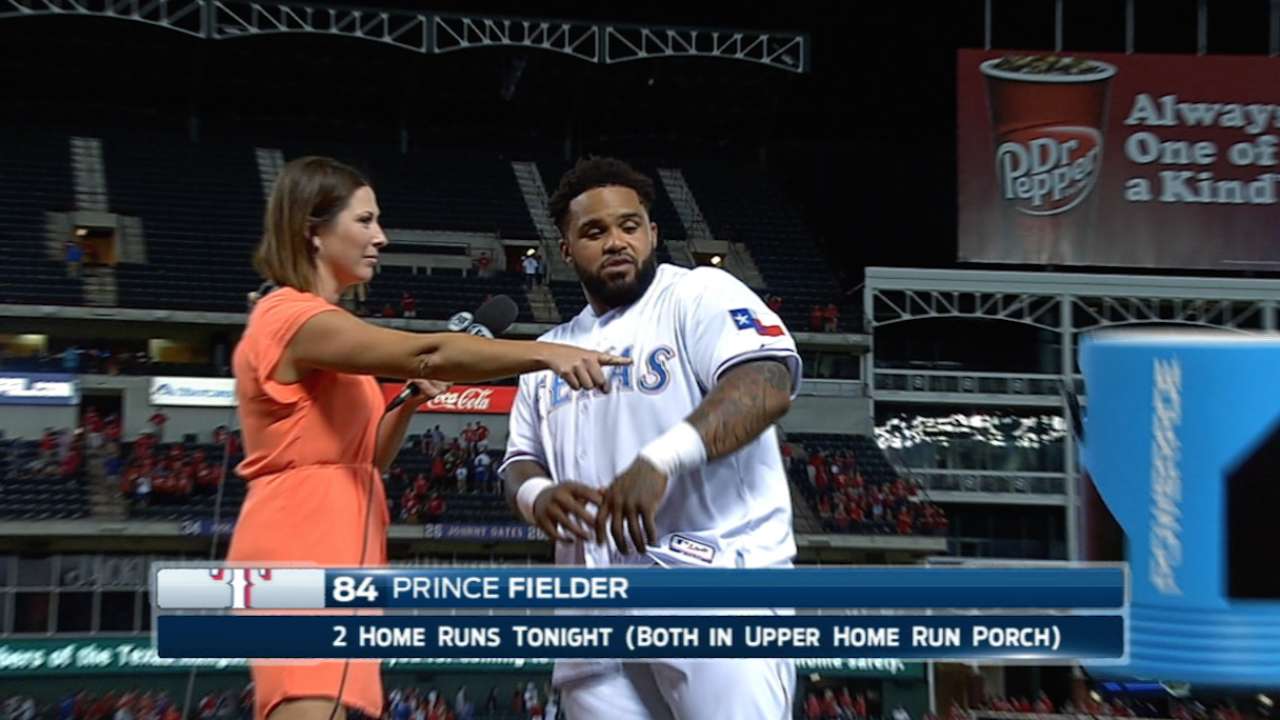 The Rangers didn't spend a single day alone atop their division until Tuesday. Now, they've stretched the lead just a bit. They appear to be gathering believers, too. Texas sold 6,800 tickets on Wednesday, and the franchise drew 34,483 in all. For teams like the Rangers, this is one of the best months of the year.
"September will make you 13 all over again," Banister said. "It will make you remember why you love this."
Richard Justice is a columnist for MLB.com. Read his blog, Justice4U. This story was not subject to the approval of Major League Baseball or its clubs.