Rangers putting pedal to the metal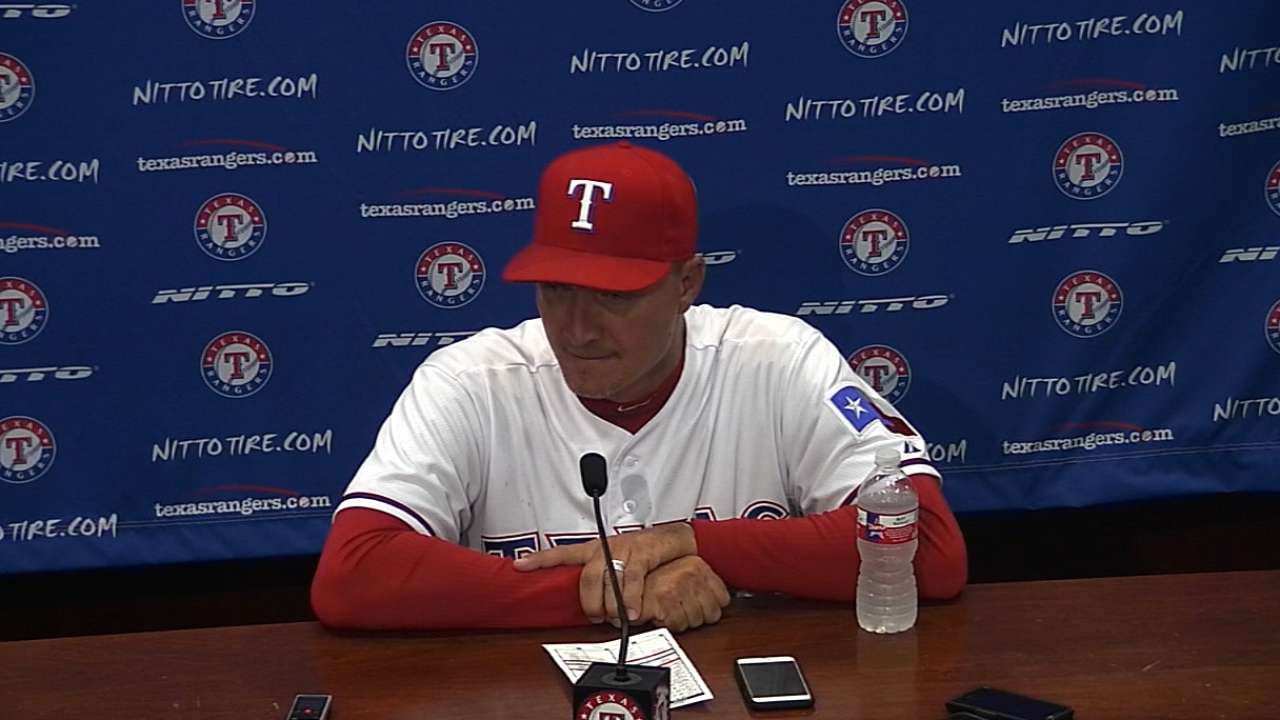 ARLINGTON -- Prince Fielder hit two home runs to help lead the Rangers to a 14-3 victory over the Astros on Wednesday night, their third straight win, then had a warning for his teammates.
"That's cool," Fielder said, "but we can't let up now. That's a great team. If we let up, they'll do the same thing to us."
So far there has been no letup for the Rangers in their four-game showdown with the Astros. All they did on Wednesday was eliminate the late-inning drama and settle the issue early.
The Rangers went up against American League Cy Young Award candidate Dallas Keuchel and smashed him for six runs in first inning. By the time Keuchel left the game with two out in the fifth, the Rangers were holding a nine-run lead.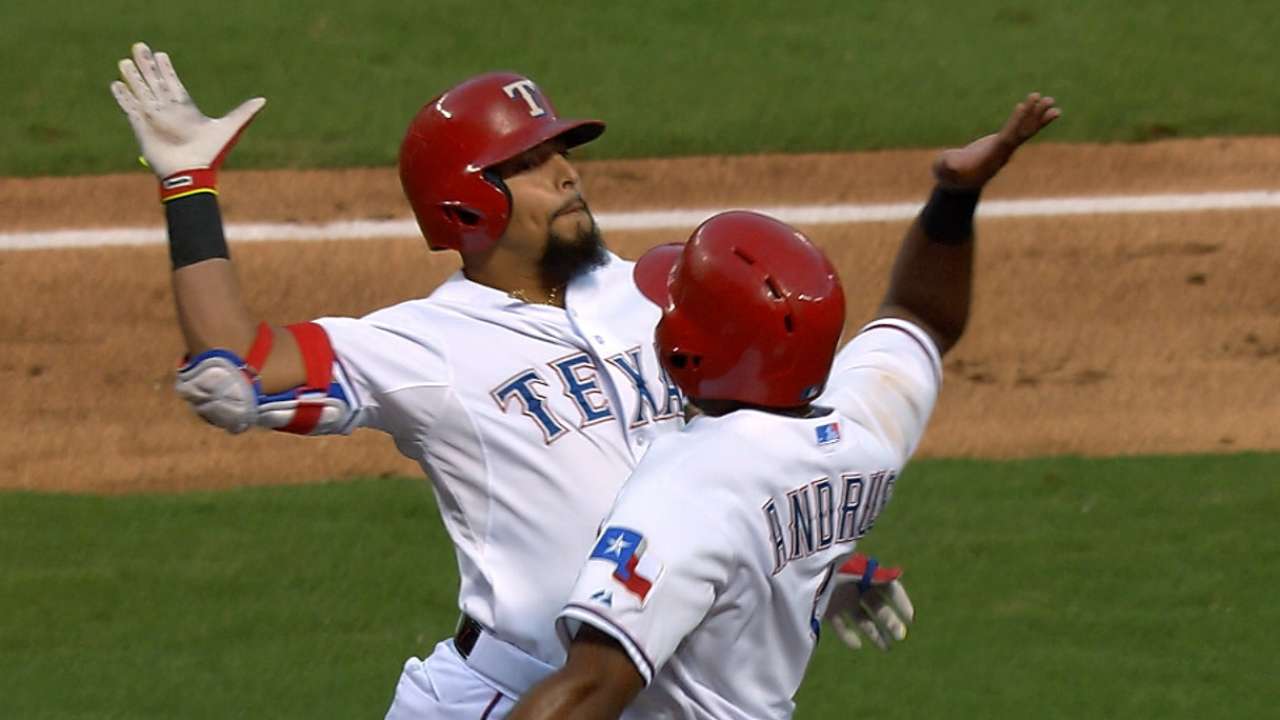 "Complete focus and determination," manager Jeff Banister said. "This was a buildup. Getting to this point, we haven't played cleanly along the way. But we found a way to win ballgames. This is a bunch of guys that got punched in the mouth in April and didn't like it.
"But since the All-Star break, they have kept their heads down and stayed focused. This is not an exhale moment, it's putting the foot down and staying focused, because we have a long ways to go."
The Rangers have a 1 1/2-game lead over the Astros with 17 games left to play. They have won four straight and are 10-5 in September to move to 11 games over .500. They are 11-4 against the Astros this season, but they still have one game left against them in this series and three more in Houston later this month.
"We have to keep fighting and [not] let the other team have a chance," winning pitcher Martin Perez said. "We have to win every day. We're playing good as a team, everybody is doing a great job, but we have to keep going."
The Rangers won on a night when their No. 5 starter went up against one of the best pitchers in the American League and beat him. Perez had lost two straight but he allowed just one run in seven innings. He gave up nine singles but allowed just one walk after issuing seven in his previous two.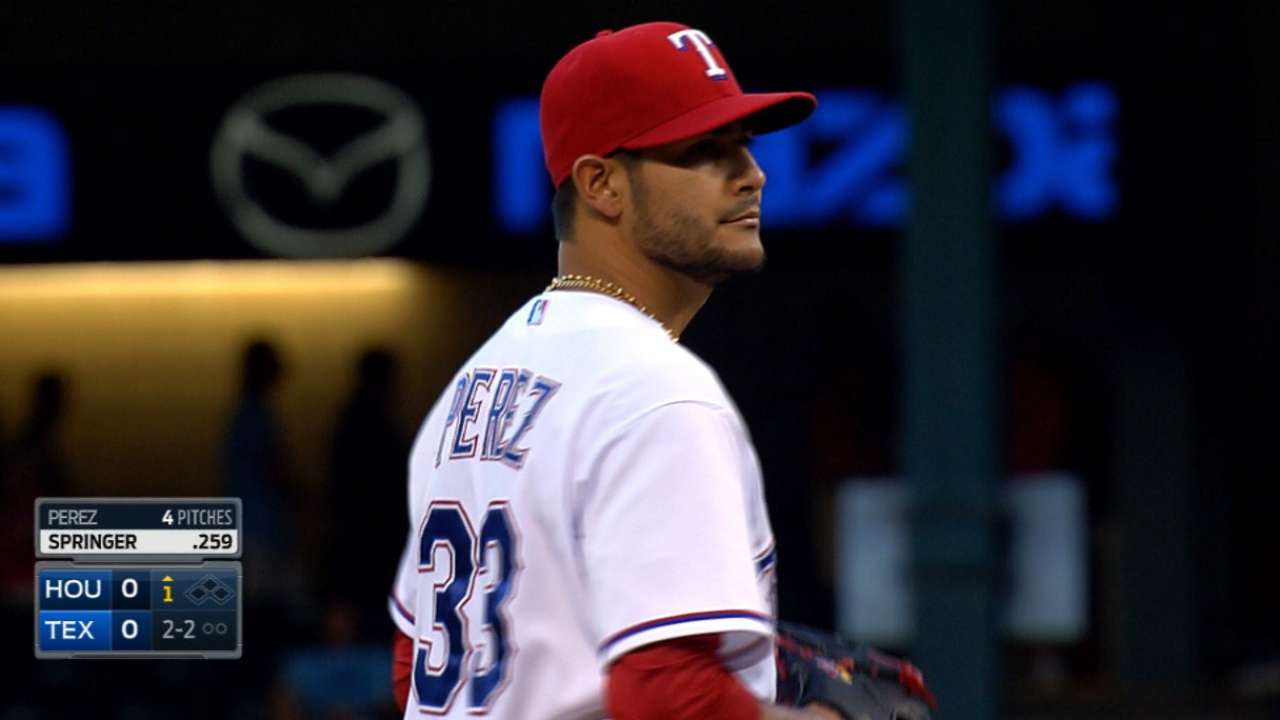 "He handled it like a pro," Banister said. "In the days leading up to this start, he was walking around the clubhouse, and you could see his attitude and focus. As I saw him walk around and watched his face, I knew we were getting a guy who was focused and ready to go. He showed it tonight."
It's how the Rangers are living right now.
"It's exciting. The energy level is extremely high," outfielder Delino DeShields said. "This was a chance to make something happen in the division, and to come out the way we have, the past few days have been huge. We have something special going, and everybody is buying into it."
T.R. Sullivan is a reporter for MLB.com. Read his blog, Postcards from Elysian Fields, follow him on Twitter @Sullivan_Ranger and listen to his podcast. This story was not subject to the approval of Major League Baseball or its clubs.