Asher, Phils learning tough lessons down the stretch
Club looking to avoid first 100-loss season since 1961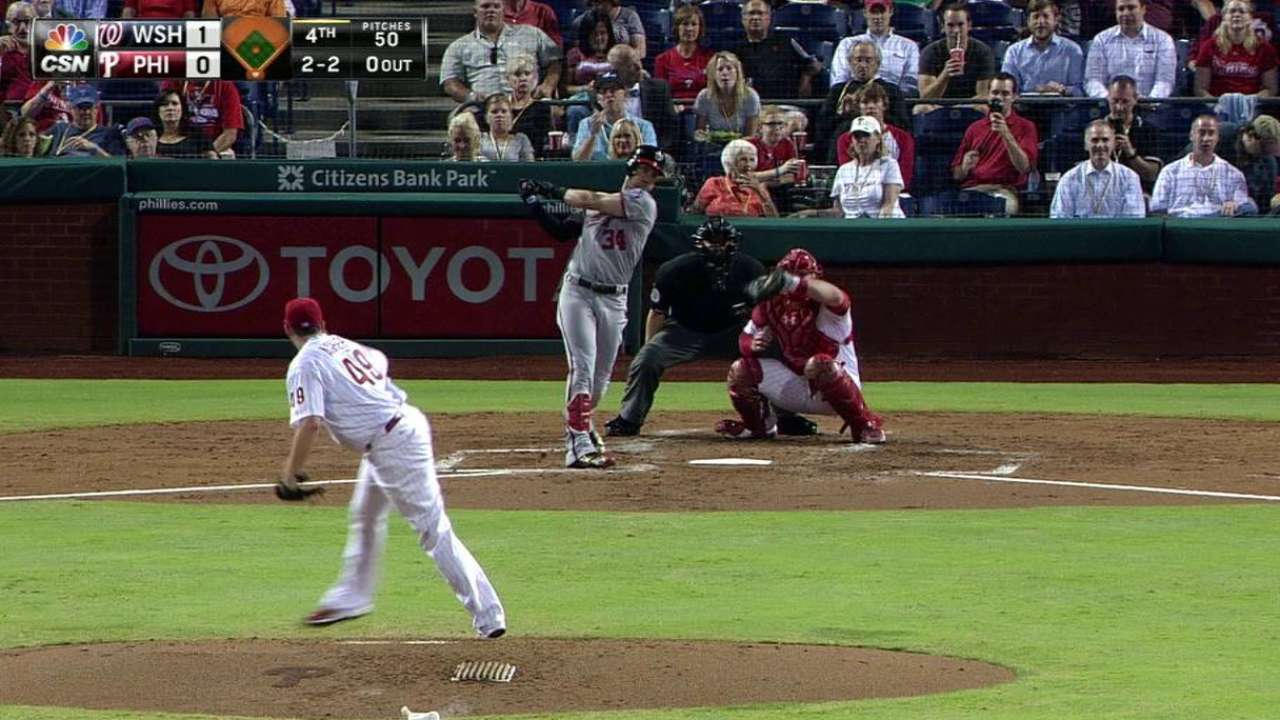 PHILADELPHIA -- Alec Asher has found the big leagues anything but easy since he joined the Phillies on Aug. 30.
His teammates know the feeling.
Asher is 0-4 with a 9.78 ERA in four starts, his latest coming Wednesday night in a 12-2 loss to the Nationals at Citizens Bank Park. The Nationals swept the series as Asher allowed seven hits, four runs, one walk, one home run and struck out four in five innings. Asher has not pitched more than 5 2/3 innings in any of his starts. He has not allowed fewer than four runs.
"Failure is part of the game," Asher said. "It's frustrating. No one likes losing. I hate it. I'm trying to shorten the learning curve, learn a lot of things and get better."
The Phillies fell to 56-91. They need to finish 7-8 to avoid their first 100-loss season since 1961, when they lost 107.
"It's not like we had a real good team and all of a sudden fell apart," said Phillies interim manager Pete Mackanin, when asked if players might be pressing to avoid 100 losses. "This is a day-to-day experiment. A lot of young guys are getting opportunities. We're learning a lot about them, and that's very important for next year."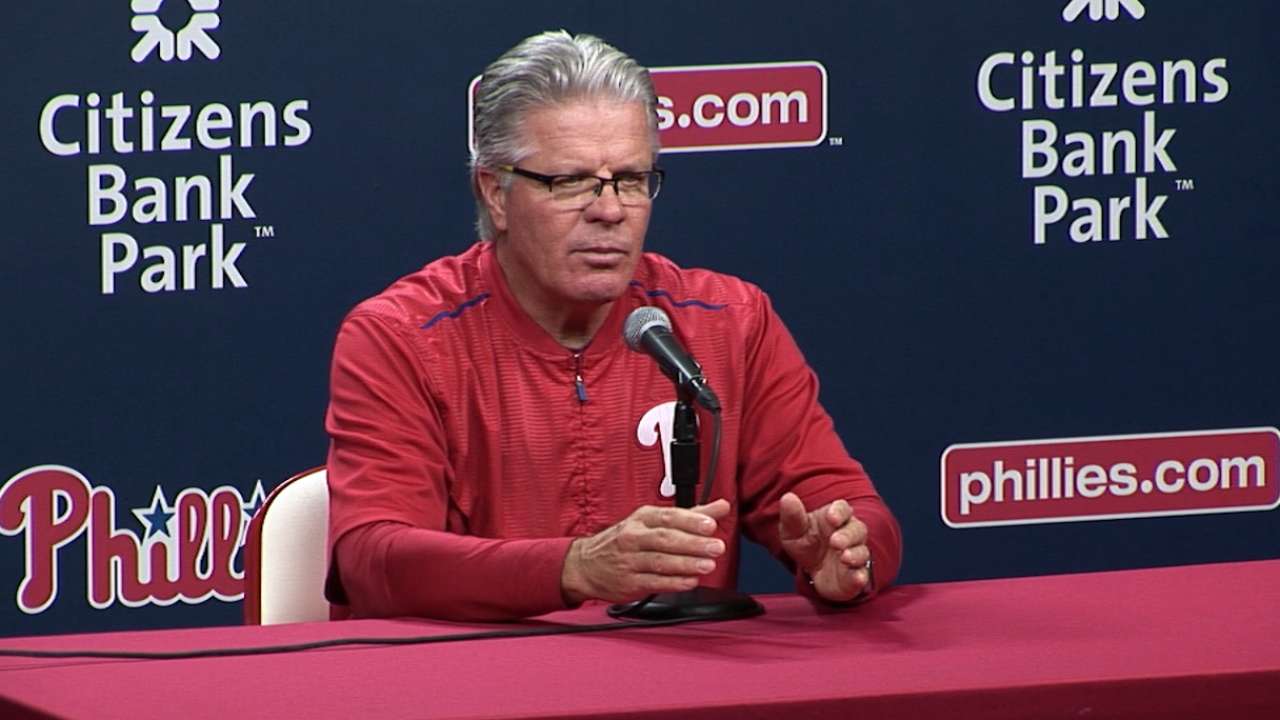 Asher's struggles illustrate the organization's need to acquire more starting pitching. There figures to be just one lock for the 2016 rotation: rookie right-hander Aaron Nola. Right-hander Jerad Eickhoff and left-hander Adam Morgan have lines on jobs for next season, but other than that it seems clear the Phillies will need to sign some pitching in the offseason.
Free agents like Doug Fister, J.A. Happ and Ryan Vogelsong could be placeholders until Minor League talents like Jake Thompson and Zach Eflin are ready for prime time. Asher will be in the mix, but he needs to pitch much better than he has pitched so far.
But the Phillies need to hit better, too. They struck out a franchise-record 42 times in the three-game series. It is the first time the Phillies have struck out 13 or more times in three consecutive games since 1915, according to Baseball-Reference.
The Phillies are struggling without Maikel Franco, Cesar Hernandez and Ryan Howard in the lineup because of injuries, but Mackanin sees another reason the Phillies can't seem to hit.
"All of these [players] haven't played this deep into a season," Mackanin said. "It's getting to them a little bit, and they've got to learn to get over that hump. A lot of slow bats. We're not hitting the fastball like we're capable of doing."
Phillies catcher Cameron Rupp agreed.
"We've got a lot of young guys that haven't played 162 before," he said. "It's something you've got to learn to get used to. Some of the pitching staffs we've faced in our division … they've got guys that can pitch and we've got a young lineup. It's definitely not easy getting in that box every night."
Todd Zolecki is a reporter for MLB.com. Read his Phillies blog The Zo Zone, follow him on Twitter and listen to his podcast. This story was not subject to the approval of Major League Baseball or its clubs.