O's hurlers are struggling as year winds down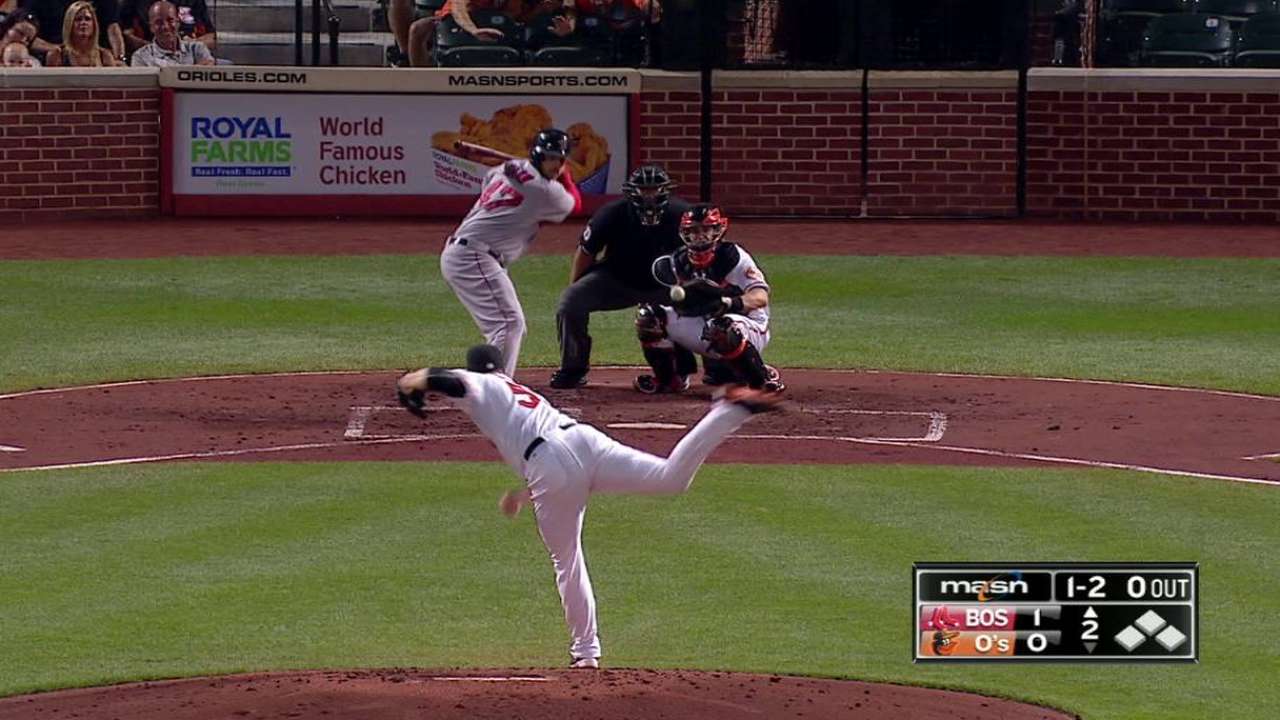 BALTIMORE -- Rookie Mike Wright's struggles against the Red Sox in Wednesday's 10-1 loss underscored a broader problem for the Orioles' starting rotation.
In the past 17 games, O's starters have pitched less than six innings 14 times. This has been one of the main challenges keeping them from making a serious run at the second American League Wild Card playoff spot.
Wright became the latest Orioles starter to exit early. He allowed a career-high six runs on six hits with one strikeout and one walk over just three innings. After the game, Wright was at a loss for answers.
"This isn't fun at all," Wright said. "I felt good. I felt good all my starts. That's what's really tough about it. I feel good about it and I still get hit all over the yard."
Wright has not recorded a quality start in his past seven outings. He has gone 1-5 with a 9.88 ERA over that span.
Wright went 2-0 with a 1.40 ERA in his first three starts, but has gone winless in the past six outings and his ERA is now at 6.33.
Despite the struggles, Wright still has a chance to make another start. With Miguel Gonzalez still on the DL with right shoulder tendinitis, the Orioles do not have a wealth of starters.
Right-hander Tyler Wilson, who was recalled from Triple-A Norfolk on Tuesday, is another option for the rotation over the final two weeks of the season.
"We'll still consider him starting," manager Buck Showalter said about Wright. "Miguel threw at 90 feet today. He'll take a day off and throw at 120. If that goes well, he'll throw in the bullpen on Sunday. So, Mike is starting right now. Tyler is ready, and hopefully Mike can get some things from it too. We're trying to present our best chance to win; we hoped it was with Mike starting tonight."
Even though the Orioles took two of three in the series from the Red Sox, there was no sense of solace among the players. The team knows time is running out to make a run at the postseason.
After winning the AL East last season, falling short of the playoffs would be a disappointment. The only thing the Orioles can do now is get ready for the Rays and hope for the best.
"It's hard to sweep any team during the season, but this time of year, it's a different part of the season," Showalter said. "They've been playing probably their best baseball of the year coming into this series. They struggled a little bit offensively the last few games. Tampa pitched well against them, so they were due to break out. We made a lot of poor pitches tonight."
Todd Karpovich is a contributor to MLB.com. This story was not subject to the approval of Major League Baseball or its clubs.