Hudson looking forward to seeing Zito with A's
Former teammates could pitch against each other in Bay Bridge Series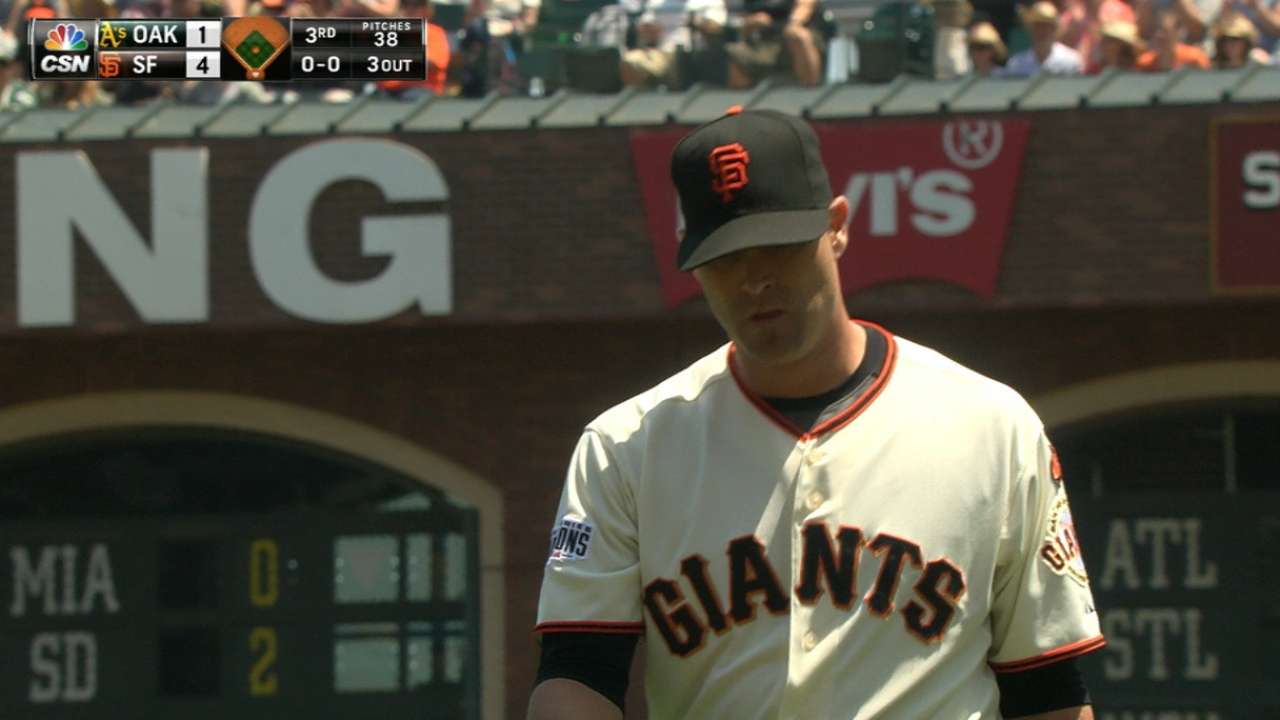 SAN FRANCISCO -- From 2000 to 2004 with the Oakland Athletics, Tim Hudson and Barry Zito, along with Mark Mulder, formed one of the more feared pitching trios in baseball.
With Zito's callup to the Athletics on Wednesday and Hudson on track to start in Oakland on Sept. 26, it's possible the two will pitch against each other when San Francisco travels across the bay for a three-game series beginning Sept. 25.
"It will be a special game for me personally," Hudson said. "It will be cool to see Zito in the other dugout or possibly, if things work out, if some way we're able to compete against each other for an inning or two, that'd be cool, too."
Hudson said the thought of being back at the Coliseum with his longtime friend, regardless of whether they do face each other, would be a special moment.
"It'll be cool just to be on the same field with him, whether we're pitching against each other or not," Hudson said of Zito. "It'll be nice to see him in an A's uniform again."
Hudson announced earlier this year that this season would be his last, and all indications are that Zito will hang up his cleats, too, though he has not yet publicly said so.
The Giants pitcher said he couldn't think of a better way to make his last start in Oakland than with Zito watching, or pitching, for the A's.
"It would be pretty awesome," Hudson said. "I think he and I both would find that pretty special."
Hudson and Zito have never faced each other.
The Giants' Javier Lopez, who has won championships with both Hudson and Zito throughout his 13-year career, said he would love for the two arms to match up for the first time -- and the last.
"Hopefully, if everything works out right, to get him starting against Tim Hudson in Oakland would be really sweet to see," Lopez said. "They've meant a lot to the Bay [Area] in general, but in particular this locker room, where they both won World Series titles. It'll be a fun time for everybody."
Oliver Macklin is an associate reporter for MLB.com. This story was not subject to the approval of Major League Baseball or its clubs.