Tough-luck Miller ties Braves winless streak
Ace allows five runs (four earned), tallies 22nd straight start without victory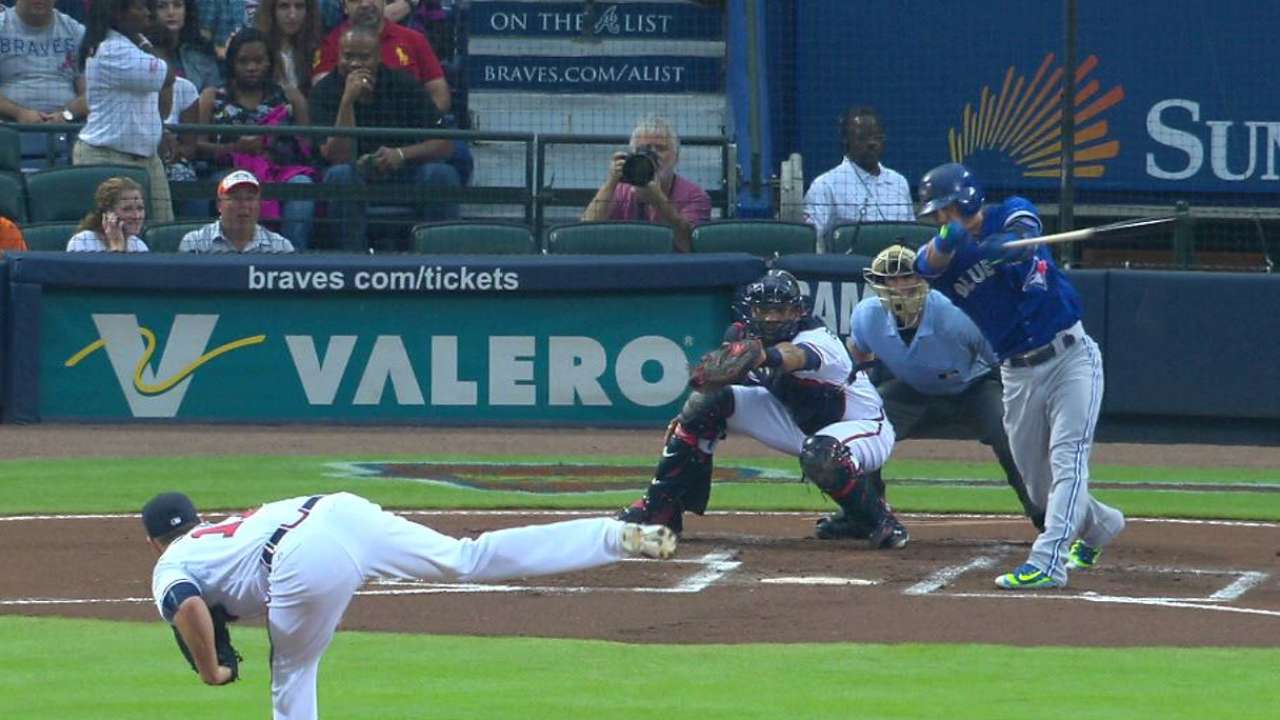 ATLANTA -- Those who have watched the Braves throughout this season should have no trouble recognizing that Shelby Miller has been Atlanta's top starting pitcher. But as long as historians continue to give credence to a pitcher's record, Miller will also be remembered for having spent this year enduring the longest winless streak in franchise history.
Miller gained this dubious distinction as he struggled through a four-run first inning and completed his shortest outing of the season in Wednesday night's 9-1 loss to the Blue Jays. Though a lack of run support has plagued this maddening streak, the Atlanta ace had to bear much of the blame for this result.
"I really didn't have anything going for me," Miller said as he displayed his frustration with uncharacteristically short answers following the game.
Miller has not been credited with a win since he came within one out of no-hitting the Marlins on May 17. His 22-start winless streak matches the franchise record that Carl Morton set over the course of the 1975 and '76 seasons. Still, this dubious distinction does not paint a clear picture of how effective the Atlanta hurler has been over the course of this season.
After allowing the Blue Jays five runs (four earned) and seven hits in just 3 2/3 innings, Miller found himself with a respectable 3.00 ERA through 30 starts. Alex Wood (3.54), who was traded to the Dodgers, stands as the only other Braves pitcher who has posted an ERA below 4.34 while making at least 10 starts this season.
"It's tough watching that because he's such a great guy and such a great competitor," Braves outfielder Nick Swisher said. "He's an All-Star this year and he's got tremendous stuff. He just can't catch a break. Sometimes in this game, that's what you need is a break or a lucky bounce here or there. He's just been on the unfortunate side.
"It's not a lack of work ethic or anything. The dude is a machine. He works his tail off and wants that ball every fifth day. We want him on the mound."
This marked the 16th time during the 22-start winless streak that the Braves have provided one run or less of support while Miller still had an opportunity to earn a win. But the right-hander put himself in a tough spot when he allowed hits, including a pair of doubles, to four of the first five batters he faced in the Blue Jays' four-run first inning.
Miller's struggles continued when he issued two walks, committed a balk and surrendered a Josh Donaldson double before exiting with two outs in the fourth.
Miller has allowed four earned runs or more in just seven of his 30 starts. But with three of those instances occurring within his past five starts, there is certainly reason to wonder if he is being affected by both the physical and mental grind this season has created.
"It's not really anything mentally, maybe more physically," Miller said. "You kind of get tired. You've just got to try to stake out these last couple starts and see what happens."
Mark Bowman is a reporter for MLB.com. This story was not subject to the approval of Major League Baseball or its clubs.