Blue Jays turn miscue into odd double play
Dropped popup starts 4-6-5 DP; Goins, Revere and Martin add defensive gems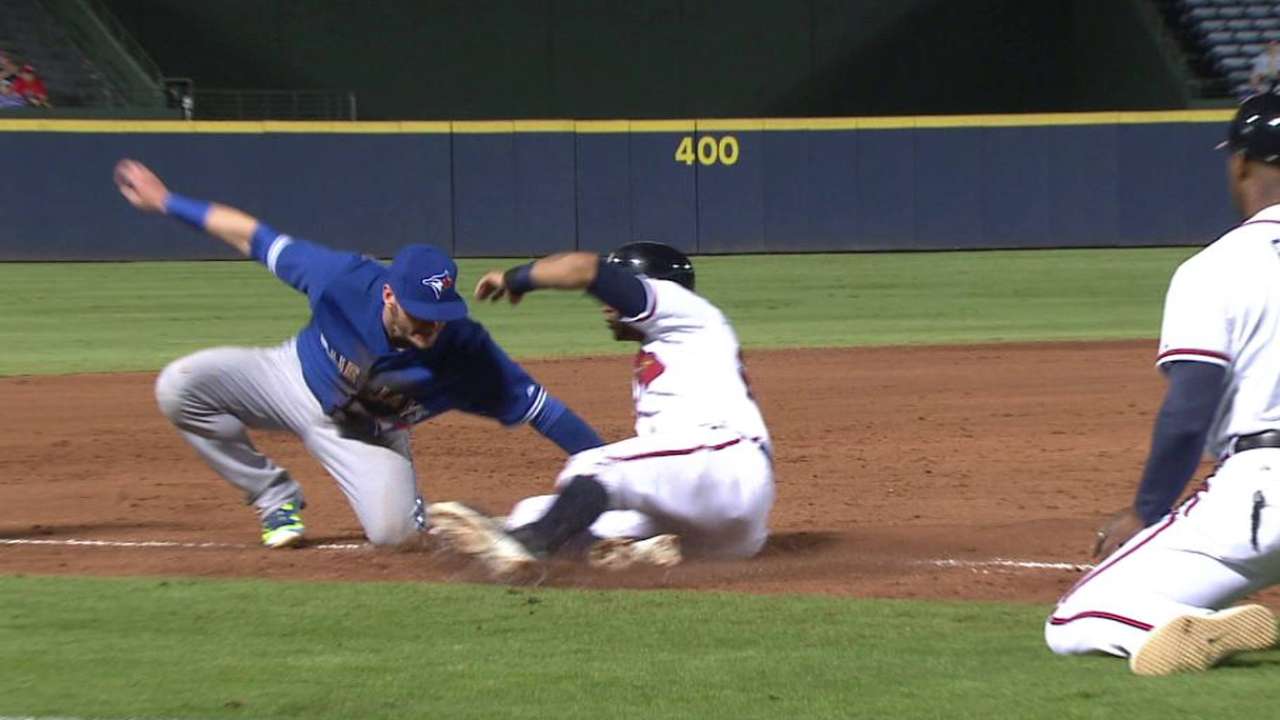 ATLANTA -- All of the bounces were going the Blue Jays' way in Wednesday night's 9-1 victory over the Braves, and even the plays that weren't exactly pretty ended up working in their favor.
In the fifth inning with runners on first and second, Atlanta's Nick Markakis hit a popup into shallow right field. Blue Jays second baseman Cliff Pennington ran out and likely should have made the catch, but he dropped the ball.
The popup was hit a little too deep to be considered an infield fly, so the play continued, and that was the worst thing that could have happened to the Braves. Christian Bethancourt and Ryan Lavarnway had gone back to their respective bases in anticipation of the catch, and they suddenly were caught in no-man's land.
Pennington picked the ball up and threw to second for the first out of the inning. Shortstop Ryan Goins then turned and fired to third in an attempt to get Bethancourt. Atlanta's catcher was originally safe on the play, but he came off the base with his slide and was quickly tagged out by Josh Donaldson.
Just like that, Toronto starter David Price was essentially out of the jam. Instead of the bases loaded with nobody out, he was left with one runner on first and two outs. Two batters later, Price ended the inning by striking out Freddie Freeman.
"That was huge," said Price, who dropped his season ERA to 2.42. "Two leadoff walks to start off the inning, that's never good, and then Markakis blooped one into right. Cliff and Go-Go both had a very heads-up play to do what they did, and Josh as well to keep that tag on him. That was huge."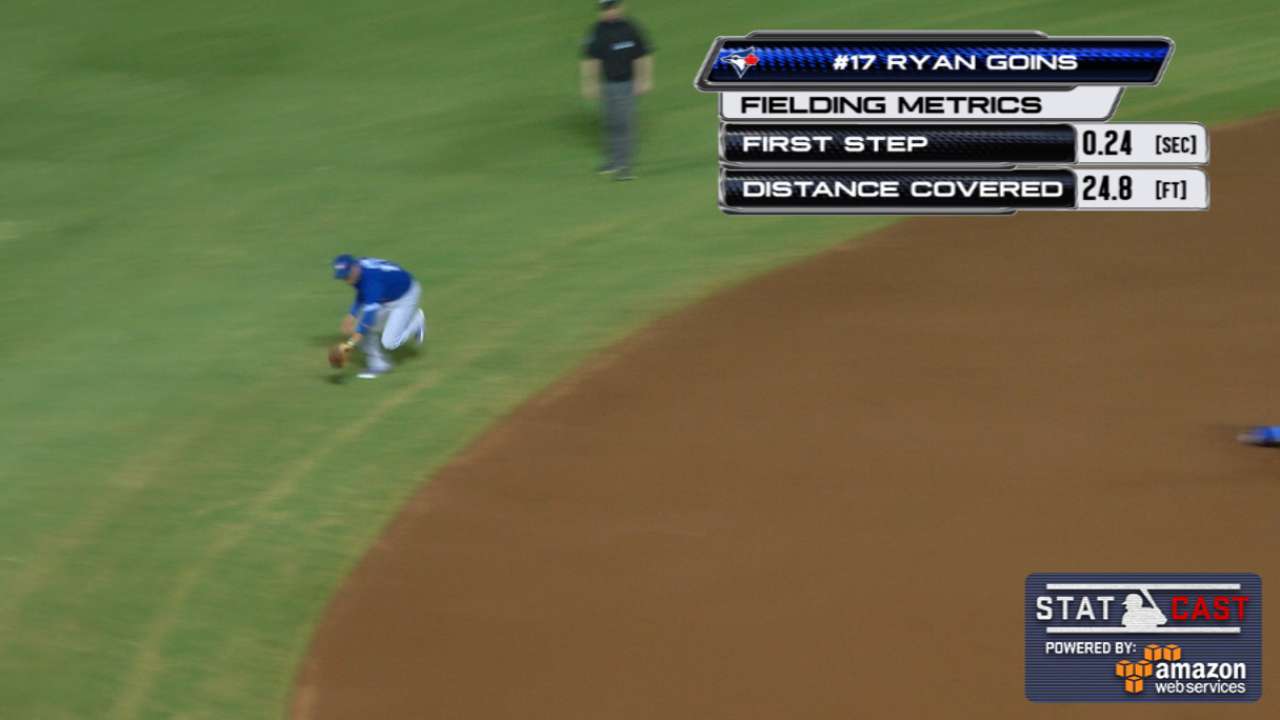 That play was just one of several from the game that likely will be on all of the highlight reels. In the third inning, Goins ranged deep into the hole between shortstop and third base to field a grounder off the bat of Markakis and then made an incredible off-balance throw to get the runner at first.
In the seventh, Ben Revere paused for a split second before running back and taking a hit away from Hector Olivera with an over-the-shoulder catch. Then in the eighth, Russell Martin sprinted out from behind the plate to field a little dribbler from Cameron Maybin for the final out of the frame.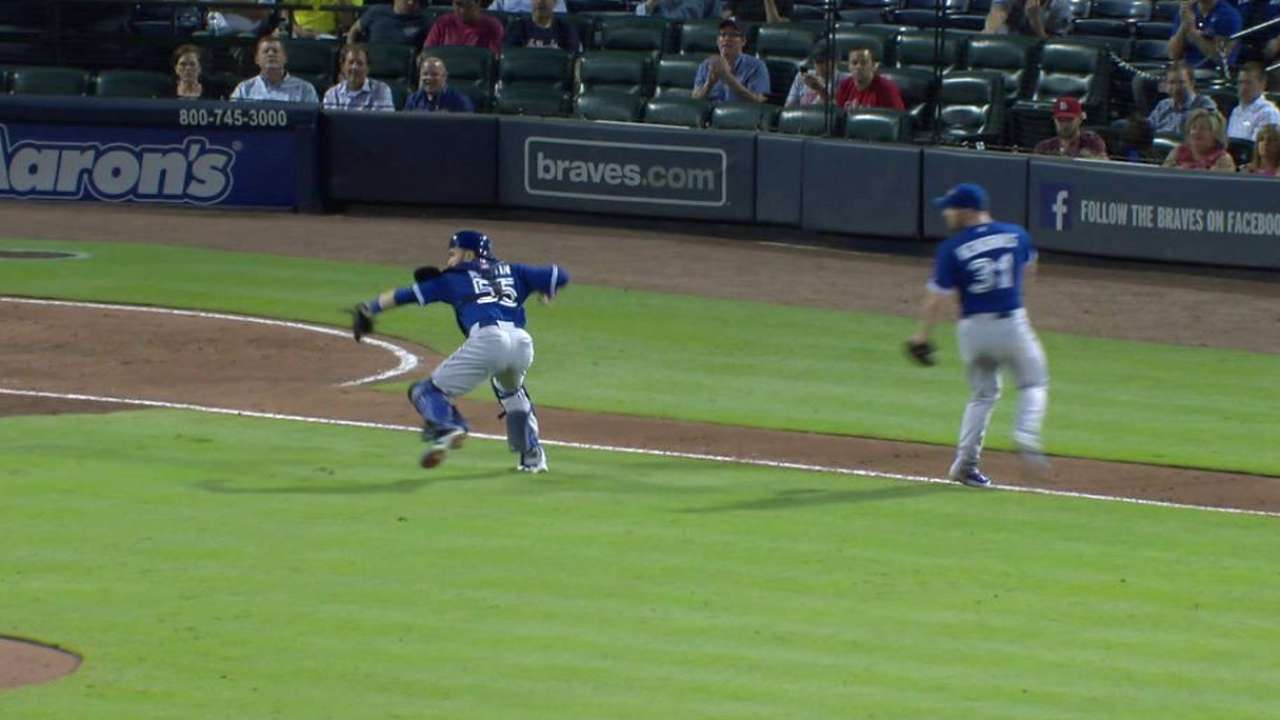 It was an all-around impressive night that has started to become par for the course for an organization that turned fielding from a weakness into a strength following a series of roster moves earlier this year.
"With Go-Go, that has to be the best play of the day in baseball, so I'll definitely be looking for that one later," Price said of the play made by Goins. "Revere as well in left. We played good baseball today."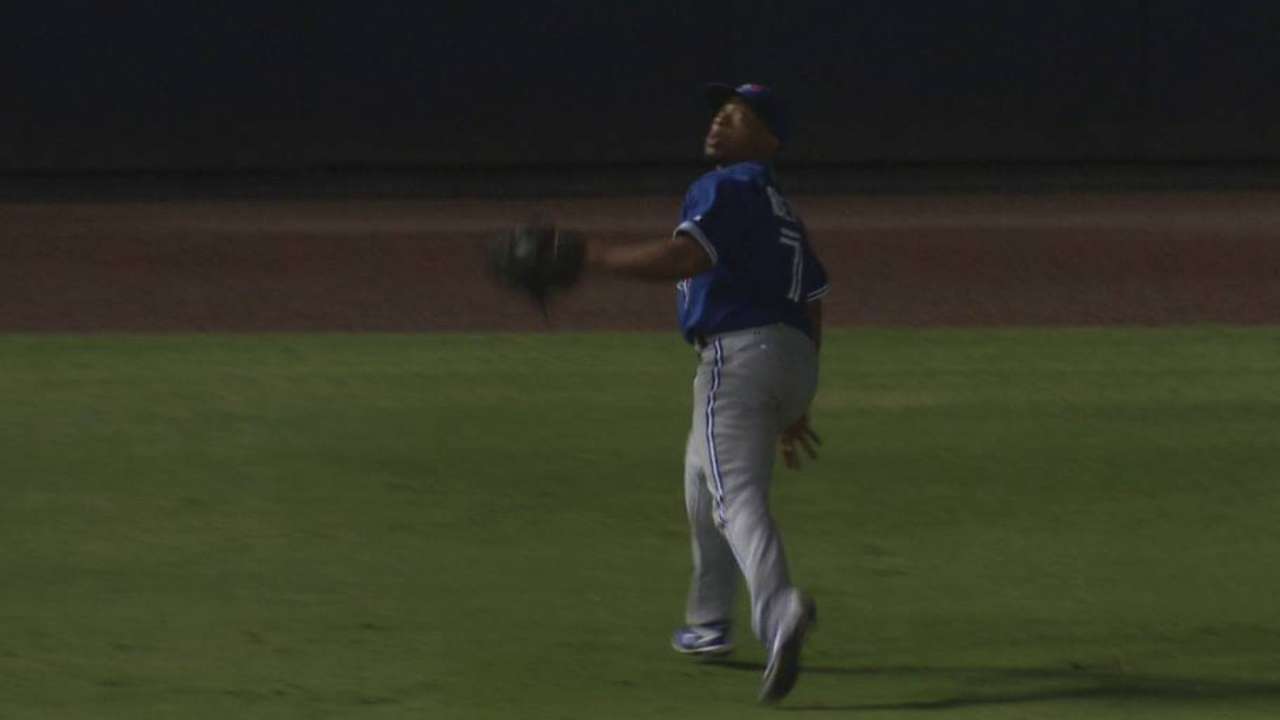 Gregor Chisholm is a reporter for MLB.com. Read his blog, North of the Border, follow him on Twitter @gregorMLB and Facebook, and listen to his podcast. This story was not subject to the approval of Major League Baseball or its clubs.