Rollins feeling pain in finger when throwing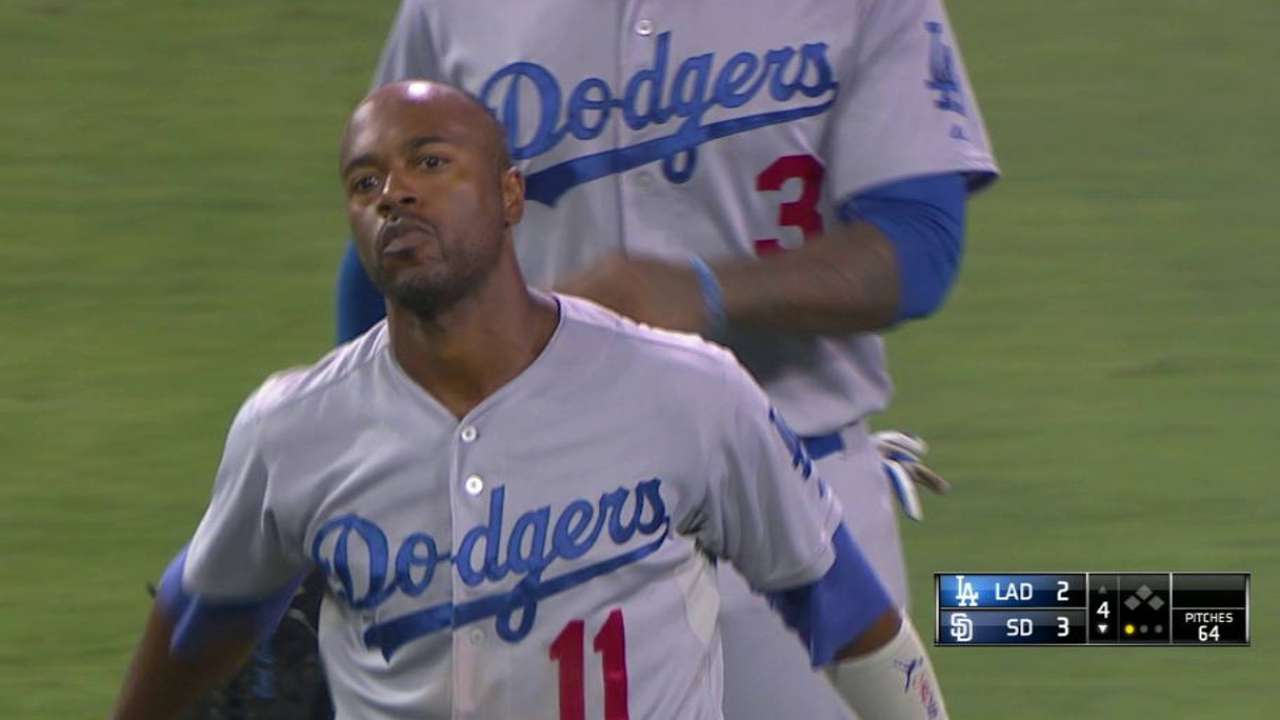 LOS ANGELES -- Dodgers shortstop Jimmy Rollins had a setback in his expected return time with a sprained finger after a pregame workout didn't go as well as planned on Wednesday.
Rollins did some hitting work and felt no pain in his right index finger, which has been described as a sprained finger and a jammed knuckle, but still couldn't do any throwing work without pain. Manager Don Mattingly said it likely would be "several" days before Rollins could play in the field.
"Jimmy didn't go that great. He started throwing, got about 10 or 12 into it and was feeling it, so we had to back off and stop that," Mattingly said. "So that didn't go as well as we would've liked."
The 36-year-old is hitting .220 with 13 home runs and 41 RBIs in his first season with the Dodgers. Rollins has been used as a pinch-runner on three seperate occasions since the injury.
"He can pinch-run. The hitting didn't bother him at all, and we think he's going to be able to pinch-hit," Mattingly said. "Right now, we don't have any defense."
The injury has lingered longer than Mattingly initially anticipated. While it was first considered to be something minor that would heal with a day or two's rest, Rollins hasn't been in the starting lineup since Sept. 6.
"We didn't really get it evaluated [at first]. We just thought it'd be gone in a few days," Mattingly said. "It was a jam, and it ended up being a little more than that."
Worth noting
• After a 16-inning marathon loss to the Rockies on Tuesday, the Dodgers rolled out one of their more unique lineups of the season Wednesday.
Chase Utley was at first base for the 32nd time in his 13-year career. Normally a catcher, Austin Barnes started at second base for the first time in over a year, after focusing exclusively on catching this season. Justin Ruggiano hit in the No. 3 spot for the first time since April 9, 2014, as a member of the Cubs, while rookie Corey Seager got his first start as the cleanup hitter.
"I knew leaving the ballpark last night that we were going to have a weird lineup today. But with that, I expect us to win," Mattingly said. "We're playing guys in places they've been before, but they just haven't been there in a while."
A.J. Ellis was the only starter in Wednesday's lineup who was on the Dodgers' postseason roster last season.
Steve Bourbon is an associate reporter for MLB.com. This story was not subject to the approval of Major League Baseball or its clubs.