Aggressive Eaton 'goofed up' on basepaths
Ventura says attempt to get to second was not smart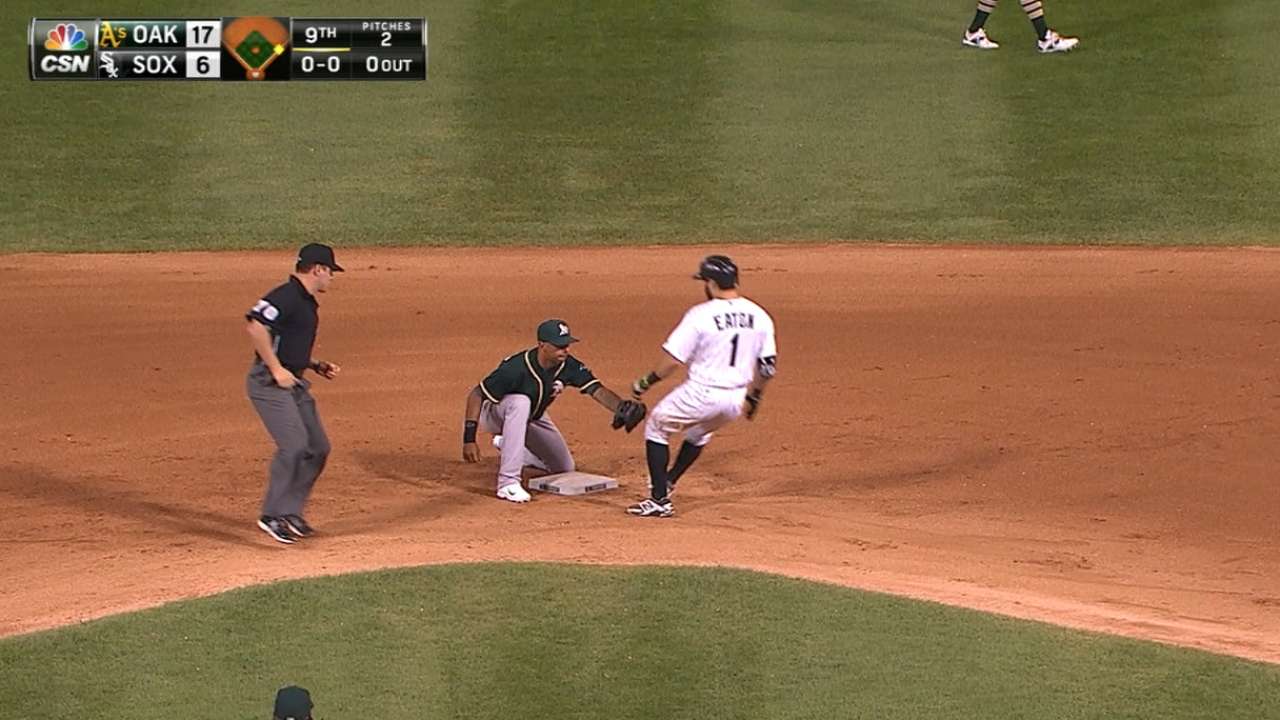 CHICAGO -- In light of Oakland's 17-6 victory over the White Sox Tuesday night at U.S. Cellular Field, Adam Eaton's baserunning miscue to open the ninth had no effect on the final outcome.
But Eaton trying to stretch a single into a double down 11 runs and being thrown out by a considerable margin was a move that received direct postgame criticism from White Sox manager Robin Ventura. It also produced a pregame media session for Eaton on Wednesday, one in which the aggressive White Sox leadoff man did not seem inclined to talk about this particular play, although he reluctantly admitted that he "goofed up."
"You know, it was yesterday," said Eaton, in response to the first question concerning the play. "We are focused on today and to get better and we have to keep battling. It's 1-1 in this series and hopefully we can take today and tomorrow and win the series. That's what we are focused on."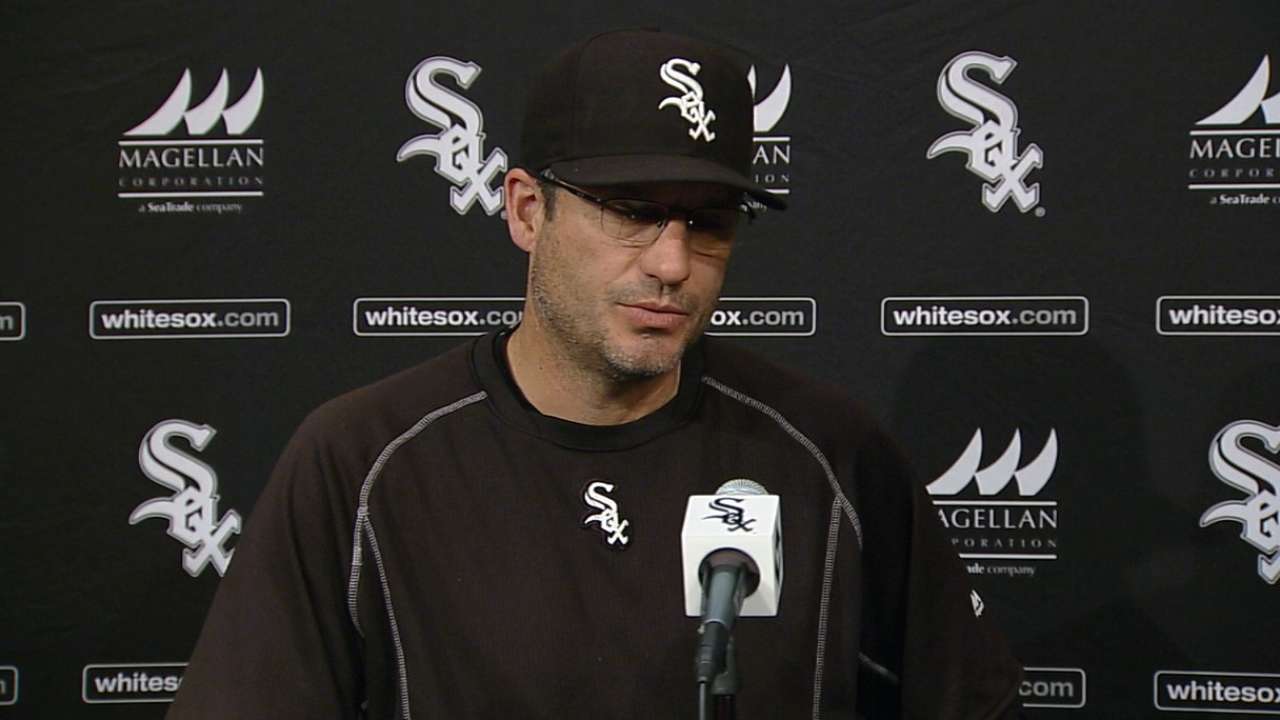 Another four questions were asked of Eaton, before the topic was brought up again in the form of how Ventura handled his displeasure with Eaton's seemingly unnecessary aggressiveness. Eaton quickly moved on to the next question, which also was focused on the play in terms of channeling his aggressiveness.
"Again, next question. I think that's kind of how the season went," Eaton said. "I don't understand why we are focusing on that. I get it's a story for you guys, but why?"
It was then pointed out that Ventura criticized the move after the loss.
"I understand that. You guys were the ones who asked the question about it and he's got to answer it some way," Eaton said. "I goofed up. It's in the past. We are going to try to move forward. Thank you."
Eaton has a .335 average over his last 47 games and arguably has been one of the team's most consistent offensive forces, especially since the All-Star break. He makes a valid point that this play might be receiving a little too much attention, in comparison to another bad start from Jeff Samardzija, who allowed 10 runs on 11 hits in three-plus innings.
Then again this move could be construed as an attempt by Eaton to speed up an end for a second lengthy game between the A's and White Sox, but Ventura quickly dismissed that idea. Ventura simply wants controlled aggressiveness from the man at the top of his order.
"It's not the end of the world, but it's not the smartest play either," said Ventura on Wednesday. "Part of it is just admitting that it wasn't a smart play. He knows that now, he knew it right when he did it, especially because he's not going to be tying up the game anytime soon.
"You're saving outs. Part of his thing is his aggressiveness and the way he plays. Sometimes he gets out in front of what's a smart play and right there, that wasn't a smart play. Like running into fences when he doesn't necessarily have to, that comes into it just as much. For him, he knows he messed up and it wasn't a good play."
Scott Merkin is a reporter for MLB.com. Read his blog, Merk's Works, follow him on Twitter @scottmerkin and listen to his podcast. This story was not subject to the approval of Major League Baseball or its clubs.