After Hamels and Holland, rotation flexible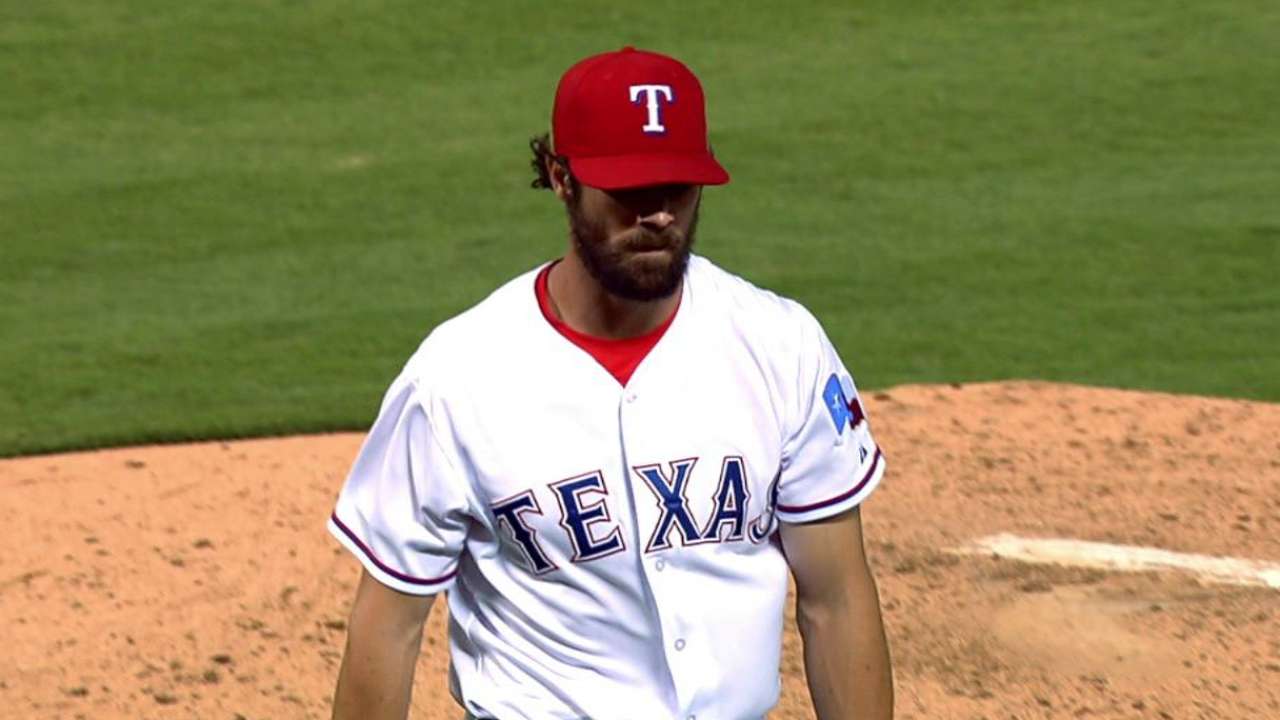 ARLINGTON -- Cole Hamels and Derek Holland are still set to pitch the first two games of a three-game series against the Astros from Sept. 25-27, and they would be in position to pitch the first two games of any playoff series, but the Rangers are being flexible when it comes to the rest of the rotation, especially with an off-day coming up on Monday. Another rotation alteration is still possible.
"We like how the rotation is set up," manager Jeff Banister said, "but we have an off-day, so we have an opportunity to look at it, and if somebody needs an extra day or two, we can maneuver it."
Martin Perez and Colby Lewis will start the final two of the current four-game series against the Astros. That leaves Yovani Gallardo, Hamels and Holland to face the Mariners this weekend.
Monday's off-day is the last one on the Rangers' schedule. After that they play 13 straight games to the end of the season. Monday offers the last best chance of tinkering with the rotation; the Rangers could also insert Chi Chi Gonzalez for another spot start if needed.
"Right now the highest priority for the rotation is tonight," Banister said. "We get through tonight, we'll reassess where we are tomorrow. To be fair and honest with all this, it is tight, it is close, the margin for error is so slim. So we'll look at it on a nightly basis, series to series, and not get too far ahead."
What is clear is that the Rangers see Hamels and Holland as the two pitchers best suited to lead them into the playoffs. That remains the case even though Holland allowed five runs in 5 2/3 innings against the Astros on Tuesday and is 0-1 with a 7.11 ERA in his last two outings. He has made six starts since coming off the disabled list.
"Derek didn't pitch but six games last year," said Banister of Holland, who missed five months while recovering from knee surgery. "He really hasn't pitched in a high-stress, high-intensity game in quite a while. When a guy is coming back after being gone for an extended period of time, they go through a re-learning of what they experienced previously.
"They might have learned something three or four years ago, but that's a distant experience. When you haven't pitched in a while and you put yourself in that experience again, it's a re-learning process. I attribute [Tuesday] to that more than he had a bad game. The stuff is still there. I didn't see anything that was concerning, no mechanical issues or health issues."
Worth noting:
• The Rangers and Royals will go to San Antonio next Spring Training for a two-game series at the Alamodome on March 18-19. This will be the fourth straight year the Rangers go to San Antonio for Big League Weekend after facing the Padres there in 2013, the Astros in 2014 and the Dodgers this season.
• Leonys Martin is experiencing increased soreness in his right hand, which was operated on to repair a broken hamate bone. The soreness has forced him to cut back his workouts.
• Catcher Robinson Chirinos, sidelined with a torn tendon in his left shoulder, is hoping to start taking batting practice on Thursday. He has been throwing for the past few days.
T.R. Sullivan is a reporter for MLB.com. Read his blog, Postcards from Elysian Fields, follow him on Twitter @Sullivan_Ranger and listen to his podcast. This story was not subject to the approval of Major League Baseball or its clubs.