Lindor, Tribe beaming over rookie's stellar day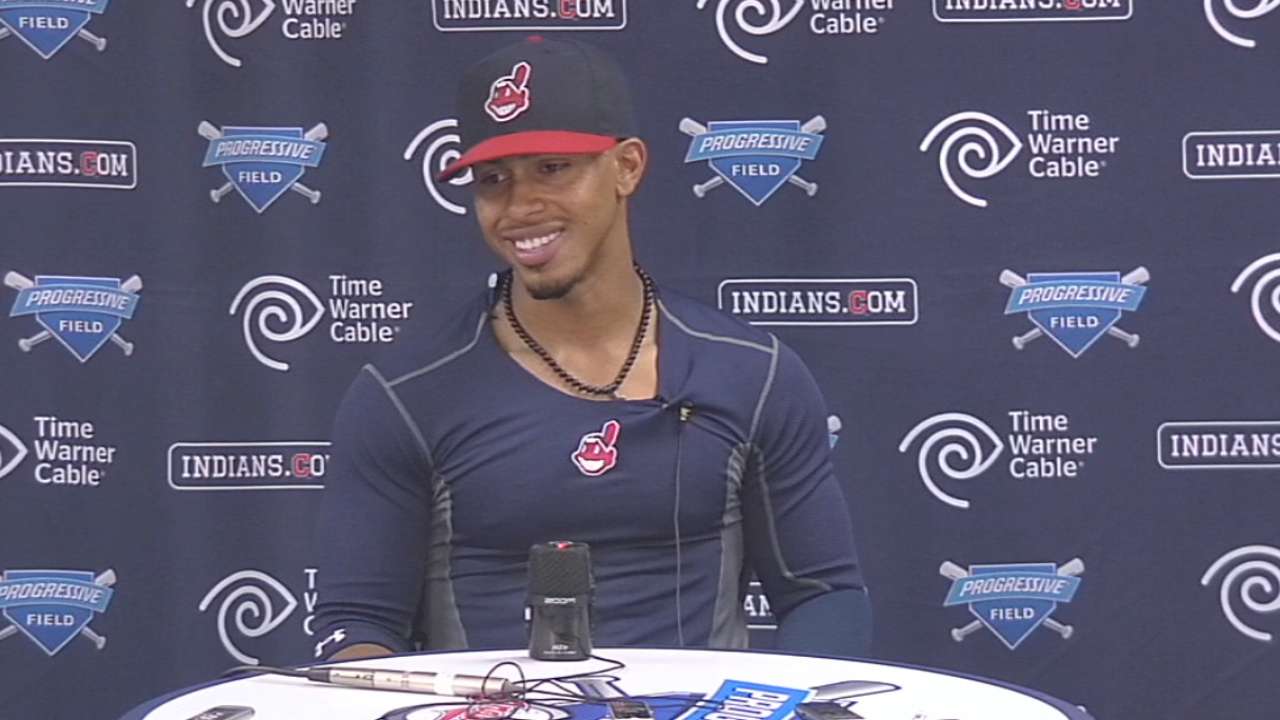 CLEVELAND -- Francisco Lindor could not help himself. As the rookie shortstop shifted to his feet, amid rousing cheers of approval for the stellar defensive gem he just turned in, Lindor flashed the wide smile that is becoming a familiar sight on the field for the Indians.
Lindor's energy and enthusiasm have played an integral role in breathing life into the Indians over the past three months and Wednesday night's 5-1 victory over the Royals was just the latest example. When Lindor dove, tumbled, rolled and fired to first base to rob Alex Rios of a hit in the fifth inning, the pulse of the Tribe was not going to stop beating.
"I've just never been a fan of a guy that makes a great play and acts like he's done it 10,000 times," Lindor said. "Smile, man. That's what we play for. We've got to enjoy the game. Smiling doesn't mean you're hot-dogging it or disrespecting the game. It's a smile."
• Is Lindor #AwardWorthy? Vote now for Best Rookie
Lindor, and Cleveland's fans alike, were smiling plenty on Wednesday night.
The Kid came through with three hits, including a towering solo home run that clanked off the left-field bleacher seats in the first inning, and drove in four of the Indians' five runs. The 21-year-old shortstop delivered a two-run single in the second and an RBI single in the fourth, and Lindor then reminded everyone that he was human with a strikeout in his final at-bat in the sixth.
Lindor's homer marked the 100th hit of his career, and he reached that milestone in a hurry. Dating to at least 1914, only two players have reached 100 hits in one season to begin a career with Cleveland faster than Lindor, who achieved the feat in 82 games. Roy Weatherly did so in 67 games in 1936 and Joe Vosmik collected No. 100 in his 80th game in 1931.
Lindor became the fastest to 100 hits to start a career with the Indians since Dale Mitchell did it in 80 games across the 1946-47 campaigns.
"It's an honor, a blessing, cool," Lindor said. "But, at the end of the day, that's not what matters. What matters is winning. That's what I try to do."
Lindor has been on an incredible tear since the All-Star break, throwing his name in the ring in the growing debate over this season's American League Rookie of the Year Award. His case is strong, especially considering a Cleveland club many felt had its sights set on 2016 has surged into the AL Wild Card pack with Lindor providing the spark.
In the second half, Lindor has 79 hits overall, 25 multi-hit games, eight three-hit showings and a .361 average.
"You know, he's a kid with a lot of energy," starter Danny Salazar said. "When he got called up [in June], I was pretty excited. I've known him since he signed here and I know the way he is."
When Lindor was promoted, the rookie did not burst out of the gates. He hit .223 in his 26 games leading into the All-Star break and made a handful of youthful mistakes on the basepaths, in the field and at the plate. Throughout those early struggles, the shortstop did not sulk or get overwhelmed.
Now, Lindor's batting average stands at .317 and he leads AL rookies with a 3.7 WAR, according to Fangraphs. Defensively, he is tied among all AL shortstops with seven Defensive Runs Saved, which ranks first among rookies at the position.
"For him to impact the game the way he has, it's pretty special," manager Terry Francona said. "He always has enjoyed playing the game."
That's evident in the smile constantly on Lindor's face.
Jordan Bastian is a reporter for MLB.com. Read his blog, Major League Bastian, follow him on Twitter @MLBastian and listen to his podcast. This story was not subject to the approval of Major League Baseball or its clubs.