Ailing Astros in various stages of healing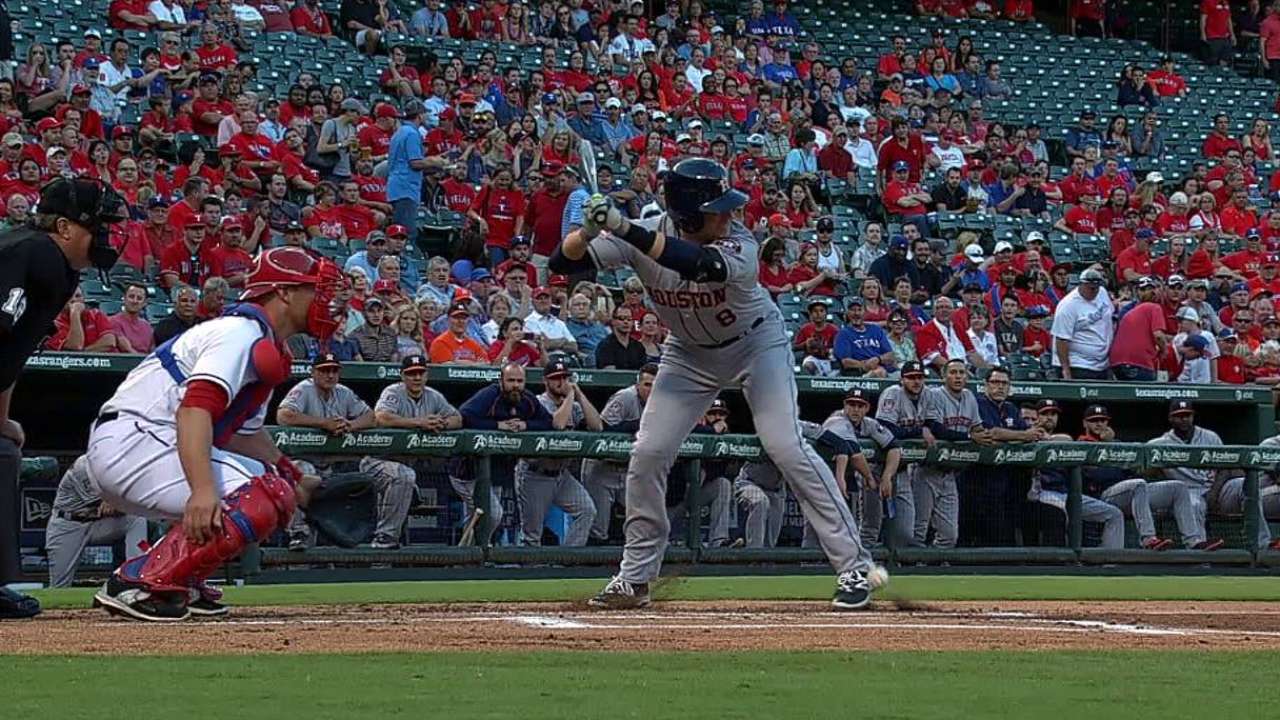 ARLINGTON -- Marwin Gonzalez returned to the lineup on Wednesday, starting at third base, after missing the two previous two games with a swollen left index finger and a sore wrist before being removed as a precaution to start the fourth inning of the Astros' 14-3 loss. Third baseman Jed Lowrie (foot) and catcher Jason Castro (quad) could return on Thursday, and center fielder Carlos Gomez (intercostal) could be out for a few more days.
Here's how the Astros' injured players are mending:
• Gomez, who sustained a mild strain of his left intercostal during batting practice on Sunday, was able to do some trunk exercises on Wednesday without any soreness but appears to be a few days away from swinging a bat. Gomez said that if the Astros continue to struggle, he'll push himself to come back sooner, even though he could risk more injury.
"We have to be smart and careful," Gomez said. "It could be like five, six, seven, eight days, or be out for the season. We're going to do every step. ... Right now it's take it day to day, and when we come back home, we'll decide whether we want to speed up or whatever."
Gomez, of course, swings extremely hard, which means his intercostal endures forceful movements.
"If I'm playing, I'm not going to swing like I swing normally; [I'll] be smart about it," he said. "The only thing I have in my mind is keeping myself in the game. Whatever happens the next two nights is going to decide how fast we have to put me back in the lineup."
• Lowrie, whose foot was bruised when he was hit by a pitch on Monday and was out of the lineup on Tuesday, said on Wednesday that he was able to play, and he expects to return for Thursday's series finale against the Rangers.
"I'm definitely available today," Lowrie said. "That's up to [manager] A.J. [Hinch] how to use me."
• Gonzalez, who injured his finger and wrist sliding into a base on Friday, said it's the point in the season where he has to play though some pain. He did so on Saturday and Sunday before sitting on Monday and Tuesday. Though he appeared to aggravate the injury when he made a diving attempt of an Elvis Andrus double in the first and was later pulled, Hinch said the move was a combination of being careful and a way to give Matt Duffy his Major League debut.
• Castro, who's been out since Aug. 28 with a strained right quadriceps, could return on Thursday after catching Scott Kazmir in the bullpen prior to Wednesday's game without any problems.
"We have a shot tomorrow, and if not tomorrow, then Friday," Hinch said. "He's doing very, very well. I think the running is going to be a test for him, and I'm not sure we're really going to know until it's a game situation and he hits a ball into the gap and has to go home to second, similar to the play [on which] he got hurt."
Brian McTaggart is a reporter for MLB.com and writes an MLBlog, Tag's Lines. Follow @brianmctaggart on Twitter and listen to his podcast. This story was not subject to the approval of Major League Baseball or its clubs.