Jennings enjoying manager experience
Marlins skipper may return to GM role next season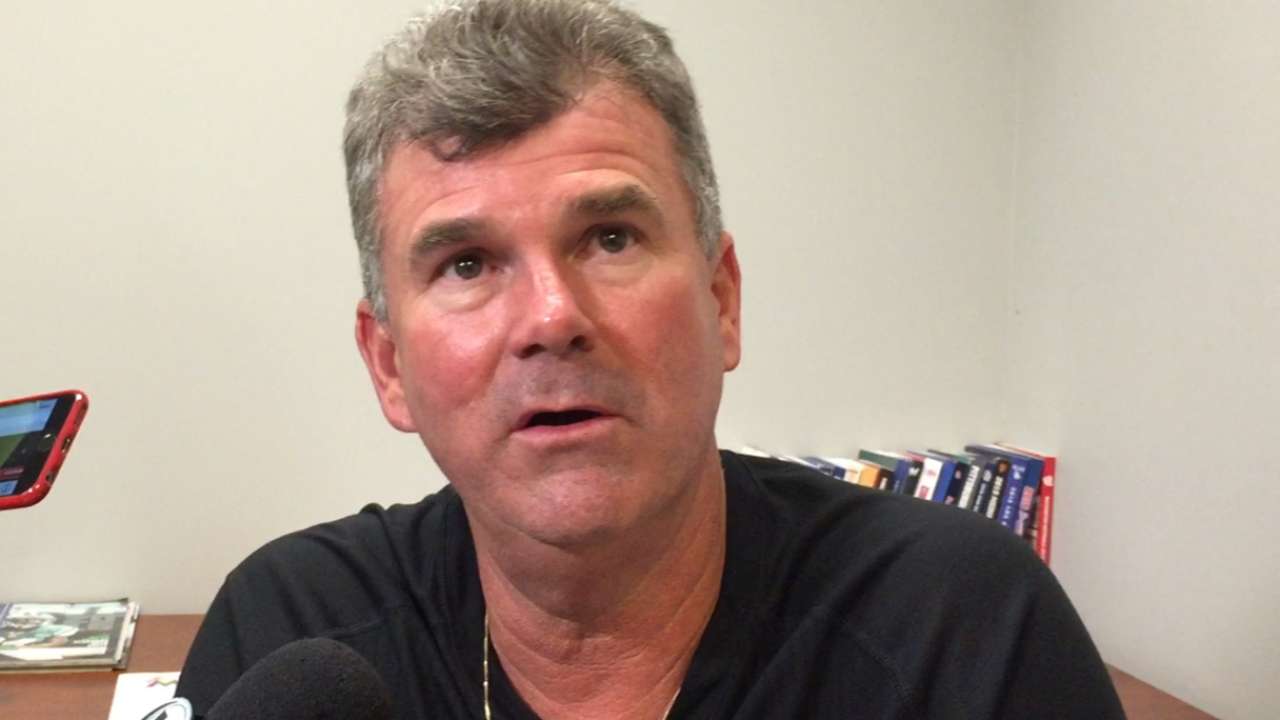 NEW YORK -- No matter his job title in 2016, Dan Jennings has gained valuable experience managing the Marlins.
It's widely speculated that Jennings will transition back into the general manager role in Miami or pursue opportunities with another organization. Those are just guesses. For now, he is enjoying managing and going through the daily grind with the players.
"As I've said before, it's been the greatest education that you cannot buy," Jennings said.
If Jennings does return to the front office, his experience in the dugout gives him an entirely different perspective on the game.
Before replacing Mike Redmond on May 18, Jennings had 31 years of professional experience as an evaluator. But he had no previous coaching or managing experience.
Now, he more fully understands all that is involved. How quickly in-game decisions have to be made, and what it's like to manage players, on and off the field.
"Living it gives you much more knowledge," Jennings said. "Living it, versus seeing it or reading about it, completely daylight and dark."
Jennings, celebrating his 55th birthday Wednesday, enjoys the daily interaction with the players.
"The game, for me, has always been about the players," he said. "Who they are and what they do. It's who the fans pay to see. Now, there is a newfound respect and appreciation for these guys, and what they go through."
As manager, the losses are taken more personally.
"It's hard to win in the Major Leagues," he said. "I will tell you that when you sit upstairs, the losing doesn't grind you near as badly as it does in the dugout."
Another perspective Jennings now has is knowing when players are available or not.
"The actual grind of going through the games, understanding what real makeup truly is," he said. "Knowing guys that will play with a little discomfort or a minor injury, playing through it, and understanding that some nights, upstairs, you may think a manager may have all of his bullets available, and truly he only has X and Y and Z is not there.
"You learn a lot of things like that you may not be aware of in a different capacity."
Worth noting
• Giancarlo Stanton on Tuesday was examined by a hand specialist to get a second opinion. Everything is fine with the slugger's left hand and wrist area, and the next step is continuing to build up strength in his hand. Stanton, who broke his left hamate bone June 26, is progressing toward a simulated game before he is ready to come off the disabled list.
Joe Frisaro is a reporter for MLB.com. He writes a blog, called The Fish Pond. Follow him on Twitter @JoeFrisaro and listen to his podcast. This story was not subject to the approval of Major League Baseball or its clubs.