Salute 21: Clemente Day sacred in Steel City
With Hall of Famer's family on hand, Pirates celebrate personal connection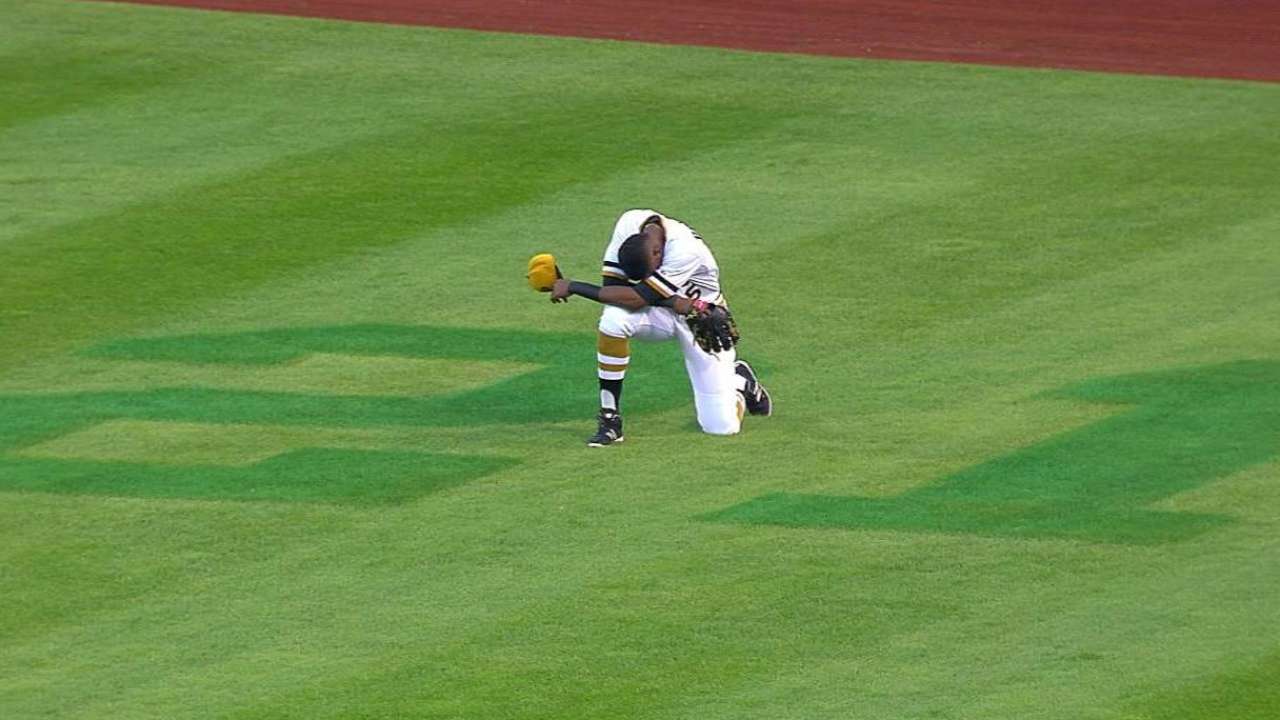 PITTSBURGH -- The world has adopted Roberto Clemente. But he has always belonged to Pittsburgh. This is where he left footprints in the grass before sprouting angel's wings, so Clemente Day isn't a formality in this city; it's a sacred rite.
So this is where, on Wednesday night, you found his widow, Vera, and sons Roberto Jr., Ricky and Luis mark the occasion in PNC Park.
As touching as Vera Clemente was in throwing out the ceremonial first pitch to Jaff Decker, the pregame ceremony's headliner was Andrew McCutchen, the Bucs' nominee for the 45th annual Clemente Award.
• Ties to Clemente a 'blessing' to McCutchen
Even more impressive as a humanitarian than as a ballplayer, McCutchen accepted his award from the Clemente family, then lowered himself back into the Pirates' dugout, where manager Clint Hurdle fought his emotions.
.@TheCUTCH22 is awarded the Pirates Clemente Award. #ClementeDay pic.twitter.com/EQAt3sQD94

— Pittsburgh Pirates (@Pirates) September 16, 2015
"It's very humbling to be a small part of [Clemente's] legacy and have the opportunity to honor him," Hurdle said, "to continue to push forward all the things that Roberto stood for ... the servant's heart he had.
"It's a day of heartfelt appreciation for the man, on and off the field."
• Vote now for Roberto Clemente Award
As Major League Baseball paused to observe the 14th annual Clemente Day, the Bucs joined in marking the occasion -- quite literally, in the case of the huge "21" mowed into the right-field grass.
The Pirates, however, celebrate The Great One every minute of every day spent in PNC Park. The Clemente Wall in right is accented by a quartet of "21" emblems. And, fittingly, it is 21 feet tall.
"To see that salute in the wall in right field," said Neil Walker, "is a constant reminder how important he was not only to this organization but all of baseball."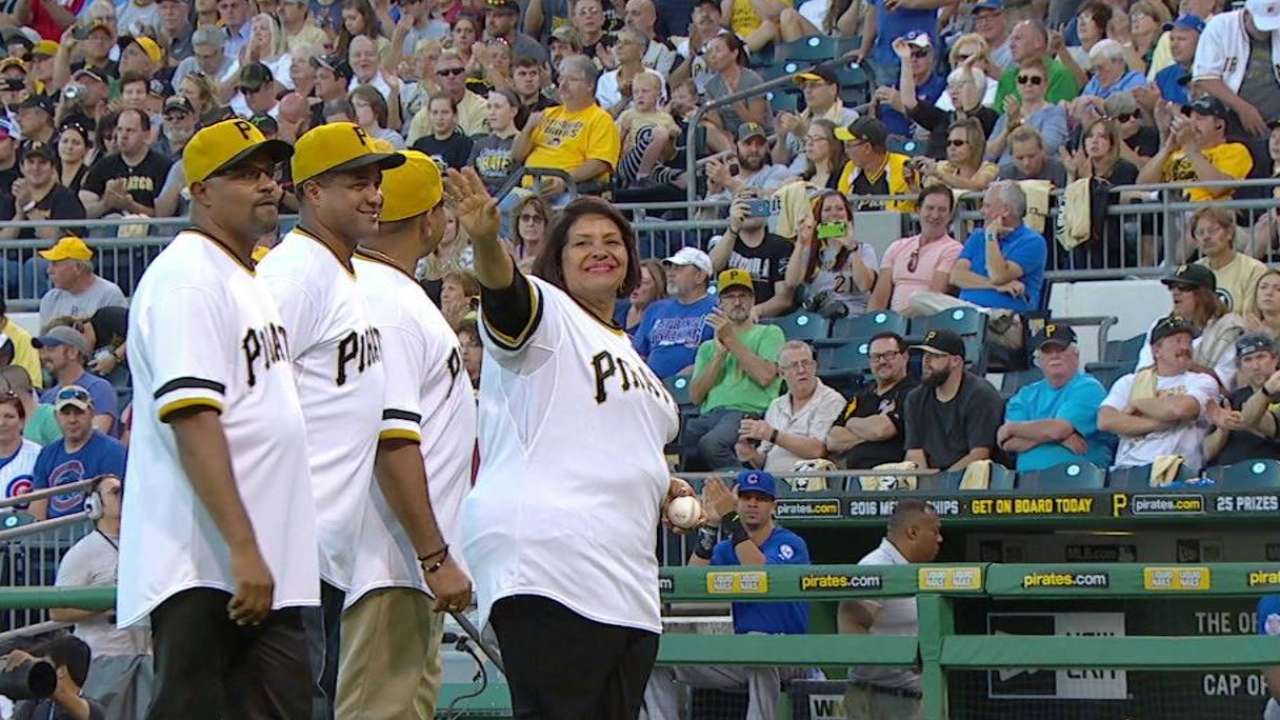 Walker, of course, has a special connection to Clemente, one that goes far beyond being a Pittsburgh native. His dad, former big league pitcher Tom, helped load supplies for Nicaragua earthquake victims on the doomed airplane whose mercy flight took Clemente's life on New Year's Eve 1972.
"There are many who would argue he is still alive and well here in Pittsburgh," Hurdle said. "That heartbeat is there, the pulse of the city. When you perform as he did professionally and live as he did personally, the legacy continues. He's still touching lives."
McCutchen hence impressively embodies what Clemente stood for, what the award bearing his name stands for.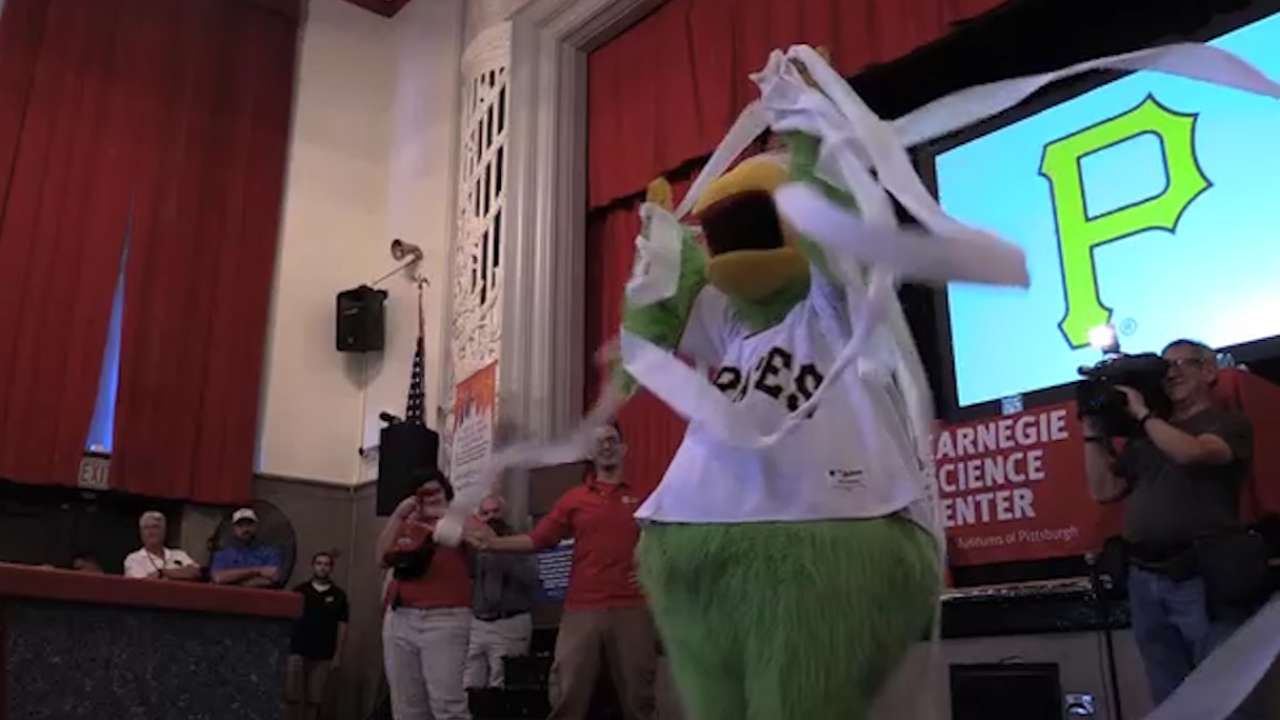 The Buccos center fielder currently supports Pirates Charities, the philanthropic arm of the Pirates, the Make-A-Wish Foundation of Greater Pittsburgh and Southern West Virginia, Children's Hospital of Pittsburgh Foundation, the Homeless Children's Education Fund, the Light of Life Rescue Mission, Habitat for Humanity of Greater Pittsburgh and shepherds "Cutch's Crew."
The goal of his signature program is to mentor Pittsburgh inner-city youth baseball players and at-risk youth. Through the program, McCutchen hosts members of his crew for select games and provides special baseball clinics on the field at PNC Park, spending time to answer questions and interact with the youth. "Cutch's Crew" has also partnered with the Pittsburgh Promise program -- a Pittsburgh Area Public Schools scholarship program -- and has hosted several groups from the organization at PNC Park.
Tom Singer is a reporter for MLB.com and writes an MLBlog Change for a Nickel. He can also be found on Twitter @Tom_Singer and on his podcast. This story was not subject to the approval of Major League Baseball or its clubs.