Yankees bump struggling Nova from rotation
Righty to pitch out of bullpen; Tanaka set for series opener vs. Mets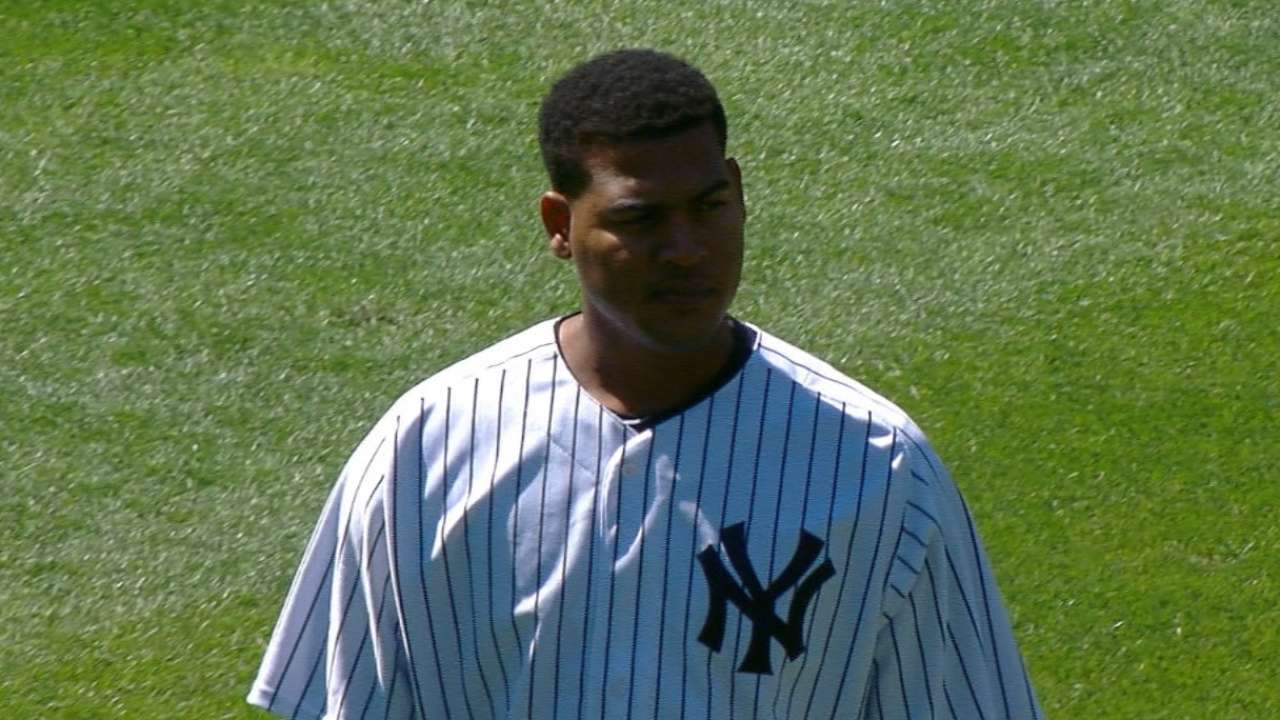 ST. PETERSBURG -- The Yankees have set their rotation for the upcoming Subway Series against the Mets, and it will not include struggling right-hander Ivan Nova, who has been told to pitch out of the bullpen until further notice.
Yankees manager Joe Girardi said that he would not rule out having Nova start again this year, but he confirmed that the decision was performance-based. Nova has gone 6-8 with a 5.11 ERA in 14 starts after returning from Tommy John surgery.
"We're trying to get the guys that are throwing the best right now," Girardi said. "Part of it could be what he's coming off of. Sometimes you don't have the command. They say that's the last thing that comes, is the command. His curveball at times has not been as sharp as we've seen in the past."
Nova said that he was disappointed by the decision, but that he understood the team's reasoning.
"It's not what I want, I don't want to be in the bullpen, but you've got to be honest with yourself," Nova said. "I'm not pitching the way I'm supposed to be pitching. We're in a tight race. We want to win the division. If that's the best choice, then I'm going to go to the bullpen."
The Yankees have aligned Masahiro Tanaka to pitch on Friday, Michael Pineda for Saturday and CC Sabathia on Sunday. Luis Severino got the start on Wednesday at Tropicana Field, and Girardi confirmed that Adam Warren is also expected to make another start.
Girardi said that the team has not set its rotation past that point, but the decision could allow Tanaka to pitch next Wednesday against the division-leading Blue Jays in Toronto. Tanaka is 12-6 with a 3.40 ERA in 22 starts.
"It allows him to get starts. That's part of it, too," Girardi said. "He's pitched extremely well. We're going to have to see how he feels [after Friday]."
The Yankees had uncertainty about the state of his elbow this spring, but Girardi said that other than a brief stint on the disabled list earlier this year, Tanaka's performance has calmed their worst fears.
"He hasn't come and knocked on my door and said, 'I want the ball every five days,' but obviously we wanted to see how he felt," Girardi said. "He feels good and he wants to pitch."
Worth noting
The Yankees opted to start Dustin Ackley at second base on Wednesday against right-hander Chris Archer, benching Stephen Drew. Ackley has played just one game at second base in the last two seasons, but the Yankees had him work out there while on a rehab assignment with Triple-A Scranton/Wilkes-Barre.
"He's been swinging the bat very, very well since he's come off his rehab assignment," Girardi said. "He's played all over the diamond. He's played second, first, all over in the outfield. ... [Rust is] something that we'll have to think about, but we want his bat in the lineup."
Bryan Hoch is a reporter for MLB.com. Follow him on Twitter @bryanhoch, on Facebook and read his MLBlog, Bombers Beat. This story was not subject to the approval of Major League Baseball or its clubs.