Harvey won't work 'real deep' vs. Yanks
Mets right-hander likely to go 5-6 innings Sunday night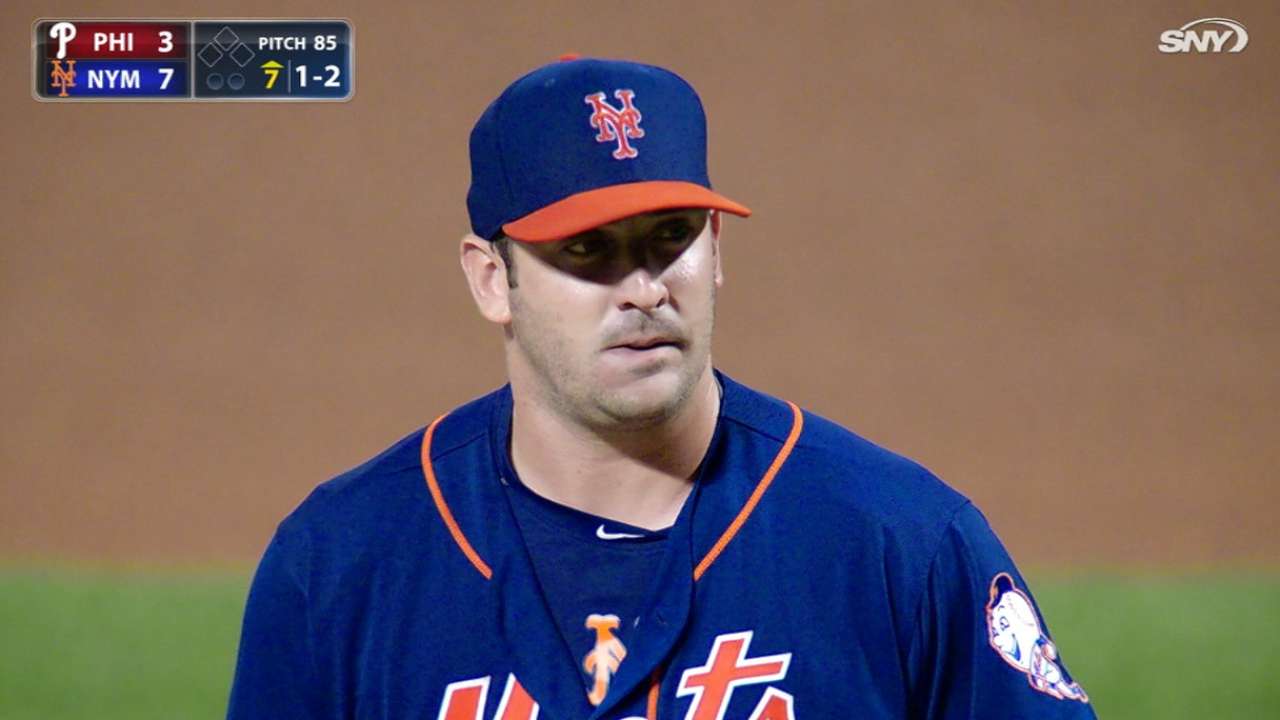 NEW YORK -- Matt Harvey will pitch Sunday night against the Yankees -- the Mets made that much official when they released their Subway Series rotation, which also includes Steven Matz on Friday and Noah Syndergaard on Saturday.
It's how much Harvey will pitch that remains the question.
While Mets officials have said they plan to limit Harvey, who has thrown 171 2/3 innings this season, his Subway Series start won't be as brief as three or four innings. Five or six seems more like it.
"We're going to keep a very close eye on him," manager Terry Collins said. "The Yankees will decide when he comes out, but it won't be real deep in the game."
The idea is to keep Harvey as fresh as possible down the stretch without blowing past the 180-inning limit that his agent, Scott Boras, has insisted is a hard cap. Though the Mets are not abiding by that number, and though they intend to use Harvey in the postseason regardless of his final regular-season total, they still plan to shorten his outings down the stretch.
"There are huge challenges and we've tried to address those," Collins said. "We realize there's an innings limit and we realize he's close. He is going to pitch if we get to the postseason. So, now, how do you get to that point? How do you get him into that? Well, we could shut him down right now and we'd have all sorts of innings left in the postseason. The issue is he's a big factor. And as we head into the last 17 games, you need your best guys available to pitch."
Simply put, the Mets do not want to pile significant innings onto Harvey's total down the stretch. But they also do not want to start him on too much rest during the National League Division Series. It's a balance that will continue this weekend against the Yankees.
"We think if we pitch him and, yet, don't go crazy, we not only can get some innings now, which are important to get him ready for the postseason, but also have him available for the postseason," Collins said. "So the difficulty of it all is hard. There are a lot of discussions that went into it -- what was best, what's not, what's going to work, what isn't? No one has any answers because I think this is something that's pretty strange to happen at this time of year to your starting rotation. But we've had to deal with it and we will."
Anthony DiComo is a reporter for MLB.com. Follow him on Twitter @AnthonyDiComo and Facebook, and listen to his podcast. This story was not subject to the approval of Major League Baseball or its clubs.