Hawkins working through forearm soreness
Veteran Blue Jays reliever missed more than a month earlier in season with same injury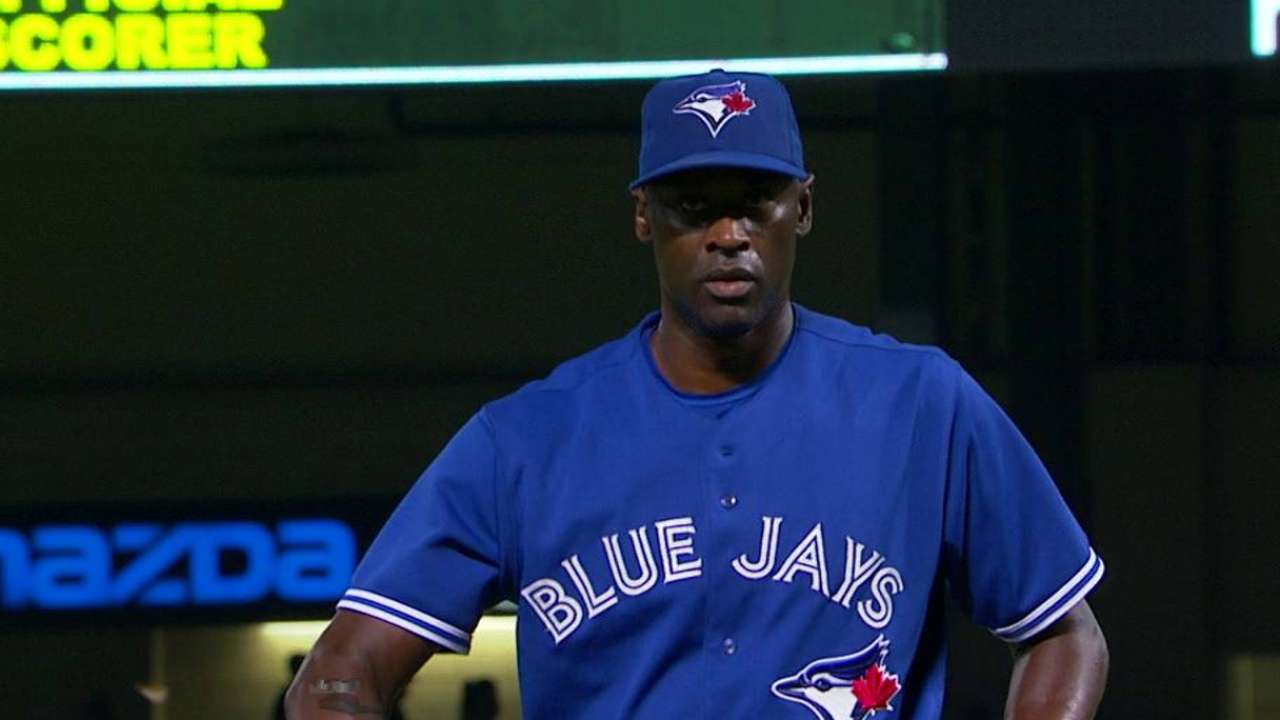 ATLANTA -- Right-hander LaTroy Hawkins was conspicuously absent earlier this week, and it turns out it was because he has been dealing with a sore right forearm.
Blue Jays manager John Gibbons revealed the injury when he was asked on Wednesday afternoon why Hawkins had not pitched since Sept. 11. Hawkins missed three games in New York and also didn't pitch in the series opener vs. the Braves.
Hawkins has been dealing with discomfort in his forearm at various points of the season, and it's the same injury that caused him to miss more than a month earlier in the year with the Rockies. It's going to be something that has to be monitored the rest of the way, but Hawkins said he was feeling much better Wednesday afternoon.
"I actually feel pretty good today," Hawkins said after playing catch prior to Wednesday's game vs. Atlanta. "It was just a little bump in the road. A lot of bullets have been sent through that chamber, but the beauty of it is that we have a lot of guys in that bullpen, so I can afford to take some days off. If we didn't, I would have been out there, that's for sure."
Toronto had the luxury of resting Hawkins because of the expanded September rosters. The Blue Jays have 13 relievers in the bullpen, and at times it has been a challenge for Gibbons to make sure that everybody gets enough work. That allowed Hawkins to take several days off without much concern about negatively influencing the team.
Hawkins last pitched Friday against the Yankees, when he allowed three runs (two earned) in an 11-5 victory. He didn't look sharp, and though Hawkins said the injury didn't have anything to do with his performance that night, it clearly had some kind of impact. These are the type of things that a 42-year-old that has been around the league for more than two decades has to deal with.
"It's funny because having [Mark] Buehrle here and we can sit down and talk about it, I think it makes it easier for me because I have someone who can relate," Hawkins said. "I just needed a break, I needed a little rest, I don't recuperate like I used to. ... But you know what, the Blue Jays will get everything I have, that's for sure."
• Edwin Encarnacion made his return to the Blue Jays' lineup on Wednesday night following a two-game absence with a sore left middle finger. It was the same injury that cost him two games at the end of July and four more in August, but it's not considered a serious situation. With Encarnacion back in the starting lineup, Chris Colabello and Justin Smoak were left on the bench for the start of the game.
Gregor Chisholm is a reporter for MLB.com. Read his blog, North of the Border, follow him on Twitter @gregorMLB and Facebook, and listen to his podcast. This story was not subject to the approval of Major League Baseball or its clubs.