Braves willing to sit Olivera based on matchup
Acquired from Dodgers, third baseman has yielded time to hot-hitting Garcia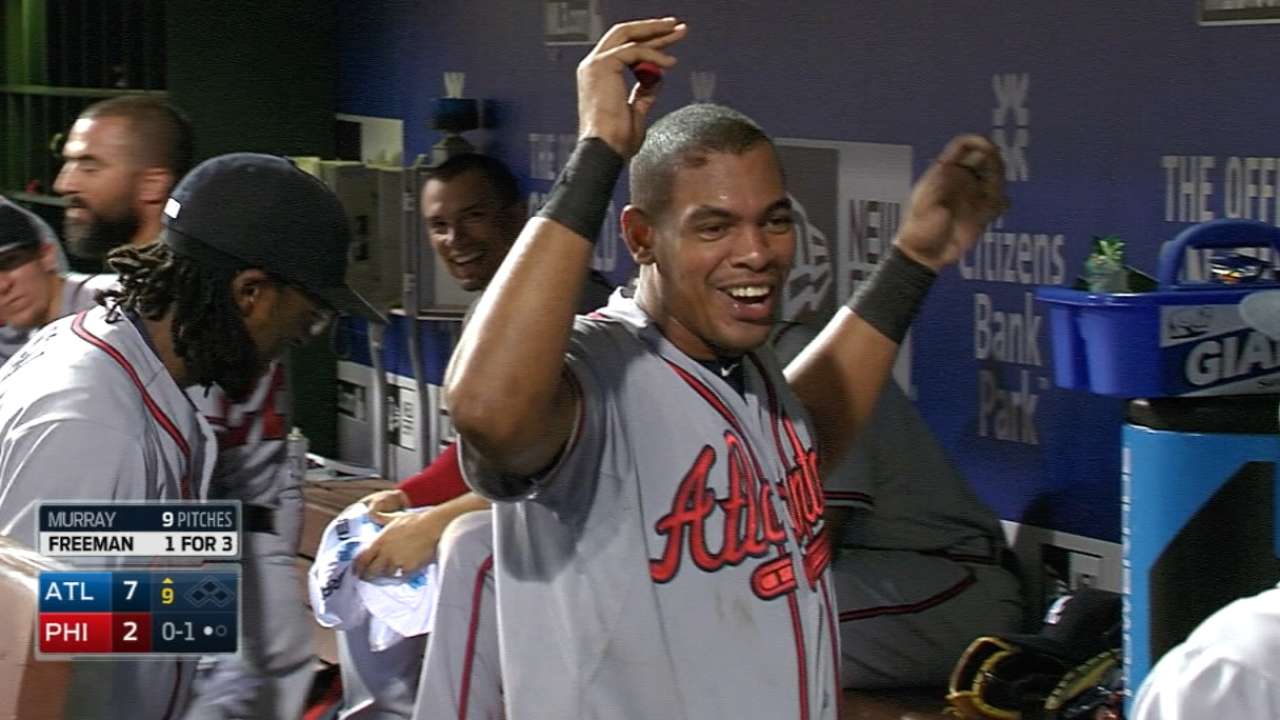 ATLANTA -- Braves manager Fredi Gonzalez understands the price his organization paid to acquire Hector Olivera from the Dodgers. But at the same time, he has not felt the pressure to play Olivera if he believes Adonis Garcia provides a better matchup on certain nights.
The Braves have said they need to take a patient approach with Olivera. Still, it was surprising to see the much-hyped third baseman on the bench while Garcia started the first two games of this week's series against the Blue Jays.
"I want to see [Olivera] as much as I want to see him, but I also want to put the best lineup out there to give me a chance to win ballgames," Gonzalez said. "I don't want to go in there and say, 'We're playing for 2016.' I'm not going to do that. I come in every day and try to put the best lineup together to win a ballgame."
When the Braves were willing to part ways with top prospect Jose Peraza and left-hander Alex Wood to acquire Olivera from the Dodgers on July 30, the assumption was he would spend most of this season's final weeks displaying his power potential in the middle of Atlanta's lineup.
But Olivera spent all of August in the Minors, recovering from a hamstring injury and better acquainting himself to professional baseball in the United States. Since making his Major League debut on Sept. 1, the 30-year-old Cuban third baseman has started just 10 of the 15 games Atlanta has played.
Olivera struggled with three Minor League teams for the Braves, and he hit just .225 (9-for-40) during the first two weeks of his Major League career entering Wednesday. He went 1-for-12 since producing a three-hit game on Sept. 9 in Philadelphia.
Instead of allowing Olivera a chance to work through his struggles against lefties Mark Buehrle on Tuesday and David Price on Wednesday, Gonzalez felt it was best to wait for better matchups.
"We sit and talk about it with the coaching staff, and I think the matchup with that particular day's pitcher plays a part," Gonzalez said. "You want [Olivera] to play and to have some success. You don't want him to get buried."
Meanwhile, Garcia batted .277 with eight homers through the first 155 at-bats of his career. He also entered Wednesday having hit .391 with a 1.026 OPS in his past 14 games.
"When you win and produce, you get a chance to play, but I do want to get a chance to see [Olivera] play," Gonzalez said. "So, that is the hardest thing coming in every day. And what do you tell Garcia? Do you tell Garcia he's not part of the future? The guy has 150 at-bats and eight home runs. He's as hot as a firecracker."
Mark Bowman is a reporter for MLB.com. This story was not subject to the approval of Major League Baseball or its clubs.