MLB.com Columnist
Jim Callis
Inbox: Who are the top offensive shortstops in MiLB's lower levels?
Jim Callis responds to fans' questions about baseball's future stars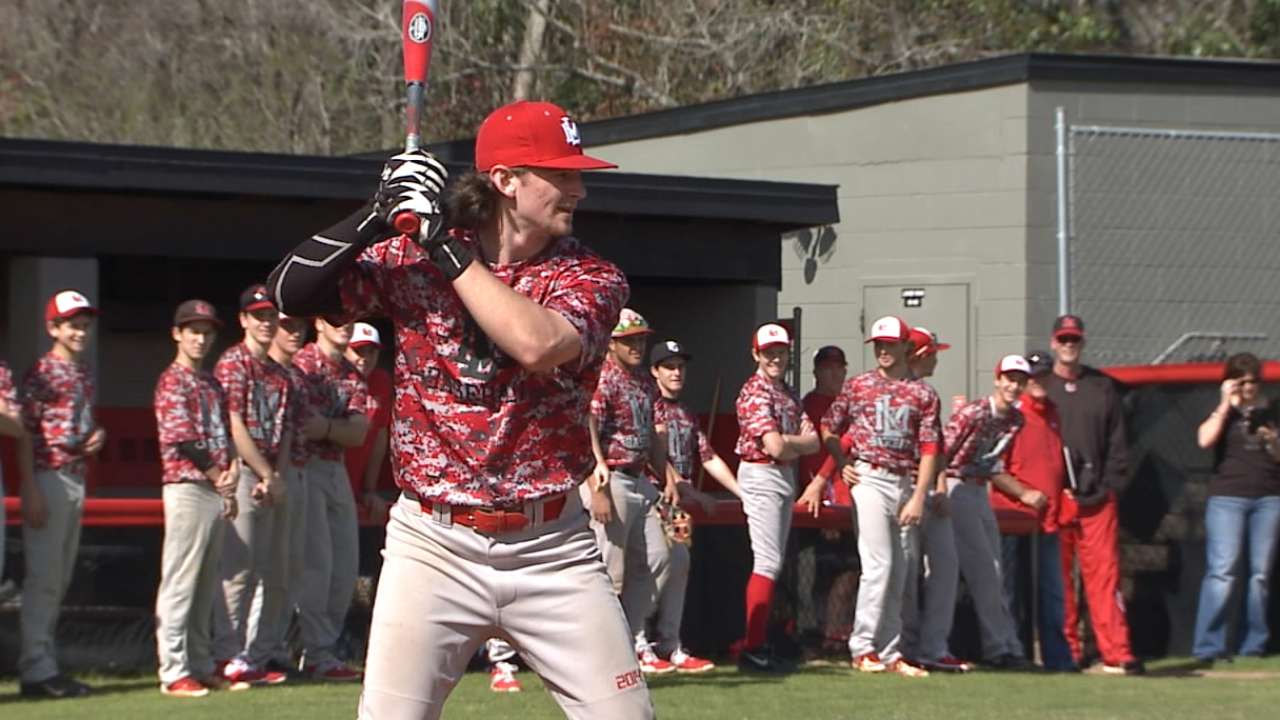 While the Cardinals, Dodgers, Mets, Pirates and Cubs are virtual locks to claim the five National League playoff berths, there's still a race in the Senior Circuit that bears watching. The four worst records -- and six of the seven worst -- belong to NL clubs, and there's a spirited chase for the No. 1 overall pick in the 2016 Draft.
At 56-91, the Phillies currently have a 1-game lead over the Braves (57-90) for the top choice. It likely will go to one of those two teams, with the Rockies (61-85), Reds (61-84), Brewers (62-84), Athletics (63-84), and Marlins (64-83) next in line.
Atlanta has given up 12 games in the standings to Philadelphia since July 12, so this one could come down to the wire. The Phillies haven't selected first since taking Pat Burrell in 1998, while the Braves haven't done so since wisely choosing Chipper Jones over Todd Van Poppel in 1990.
Who are the best shortstops in the lower Minors in terms of offensive potential? Is there anyone with the chance to be the next Carlos Correa or Corey Seager?
-- Chris S., Baltimore
If you're mentioning Correa and Seager, then we're talking about shortstops who can hit for average and power. The 2015 Draft began with three of them: Dansby Swanson to the Diamondbacks at No. 1, Alex Bregman to the Astros at No. 2 and Brendan Rodgers to the Rockies at No. 3. Keeping our focus on the lower Minors (Class A and below), other candidates include Willy Adames (Rays), Franklin Barreto (Athletics), Javier Guerra (Red Sox), Adrian Rondon (Rays), Amed Rosario (Mets) and Gleyber Torres (Cubs).
Solely based on offensive potential, I'd rank the top five in this order: Rodgers, Barreto, Swanson, Torres, Bregman. I'm not sure I'd ready to say yet that any of them will be the next Correa or Seager -- those two look like future .300 hitters with 30-homer power to me -- but they're all extremely talented and rank among the first 23 spots on the MLBPipeline.com Top 100 Prospects list.
Do you have a good comparison for Yankees shortstop Jorge Mateo? And will his emergence cause New York to cut ties with Didi Gregorius, who has rebounded nicely of late?
-- Ryan W., Mendon, N.Y.
When I first heard about Mateo last summer, a Yankees executive compared him to Jose Reyes. That works on several levels: they're both speedsters with the tools to hit for average with some gap power, and they have the ability play shortstop for a long time, though they probably won't win any Gold Gloves. Reyes was more advanced at the age of 20, playing in the big leagues, while Mateo spent 2015 at two Class A stops, hitting .278/.345/.392 with a Minor League-best 82 steals.
I expect Mateo to eventually take Gregorius' job, the latter's .307/.347/.437 second half notwithstanding. Gregorius is a better defender, but Mateo has more offensive upside. If Gregorius continues to hit, maybe Mateo slides over to second base, though he won't be ready for New York for at least two more seasons.
How good is 17-year-old Red Sox right-hander Anderson Espinoza? He dominated the Rookie-level Gulf Coast League and already has made his debut in low Class A.
-- Divakar M., Boston
Espinoza is very, very good. Expectations were high for him after the Red Sox signed him for $1.8 million in July 2014, doubling the previous Venezuelan bonus record set by Francisco Rodriguez in 1998, and Espinoza exceeded them in his first pro season. He needed just four starts in the Rookie-level Dominican Summer League to show he was ready for his U.S. debut ahead of schedule, and he posted a 0.68 ERA with a 40/9 K/BB ratio and .170 opponent average in 40 GCL innings.
Espinoza might be the youngest player on the MLBPipeline.com Top 100 when we revamp it again in January. Though he's just 6 feet and 160 pounds, he generates a fastball that has reached triple digits and regularly tops out in the upper 90s. He also can spin a curveball, unleash a lively changeup and fill the strike zone, so his ceiling is very high.
What do you think of Indians right-hander Michael Clevinger? He made his Triple-A debut Monday night in the International League playoffs with 7 2/3 no-hit innings and 10 strikeouts.
-- Todd P., Tallmadge, Ohio
I've been very impressed with Clevinger this season as he regained the form that made him one of the Angels' best prospects soon after he signed as a fourth-round pick out of Seminole (Fla.) CC in 2011. He blew out his elbow the following May, missed most of 2013 and posted a 4.42 ERA in 2014, joining the Indians in an August trade for Vinnie Pestano.
After making some mechanical adjustments and getting turned loose this year, Clevinger led the Double-A Eastern League in opponent average (.219) while ranking second in strikeouts (145 in 158 innings) and WHIP (1.06) and fifth in ERA (2.73). He's pitching at 92-94 mph, and hitting 97 with his fastball, and all three of his secondary pitches (slider, curveball, changeup) are solid when at their best. His control and command have rebounded too, and he could impact Cleveland's rotation at some point in 2016.
Jim Callis is a reporter for MLB.com and writes a blog, Callis' Corner. Follow @jimcallisMLB on Twitter. This story was not subject to the approval of Major League Baseball or its clubs.