Compton UYA set Greene on the right path
Calif. prep star, 16, is one of youngest players to star on Team USA 18U squad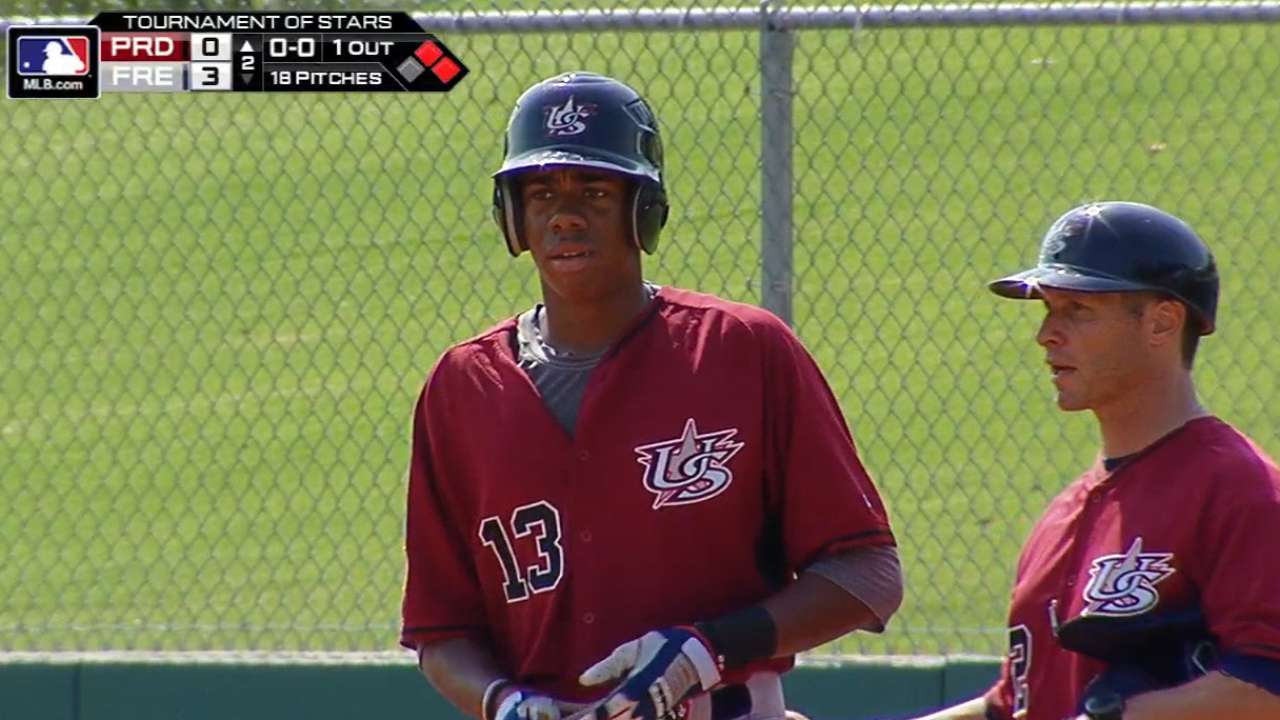 His junior year of high school is just beginning, but Hunter Greene has gone on quite a ride. Greene, a standout shortstop and pitcher at Notre Dame High School in Sherman Oaks, Calif., is coming off a summer during which he starred for Team USA in a trip that took him around the world.
Greene, 16, was the youngest member of USA Baseball's 18U team this summer, and he was part of the squad that clinched its third consecutive championship in the U-18 Baseball World Cup. Greene got to travel to Taiwan and Japan, and baseball ultimately served as his visa.
But to get there, the youngster had to thrive during a summer-long evaluation process that included his normal travel ball schedule in addition to his extracurricular work with Team USA. Greene took part in the Elite Development Invitational this summer wedged in between his tryouts with the 18U team.
"You get a little tired, but you love the game so much that you don't mind," Greene said of his arduous summer. "I'm already back at Notre Dame. I'm working out and I'm doing stuff with the baseball team."
For Greene -- who began going to the Urban Youth Academy in Compton, Calif., when he was 7 years old -- that's just the normal routine. He's accustomed to working long and hard on his baseball skills, and Greene said he was excited just to be a part of the Team USA evaluation process this summer.
Greene had previously played on the 15U team for Team USA, but it was a lot different to step up to a new level of competition. The tryout process began at the National Training Complex in Cary, N.C., and Greene was just one 108 players in his age group vying for a spot on the team.
The players began to separate themselves during a week-long session of practices, skill work and intrasquad games. And from there, they cut down to 40 players. Greene said the tryouts lasted another week, consisting of fundamental work and scrimmages, and then the pool of players was cut to 28.
"After two weeks in North Carolina, we had about two or three weeks to go back home, work out and kind of get our minds ready for the next cut, which was at Cal State-Fullerton," Greene said of the tryout. "I've always been confident, and I've always played up in age groups by three or four years. I was confident, but I wasn't cocky. I was looking forward to making the team, and I was praying every day."
But that was only part of his preparation process. Before the final cuts at Cal State-Fullerton -- practically a home game for him -- Greene had to travel to Vero Beach, Fla., for the Elite Development Invitational. Greene was one of 150 players from around the country at the EDI, which was co-sponsored by USA Baseball and Major League Baseball, and he learned to take on a leadership role with his peers.
"I kind of realized that I had to be the guy that would direct those kids and really be a strong leader for those kids to look up to," Greene said. "I had to set that tone where you want to work hard every single day, and you really want to value and appreciate baseball every time you step on that field."
Greene, though young, has had that perspective for most of his life.
The prep star said he began going to the Compton Academy when he was in second or third grade, and he credited the staff for taking care of him and relentlessly helping him to improve his game. The instructors at the academy always pushed Greene, encouraging him to play with markedly older competition.
It wasn't uncommon for Greene to play with 12- or 13-year-olds when he was 8, he said, and the results began to show on the field. Greene got to play in the RBI World Series a couple years ago, and he said that all of his success can be traced to the long hours he spent at the Urban Youth Academy.
"My feet have always been huge. I was the 5-foot-3 kid with a size 10 or 11 shoe," Greene said. "I was always the kid known for his big feet, but they helped me with my hands and with my skills as an infielder, and at being quick. ... They helped me get faster through agility work and through plyometrics.
"Kenny Landreaux is a hitting coach at the academy, and he's been working with me since I was 7. He was always there helping me get my foot down and to keep getting stronger swinging the bat."
Greene, who has committed to UCLA, pitched as a closer for the 18U team this summer, and he's believed to be the first 16-year-old to play for Team USA's 18U team since Albert Almora in 2010. Almora, a first-round pick in the 2012 MLB Draft, currently plays in the Chicago Cubs' organization.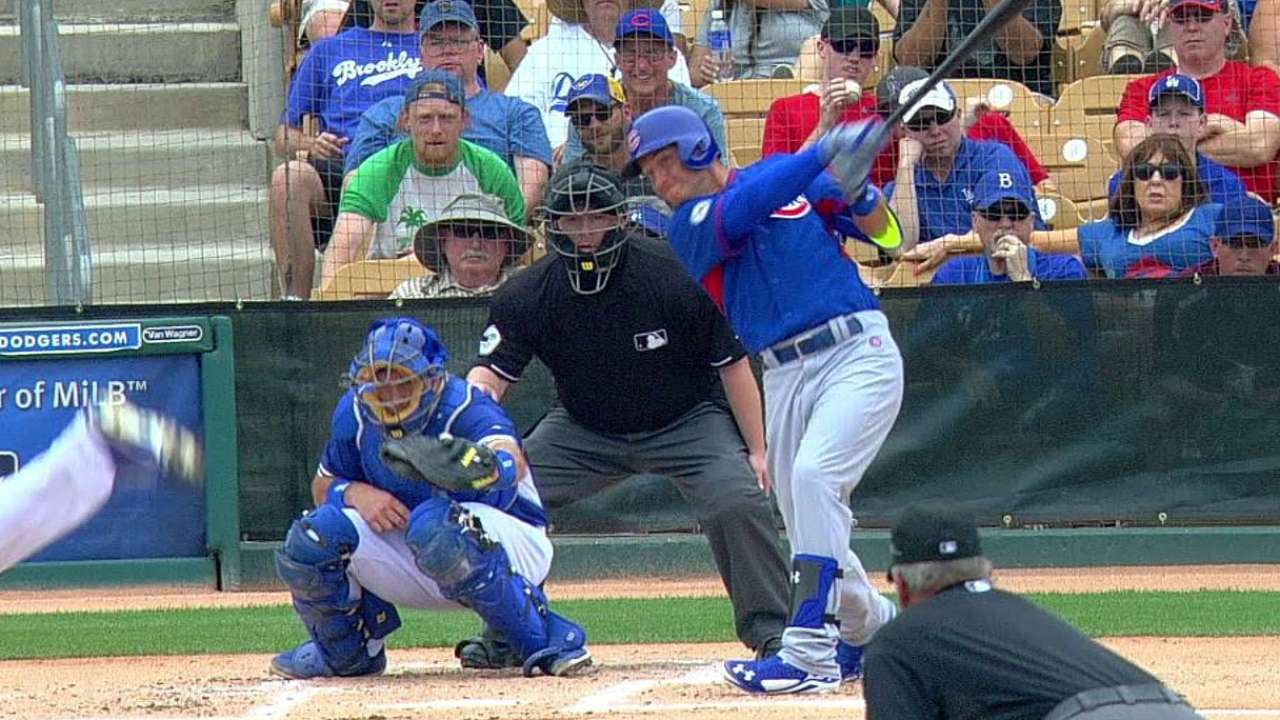 An early-round pick could also be in store for Greene, especially if he continues his breakneck pace at playing at a high level. He credited former big leaguer David Eckstein for working with him on his infield fundamentals this summer -- another building block on top of his Urban Youth Academy foundation.
Greene, who still heads back to the academy to play with his travel ball team, can look back on the past eight years of his life and know exactly where they went. He's poured every ounce of his commitment and dedication into improving his game, and Greene said he has his tutors and his family to thank.
"At one point, I was going [to the academy] every single day. And it's about an hour-and-a-half or an hour and 45 minutes from my house," said Greene. "I was making that commitment with my dad, and he was amazing -- driving me that far and spending that much time. I'd be going there every day, and I think I was spending four or five, or maybe as much as six or seven hours. I'd work out for two or three hours, I'd take a break and go eat, and then I'd come back and hit. It was a grind, but it was so much fun."
Spencer Fordin is a reporter for MLB.com. This story was not subject to the approval of Major League Baseball or its clubs.