Zito joins A's for final big league stint
Veteran left-hander to pitch out of bullpen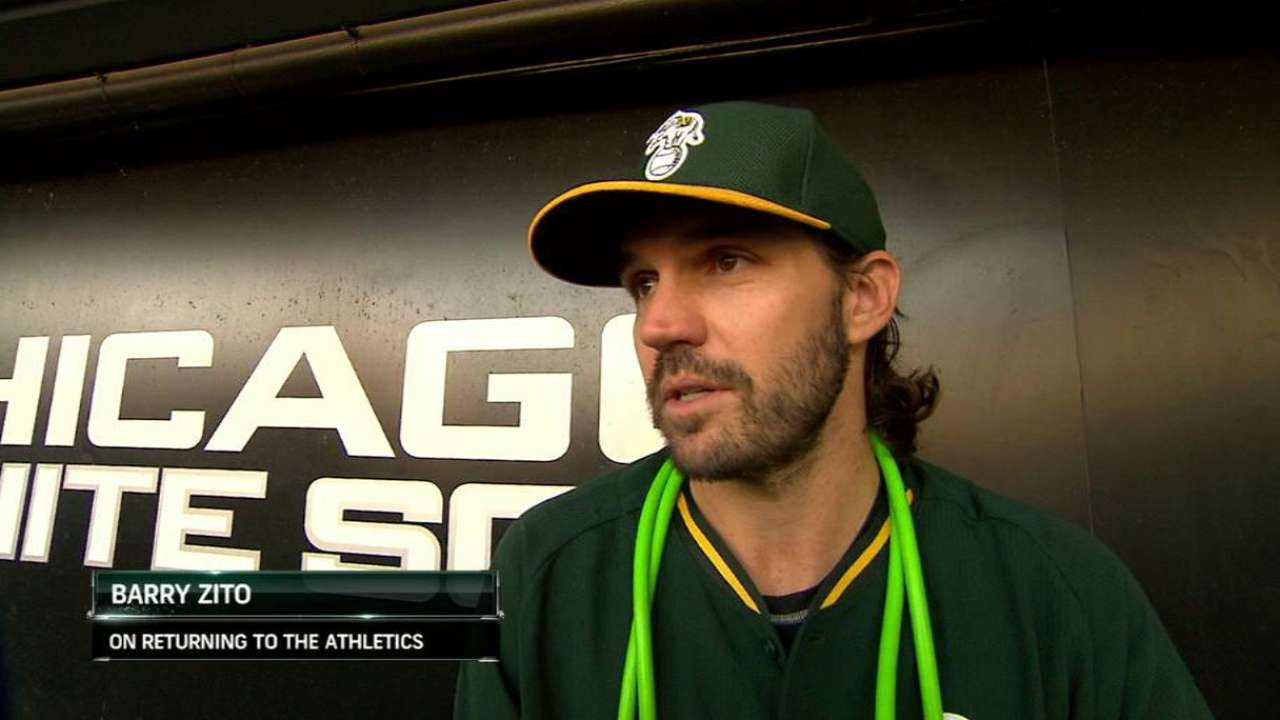 CHICAGO -- Barry Zito was in a songwriting session Monday when he missed a call from A's general manager Billy Beane, who phoned again not much long after to ask the pitcher, "Do you have any bullets left in you?"
Zito, who just days prior had unofficially announced his retirement to his closest friends through a text that read, "Baseball, RIP 1985-2015," didn't have an immediate answer. Though the opportunity he had longed for all year while reliving life as a Minor Leaguer with Triple-A Nashville was finally in front of him, Zito needed to sleep on it.
"I told him, 'I gotta talk to my family about this. Give me 'til the morning,'" Zito said. "I turned the page on the game eight days before. It was a little daunting and strange to have to pull that page back again after 15 years. So, it was just, was it the best thing for me? My wife was telling me all the things I needed to hear, and I ended up saying this is going to be a lot of fun."
So the 37-year-old Zito put a full-time songwriting career on hold, yet again, though knowing it would be for the last time. He cancelled all of his sessions and boarded a plane to Chicago on Wednesday morning to instead script the final chapter of an unlikely ending to his baseball career.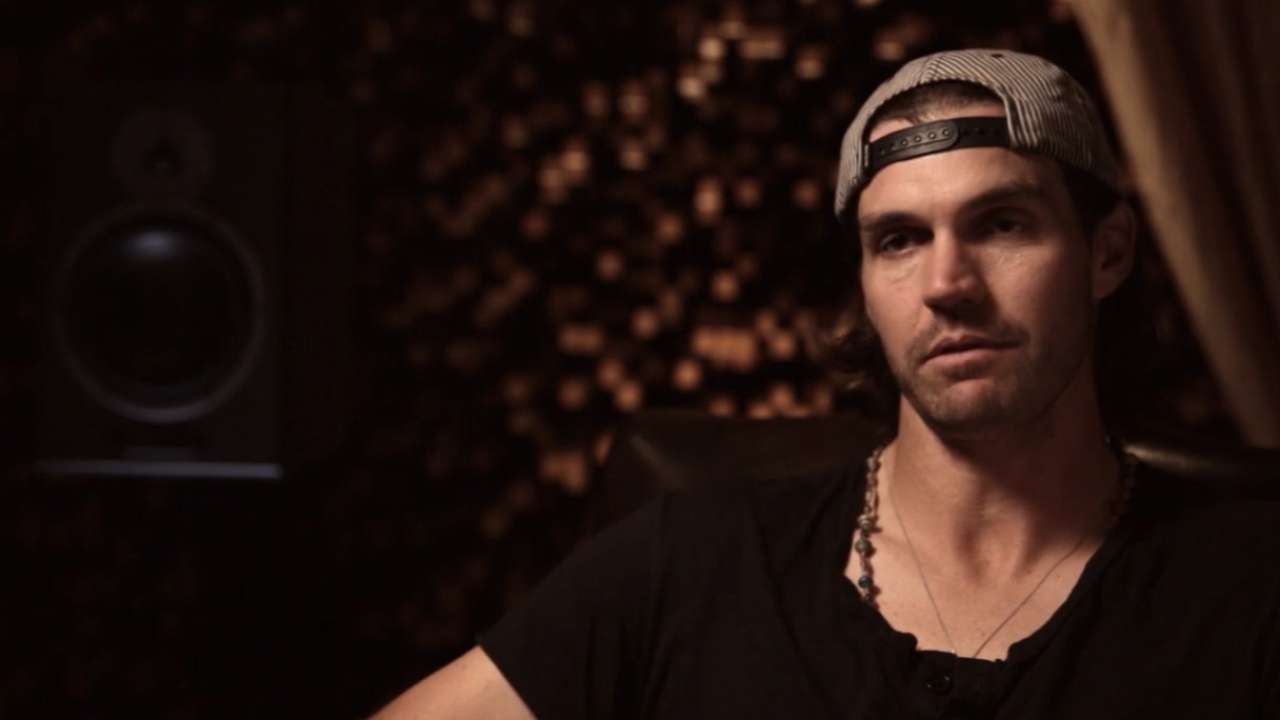 Zito joined the A's at U.S. Cellular Field ahead of the club's game against the White Sox, signaling the former Cy Young winner's return to the big leagues for the first time since 2013. He made his way to the visitors' bullpen and threw a light side session in front of manager Bob Melvin and pitching coach Curt Young, having only picked up a ball for the first time since Sept. 6 on Tuesday, when he played catch with a wall in his backyard.
"Everything feels great," Zito said. "Timing's good. I'm ready to rock."
Oakland selected Zito from Triple-A Nashville, also promoting right-hander Cody Martin for Wednesday's start against the White Sox in place of Jesse Chavez, who is done for the season after sustaining a fractured rib.
Zito, who inked a Minor League deal with the club that drafted him in the first round in 1999, appeared in 24 games (22 starts) for Nashville this season hoping to impress enough to warrant another big league opportunity. But he pitched just once after Aug. 5 because of a shoulder injury, a scoreless inning of relief on Sept. 6, and wasn't expected to be added to the A's 40-man roster before season's end.
This isn't an archive photo. THIS PHOTO IS RIGHT NOW. pic.twitter.com/jJAXLgiU6N

— Oakland Athletics (@Athletics) September 16, 2015
A rash of injuries to the big league staff has changed that, prompting the A's to bring in Zito as a reliever.
"We have bullpen needs here," Melvin said. "He hasn't pitched a whole lot but he's all for it. When I talked to him, he had been in shutdown mode, and now here he is at the big-league level and we're happy to have him.
"I know Twitter is blowing up right now. I think it's terrific. It's going to be great to bring him home and get him in games in front of our crowd."
Zito's return opens the door for a potential must-see reunion Sept. 26 at the Coliseum, where Giants right-hander Tim Hudson -- who is set to retire after this season -- is expected to make his final start on the mound where it all began for him. Zito, too, could pitch in the same game, and the third member of the Big Three, Mark Mulder, will reportedly be in attendance, setting the stage for nostalgic theatre.
"That's storybook stuff right there," Zito said. "For A's fans to see all three of us again, obviously all three in different roles and with different storylines, it's cool."
"That would be really neat," Melvin admitted. "I know I'd probably get goosebumps, too. We'll see how we get him there, but it would be great for him to not only pitch in that series but in particular that game against Hudson. That would be really special."
Zito posted a 3.46 ERA for Nashville, including a 2.88 ERA mark over his final 19 games. He last pitched in the Majors on Sept. 29, 2013, with the Giants and will be donning the green and gold, wearing No. 75, for the first time since 2006.
"I've gotten quite accustomed to eight hours of flying at 6 a.m. with layovers," Zito said, smiling, "so I'm definitely going to soak this all up.
"I learned that I complicated things a lot in my career, and I think every guy out here does. I got to have a perspective that is pretty unique, which is, I don't need this game, and there's not many guys in professional baseball, let alone the Major Leagues, that can say that. I think that's the veteran wisdom that we all get when we've been here, when we see that the game is going to go on without me. It's like, I don't need it, but I want it. It's a pretty cool place to be."
Jane Lee is a reporter for MLB.com. Read her blog, Major Lee-ague, and follow her on Twitter @JaneMLB. This story was not subject to the approval of Major League Baseball or its clubs.