MLB.com Columnist
Roger Schlueter
Stats of the Day: Youth having a blast
Harper, Arenado and Trout go deep to give 2015 rare distinction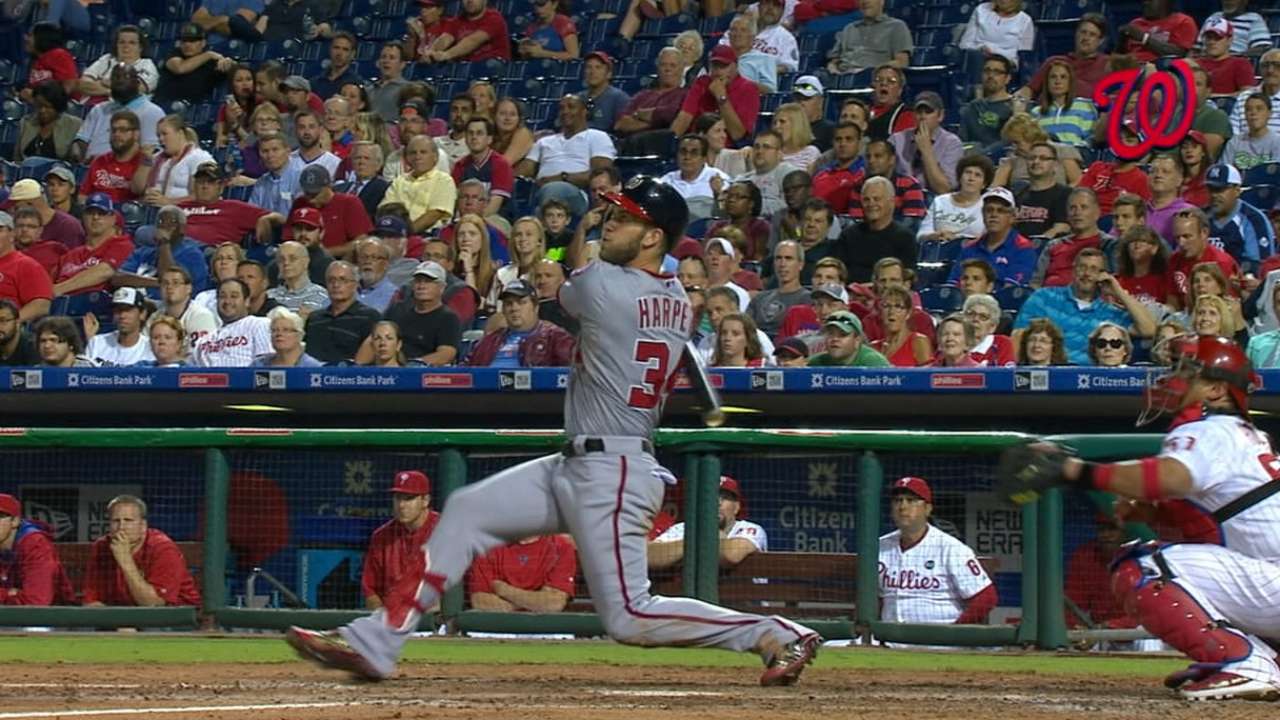 Here are four interesting items from around the big leagues on Tuesday …
• In the Nationals' 4-0 win over the Phillies, Bryce Harper drove in all four runs -- on a solo homer in the first, an RBI single in the third and a two-run home run in the eighth. Harper's two home runs gives him 39 for the season and a share of the National League lead with Nolan Arenado, who also went deep on Tuesday. Juan Gonzalez, with 43 home runs in 1992, is the last player to be in an age-22 or younger season (like Harper) and lead his league in home runs. Harper has five multihomer games this season, making him the seventh player younger than 23 to have at least five in a season. Gonzalez had seven in 1992, Eddie Mathews had six in both 1953 and '54, Joe DiMaggio had five in '37, Vern Stephens had five in '43 and Harmon Killebrew had five in '59.
• Mike Trout tied a career high with his 36th home run of the season -- this one coming off Felix Hernandez in the Angels' 4-3 victory over the Mariners. Trout has hit 134 career home runs and has collected 302 career extra-base hits. The 134 homers tie Trout with Frank Robinson for the fourth most all time by any player through his age-23 season, while the 302 extra-base hits rank as the fifth most under the same age consideration.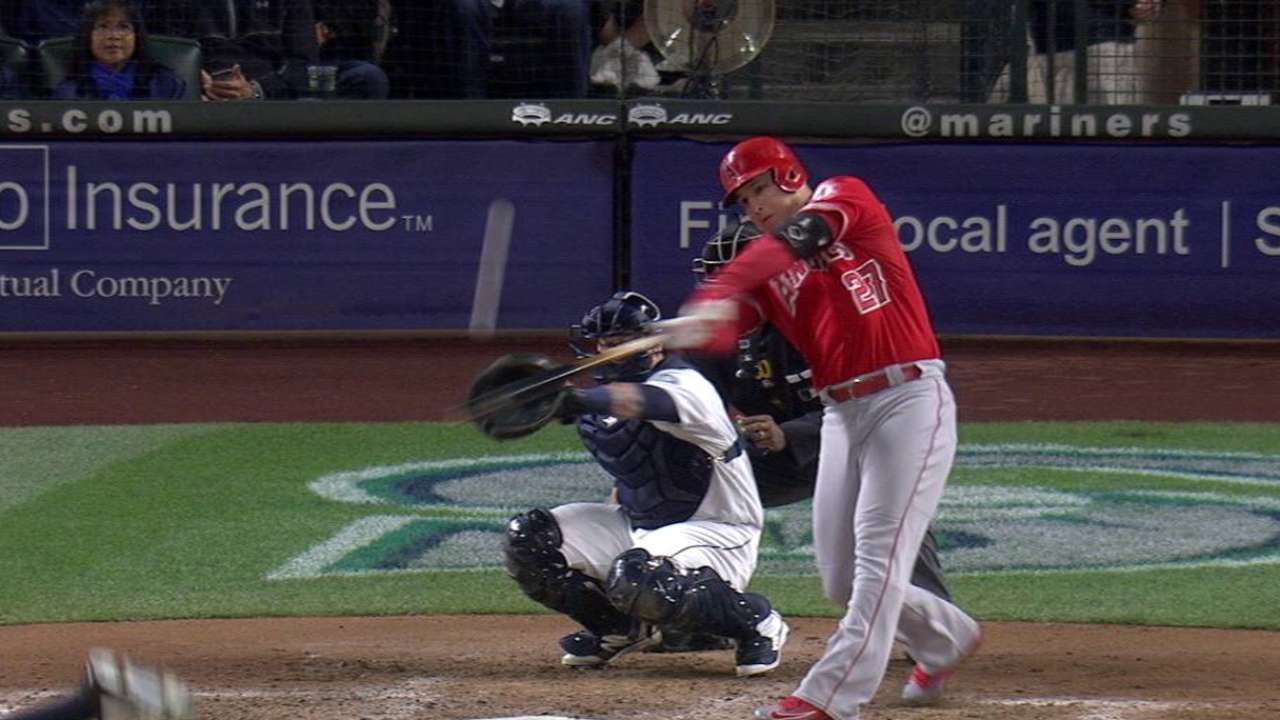 • Arenado hit his 39th home run of the year -- a solo shot in the 16th inning -- to propel the Rockies past the Dodgers, 5-4. Arenado is slugging .575 this season. Since 1893, there have been seven third basemen to be in an age-24 or younger season and finish the year with a slugging mark this high: Mathews in 1953, '54 and '55, Freddie Lindstrom in '30, Dick Allen in '66, Gary Sheffield in '92 and Troy Glaus in 2000.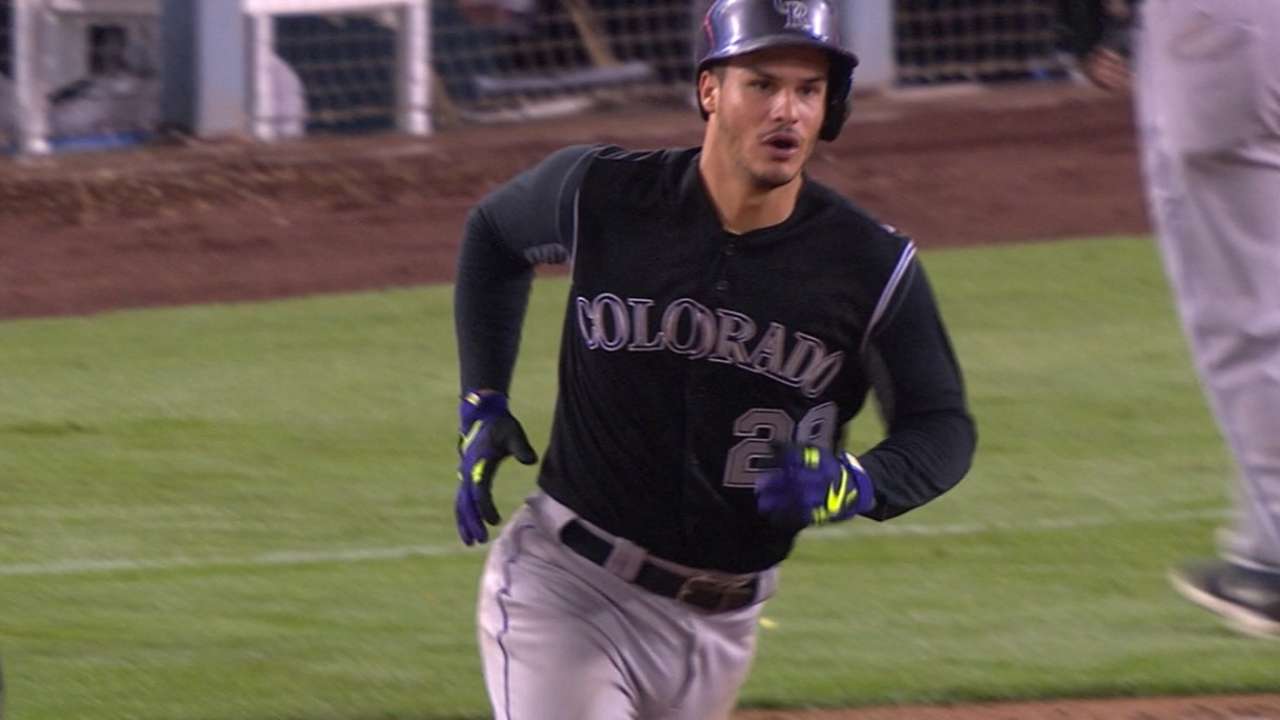 • With Harper and Arenado having 39 home runs, and Trout sitting on 36, 2015 marks the fifth season all time to have at least three players in age-24 or younger seasons hit at least 36 home runs. The 1955 campaign saw four (Willie Mays, Mickey Mantle, Mathews and Ernie Banks), while these three seasons each had three: 1956 (Robinson, Mathews, Mantle), 2000 (Glaus, Andruw Jones, Alex Rodriguez) and 2004 (Adam Dunn, Albert Pujols, Mark Teixeira).
Milestone watch for Wednesday
• Chris Archer needs three strikeouts to tie Scott Kazmir (239 in 2007) for the most K's in a season in Tampa Bay history.
• Adrian Beltre is four extra-base hits shy of becoming the 37th player with 1,000. He would be the 14th player to reach 1,000 through his age-36 season.
Roger Schlueter is a contributor to MLB.com. This story was not subject to the approval of Major League Baseball or its clubs.