Mazara, Brinson among 10 top prospect performers Tuesday
Rangers No. 2 prospect ties games in ninth with solo shot, No. 4 wins it with walkoff walk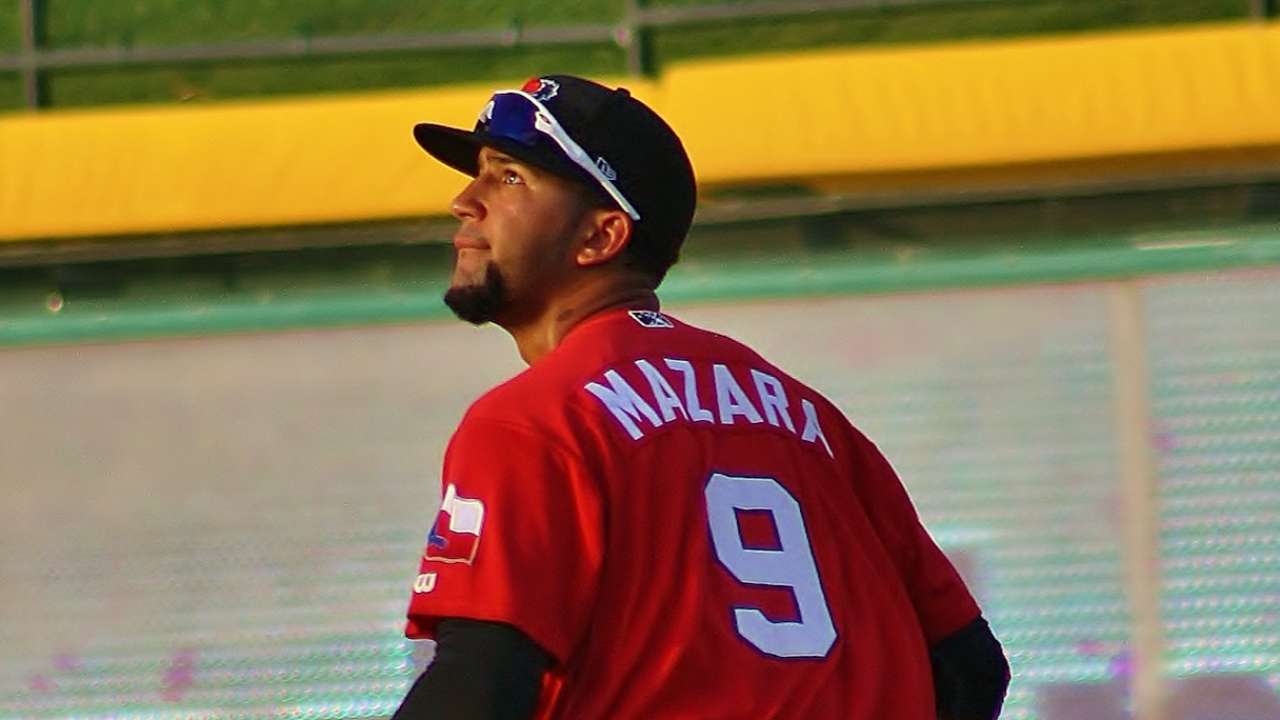 A pair of Rangers prospects were the heroes Tuesday in Triple-A Round Rock's dramatic, 9-8 win over Fresno, as Nomar Mazara connected on a game-tying home run in the bottom of the ninth before Lewis Brinson walked it off with a bases-loaded walk with two outs in the 12th. The win gave Round Rock a 1-0 lead in the best-of-five Pacific Coast League championship series.
Mazara, the Rangers' No. 2 prospect (No. 15 overall), tallied a pair of singles in addition to his home run to finish the game 3-for-5, also scoring a run and plating two. The 20-year-old outfielder reached base in each of his first three plate appearances for the Express, notching a single in the first, a run-scoring walk in the second and another single in the fourth.
However, none of Mazara's hits were big than his game-tying blast in the ninth, when the left-handed-hitting outfielder greeted reliever James Hoyt with a shot off the roof of the equipment shed in center field.
Brinson, the Rangers' No. 4 prospect (No. 69 overall) also had a big game for Round Rock, going 3-for-6 with two runs scored and two RBIs out of the leadoff spot. The 21-year-old outfielder singled in his first two at-bats and added another knock in the bottom of the eighth, but it was his bases-loaded walk in the 12th inning that proved to be the difference.
Mazara emerged as one of the top prospects in the game this season with his success in the high minors, batting a combined .296/.366/.443 with 14 home runs, 26 doubles and 69 RBIs in 131 games between Double-A Frisco and Round Rock. The three-hit performance also extended the 6-foot-4, 195-pounder's hitting streak to 10 games (dating back to the regular season), during which he's batting .447 with 17 hits, eight runs scored and five RBIs.
Brinson, meanwhile, arguably was even more impressive than Mazara during the regular season. Despite spending more than a month on the disabled list -- from May 1 to June 5 -- the toolsy outfielder still posted a robust .332/.403/.601 batting line with 20 home runs, 31 doubles, eight triples, 74 runs scored, 69 RBIs and 18 steals in 100 regular-season games between Class A Advanced High Desert, Frisco and Round Rock. Brinson is batting .433 (13-for-30) with six runs scored and five RBIs during his current seven-game hitting streak.
The rest of the 10 best performances from top Minor Leagues
• Astros No. 11 prospect Tony Kemp had a solid game, going 3-for-5 with three runs scored, two walks and an RBI, but it wasn't enough to keep Triple-A Fresno from falling to Round Rock in 12 innings. The 23-year-old second baseman/outfielder has hit safely in all five playoff games for the Grizzlies while batting .409 (9-for-22) with two doubles, six runs and six RBIs in that span. During the regular season, the 2013 fifth-rounder batted .308/.388/.386 with 143 hits, 26 extra-base hits, 78 runs scored and 35 steals in 121 games between Double-A Corpus Christi and Frisco.
• Athletics No. 3 prospect Sean Manaea made a statement against his former organization and team Tuesday, allowing two unearned runs on seven hits over a career-high eight innings as Double-A Midland defeated Northwest Arkansas, 5-2, to open the Texas League finals. The 23-year-old lefty issued two walks and struck out seven in the outing, throwing 68 of his 100 pitches for strikes, and he's combined for 1.20 ERA and 15 strikeouts in 15 innings between two postseason starts for the RockHounds. Acquired from the Royals at the Trade Deadline as part of the Ben Zobrist deal, Manaea was nothing short of dominant after joining Midland's rotation, going 6-0 with a 1.90 ERA, 1.15 WHIP and 51 strikeouts in 42 2/3 innings over seven regular-season starts.
• Athletics No. 21 prospect Jaycob Brugman paced Midland's offense with another big game, hitting a solo home run as part of a 1-for-3 performance. The 23-year-old outfielder has homered in three consecutive games dating back to the previous series, making him 6-for-12 with five runs scored and six RBIs in four postseason games. During the regular season, the BYU product batted .260/.343/.382 with six home runs, 41 extra-base hits and 63 RBIs in 132 games for the RockHounds.
• Giants No. 11 prospect Aramis Garcia went 2-for-4 with a two-run home run as Class A Advanced San Jose defeated Visalia, 6-5, in 13 innings, forcing a decisive fifth game in the California League semifinals. The 22-year-old catcher's multi-hit showing comes one day after he delivered walk-off single in the bottom of the ninth to prolong the series and help the Giants begin to crawl back from a 2-0 deficit. Garcia, a second-round Draft pick in 2014, enjoyed a solid full-season debut this year, batting .264/.342/.431 with 15 home runs, 19 doubles and 66 RBIs in 103 games between Class A Augusta and San Jose.
• Pirates No. 21 prospect Casey Hughston went 2-for-4 and hit a go-ahead, two-run home run in the top of the ninth inning, propelling Class A Short Season West Virginia to a 3-1 win over Staten Island in game two of the New York-Penn League finals. The 2015 third-rounder hit only two home runs in his professional debut while batting .224/.267/.311 with 28 RBIs in 61 games for the Black Bears.
• Rangers No. 5 prospect Luis Ortiz and No. 16 prospect Brett Martin combined for six scoreless innings Tuesday in Class A Hickory's 3-1 win over Asheville. Martin, a 20-year-old left-hander, scattered a pair of hits while striking out four over four innings in his first start since Aug. 28.
"I just wanted to do my part," Martin told MiLB.com. "The first ball I threw today, I knew I was going to be fine. It was an awesome feeling."
Ortiz, 19, was credited with the win after fanning three batters in two scoreless frames. The 2014 first-rounder was impressive during 13 regular-season starts for the Crawdads, posting a 1.80 ERA and 1.08 WHIP while striking out 46 batters against just nine walks in 50 innings.
• Yankees No. 5 prospect James Kaprielian allowed three hits over a career-high 6 1/3 innings as Class A Short Season Staten Island lost to West Virginia, 3-1, in game two of the New York-Penn League finals. The No. 16 overall pick in the 2015 Draft walked two batters and struck out six, needing only 77 pitches (51 strikes) to complete the outing. The 21-year-old right-hander has been excellent in two playoff starts, allowing just one earned run on seven hits in 12 1/3 innings. During the regular season, Kaprielian pitched to a 2.00 ERA and tallied 12 strikeouts in nine innings (three starts).
Mike Rosenbaum is a reporter for MLB.com. This story was not subject to the approval of Major League Baseball or its clubs.