Turner's takeout slide on Arenado causes stir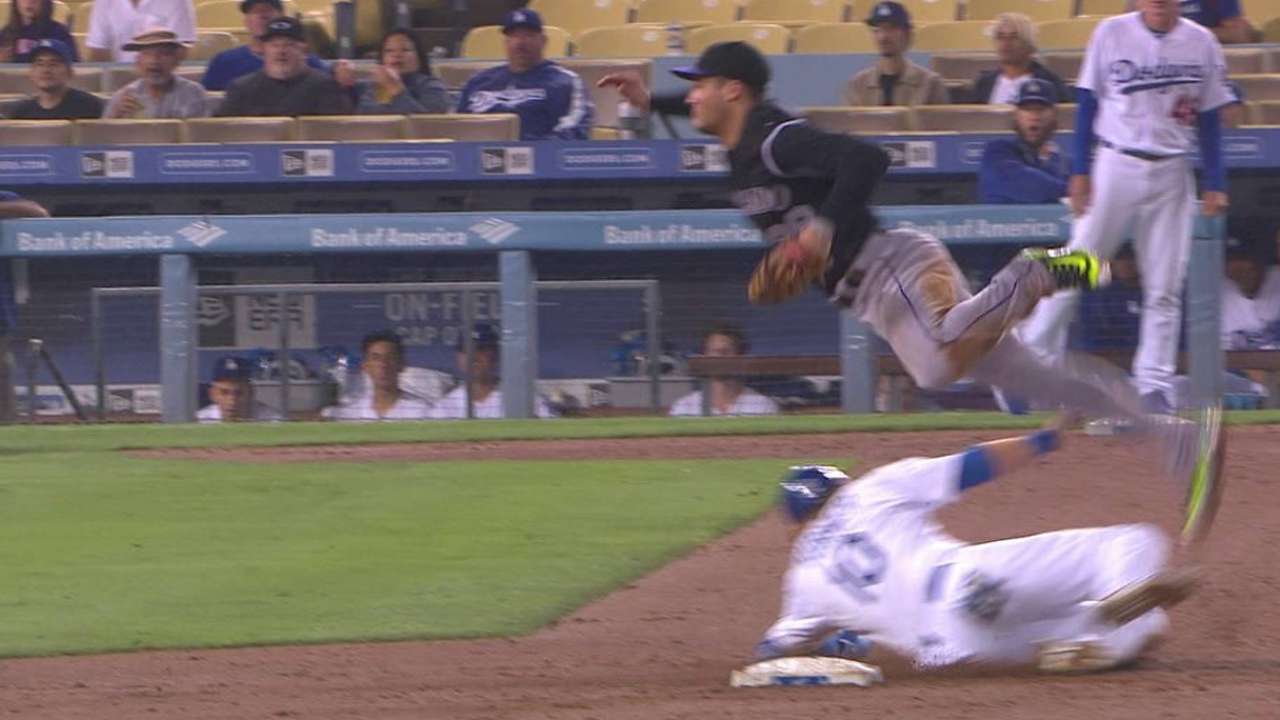 LOS ANGELES -- Long before Nolan Arenado hit the game-winning homer in the 16th inning of the Rockies' 5-4 win over the National League West-leading Dodgers, the star third baseman and manager Walt Weiss established that last-place Colorado intended to put up a fight on Tuesday night at Dodger Stadium.
In the fourth inning with the Rockies leading, 3-1, Colorado's infield shifted to the second-base side to face left-handed-hitting Los Angeles slugger Adrian Gonzalez. Gonzalez bounced a comebacker to pitcher Chris Rusin, who started a double play by throwing to Arenado at second base. The throw handcuffed Arenado, but he made a successful turn despite being unaccustomed to covering that bag. However, he clearly didn't appreciate being toppled by Justin Turner's slide over the bag.
Between innings, Arenado and Weiss were spotted yelling across the infield at Turner as he took his third-base position. Dodgers manager Don Mattingly and umpires Laz Diaz behind the plate and John Hirschbeck at third attempted to cool the rhetoric, but the talk continued when Arenado took his position -- just feet from the Dodgers' dugout -- in the bottom of the fifth.
"They've probably forgotten it by now, but if they look at it, they won't have any problem with it," Mattingly said of Turner's slide. "I'm not sure what the problem was. Arenado didn't seem to have a problem with it."
After the game, Arenado didn't care to relay much of the discussion surrounding the play.
"I don't want to talk too much about that. I don't think that had any motivation for us winning that game," Arenado said. "We were just trying to play good baseball, trying to win the game. We don't want to lose any more. Losing gets old. We're tired of losing to the Dodgers."
Weiss said of the slide, "I thought it was late," and he felt he was more mad about it than Arenado. No matter who was madder, Arenado was glad to see his manager riled in his defense.
"It's always nice to know that Walt has our back, and he loves us and wants to protect us," Arenado said. "We've got his back, also."
The Dodgers also were bothered by Rockies starting left-hander Chris Rusin (six innings, three runs, five hits), who uses the quick pitch with the bases empty as a weapon.
"I don't know what they were upset about," said Rusin, who also tried to steal an out on a modified hidden ball trick by tagging Adrian Gonzalez when he was away from the bag after a seventh-inning double -- but didn't get the out because time out had been called. "Just from my end of it, it looked like they were a little agitated by quick-pitching. But it's not illegal, so I don't know what to say."
Thomas Harding is a reporter for MLB.com. Follow him on Twitter @harding_at_mlb, and like his Facebook page. This story was not subject to the approval of Major League Baseball or its clubs.