Rangers showing grit, attitude and pure joy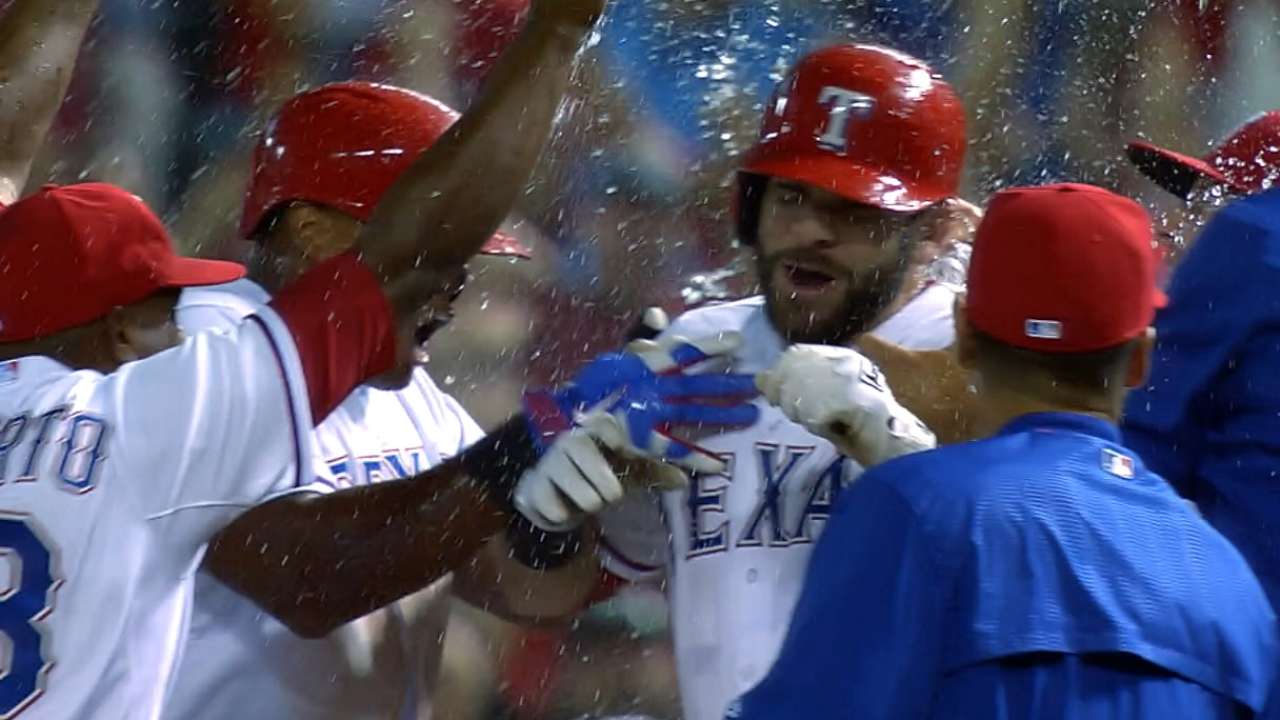 ARLINGTON -- Rangers catcher Chris Gimenez described the feeling as "pure joy" after Texas moved into first place for the first time this season with a 6-5 walk-off win over the Astros on Tuesday night.
"I can't say enough about the grit and attitude we continue to show on a nightly basis," Gimenez said. "It's a lot of fun to be a part of, a lot of fun to watch. These games are what this time of year is all about. What a tremendous feeling."
The Rangers have now experienced that feeling two nights in a row thanks to two dramatic wins over the Astros. This one ended in the ninth inning on Mitch Moreland's shallow sacrifice fly, which sent home pinch-runner Drew Stubbs with the winning run.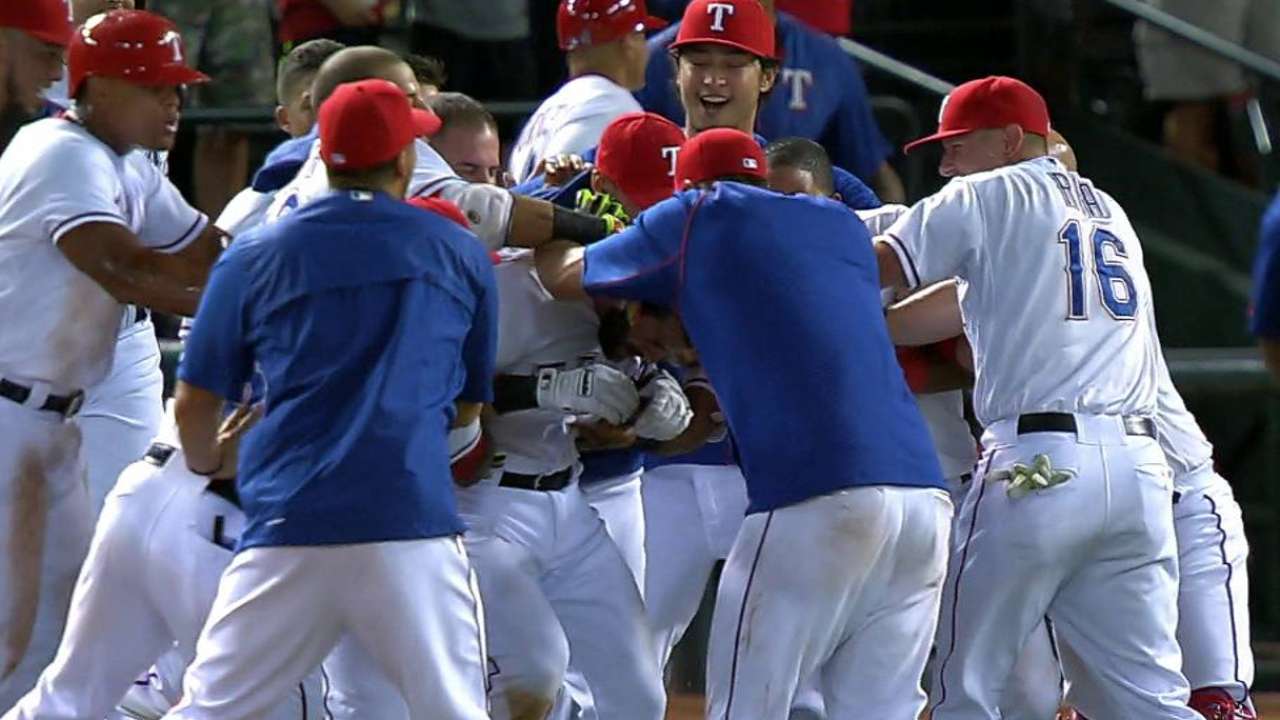 With the two wins over the Astros, the Rangers have moved into first place in the American League West, with a half-game lead. They are 10 games over .500 and in sole possession of first place for the first time this season.
"It's definitely big," Moreland said. "We're playing a good team. We're the top two teams in our division going after it in September. To get the first two wins is definitely big, and hopefully, we can continue the momentum tomorrow."
The Rangers took a four-run lead in the first inning but let it slip away. The Astros scored three in the second off Derek Holland, then went ahead on a two-out, two-run single by Evan Gattis in the fourth. But the Rangers tied the score in the bottom of the inning after Prince Fielder hit a two-out single and scored on a double by Adrian Beltre.
That made it 5-5, and the game ultimately turned into a battle of bullpens before the Rangers prevailed in the bottom of the ninth.
"We talked about it last night; grit, determination and resiliency, everybody is playing with it right now," manager Jeff Banister said. "The ability to grind out some important at-bats throughout the game, I really believe is a belief system and a mind-set we have. They have fought, scratched and clawed every way imaginable to get to this point. What we're going through is a lot of fun."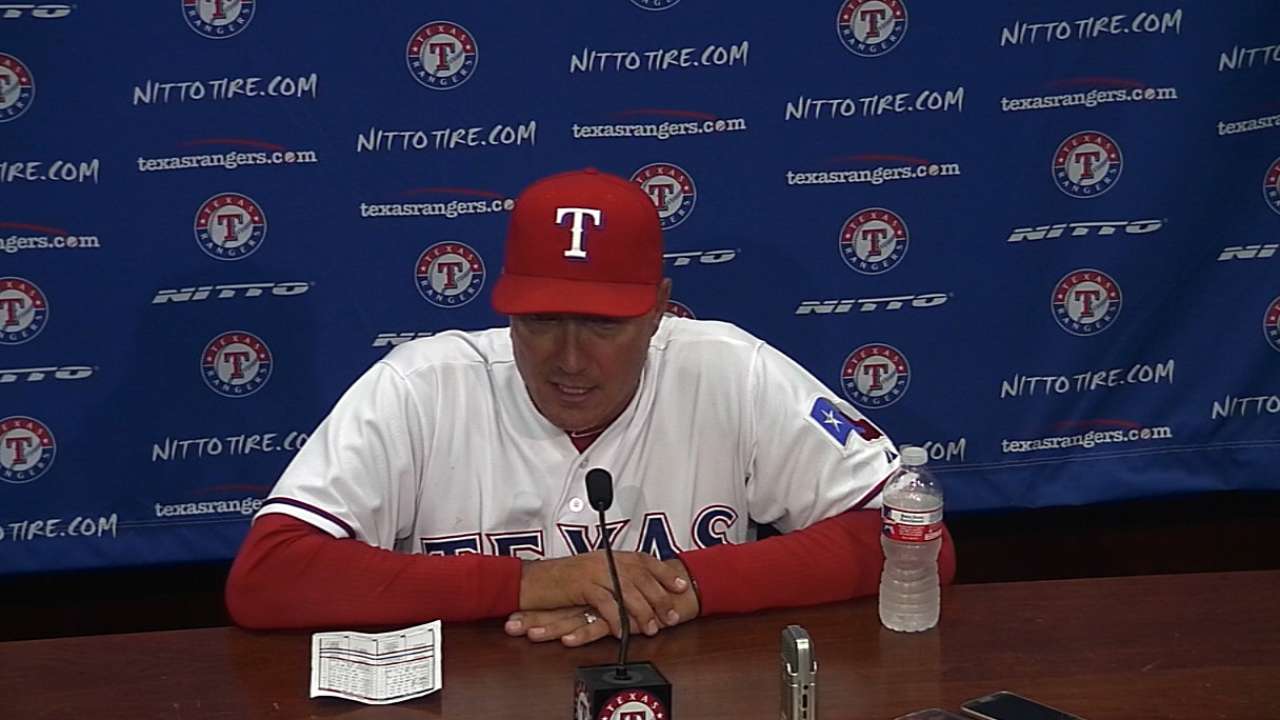 The two teams used a combined 11 relievers; the Rangers' quartet of Ross Ohlendorf, Sam Freeman, Sam Dyson and Shawn Tolleson delivered 3 1/3 scoreless innings to keep the score tied going into the bottom of the ninth.
"It has just been a battle in these games," Tolleson said. "We have had to battle and overcome some things, but it shows a lot about our guys and our goals. It's really exciting."
Fielder led off the ninth with a single off reliever Oliver Perez. After right-hander Will Harris went in to pitch and Stubbs replaced Fielder on the basepaths, Beltre singled to center. That allowed Stubbs to go to third base, in position to score on Moreland's sacrifice fly.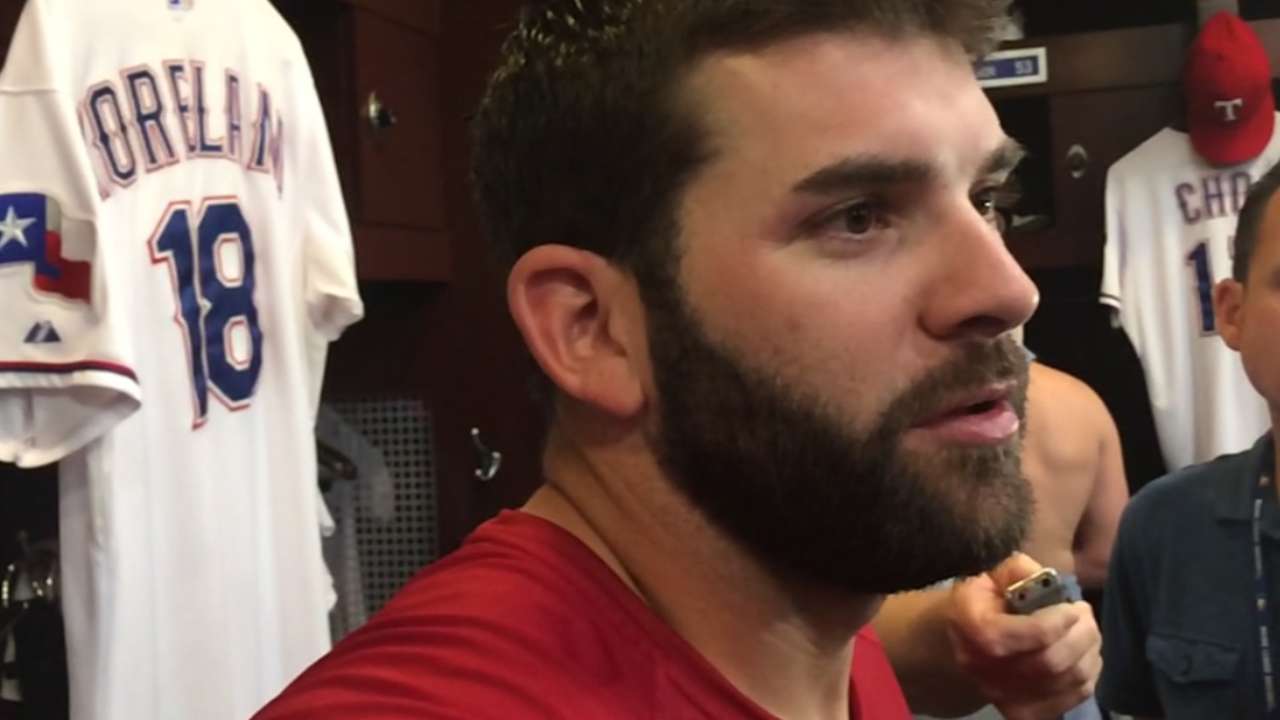 "What a tremendous feeling to sneak away with the first two games," Gimenez said. "But it's not over. We may be in first place today, but we want to be in first place in two weeks. That's the ultimate goal."
T.R. Sullivan is a reporter for MLB.com. Read his blog, Postcards from Elysian Fields, follow him on Twitter @Sullivan_Ranger and listen to his podcast. This story was not subject to the approval of Major League Baseball or its clubs.