Statcast: Throw throws off hurler's hopes for hit
Polanco gets Cahill at first for rare 9-3 putout; Machado also shows off arm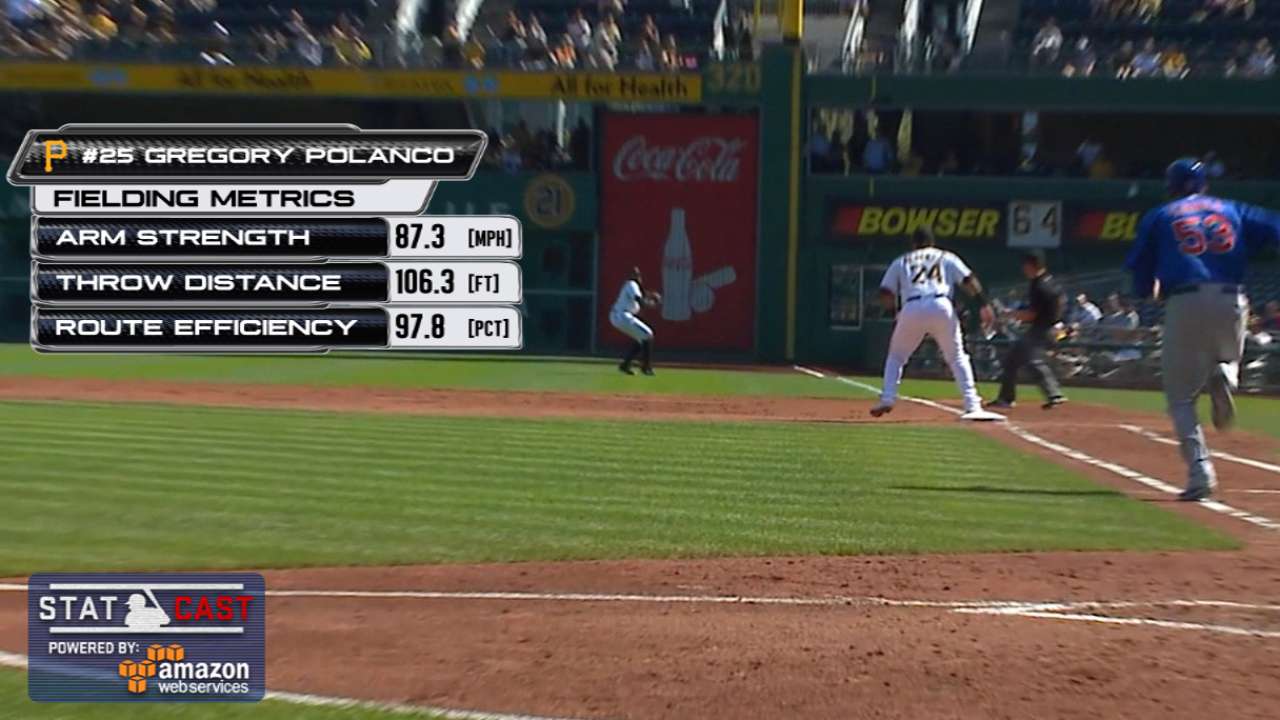 Though Statcast™ has tracked the arm strength on plenty of outfield assists this season, Tuesday provided one of the more unusual such events this season.
The unique play came courtesy of the Pirates at Wrigley Field, where a Cubs pitcher was thrown out at first base -- on a ball hit into right field. Statcast™ provides an in-depth look at the play, showing that -- along with a strong, accurate throw -- it was an efficient route to the ball that made the rarely seen play possible in the first place.
Not to be outdone by the Pirates outfielder, one of the game's top defensive third basemen checked in with his strongest throw of the season in Baltimore. Another frequent contributor to Statcast™ breakdowns added to his highlight reel in St. Petersburg, while a Texas slugger known more for his power proved that he also has some speed to his name as well.
In addition to those plays, Tuesday's Statcast™ roundup also takes a look at diving catches by a Cardinals outfielder and a Royals third baseman, as well as a pair of monstrous home runs -- one by a rookie and one from a veteran slugger. Here's a deeper look into each of those plays, courtesy of Statcast™.
Polanco records outfield assist -- at first base
Pirates outfielder Gregory Polanco made a rare 9-3 putout on Tuesday afternoon, throwing out Cubs pitcher Trevor Cahill at first base on a liner into right field. Polanco took a near-perfect route to cut off the ball, logging a route efficiency of 97.2 percent, before rifling an 88.7-mph throw to first base. That throw covered a distance of 106.3 feet and easily beat Cahill to the bag, resulting in the unusual out.
Machado shows off his cannon
Already known to have one of the strongest arms at the hot corner, Orioles third baseman Manny Machado managed to kick things up another notch on Tuesday night. Machado ranged backward and toward the line to make a stop on a Ryan Hanigan grounder, then fired an 88.9-mph missile that covered 130.5 feet across the diamond to retire the Red Sox catcher.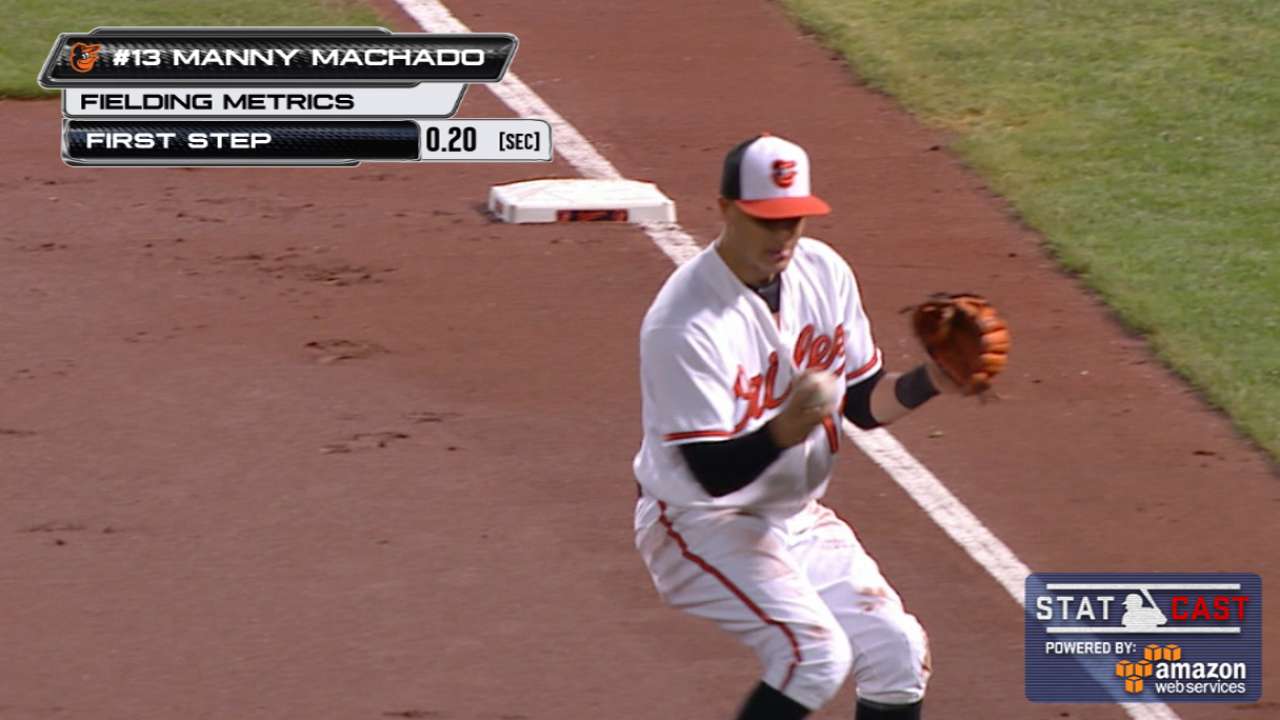 Machado, who took his first step just 0.2 seconds after contact, entered the night averaging 77.8 mph on his throws to first (excluding throws less than 70 mph to eliminate routine putouts). Only Pablo Sandoval (78 mph) had a higher average among third basemen with at least 25 such throws. Machado's throw on Tuesday, however, exceded his previous season high of 88.2 mph, which he had recorded on Aug. 20 to retire Twins second baseman Brian Dozier.
Kiermaier flashes the leather yet again
A frequent Statcast™ subject, Rays outfielder Kevin Kiermaier made another highlight-reel catch on Tuesday night, with his latest entry coming on a potentially game-saving grab in the seventh inning against the Yankees. With the Rays clinging to a one-run lead and the tying run on second base, Kiermaier raced deep into the gap to rob Brett Gardner of extra bases and what would have been the game-tying RBI.
Kiermaier reached a top speed of 19.6 mph and covered a total distance of 84 feet on the play, all while logging a route efficiency of 96.6 percent. Kiermaier had registered a route efficiency of at least 96 percent on, strangely enough, 96 different catches entering play on Tuesday. Only the Angels' Mike Trout (101) had more such catches.
Moustakas hustles to make diving catch
Playing well off the line with Indians left-hander Lonnie Chisenhall at the plate, Royals third baseman Mike Moustakas flashed some wheels on Tuesday night in order to make a diving catch in foul territory. Despite lining up nearly at shortstop -- with actual shortstop Alcides Escobar shifted to the right side of second base -- Moustakas reached a max speed of 18.9 mph as he raced over to make the sprawling catch in front of the Indians' dugout.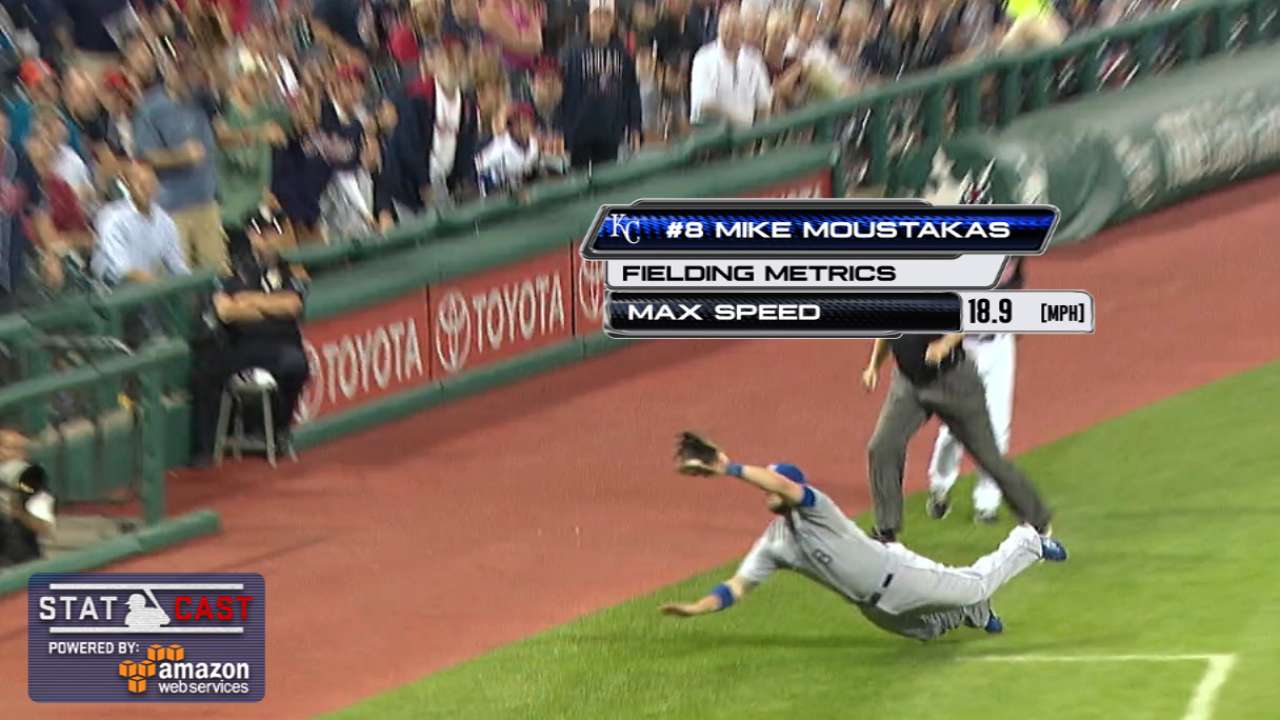 Upton tees off for towering homer
Padres outfielder Justin Upton hit an absolute no-doubter off D-backs starter Jhoulys Chacin to lead off the second inning on Tuesday night. Upton jumped all over an 89-mph fastball, sending it off his bat at a blistering 113.9 mph. The ball traveled a projected distance of 458 feet before finally landing in the second deck in left field, a location rarely frequented by home run balls at Chase Field.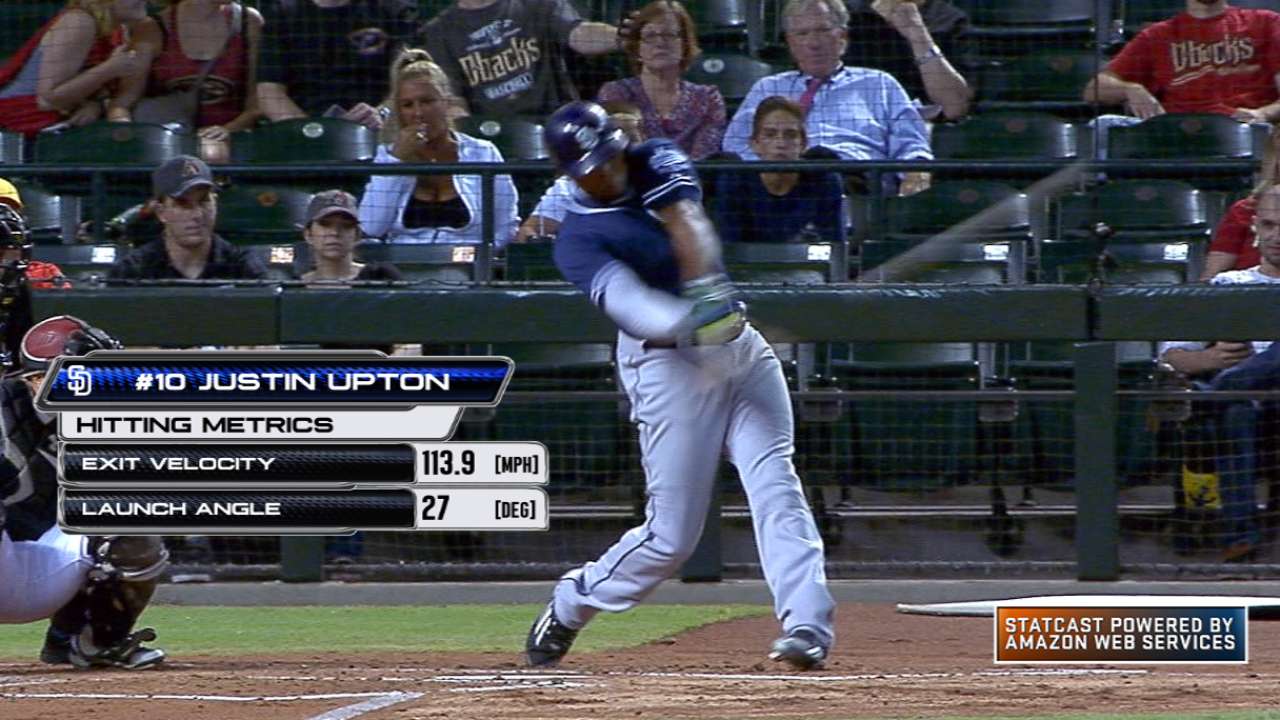 Piscotty takes away hit with lunging catch
Cardinals rookie Stephen Piscotty laid out just shy of the warning track to rob Brewers infielder Elian Herrera of extra bases to lead off the fourth inning on Tuesday night. Piscotty reached a max speed of 18.9 mph as he raced 67 feet, all at a route efficiency of 94.7 percent, to put himself in position to make the diving grab in deep left-center field.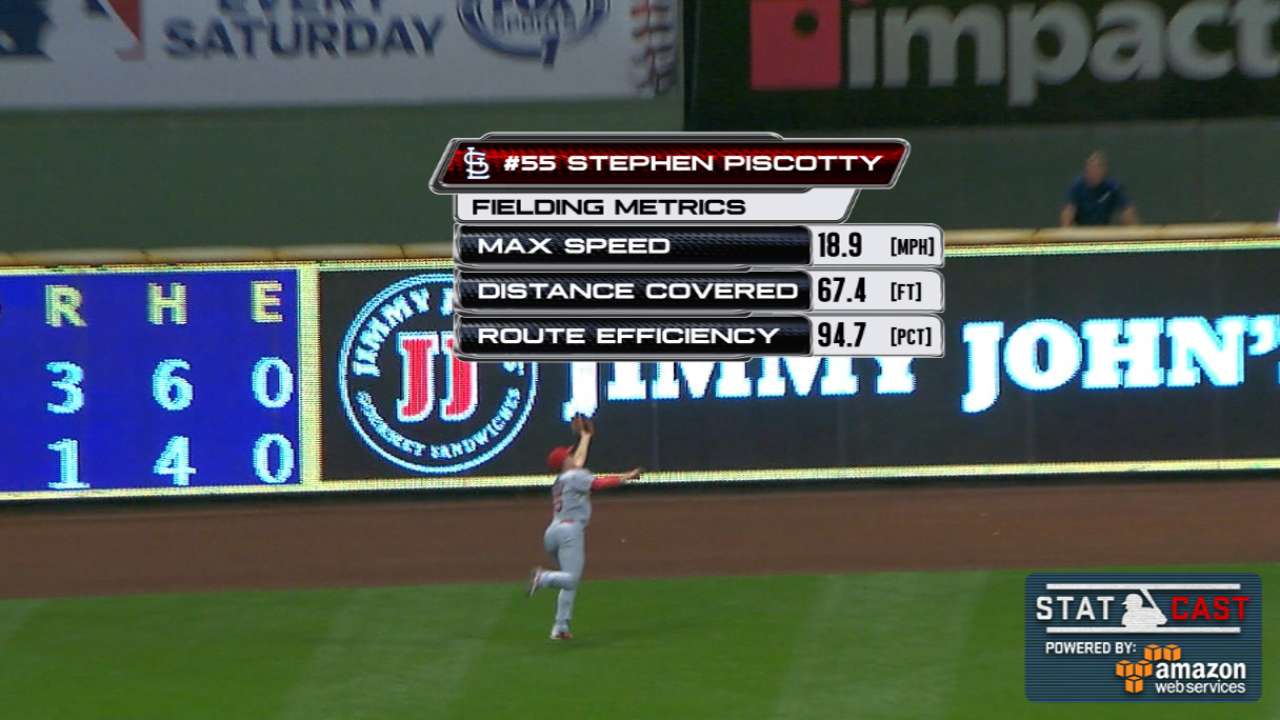 Bird connects for big blast
Speaking of rookies, Yankees prospect Greg Bird hit a mammoth shot on Tuesday night for the sixth home run of his young career. Bird's latest homer jumped off his bat at 110.7 mph and traveled a projected distance of 440 feet, both of which were his highest totals yet. Among his first five homers, Bird's highest exit velocity was just 106.6 mph and he had yet to hit one that traveled a projected distance of more than 428 feet.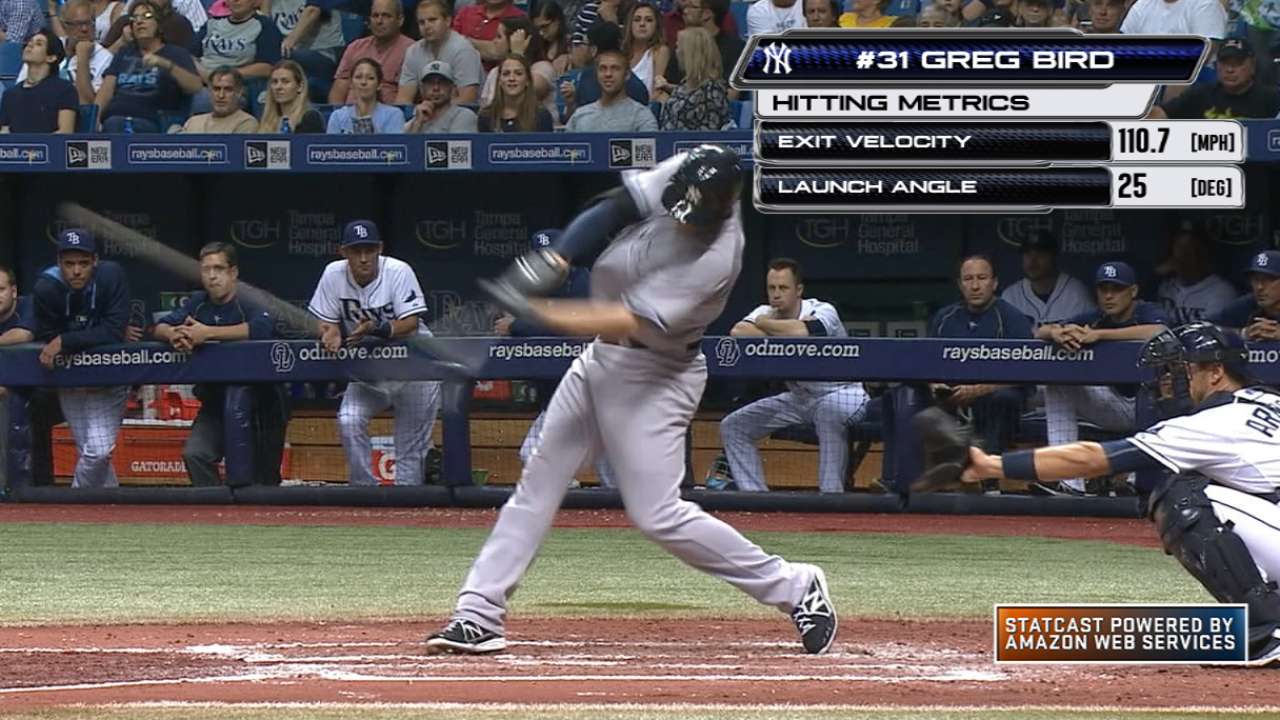 Fielder hauls around the bases
Despite not necessarily being known for his speed, Rangers first baseman Prince Fielder nevertheless showed off some wheels on Tuesday night when he raced all the way home from first base on a fourth-inning double. Fielder reached a max speed of 18.2 mph as he dashed from first base to home in just a hair under 12 seconds on Adrian Beltre's two-bagger. Though impressive, Fielder actually had one first-to-home dash that was even quicker earlier this season, as he covered that same distance in just 11 seconds in a July 20 game against the Rockies.
Paul Casella is a reporter for MLB.com. This story was not subject to the approval of Major League Baseball or its clubs.