Hughston's homer helps Black Bears capture NYPL championship
Pirates No. 21 prospect cracks a go-ahead shot in top of the ninth inning for West Virginia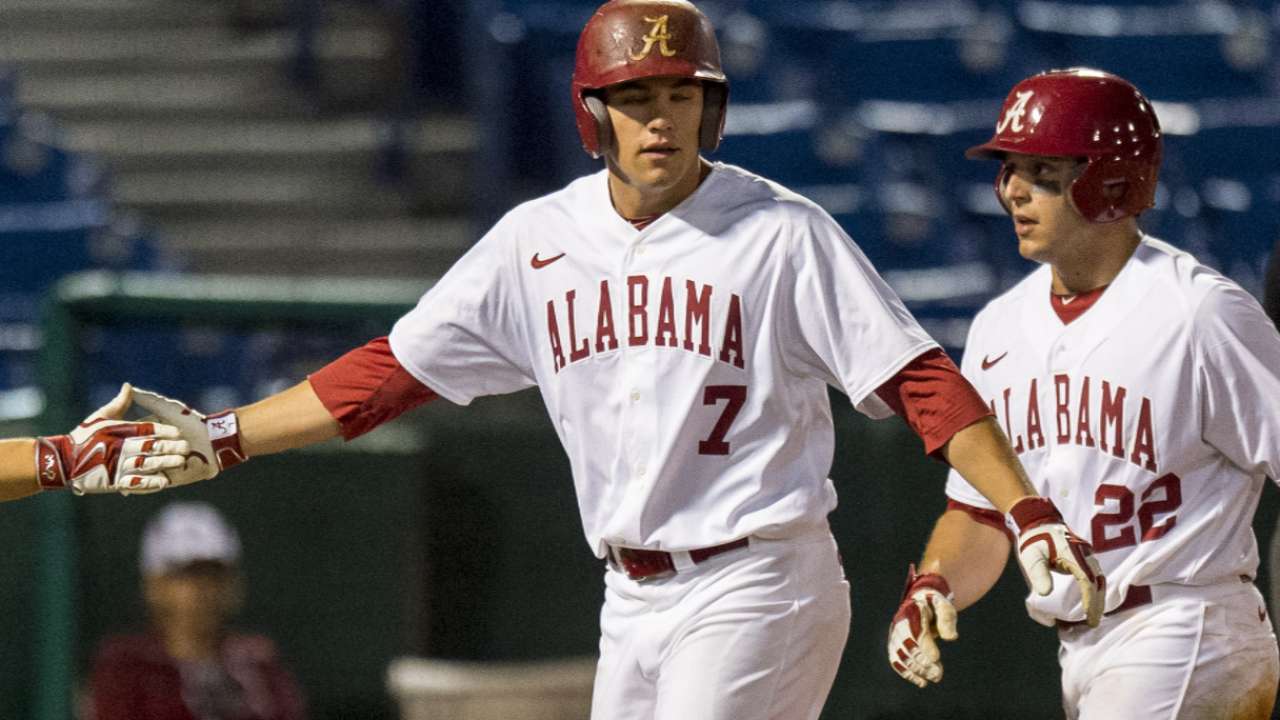 The Class A Short Season West Virginia Black Bears are New York-Penn League champions.
Backed by a pair of late-inning home runs, the Black Bears defeated Staten Island, 3-1, to complete a two-game sweep in the best-of-three series.
West Virginia didn't get on the board until the top of the seventh inning, when NYPL MVP Carlos Munoz tied the game with a solo home run -- his 13th of the season -- off of reliever James Reeves.
The game remained tied headed into the top of the ninth inning, but that changed quickly when No. 21 prospect Casey Hughston connected on a go-ahead, two-run home run to right-center to give West Virginia a 3-1 lead.
"I didn't even remember hardly any of it, honestly. It was like almost like a blink-of-an-eye thing," Hughston told MiLB.com. "I was standing in the box and then I just touched home plate after I rounded the bases, so it was [an] unreal, crazy experience for me. I couldn't believe it and I still can't now."
The 2015 third-rounder, who finished the game with two hits in four at-bats, batted .224/.267/.311 and hit only two home runs in 61 regular-season games for the Black Bears.
"I threw my glove up and just ran to my brothers," the 21-year-old outfielder said. "I don't know how to ... I can't take it all in right now, it still feels pretty nuts. But I'm glad I could do it with this team. We really bonded over the three months we played."
No. 9 prospect and 2015 first-round Draft pick Ke'Bryan Hayes also contributed in the victory, going 1-for-2 with a run scored and a walk.
After recording two outs in the eighth, reliever Julio Eusebio clinched the title for West Virginia with a pair of strikeouts as part of a perfect ninth inning. Before that, starter Dario Agrazal held Staten Island to one run over five innings, striking out nine.
After winning the NYPL championship in each of its previous six appearances, all signs pointed to Staten Island winning on Tuesday to extend the best-of-three series. On top of that, the club also had 2015 first-rounder (No. 16 overall) James Kaprielian on the mound.
Kaprielian, the Yankees' No. 5 prospect, certainly did his part, scattering three hits and two walks while fanning six over career-high 6 1/3 scoreless frames. The 21-year-old right-hander departed the game after only 71 pitches (56 strikes).
On the other side of the ball, outfielder Jhalan Jackson's solo home run in the fifth inning accounted for Staten Island's only run in the contest.
Mike Rosenbaum is a reporter for MLB.com. This story was not subject to the approval of Major League Baseball or its clubs.