MLB.com Columnist
Richard Justice
Work has just begun for first-place Rangers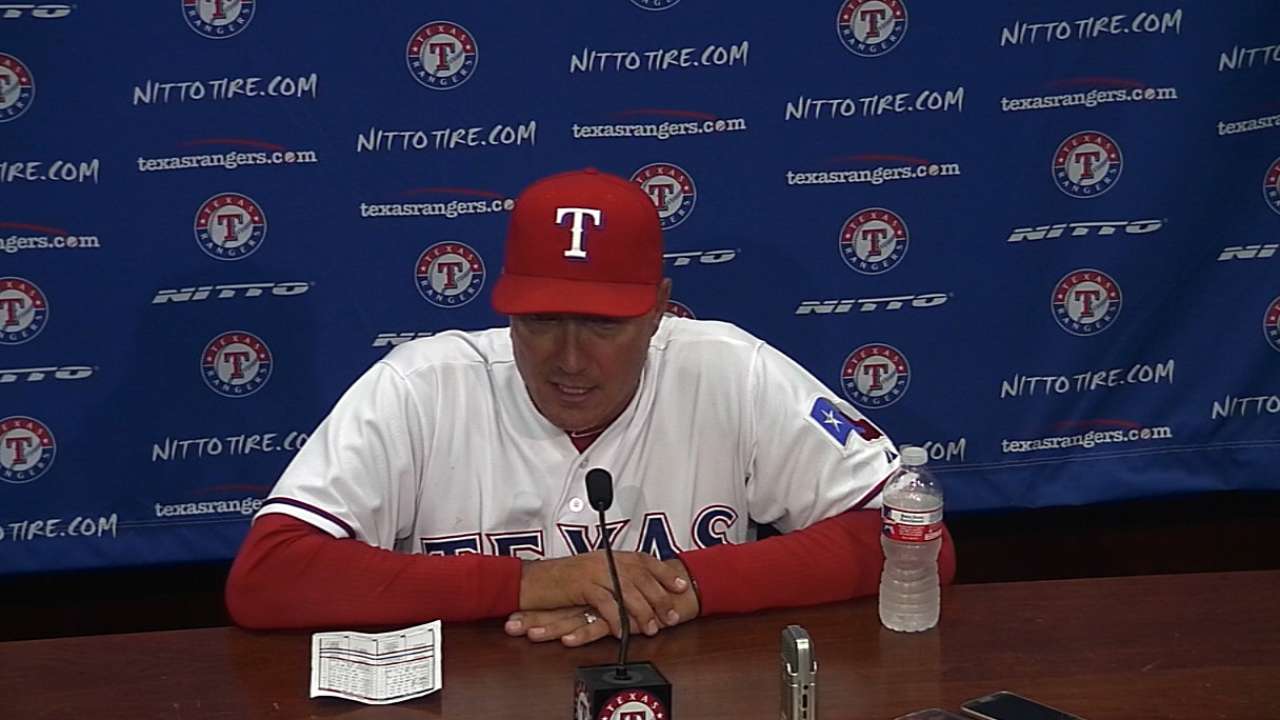 ARLINGTON -- The Texas Rangers saw it as a beginning, not an ending. Even after a wild celebration. Even after acknowledging a milestone.
They've won nothing. Not yet anyway. That was the message in every corner of the home clubhouse after a 6-5 victory over the Astros on Tuesday night at Globe Life Park.
"We've got a long way to go," Rangers manager Jeff Banister said.
That's the odd thing about winning big games. All they do is lead to more big games. Still, this latest victory carried some significance. The Rangers are now in first place in the American League West, leading the Astros by a half-game.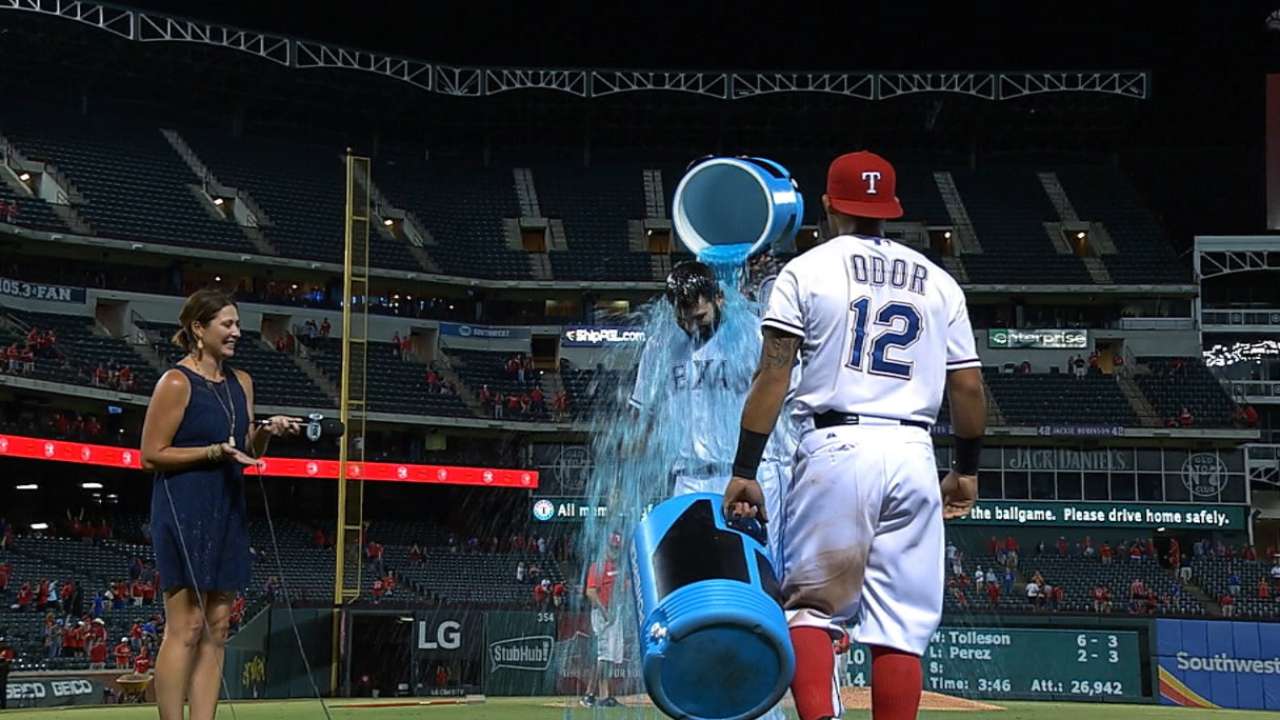 One of the reasons the Rangers kept the thing in perspective is that they have 18 games remaining, including five more against the Astros. Another reason is that Houston is handing the ball to left-hander Dallas Keuchel on Wednesday night.
Keuchel is the best the Astros have and is a solid favorite to win the American League Cy Young Award. In tough times, teams lean on their stars to change the course of a season.
Houston is 20-9 in Keuchel's starts and 57-59 with anyone else on the mound. At a time when the Astros have lost six of eight on a road trip that has bumped them from atop the AL West for the first time since July 26, Keuchel's 30th turn comes at a perfect time.
The Rangers also understand there are no unfinished miracles. If they don't turn this run back into contention into a postseason berth, it won't mean nearly as much.
This is a team that was 9 1/2 games behind the Astros in April and eight games out as recently as Aug. 2. They didn't spend a day in first place after April 27 last season, and until Tuesday night, they had spent only April 4 in first place this season.
That they held things together, that they kept playing hard and going at it one day a time, is a tremendous tribute to Banister and to his veteran leadership, especially third baseman Adrian Beltre.
"That's a strong core of veterans in that clubhouse," Banister said. "That's as strong a core as I've ever been around."
His players point fingers directly at Banister.
"Banny from Spring Training on has drilled that in our head -- one game at a time," Prince Fielder said. "Don't quit. Keep playing. You're never out of it until the last game. Now we're in a good spot."
Hundreds of coaches and managers in every sport says things like this. What makes Banister's message resonate?
"It's different," Fielder said. "He's John Wayne. You listen to him. I can't explain it. He has a way of telling you things that make sense. You'd run through a wall for him. The attitude of the team reflects the leadership, and his attitude is great."
Texas' roster was transformed in tangible ways, too. After piecing a rotation together for four months, the club got Derek Holland and Martin Perez back from the disabled list.
When Rangers general manager Jon Daniels pulled off a trade to acquire left-hander Cole Hamels from the Phillies, Texas suddenly saw a rotation -- and a team -- that could compete with anyone.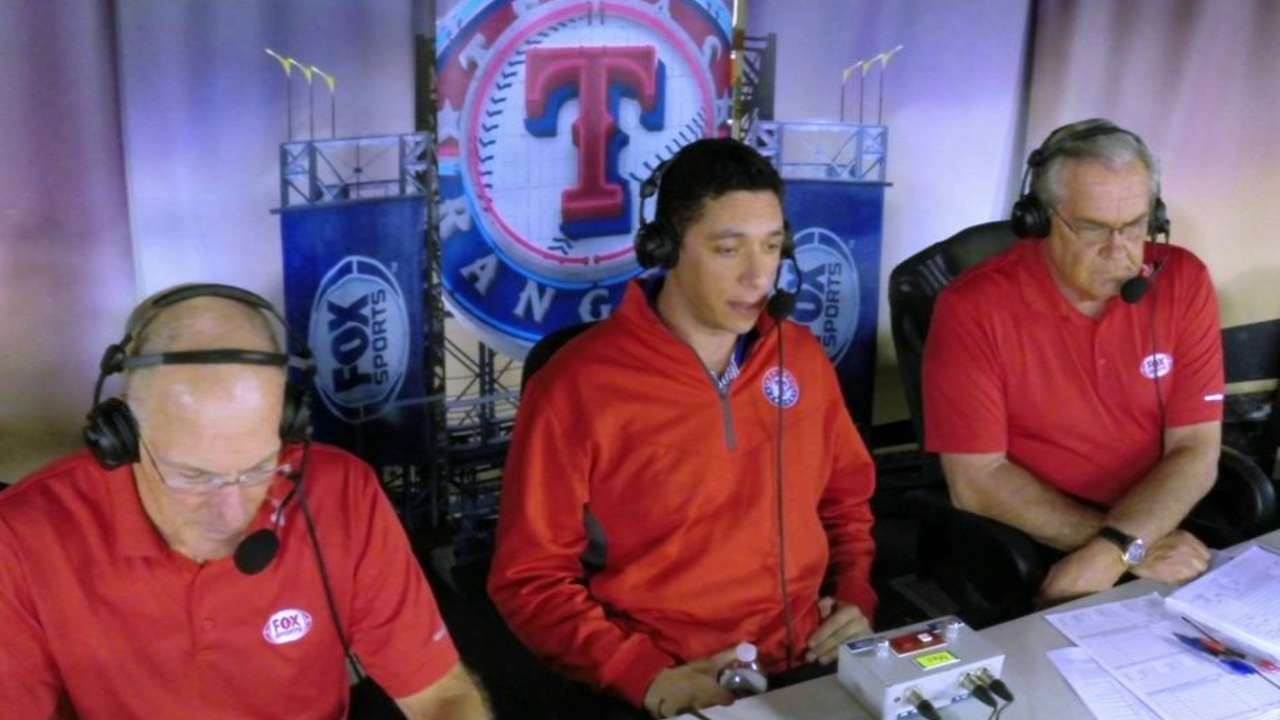 "That trade gave us so much extra energy," Rangers shortstop Elvis Andrus said.
The Rangers are 27-15 since the Hamels trade, and they have gone from eight games behind the Astros to a half-game in front in a stretch of 45 days. Little by little, they've started to believe they might just make something special out of this season.
"Right now, we're really good," Fielder said. "We're only as good as our mindset, and I think we have a good mindset right now."
On Tuesday, both starting pitchers were charged with five earned runs. But while Houston starter Collin McHugh was knocked out in the fourth inning, Holland still got the game into the sixth to save the bullpen some important outs.
It was a 5-5 game for the final five innings, right up until Fielder and Beltre led off the bottom of the ninth with singles, and Mitch Moreland won it with a sacrifice fly to center.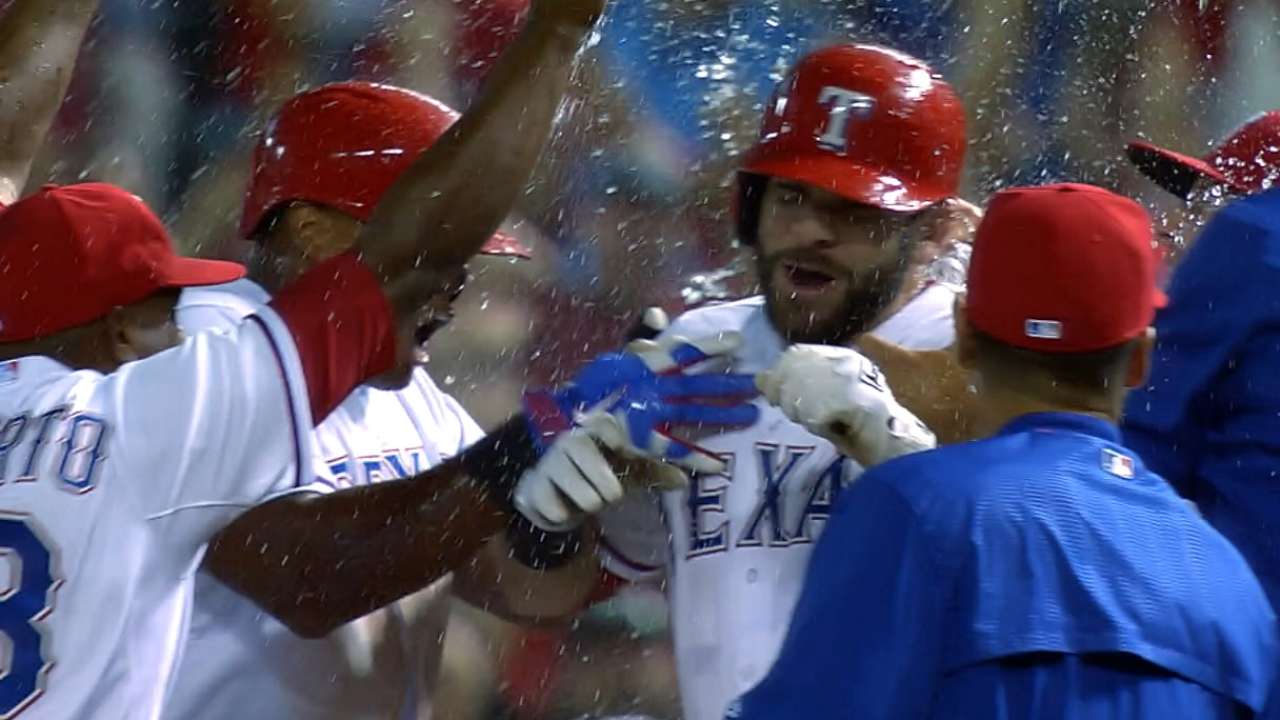 The Rangers got 10 hits from the top four spots in their batting order, including four by Beltre. Still, as sweet as it was, Texas reminded anyone who would listen that the really hard work is just beginning.
"We can't enjoy it too much," Holland said. "Now there are teams chasing us. Nothing is easy from here on out. There's not going to be an easy game no matter what. Guys are going to want to put us away. We've just got to go out there and play our game."
Richard Justice is a columnist for MLB.com. Read his blog, Justice4U. This story was not subject to the approval of Major League Baseball or its clubs.