Miscues tarnish Tomlin's excellent effort
Indians starter allows 2 runs in 9 innings of tough-luck loss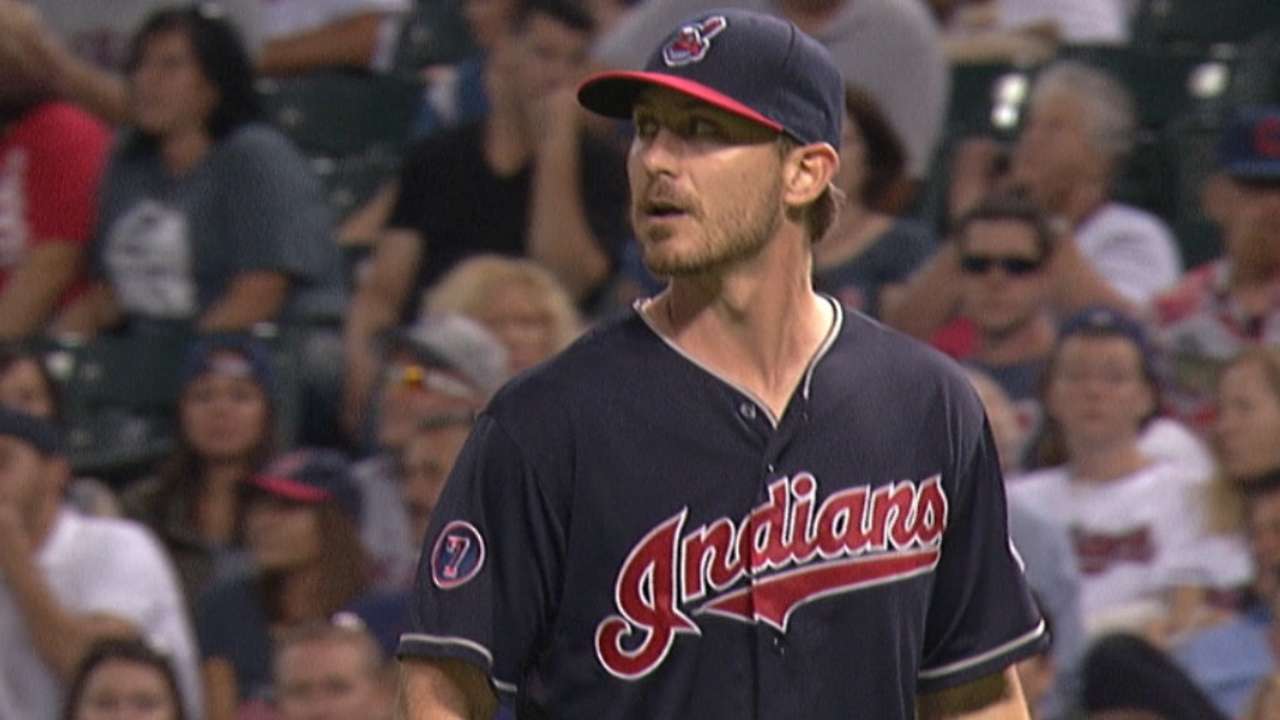 CLEVELAND -- The Indians lost sight of a pop fly on Tuesday night, initiating a chain reaction that led to a tough loss. Cleveland is hoping not to lose sight of a spot in the postseason, though the club's chances appear to be disappearing like a ball against the dusk.
In a 2-0 defeat to the American League Central-leading Royals, starter Josh Tomlin turned in a strong complete-game effort, but a couple of missteps proved too damaging to overcome for the Tribe. Considering that Cleveland is currently clinging to the fringes of the October chase, Tomlin had a hard time finding comfort in his personal performance.
To Tomlin, this was simply a tough loss to swallow.
"It doesn't feel good," Tomlin said. "I'm glad I was able to keep the team in the game -- don't get me wrong -- but we need wins, and that's the bottom line."
Indians pitching coach Mickey Callaway had a different take.
"He did his job," Callaway said. "I think he should be proud of that and we're proud of that. Obviously, getting a win would've been great, but that didn't happen tonight. He'll continue to pitch well and, if he keeps on pitching like that, he's going to keep getting more wins than losses."
Over nine innings, representing Tomlin's second complete game in his past three outings, the right-hander scattered four hits, struck out six and walked one. As he is prone to do, Tomlin surrendered a solo home run -- to Royals right fielder Alex Rios in the fifth inning. Tomlin has allowed 11 homers in 50 innings this year, but 10 have been of the solo variety.
Tomlin (5-2, 2.70 ERA) can live with the home runs, especially given the way he limits the damage around them in terms of hits allowed and walks issued. What probably gave him a knot in his stomach was the sequence that led to Kansas City's first run in the second inning.
Royals third baseman Mike Moustakas swung at a 3-0 pitch, sending it sailing high over foul ground behind home plate. The ball drifted to the first-base side, just beyond the infield dirt, but catcher Yan Gomes lost track of the popup. When Tomlin realized Gomes could not see it, he looked to the sky and the baseball disappeared on him, too.
"It was kind of a crazy hour of the night," Tomlin said. "The ball gets kind of lost up there every now and then."
The ball dropped to the grass, and nearly hit home-plate umpire Cory Blaser, who flinched as it landed with a thud. Moustakas took full advantage, drilling the next pitch to deep center field, where Abraham Almonte also struggled to see the ball before it eluded him and struck the wall. Moustakas moved up on a wild pitch and scored on a single by Salvador Perez.
"It's still my job to go out there and execute a pitch and get Moustakas out," Tomlin said.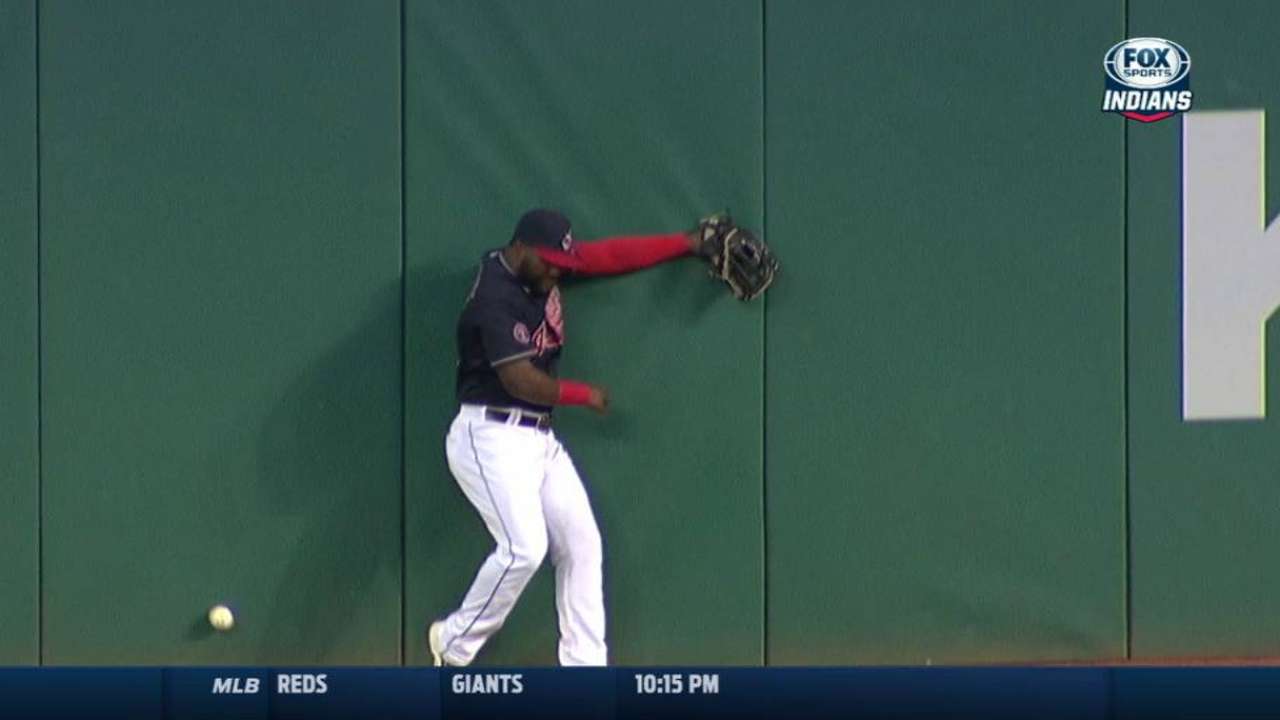 In light of Cleveland's issues on offense, the few mistakes by Tomlin were all Kansas City needed to deal the Indians a tough defeat.
That cost the Tribe the opportunity to trim its deficit in the race for the AL's second Wild Card seed -- five games behind the Astros, who lost to the AL West-leading Rangers on Tuesday night.
"It doesn't matter how well I pitch," Tomlin said. "If their guy does better than me on the other side, then it's still a loss. And that's not what we need right now."
Jordan Bastian is a reporter for MLB.com. Read his blog, Major League Bastian, follow him on Twitter @MLBastian and listen to his podcast. This story was not subject to the approval of Major League Baseball or its clubs.