Bullpen steps up, shuts down MLB's top offense
Five Braves relievers hold Blue Jays hitless after Teheran's solid start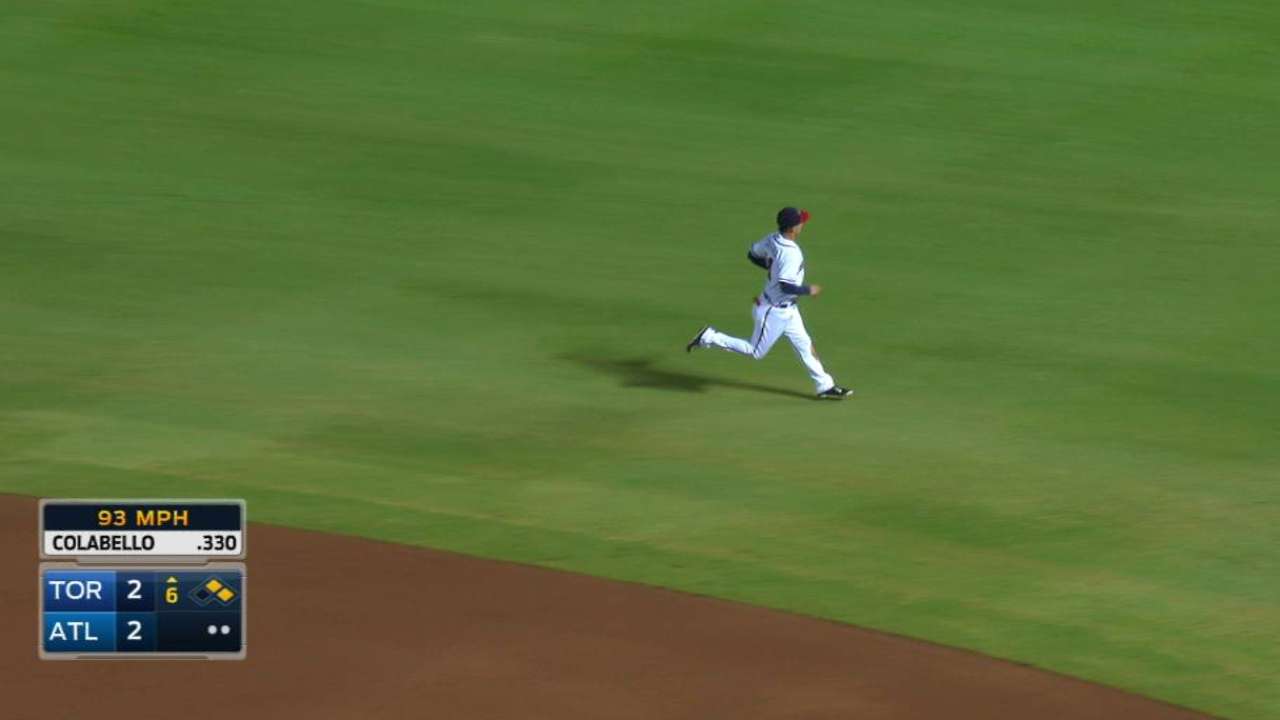 ATLANTA -- As Braves starting pitcher Julio Teheran made his way toward the clubhouse with two on and two outs in a tied game on Tuesday night at Turner Field, there was certainly reason to believe Toronto's high-octane offense would soon have its way with Atlanta's much-maligned and inexperienced bullpen.
But this was another instance when baseball proved to be a funny and unpredictable game. Andrelton Simmons delivered the walk-off single that enabled the Braves to snap a franchise-record 12-game home losing streak with a 3-2 win over the Blue Jays. But Simmons would have never been given that opportunity had Atlanta's bullpen not provided the night's biggest surprise with 3 1/3 scoreless and hitless innings.
This marked just the fourth time this season and first since May 19 the Braves bullpen did not allow a hit or a run while completing at least three innings. This relief corps had put forth a scoreless effort in just five of the 29 games it had completed at least three innings dating back to July 30.
"It's what you plan to do every single time you go out there," Braves veteran reliever Peter Moylan said. "Being in the bullpen, you have to have a short memory. I don't know if it shows a lack of intelligence or what, but I've been doing it for eight years. You've got to pitch to your strengths and continue to pitch to your strengths because that is what brought you here."
Actually what brought most of the members of Atlanta's current 'pen to the Major League level was the necessity that was created in July, when Jason Grilli sustained a season-ending injury and both Jim Johnson and Luis Avilan were dealt to the Dodgers. Seven of the 11 members of the Braves' bullpen made their Major League debut at some point this season.
The lack of reliable depth has proved to be destructive as recently as Sunday, when the Braves blew a three-run lead with two outs in the ninth and then allowed the Mets to score three more runs with two outs in the 10th inning. But there was no apparent hangover as Andrew McKirahan, Brandon Cunniff, Matt Marksberry, Moylan and Arodys Vizcaino combined to retire 10 of the 11 Blue Jays batters they faced.
"Our bullpen has had some rough times this year," Marksberry said. "It's just great that we all came together and put up a zero. We all have the capability and capacity to do it. It's just that our consistency really hasn't been there. I think tonight we put it all together. It was great, especially against MLB's best offense in run differential and everything."
The Blue Jays have scored nearly 100 runs more than any other Major League team and the Braves bullpen had posted a 6.30 ERA in the previous 42 games dating back to July 30, when Johnson and Avilan were traded.
But McKirahan stranded a pair of runners in the sixth and then combined with Cunniff to complete a perfect seventh. After Cunniff sandwiched a pair of strikeouts between a walk, Moylan concluded the eighth with a groundout. Vizcaino, who had been unavailable on Sunday, worked a perfect ninth.
"Everybody came in and did a great job," Moylan said. "That is the way a 'pen is supposed to work. So, hopefully, the guys can take this, throw it in their back pockets and keep competing the rest of the year."
Mark Bowman is a reporter for MLB.com. This story was not subject to the approval of Major League Baseball or its clubs.