Buchanan redeems himself with solid start
Despite loss, righty proves front office was right to keep him in rotation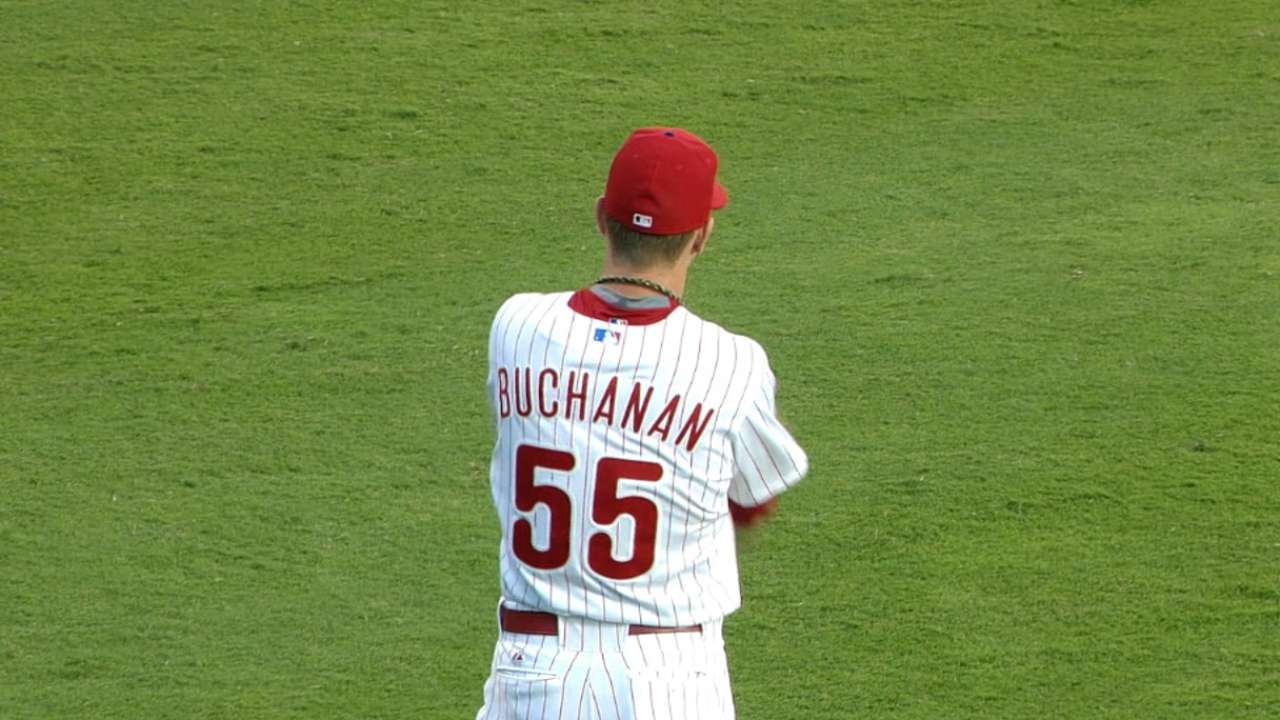 PHILADELPHIA -- David Buchanan had one heck of a task Tuesday night at Citizens Bank Park.
He had to outpitch Nationals right-hander Stephen Strasburg with a Phillies lineup that lacked a single hitter with 10 home runs or 42 RBIs. Buchanan put together one of his better performances of a rough season, but it was not nearly enough as Strasburg dominated the Phillies in a 4-0 victory.
Buchanan entered the night with a 9.11 ERA in 11 starts and a 22.00 ERA in his past three. He allowed five hits, two runs, two walks and struck out five in six innings against the Nationals, but his effort looked ordinary against Strasburg. The Nationals' starter allowed one hit and struck out 14 in eight scoreless innings. He was the first pitcher to allow just one hit with 14 or more strikeouts against the Phillies since the Mets' Tom Seaver on May 15, 1970 (one hit, 15 strikeouts).
"It's the best I've seen in a couple of years," Phillies second baseman Andres Blanco said about Strasburg. "I think most guys would agree with me. I don't know, Nolan Ryan? A lot of fastballs, combined with changeup and curveball? Pretty good."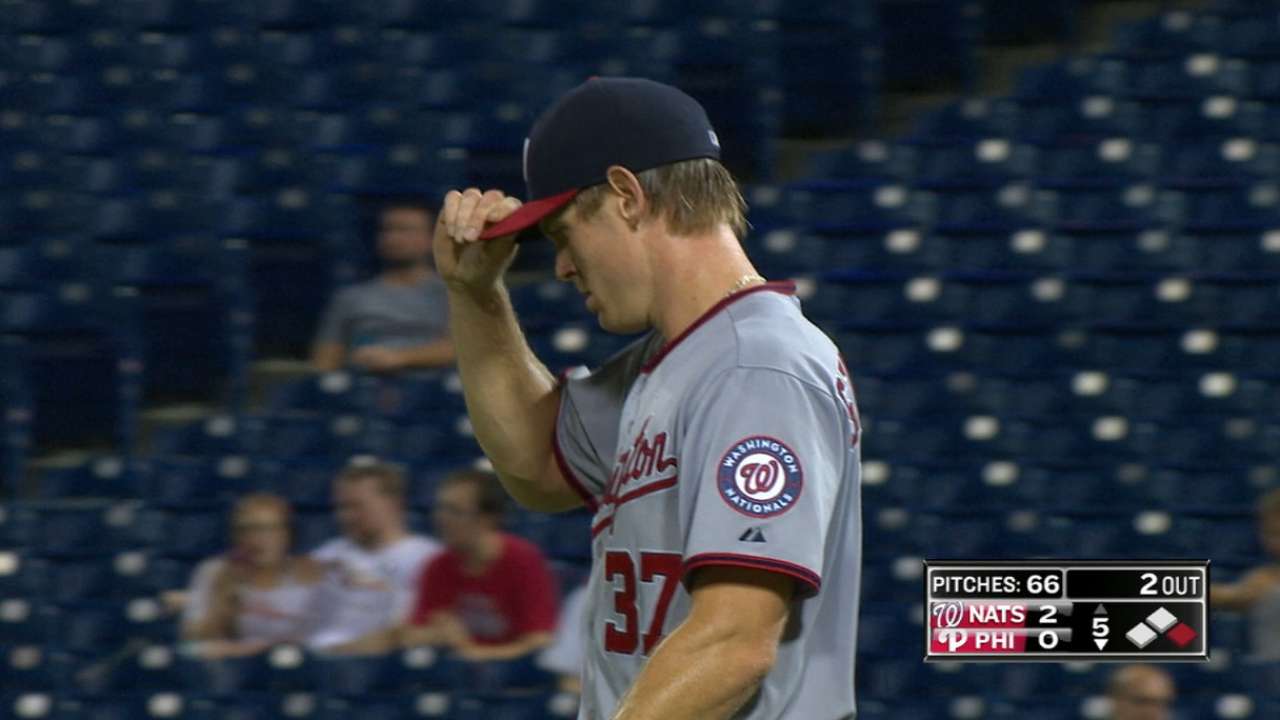 But Buchanan couldn't worry about Strasburg. He had to worry about himself.
There had been some discussion about pulling Buchanan from the rotation after he allowed 10 hits and four runs in 3 1/3 innings last week against the Braves, but the Phillies' front office instructed interim manager Pete Mackanin to keep him there.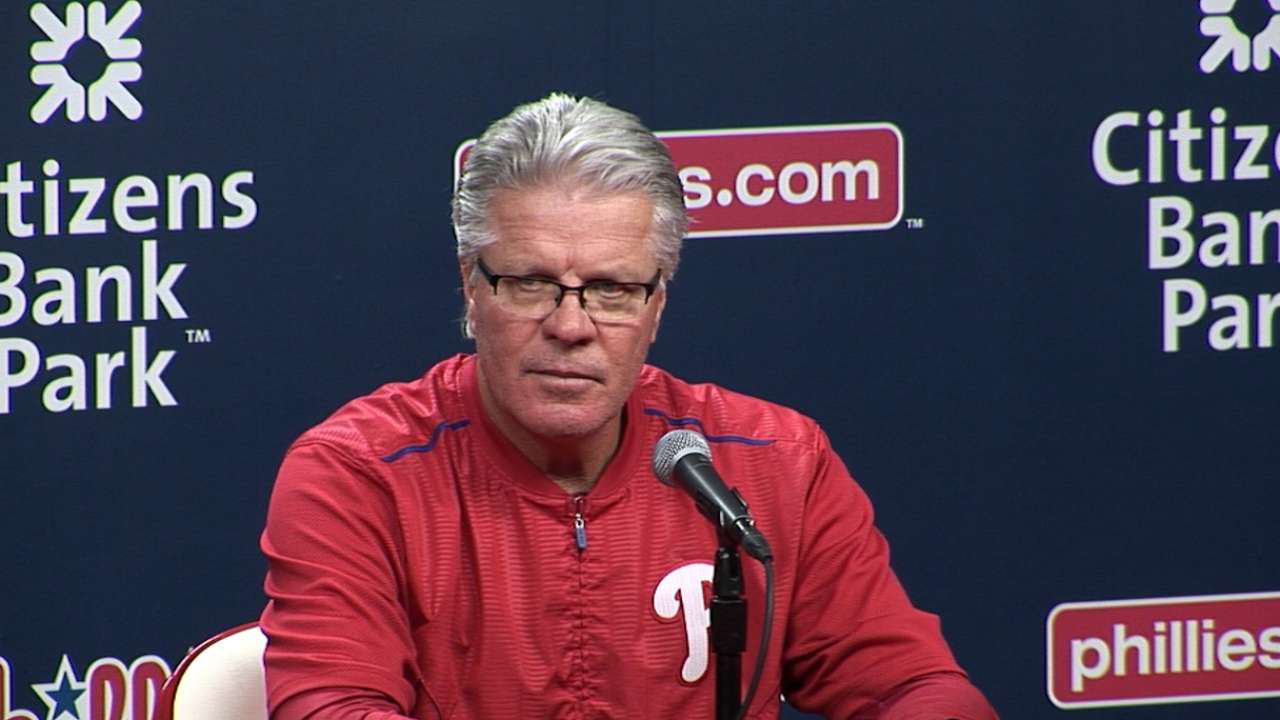 Buchanan posted a 3.75 ERA in 20 starts last season. The front office wanted to see if it could find that guy before the offseason.
"You want to make sure you finish on a strong note," Buchanan said. "Had a lot of talking to do, and thinking to do, over this past week, so today I wanted to go out there with confidence and poise and go out there and compete."
Buchanan allowed a solo homer to Bryce Harper in the first inning. Harper singled to score another run in the third to make it 2-0.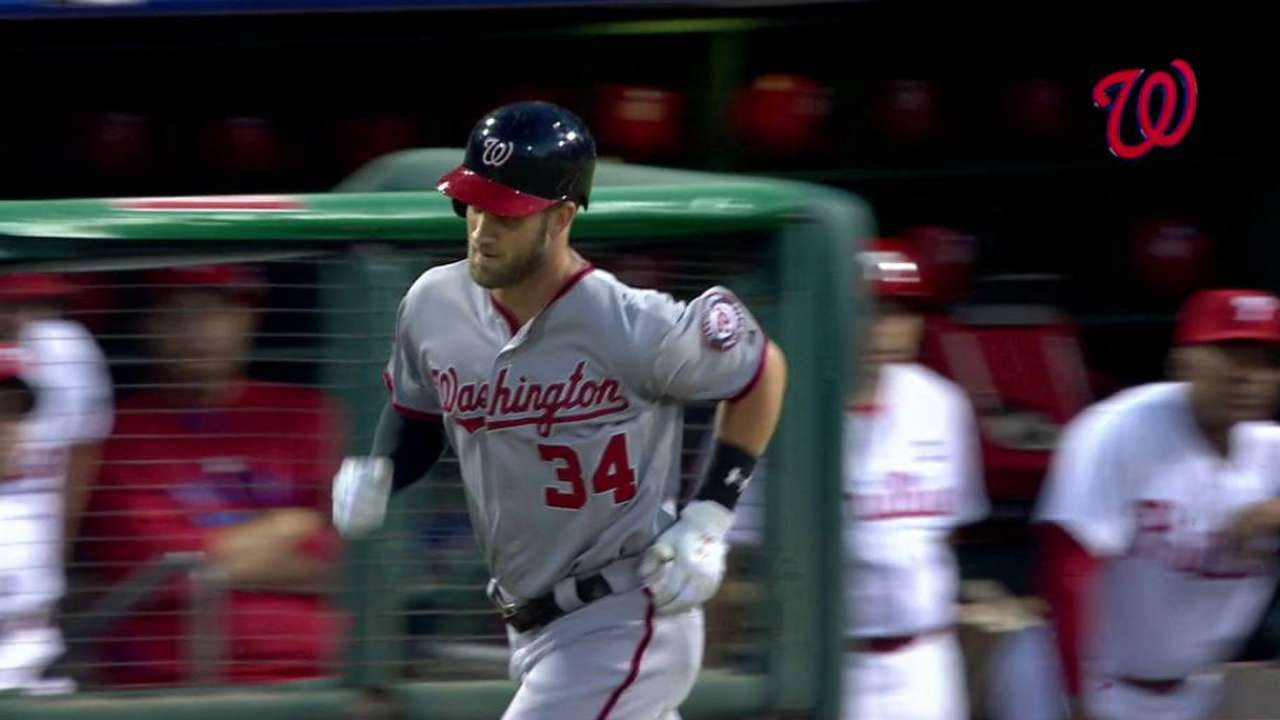 Otherwise, Buchanan mostly stayed out of trouble.
"That's what we wanted to see," Mackanin said. "That's why we brought him back to pitch again, because he pitched a lot like he did last year."
The Phillies dropped to 56-90, becoming the first team in baseball to lose 90 games. They have 16 games to play, meaning they would need to finish 7-9 or better to avoid 100 losses.
"Sure, I'd like to avoid 100," Mackanin said. "We got hurt again with the injuries with [Ryan] Howard being out and [Aaron] Altherr being unavailable, so that didn't help. With a full contingent, I think we'd be winning a few more games, but we certainly don't want to lose 100. If it happens, it happens, but I just want the guys to keep battling and keep competing. Not to avoid 100 losses, but to win every game they play."
Todd Zolecki is a reporter for MLB.com. Read his Phillies blog The Zo Zone, follow him on Twitter and listen to his podcast. This story was not subject to the approval of Major League Baseball or its clubs.