Thompson 'lucky' to escape serious injury
Right fielder day to day with hyperextended left elbow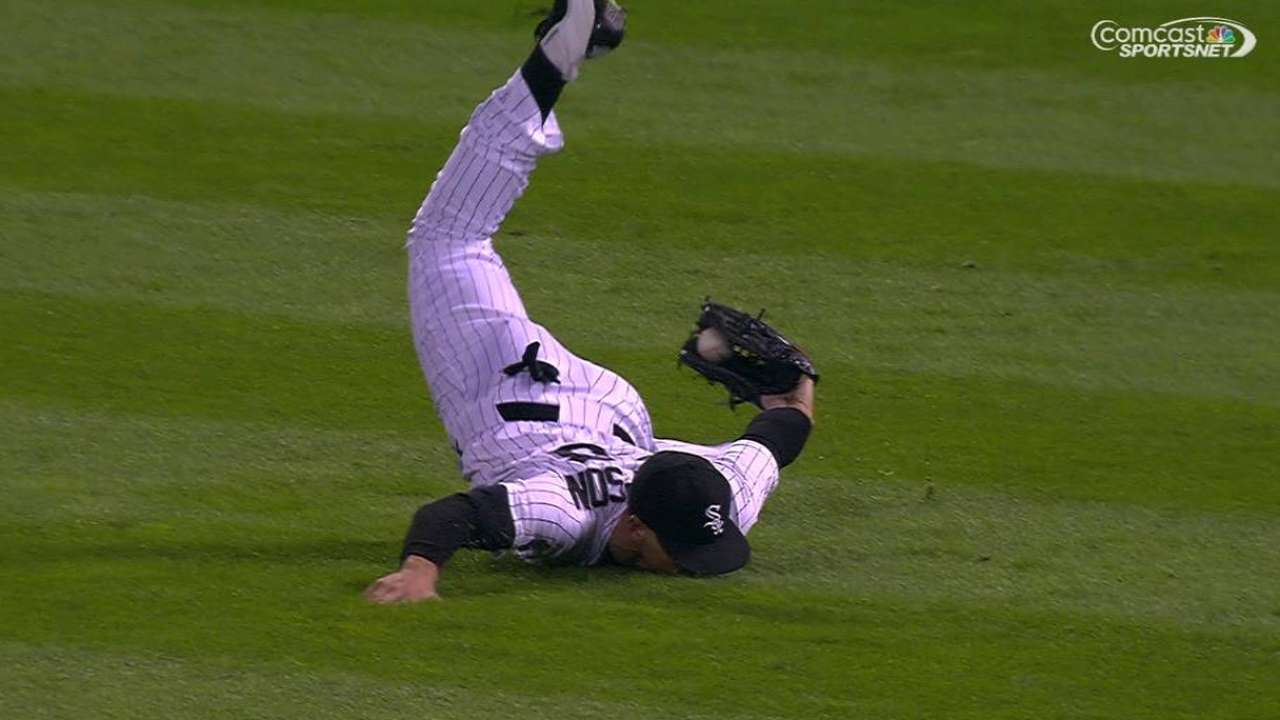 CHICAGO -- It's not often that a diving attempt by an outfielder and subsequent hyperextended elbow leaves a player feeling lucky.
But that's how Trayce Thompson described himself Tuesday, less than 24 hours after sustaining the injury to his left elbow in a rather strange ninth inning during Monday's 8-7, 14-inning victory for the White Sox over the A's. Thompson watched the replay of his attempt on Brett Lawrie's double to right and knows it could have been worse.
"I don't know; it's kind of a day-to-day thing. It's nothing serious," said Thompson, who is ranked No. 14 among White Sox prospects by MLB.com. "Like I said last night, I'm really lucky. The replay looked pretty bad. I'm not taking any swings or anything today, so we'll see how it feels and hopefully it feels better and even more the day after that and on and on."
"It's good enough where he can move it and it should be a couple days, if that," White Sox manager Robin Ventura said. "And we'll go from there. We feel fortunate it's not anything worse because it didn't look good when it happened."
Thompson made a valiant effort on the hit that ended David Robertson's string of 26 straight batters retired, but still received some playful teasing from the White Sox closer and catcher Tyler Flowers. They both referred to Thompson as "Klay Thompson's brother" and joked that he should have made the play to start what became a four-run ninth for Oakland.
Those sharp jabs came Thompson's way directly from Robertson, the smiling rookie explained Tuesday. But as the home locker mate of Robertson since coming to Chicago, Thompson explained that the right-hander's advice and assistance has far outweighed a little bit of teasing.
"He's probably been the biggest help to me since I've been here, so if he wants to clown me, he can do it," said Thompson. "He's really looked out for me since I've been here.
"Just a little advice within the game and off the field and stuff like that. Little things. Nothing crazy. But some mental stuff as far as just to relax and just be yourself. But he's made me feel comfortable, where to go in certain situations and what to do, stuff like that. He's been awesome. He's a great guy, really humble."
Robertson has had nothing to do with Thompson's excellence at the plate, featuring a .377 average and 1.113 OPS over 61 at-bats since joining the White Sox. His offense looks as if it has caught up to his exceptional defense, at least from this small sample size.
"You know he's a big league player by watching him and just seeing him play," Ventura said. "The more reps he gets and the more time, you're going to get a better understanding of that. But right now, from what we've seen, he's a better player and I think he's a big league player."
Scott Merkin is a reporter for MLB.com. Read his blog, Merk's Works, follow him on Twitter @scottmerkin and listen to his podcast. This story was not subject to the approval of Major League Baseball or its clubs.