Cuddyer, Mets honor 'true heroes' at firehouse
Players visit Rescue Company 4 in Woodside, N.Y., which lost eight members on 9/11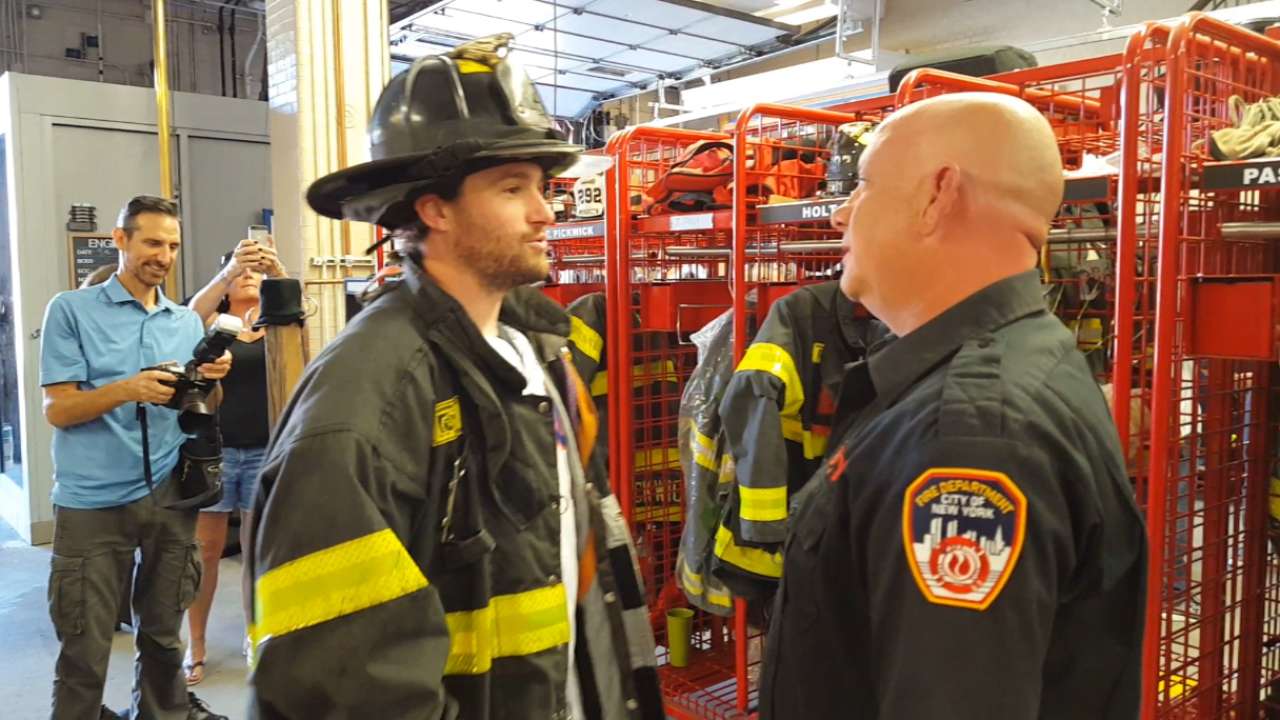 NEW YORK -- They all remember where they were that day. Michael Cuddyer, making a guest appearance at a radio station before his championship game for Double-A New Britain. Steven Matz, a fifth-grade classroom on Long Island. Mike Milner, years from retirement from the FDNY, speeding toward Ground Zero with buddies he'd never see again.
They all remember where they were that day. And those memories all flooded back to the surface as their paths intersected Tuesday, when members of the Mets visited Milner and the crew at FDNY Rescue Company 4 in Woodside, N.Y., to honor the victims of the terrorist attacks of Sept. 11, 2001.
The Mets visit a firehouse every year on or around Sept. 11, depending on their schedule. They alternate firehouses around the city, and Tuesday circled back to the Queens house that jumped right into the fray a little more than 14 years ago, losing eight members in the process.
"Unfortunately, we have a lot of plaques," said Milner, now retired from the department, as he showed the Mets' contingent an in-house memorial to Rescue Company 4's fallen members.
Milner is revered at Rescue Company 4 for a decorated FDNY career that spanned more than two decades. He was the senior man -- firehouse vernacular for its most experienced firefighter -- on Sept. 11 and also worked the infamous Father's Day fire that claimed three lives three months prior. For each plaque, he described to the visitors an anecdote about the men with whom he once worked.
"When this house is long gone, they'll put these plaques back up in the next house that stands here," said FDNY commissioner Dan Nigro, who was on hand as well.
The four-man Mets party consisted of Cuddyer, Matz, Daniel Murphy and Bobby Parnell, one of the longest-tenured Mets and the son of a North Carolina fire chief. Matz, who grew up in Suffolk County on Long Island, talked about the respect he has for New York City firefighters.
"A lot of these guys are from right around where I'm from," Matz said "Looking at this memorial, it really puts it into perspective."
Cuddyer was born in Virginia and lived much of his adult life in Minnesota. But chance landed him in Connecticut, on Sept. 11, 2001. Just 12 days later, he made his Major League debut on a day that was supposed to be one of the happiest of his life.
"Instead it was bittersweet," Cuddyer said. "You want to be happy, but at the same time you know what's on everyone's minds.
"Being here brings me back to that day. I wasn't in New York City, but I was close. To try to visualize what this firehouse went through on that day is unimaginable. And then to help the city recover 14 years later, it's still unimaginable."
Just as the Mets arrived in Woodside, several firefighters darted out of the Rescue Company 4 house, into siren-spinning trucks, and sped away to a local commercial fire.
"We're just ballplayers," Cuddyer said. "The true heroes are the ones who give their lives for the benefit of others."
Joe Trezza is an associate reporter for MLB.com. This story was not subject to the approval of Major League Baseball or its clubs.