Cards get Adams' bat back in starting lineup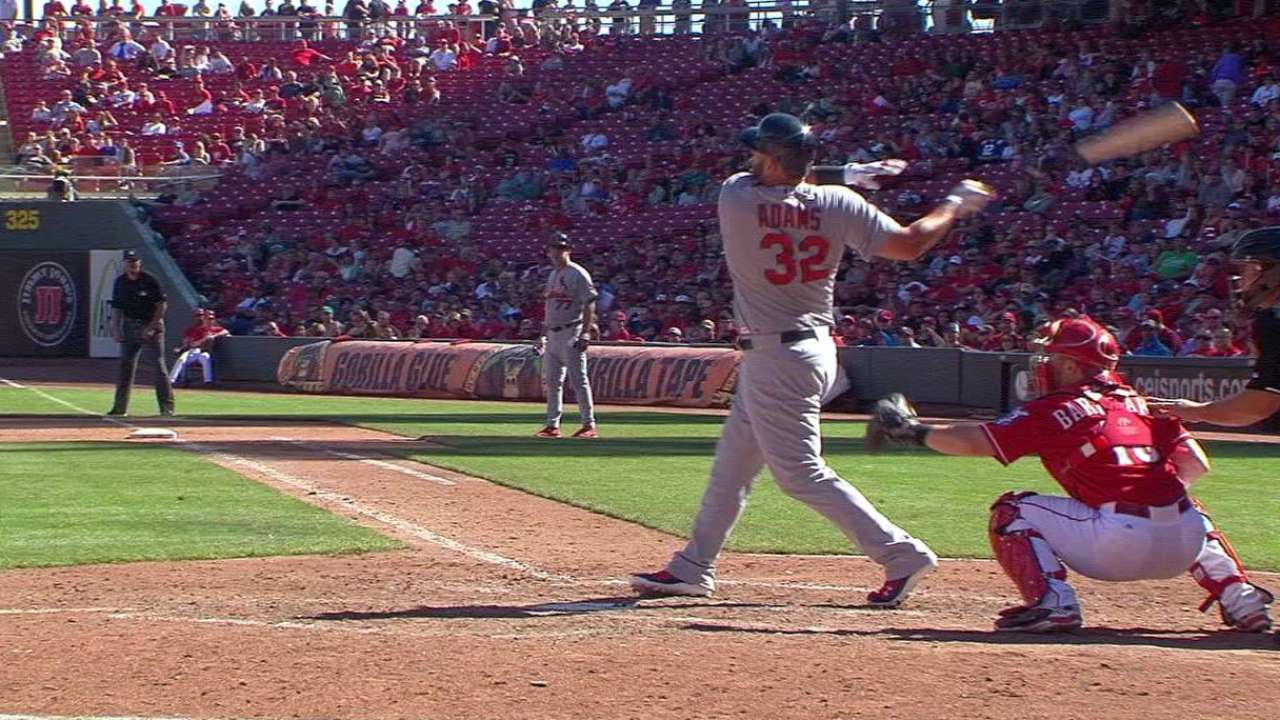 MILWAUKEE -- St. Louis inched closer to full strength Tuesday, as first baseman Matt Adams returned to the Cardinals' starting lineup for the first time since May 26.
Adams made three pinch-hit appearances over the weekend in Cincinnati after being activated from the disabled list on Wednesday.
The slugger's surgically repaired right quad passed all the necessary tests -- most notably defensively -- in order for him to start at first base in Tuesday's series opener against the Brewers at Miller Park.
Cardinals manager Mike Matheny said he anticipates playing Adams in the field for four or five innings for the time being. Adams went 0-for-2 with a walk and a strikeout and was removed in the bottom of the sixth in St. Louis' 3-1 win Tuesday.
"We're probably going to have to ease him in here for a little while, but he's passed everything he needed to pass," Matheny said. "I think he passed the test in Cincinnati in the at-bats that he took."
Adams was thought to be lost for the season when he strained his right quad stretching a single into a double on May 26.
However, the 27-year-old progressed quickly enough to return to the Cardinals for the stretch run.
Because he did not go on a Minor League rehab assignment, Adams was glad he was able to make three pinch-hit appearances before returning to the starting lineup.
Adams singled in his first at-bat back Thursday and hit a pinch-hit two-run home run against the Reds on Sunday.
"That's what we kind of planned on, just not completely throwing me in there without getting any at-bats," Adams said. "I think that was huge. I know it was only three, but I had a couple of days of facing [reliever] Matt Belisle in simulated games. Those at-bats in Cincinnati really helped out big-time."
The final hurdle in Adams returning to the lineup was proving he could make the necessary plays at first base. He tested his lateral movement and ability to move for ground balls in Cincinnati.
"You can do ground balls right at you, but that's not going to simulate a hard-hit ball down the line or a hard ball in the hole," Adams said. "That's something we built on the last few days."
Although Brandon Moss has swung the bat better of late, the Cardinals have struggled to get consistent production from the first-base position.
Instead of worrying about salvaging what was thought to be a lost season for him personally, Adams is focused on doing what he can to contribute to St. Louis' goals of playing deep into the postseason.
"For me, that's just a distraction," Adams said. "The injury happened. That's behind me now. I'm just getting myself back to get ready to play the rest of the regular season and into October."
Andrew Gruman is a contributor to MLB.com. This story was not subject to the approval of Major League Baseball or its clubs.