Rosario staying mentally tough in rough year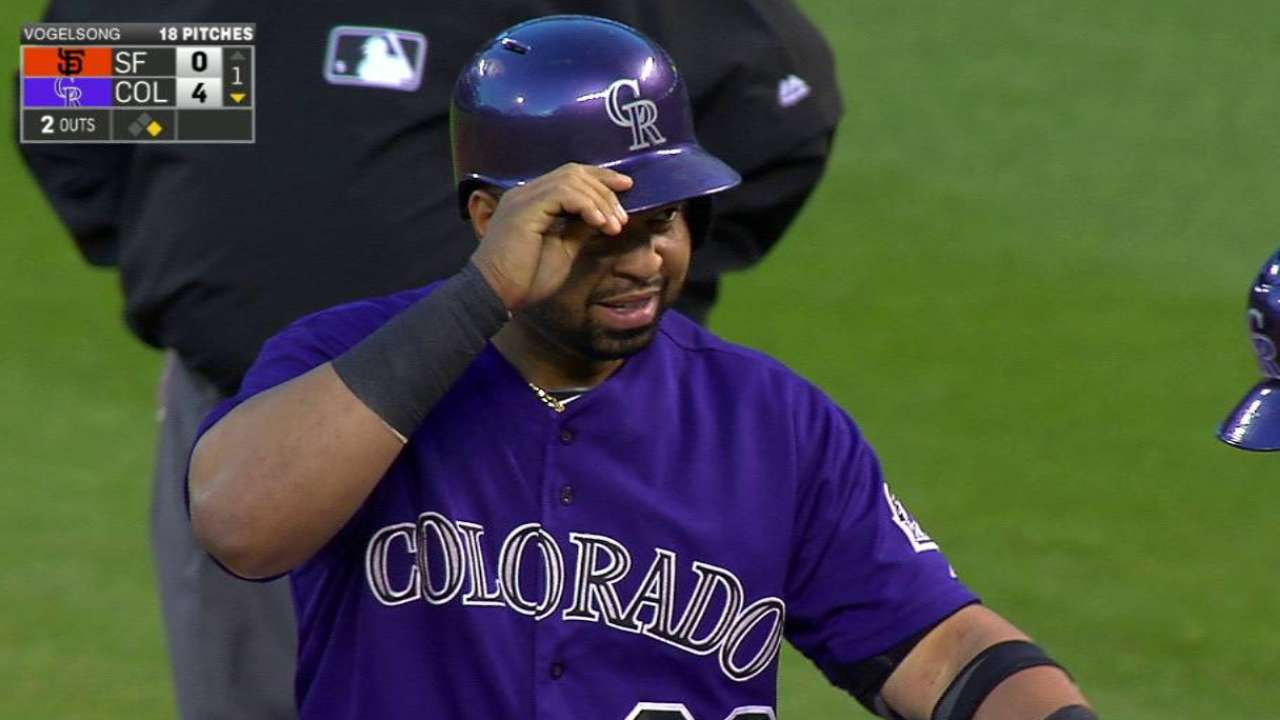 LOS ANGELES -- The Rockies' Wilin Rosario is looking at 2015 as an enriching experience, which is a positive approach to a year that in many ways has been costly.
Before the season started, he lost an arbitration case and ended up with a salary of $2.8 million -- more than he'd earned before, but a half-million less than he requested. A move to first base from catcher, where he was the starter for most of three seasons, cost Rosario playing time. Subsequent Rockies personel moves even cost Rosario his Major League roster spot, so that time at Triple-A Albuquerque meant he missed out on some big league money.
"The thing is, I don't play for money," Rosario said. "This is something that I have in my heart. I love the game. I play the game I love, that I've played since I was 6 years old. The money is good for your family. You're comfortable. But to be honest with you, I love the game. That's why I'll always be happy."
The sporadic playing time also has led to sub-par numbers -- .262, five home runs and 25 RBIs for a guy who has had as many as 28 homers (2012) and 79 RBIs ('13). But Rosario, 26, concentrates on what he has gained -- the ability to concentrate on first base and, most of all, mental toughness.
"My mental approach to this year has been the most impressive thing in my career so far," said Rosario, who has excelled as a pinch-hitter -- .304 (7-for-23). "I got more strong-minded and I competed. It's a little harder right now. I've got to be ready every day because I don't know when I'm going to have the opportunity to play."
The year leaves Rosario, heading into the second year of arbitration, in an uncertain position. Will the Rockies go with former No. 1 pick Kyle Parker, an outfielder/first baseman, as the right-handed-hitting component of a first-base platoon and move on from Rosario via non-tender or trade? Or do the Rockies choose another year of Rosario in a platoon?
Those are questions Rosario will put off until later.
"It's one thing that you don't want to be thinking about, because it can bring you a lot of sad thoughts," said Rosario, who said he plans to play winter ball at both positions in the Dominican Republic, to make up for the at-bats and playing time he lost this year. "You grew up in that organization. You don't look at yourself as leaving.
"Nothing in this world is forever. We'll see what happens. If I stay here, I'll be glad to get an opportunity again. If not, I'll keep working hard."
Manager Walt Weiss, who plans to have Rosario catch Jorge De La Rosa on Wednesday against the Dodgers and likely for the rest of De La Rosa's starts, has taken note of Rosario's attitude.
"He's a great kid," Weiss said. "He's been positive through it all, under some very difficult circumstances. Here's a guy that's been an establish Major Leaguer for four years and had to go down to the Minor Leagues a couple of times this years. That's not easy to do."
Thomas Harding is a reporter for MLB.com. Follow him on Twitter @harding_at_mlb, and like his Facebook page. This story was not subject to the approval of Major League Baseball or its clubs.