Gomez has mild intercostal strain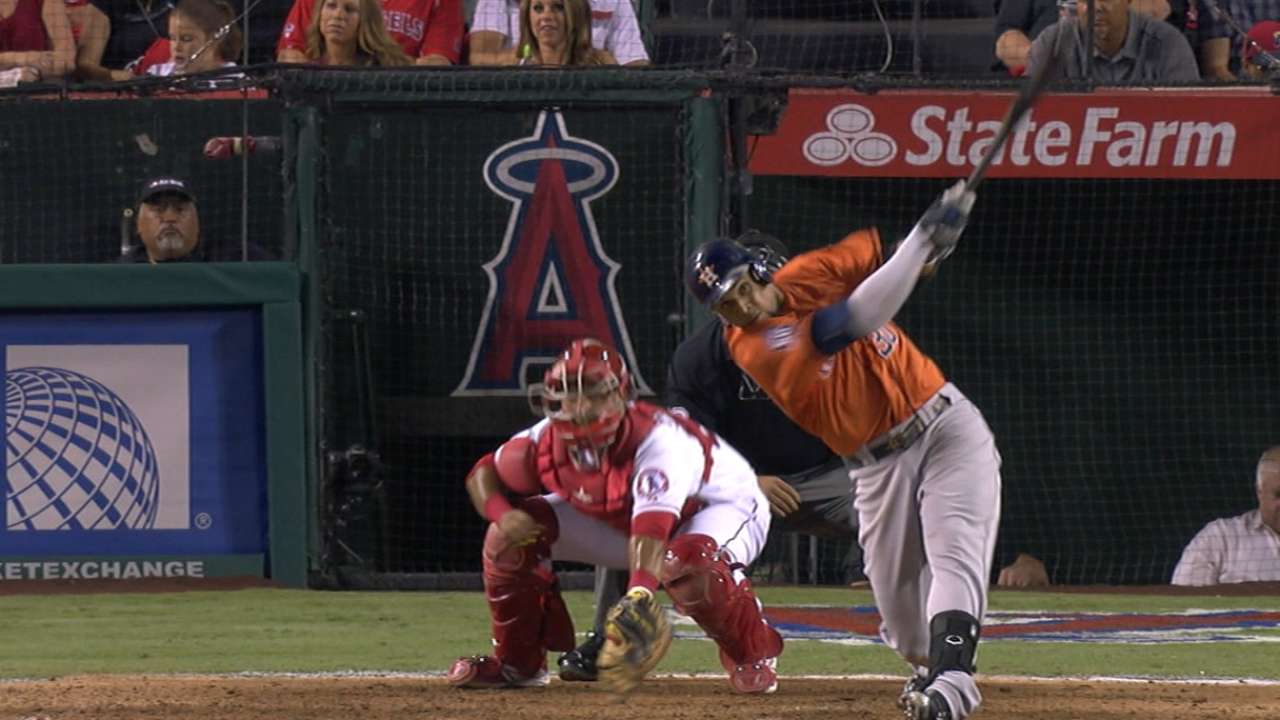 ARLINGTON -- Astros center fielder Carlos Gomez doesn't usually take batting practice for day games, but he made an exception before the series finale against the Angels on Sunday. He'd hit safely in 14 of his last 16 games, with seven doubles and three homers, and wanted to build on that success.
But with three soft swings remaining in his session, Gomez, known for his vicious swing, felt something in his side. He swung again, felt the same pain, and was scratched from that day's lineup.
"The funny thing, I'm not even swinging hard the last couple of swings, I'm trying to finish," Gomez said. "I said, 'If I swing hard in that situation, I'm probably out for the season.' I can't explain how frustrating [this is]."
After undergoing an MRI in Houston on Monday, Gomez was diagnosed with a mild intercostal strain, and his status for the remainder of the series against the Rangers is in doubt. Speaking to reporters on Tuesday with nearly his entire torso wrapped, he said he's never dealt with this sort of injury.
Though the Astros aren't short on speedy outfielders, Gomez -- especially his hot bat -- will be sorely missed, as the club has struggled to take advantage of scoring opportunities.
"The last couple weeks, I've been playing better, more consistent, hitting the ball well and playing better. It's part of the job," he said. "The only thing I can do is work to get back into the lineup. In the moment it's frustrating, but I'm here, and I'm going to do whatever I can do and be in the dugout no matter if I'm playing [or not]."
Given the violent nature of Gomez's swings, manager A.J. Hinch said that the team will need to balance his progress while being mindful of the high September stakes.
"The first available chance to swing, he'll swing," Hinch said. "I'm sure he may try it on his own a little bit."
Gomez isn't the only ailing regular. Jed Lowrie, who exited Monday's 5-3 loss to the Rangers in the fifth inning with a shin contusion, was sore on Tuesday and unavailable to start. Lowrie fouled a ball off his left shin in the first inning, then took the next pitch off his left foot, leading to soreness on both sides of the leg.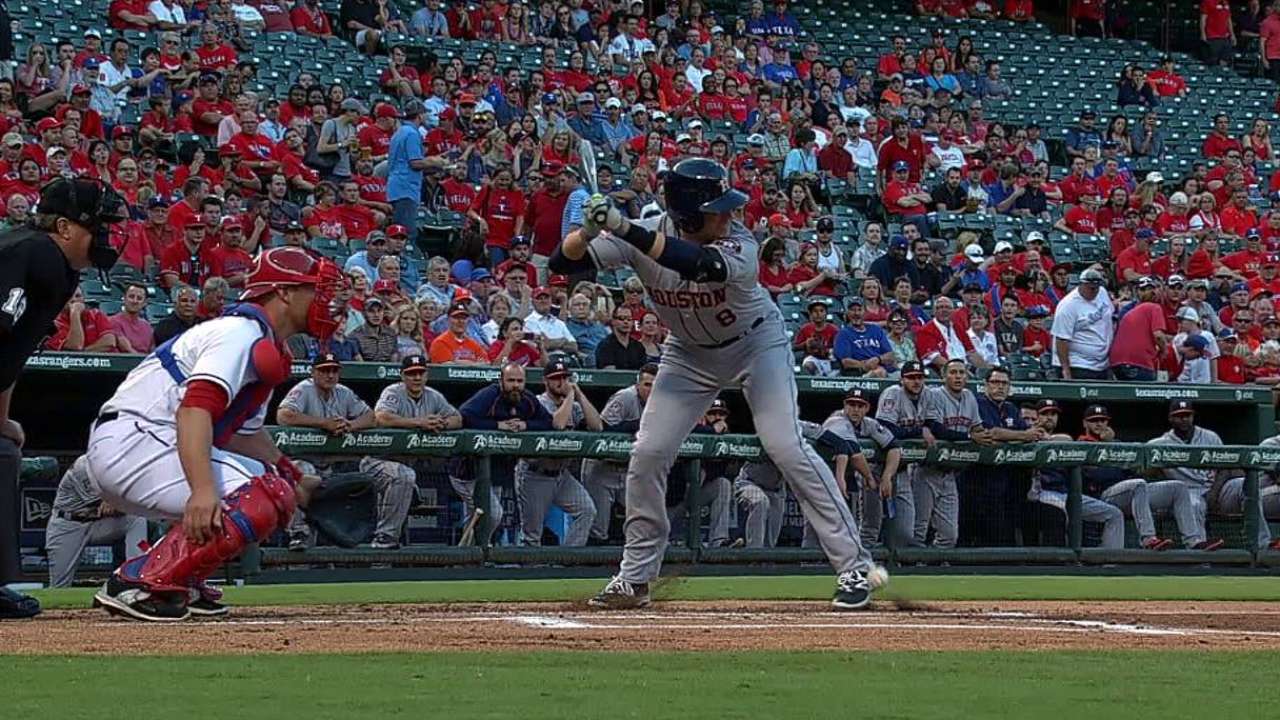 With Lowrie out, switch-hitting utility infielder Marwin Gonzalez might have been an option at third base, but he's sidelined for a second straight game with a swollen left index finger.
"The swing hurts him right-handed more than it hurts him left-handed," Hinch said. "I think he's going to do a little bit more either inside or out here to try to test himself a little bit, but when he came in, it was pretty evident he felt like he was sore."
Catcher Jason Castro remains on the shelf with a strained right quad, an injury that put him on the disabled list on Aug. 29, but he is improving daily. He went through a battery of drills in left field on Monday, including long strides and side-to-side range-of-motion movements.
"We're going to have to make a determination on how comfortable we are activating him at less than 100 percent, speed-wise," Hinch said. "It's very hard to ask a player to govern himself on the field and play less than 100 percent. In this instance, [for a] catcher whose speed is not his forte, we may ask him to do that."
Chandler Rome is an associate reporter for MLB.com. This story was not subject to the approval of Major League Baseball or its clubs.