Kendrys impresses shagging flies pregame
Right field an option for KC slugger when DH unavailable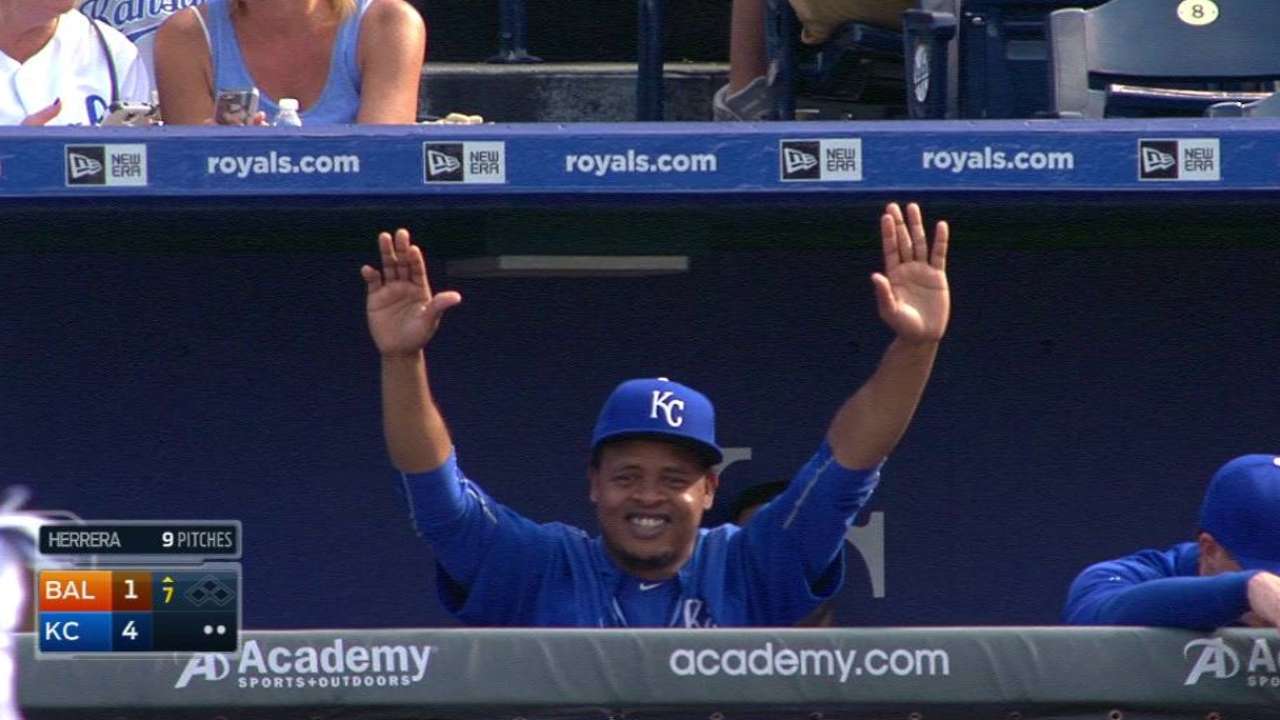 CLEVELAND -- One day last weekend in Baltimore, Royals manager Ned Yost was behind the batting cage during pregame batting practice when he noticed Kendrys Morales, his DH, shagging fly balls in the outfield.
"Wasn't a lot of foot speed," Yost said, "but he was getting to everything. Really nice routes."
It got Yost thinking: Why not experiment a little with Morales in right field during a pregame session with outfielder guru Rusty Kuntz.
"Ned told me the other day in Baltimore to start watching Kendrys shag balls in the outfield during batting practice," Kuntz said. "And I was like, 'What, our Kendrys Morales? Our DH?'
"So the next day, I start watching him out of the corner of my eye as I'm hitting balls to Alex Rios. And, I mean, Kendrys is catching EVERYTHING. So I get back in the clubhouse and Ned asks me what I thought about that. So I said, ... 'Who's really in Kendrys' uniform?'"
When the Royals got to Cleveland, Kuntz gave Morales a workout session in the outfield, hitting balls in all directions.
"I'm hitting balls and he's zipping toward everything -- balls in the gap, balls in the corner, over his head," Kuntz said. "I couldn't believe it. He's not Lorenzo Cain, but he's better than decent."
Yost said he's not completely sure what he will do regarding the Morales outfield experiment.
"Just keep our options open," Yost said. "If we are fortunate enough to get to the World Series, you would have some games at National League parks, obviously, and you sure don't like having Kendrys' bat out of the lineup."
Yost even suggested he may do a trial run of Morales in right field when the team plays a makeup game with the Cubs at Wrigley Field during the final week of the regular season.
Jeffrey Flanagan is a reporter for MLB.com. Follow him on Twitter at @FlannyMLB. This story was not subject to the approval of Major League Baseball or its clubs.