Yankees plan to stick with Ellsbury at leadoff
Center fielder has struggled since returning from a knee injury in July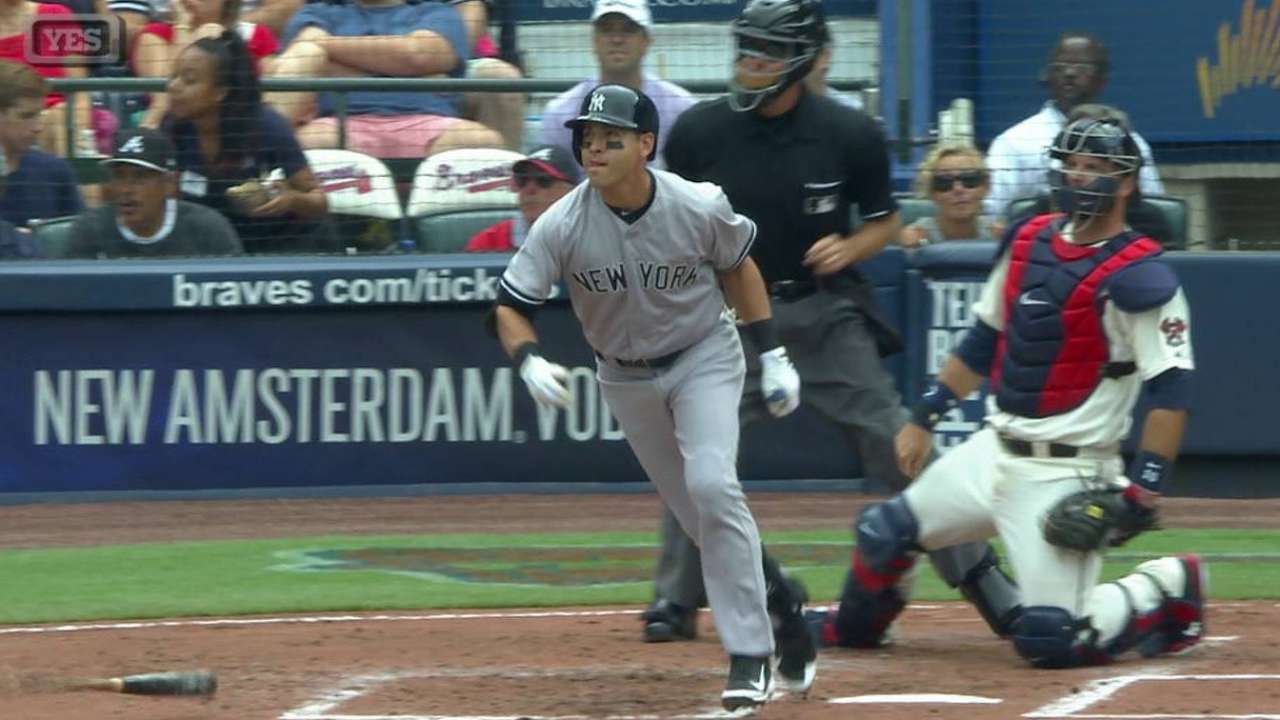 ST. PETERSBURG -- The Yankees are keeping a steady hand with Jacoby Ellsbury at the top of the batting order, believing that the outfielder's extended slump is showing signs of turning around.
Ellsbury went hitless in the Yanks' 6-3 loss to the Rays on Tuesday at Tropicana Field, running his drought to 0-for-25. He has just one hit -- and one walk -- in his last 33 at-bats, but manager Joe Girardi said that he has no temptation to dislodge the 32-year-old from the top spot in the lineup.
"He's got to fight through it. This is a guy that we really need," Girardi said. "We know how great a player he can be. We've seen it; we saw it the first two months of the year. We need to get him going."
The issue is not just confined to this recent stretch. Since returning from the disabled list in July, having missed 43 games with a right knee sprain, Ellsbury's season average has plummeted from .324 to .251.
"I take a lot of pride in my game, I work hard," Ellsbury said. "I know there's a stretch where I've been scuffling a little bit, then I started hitting the ball well and kind of got back on it.
"You continue to work, try to do all the little things defensively. Move runners over, run the bases, because you're not always going to hit but you still try to play the game hard and play the game the right way and do the little things to still help your team win."
Ellsbury was given the green light to drop a sacrifice bunt in the fifth inning, advancing the runners to set up a run-scoring opportunity that fizzled. He also smashed a grounder in the ninth that was ruled a two-base error on first baseman James Loney, bringing Brett Gardner to the plate as the potential tying run.
"I'm just trying to hit the ball hard. Staying through it, have good at-bats," Ellsbury said. "Trying to square the ball up, getting the bunt down. Just doing the little things. The takeaway there is, there in the ninth, I squared the ball up. Just hit the ball on the ground. I feel like it's coming around. Just a matter of time."
It was suggested that Ellsbury might benefit from time off, as Gardner seemed to after sustaining a left shoulder injury earlier this month, but Ellsbury said that he feels fine physically. Girardi said that he was hesitant to bench him.
"I mean, you could think about that, but it's a pretty hard guy to take out of your lineup," Girardi said. "Because hitting, it turns around pretty quickly. We have [18] games to go. He's extremely important to our lineup. It wasn't by choice we gave Gardy the days off, that's the difference. So it's hard to sit Ells."
Bryan Hoch is a reporter for MLB.com. Follow him on Twitter @bryanhoch, on Facebook and read his MLBlog, Bombers Beat. This story was not subject to the approval of Major League Baseball or its clubs.