MLB.com Columnist
Mike Petriello
Mets' offensive explosion about more than just Cespedes
Team wRC+ of 144 over past 30 days is best in Majors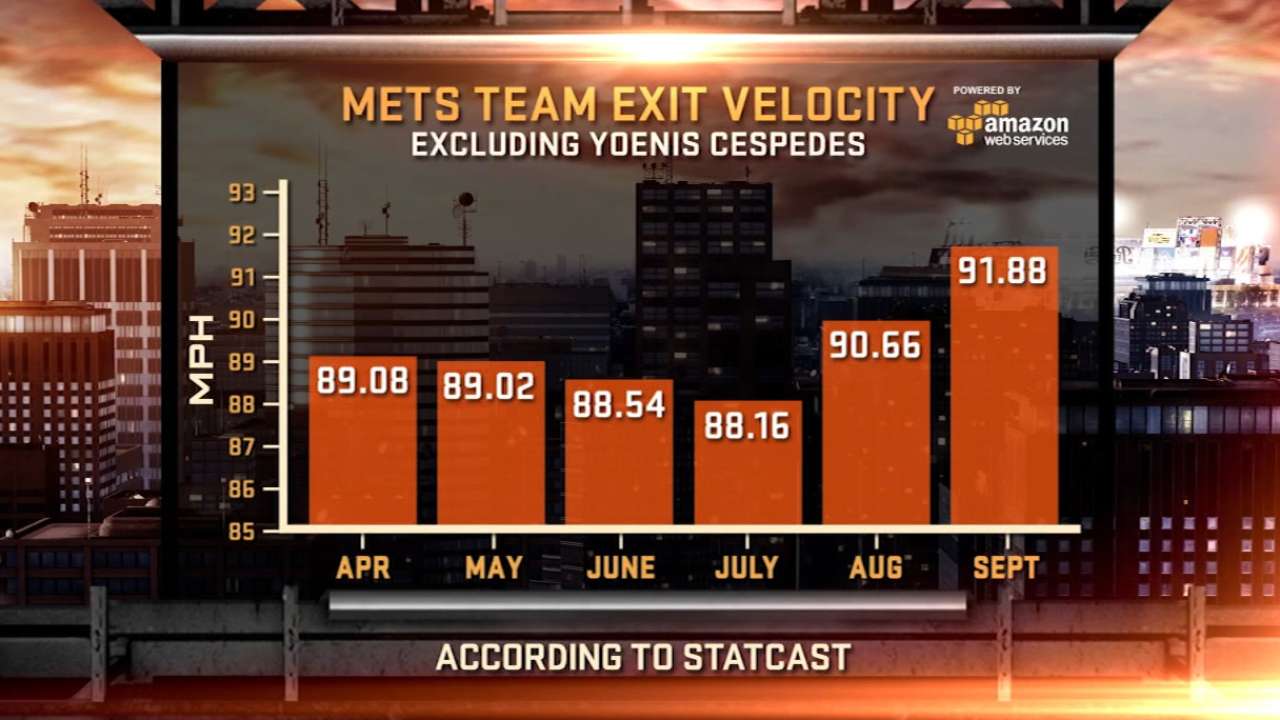 Having lost eight of 13 games headed into play on July 31, the Mets made a big splash minutes before the non-waiver Trade Deadline: They traded highly regarded pitching prospect Michael Fulmer along with another prospect to the Tigers for outfielder Yoenis Cespedes. The rest, as they say, is history. Cespedes has put up an absurd .309/.356/.691 slash line (184 Weighted Runs Created Plus, where 100 is league average) with 17 homers as a Met, and New York has won 30 of 41 games since the trade, the best record in baseball.
Understandably, as the Mets steam toward their first postseason appearance since 2006, Cespedes has received most of the credit, igniting debates about whether he should be or should not be included in the National League MVP Award discussion and to what financial lengths the team should go to retain him when he reaches free agency this offseason. But while Cespedes has been undeniably brilliant, the focus on him somewhat unfairly obscures what his teammates have done around him. Make no mistake: This is a team effort.
That's partially because the names in the lineup look a lot different than they did when the offense was putting up the third-fewest runs in baseball in the first half of the season, and partially because the names that have remained have taken steps forward around Cespedes. We've learned, in our first season of Statcast™, that one of the most effective new metrics we have is batted-ball exit velocity, which has been a pretty good indicator of how successful a hitter is at the plate.
The Mets' month-by-month exit velocity chart, with Cespedes excluded, is stunning:
Check out the #Mets team monthly hitting exit velocity with Cespedes excluded. This is a total team effort. pic.twitter.com/HbiCI4xHYS

— Mike Petriello (@mike_petriello) September 15, 2015
Unsurprisingly, the offensive performance has made a considerable jump along with the batted-ball velocity. In July, when the 88.16 mph represented a season low, the Mets had a .671 OPS, the 23rd-highest mark in baseball. So far in September, that's .894, which is not only easily the best in baseball -- the second-place Orioles are at .844 -- but would be the best month in Mets history if they were able to keep it up.
So other than Cespedes' arrival, what changed? We can sort this into three categories.
The new guys
At one point in June, the Mets had scored 11 runs in an eight-game road trip, losing seven. That was largely due to the fact that a thin and injury-depleted roster was giving regular playing time to guys like Darrell Ceciliani, Eric Campbell, John Mayberry, Kevin Plawecki, Danny Muno and Dilson Herrera, none of whom belonged in the lineup for a contender at that point.
So a week before the Cespedes deal, the Mets made two important moves. On July 24, they promoted Michael Conforto, their first-round Draft pick in 2014, to the big leagues. Hours later, they acquired veteran infielders Juan Uribe and Kelly Johnson from Atlanta. Uribe (36 years old) and Johnson (33) are both well past their primes, but they've given manager Terry Collins some average to slightly above (Uribe has a 104 wRC+, Johnson 115) bats to use around the infield. If "average to slightly above" doesn't sound earth-shattering, well, realize that even that was a massive step up from what they had before.
Conforto (150 wRC+) has done nothing but hit, taking playing time away from the departed Mayberry and disappointing Juan Lagares (82 wRC+), as Cespedes often shifts to center. Conforto's exit velocity tells a similar tale, as he put up a 93.26 mph in August and a 95.27 mph so far in September.
The healthy guys
Part of the reason that Plawecki (64 wRC+) was rushed to the big leagues (and that backups Anthony Recker and Johnny Monell played as much as they did) is because Travis d'Arnaud went down with another pair of injuries, missing nearly two months after breaking his hand in April and more than another month when he sprained his left elbow in June. d'Arnaud returned on July 31 -- note, again, how much happened in the last week of July -- and has put up a monster .303/.387/.588 (169 wRC+) slash line since he's been back. Of the 39 catchers with at least 200 plate appearances, d'Arnaud's season wRC+ of 159 is better than anyone.
d'Arnaud's return didn't come with nearly as much fanfare as that of David Wright, of course, since the Mets legend had missed more than four months with spinal stenosis. Wright's .275/.359/.406 slash line since his Aug. 24 return, while not quite "classic Wright," is again far better than what the Mets were receiving for most of the year, and it frees Uribe up to strengthen the bench.
The improving guys
Curtis Granderson has been having a good season all year; in this space on June 29, we noted that his 129 wRC+ was quietly solid. Like the rest of his team, he's exploded since then, putting up a stellar .284/.406/.515 (157 wRC+) slash line in the second half. Wilmer Flores, who had just an 89 wRC+ in the first half, has jumped to a 117 wRC+ in the second. Ruben Tejada has jumped from 85 before the break to 110 after; Lucas Duda has gone from 118 to 139; Michael Cuddyer is up from 86 to 161; even Lagares has gone from 72 to 111.
It's been such a team-wide explosion that over the past 30 days, 12 of the 13 Mets with at least 40 plate appearances have been league-average hitters or better, except Duda, who has missed time with a sore back.
That's not going to keep up, because it simply can't. (Working in the Mets' favor is the fact that other than the reeling Nationals, they've played only three games against winning teams since Aug. 1, getting swept by the Pirates in mid-August.) But even when the offense runs into some regression, they'll have that ace rotation to back them up. And due to the variety of changes the Mets have made on offense, it's difficult to see them falling back to what they were in June and July. They just can't, really. The uniforms may still say "Mets," but this is a very different team.
Mike Petriello (@mike_petriello) is an analyst for MLB.com. This story was not subject to the approval of Major League Baseball or its clubs.