ICYMI: Myers, Spangenberg combine for 7 RBI in rout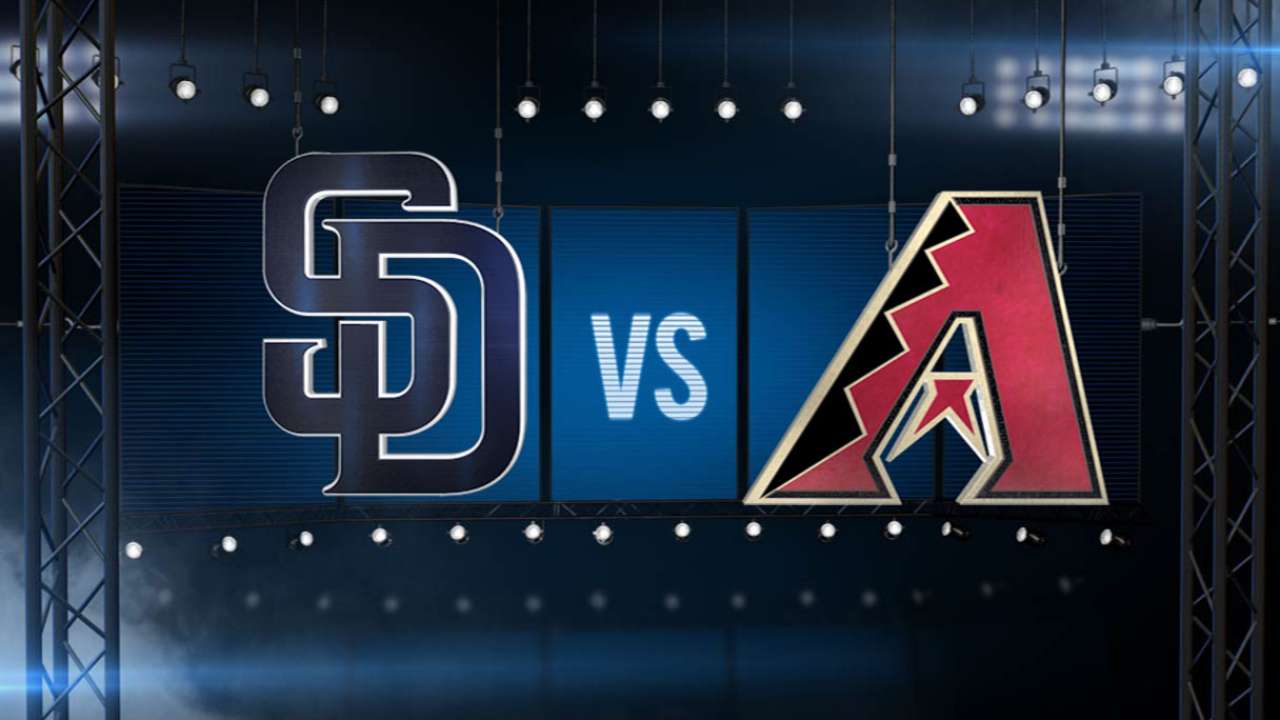 For the second game in a row, the Padres were involved in a contest that ended by a score of 10-3. Fortunately for the Friars they were on the right side of the scorecard this time around as the Padres piled on for 10 runs on 11 hits in Monday's opener against the Diamondbacks. James Shields delivered one of his finest outings of the season against Arizona while two Padres bats stayed red hot to give San Diego just the outing they needed to put the brakes on a four-game losing streak.
Shields looked sharp on Monday as he surrendered only one earned run on four hits over seven innings of work to keep the Snakes at bay. Shields worked efficiently as well - yielding only two walks on 101 pitches - while also collecting six strikeouts on the night.
Thanks to his six punch-outs, Shields recorded his 200th strikeout of the season, becoming the fifth pitcher in Padres franchise history to record at least 200 K's in a single season. It was also Shields' third time collecting at least 200 strikeouts in a single season, after having done so in 2011 and 2012 with Tampa Bay.
While the pitching was solid, the offense was even better as the Padres jumped out to an early 5-0 lead in the first inning. The inning was sparked after Wil Myers hit a leadoff home run off of Arizona starter Jeremy Hellickson. Myers would later contribute again with a three-run double in the fifth inning during another five-run frame for the Friars. Myers finished the night going 2-for-4 with a run scored while also matching a career-high four RBI at the plate in Monday's contest.
Myers was not alone in the Padres hit parade as San Diego combined for 11 hits with Yangervis Solarte, Jedd Gyorko and Cory Spangenberg all enjoying multi-hit games on the night as well. Spangenberg nearly paced Myers as he posted three RBI and two runs scored after going 2-for-4 at the dish. Gyorko also collected an RBI - his 51st of the season - along with Derek Norris, who hit an RBI single in the first.
Norris had to leave the game early in the fifth after taking a foul ball to his right hand, and was replaced defensively by rookie Austin Hedges. Norris was not the only Padre who took a hit on Monday as Shields was struck in the forearm with a 99 MPH line drive in the seventh inning. Shields would be fine though, as he finished out the inning despite showing signs of a large bruise and possible welt on his throwing arm.
Finally, last night's contest also featured a pair of Major League debuts as Cody Decker and Jay Jackson each appeared in the ninth inning of Monday's game. Decker appeared as a pinch-hitter for the catcher Hedges while Jackson pitched in relief of Nick Vincent to start off the bottom half of the ninth. Decker popped out in his first Major League at bat while Jackson surrendered two earned runs on four hits before recording the first strikeout of his career.
The Padres will continue their series on Tuesday at Chase Field for the second game of a three-game set against Arizona. In case you missed it, here are some highlights and stories that you might not have seen from Monday:
Padres post-game recap: Two five-run frames lead Padres over D-backs
Padres pile on early with a five-run frame in the 1st inning: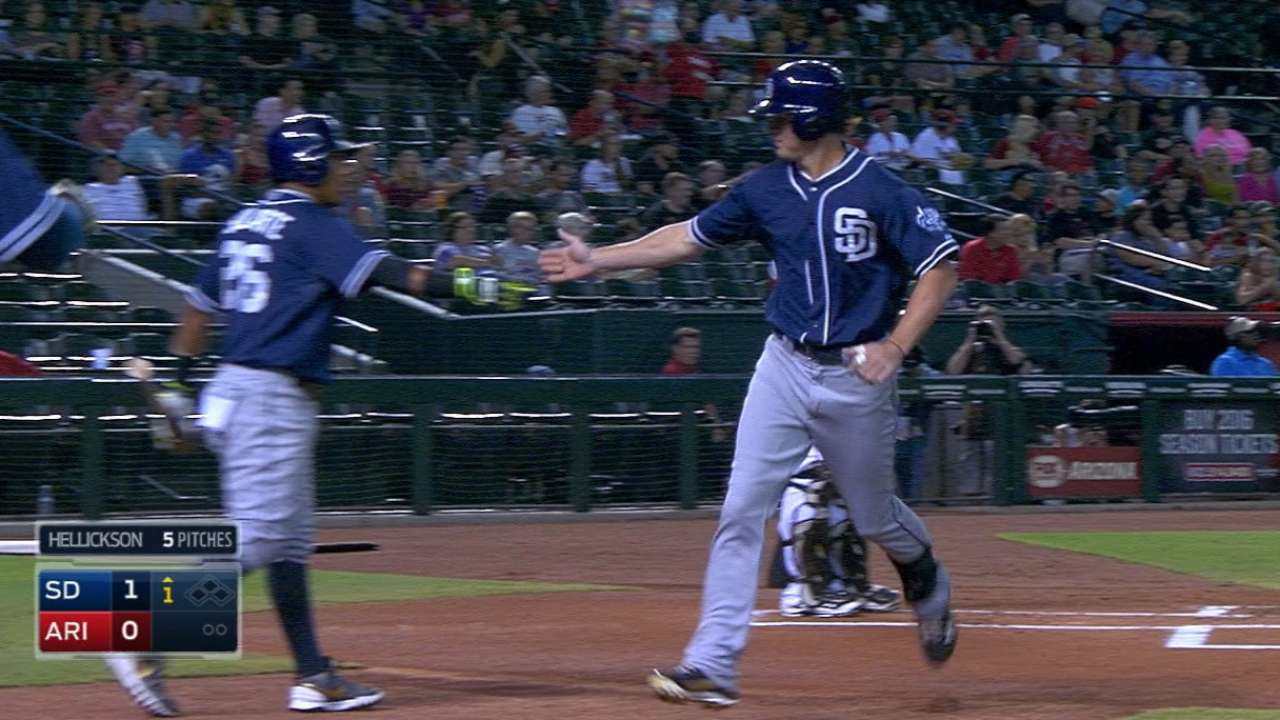 Spangenberg slaps a two-run double into left to add on to the Padres lead: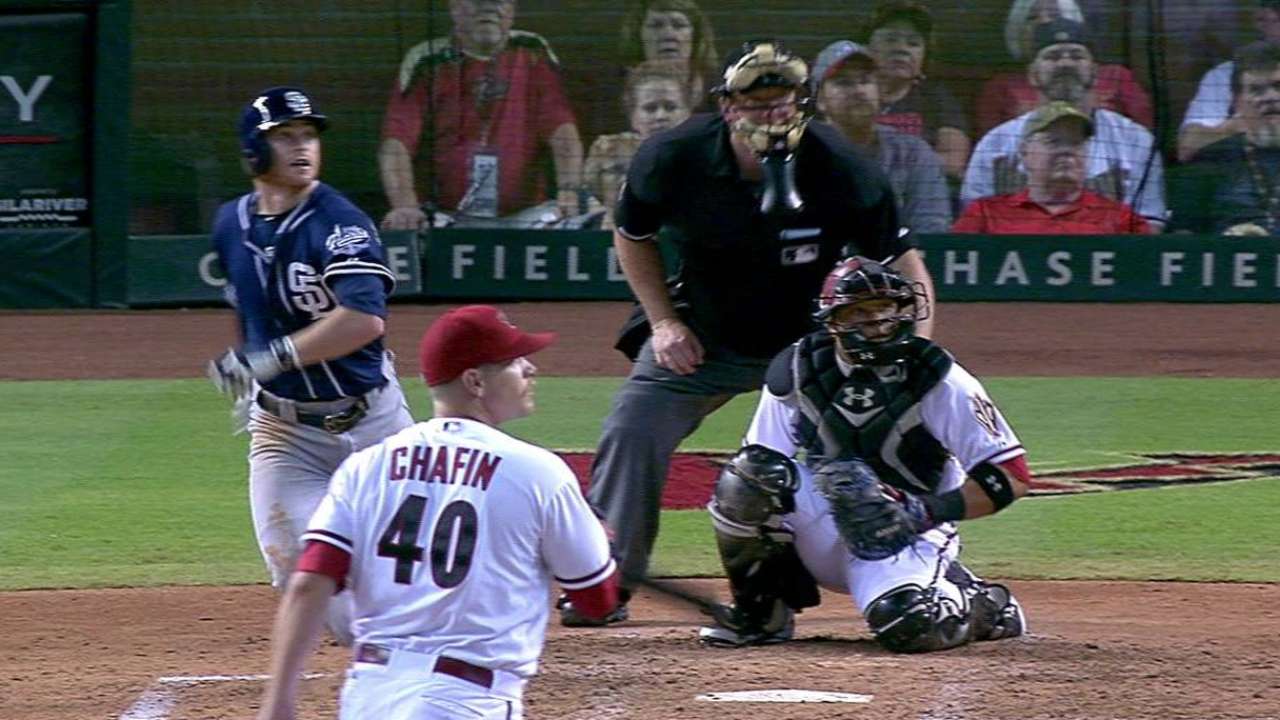 Myers gives the Friars a 9-run lead with a bases-clearing double in the 5th: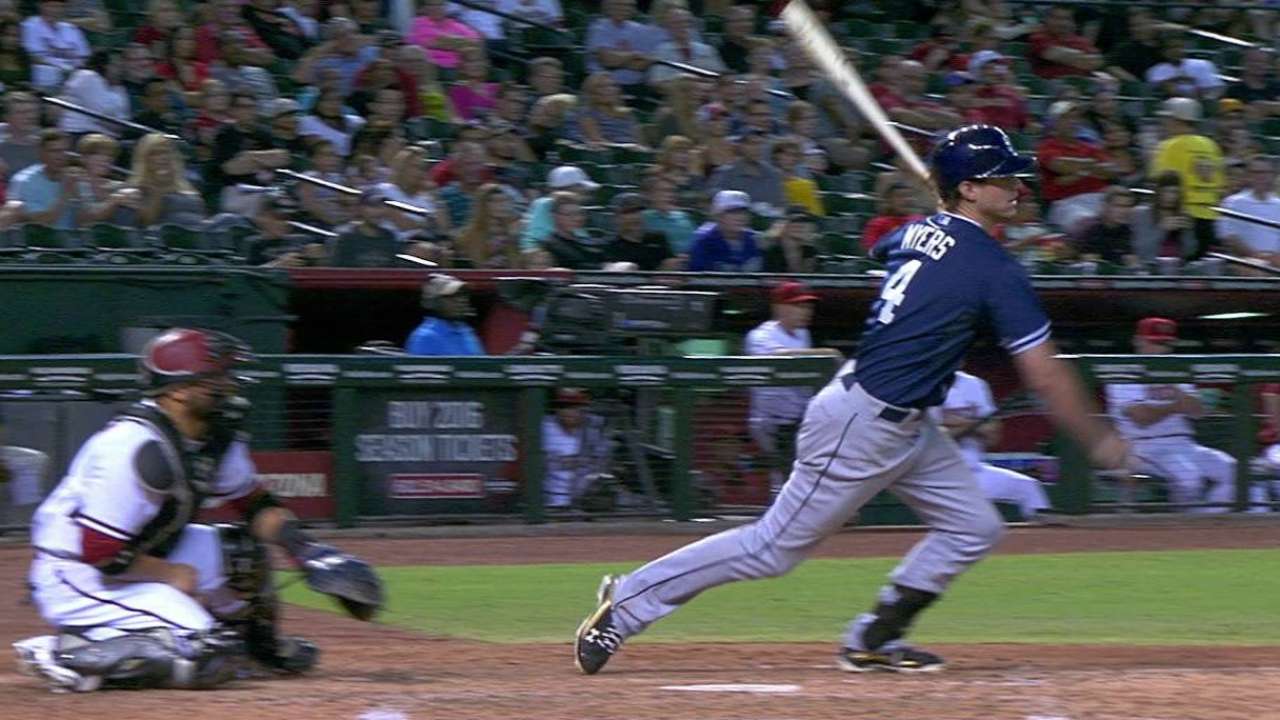 Shields gets hit with a comeback line drive, stays in the game to finish off the 7th: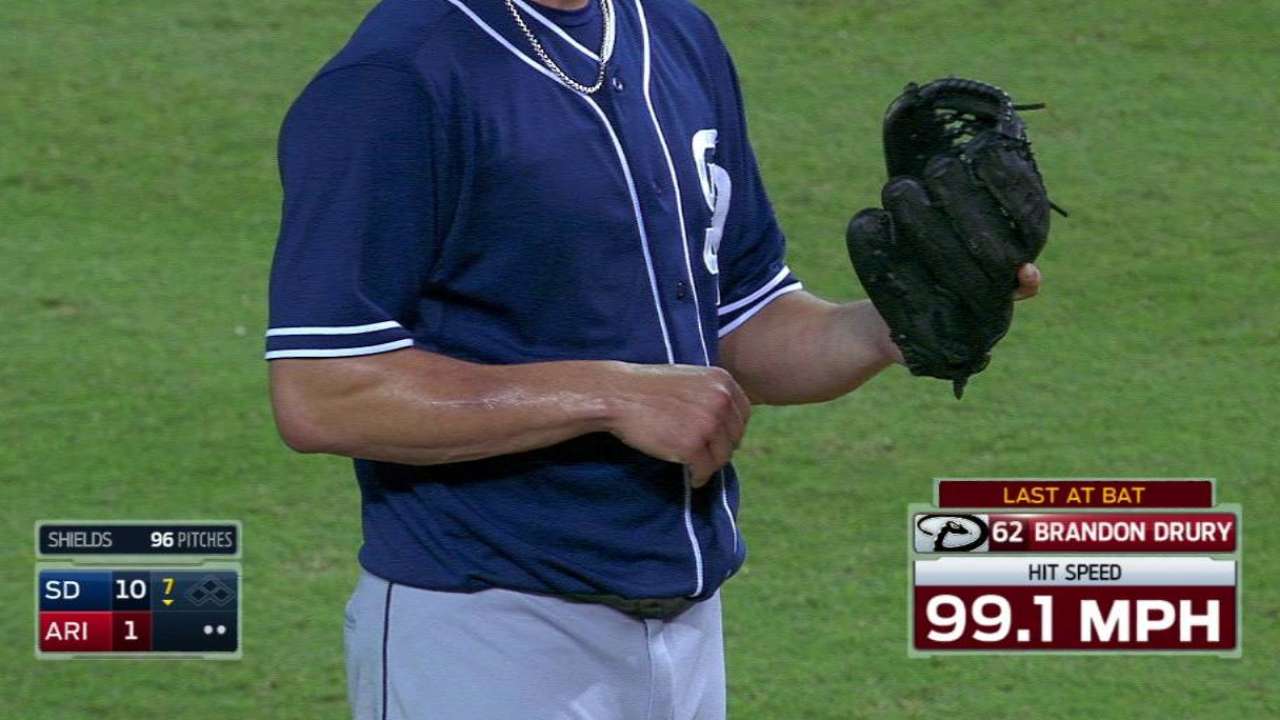 Jackson makes his MLB debut, records his first career strikeout in the 9th: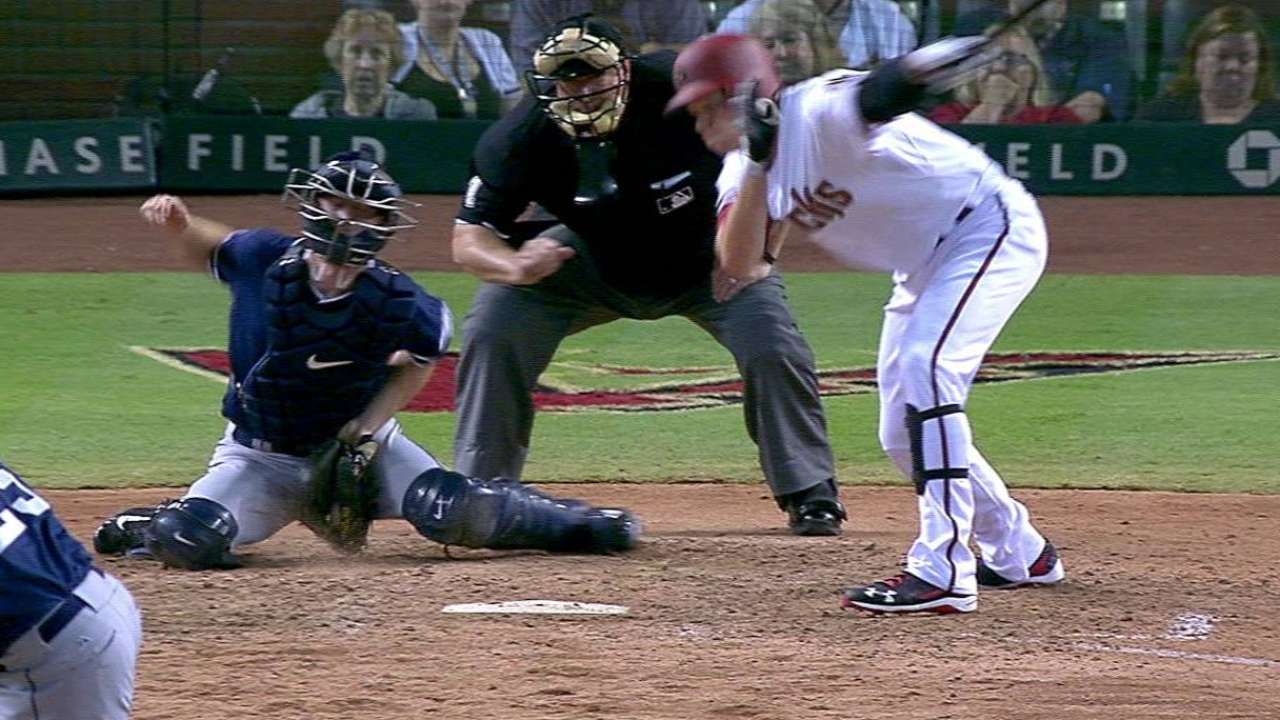 The day's top stories:
Padres' big Texan also has a big heart: Cashner nominated for Roberto Clemente Award
Friars call up Jackson, Kelly, Erlin and Decker: Padres promote four players to big leagues
Speedy rookie slasher goes yard for first MLB HR: Jankowski hits unlikely first MLB homer
In a season of ups and downs, Friars focus on ups: Padres searching for silver linings
Down on the Farm: Padres' Minor League season ends as Tri-City loses
Murph's Musings: Murphy, Stein discuss call-ups of Decker, Erlin, Kelly, Jackson… and more
Notable Notes: Game Notes @ ARI (09.14) Padres Continue Road-Trip with Fresh Arms, New Faces
Looking forward to the next game:
Friar Forecast at Chase Field: Ross hopes to shut down D-backs in the desert
Tuesday's probable pitchers: Tyson Ross (10-10, 3.24 ERA) vs. Jhoulys Chacin (0-1, 2.70 ERA)