At-bat a microcosm of V-Mart's frustrating season
One pitch after nearly homering, injury-hampered veteran lunges, strikes out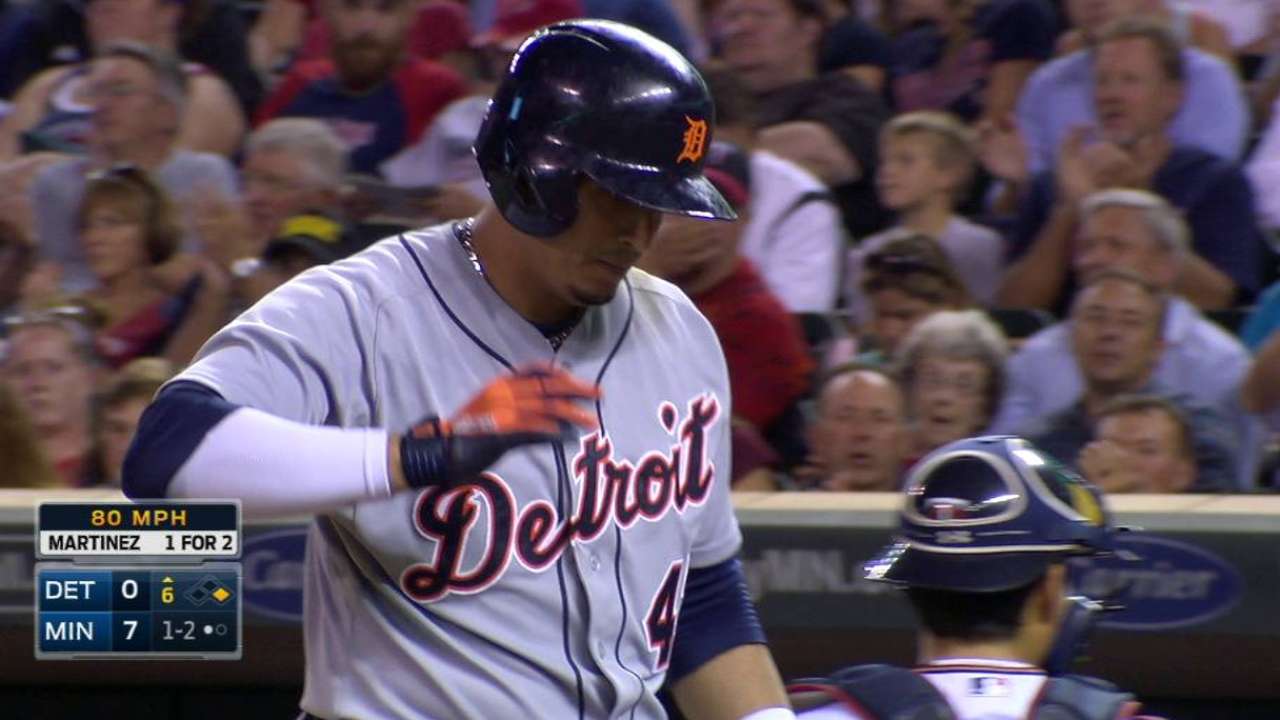 MINNEAPOLIS -- The drive was majestic, a long fly ball deep down the right-field line that nearly landed in the second deck. It was one of the best struck balls Victor Martinez has had in the last four weeks, if not since his last home run Aug. 8.
This one was not a home run. It was high and deep, but foul.
Martinez got back in the box against Twins rookie Tyler Duffey hoping to get another pitch to hit like that 90-mph fastball. Instead, Duffey came back with a curveball that dove into the dirt as Martinez lunged, striking out the Tigers' designated hitter with a runner on first for the second out of the sixth inning.
After a Nick Castellanos double off the right-field wall moved J.D. Martinez to third, Duffey threw three consecutive breaking balls to send down Steven Moya swinging, ending the threat. By then, the Tigers' 7-1 loss was relatively assured.
If Victor Martinez's season needed a microcosm, however, this was it. He grounded into an inning-ending double play in the opening inning with the bases loaded, lined a single into center field with two out and nobody on in the fourth, and finally popped out to second base leading off the eighth.
"For me, by far this is the worst year of my career," Martinez said earlier Monday, "but I keep trying. I'll tell you something: I never quit. I keep going out there all the time and I keep playing. I take it personally. This has been a bad season for us, and it starts with myself."
Actually, Martinez's knee injury was the start of the Tigers' woes this year, less than a month before Spring Training, and about a month after his 36th birthday. He was able to come back for Opening Day after having his torn meniscus clipped, but he wasn't at full strength. The veteran showed glimpses of his old form after taking a month to strengthen his left knee, and went into the All-Star break with a .272 average and a .738 OPS.
Martinez is batting .193 with a .528 OPS since then. He's moving slowly again, but it's more than his knee at this point. His compensations for the knee have come back to hamper him.
"When you are hurt, you definitely try to do stuff so you don't feel the pain here and there," Martinez said. "[I] definitely picked up bad habits, and then it's just been fighting [them]. You watch video, you're doing all kinds of stuff in the cage, just fighting to get rid of these bad habits."
Martinez does not plan on changing his offseason workouts. For those purposes, finishing out the season healthy is important for him, even if he doesn't finish the season effectively. He believes he can rebound. Drives like the one in the sixth inning suggest he still has it. Strikeouts like the one that followed suggest he has a winter's worth of work to do to get there.
Jason Beck is a reporter for MLB.com. Read Beck's Blog, follow him on Twitter @beckjason and listen to his podcast. This story was not subject to the approval of Major League Baseball or its clubs.