MLB.com Columnist
Marty Noble
Cespedes not a Met long enough to earn MVP
Red-hot outfielder has catalyzed ballclub, but wasn't there all season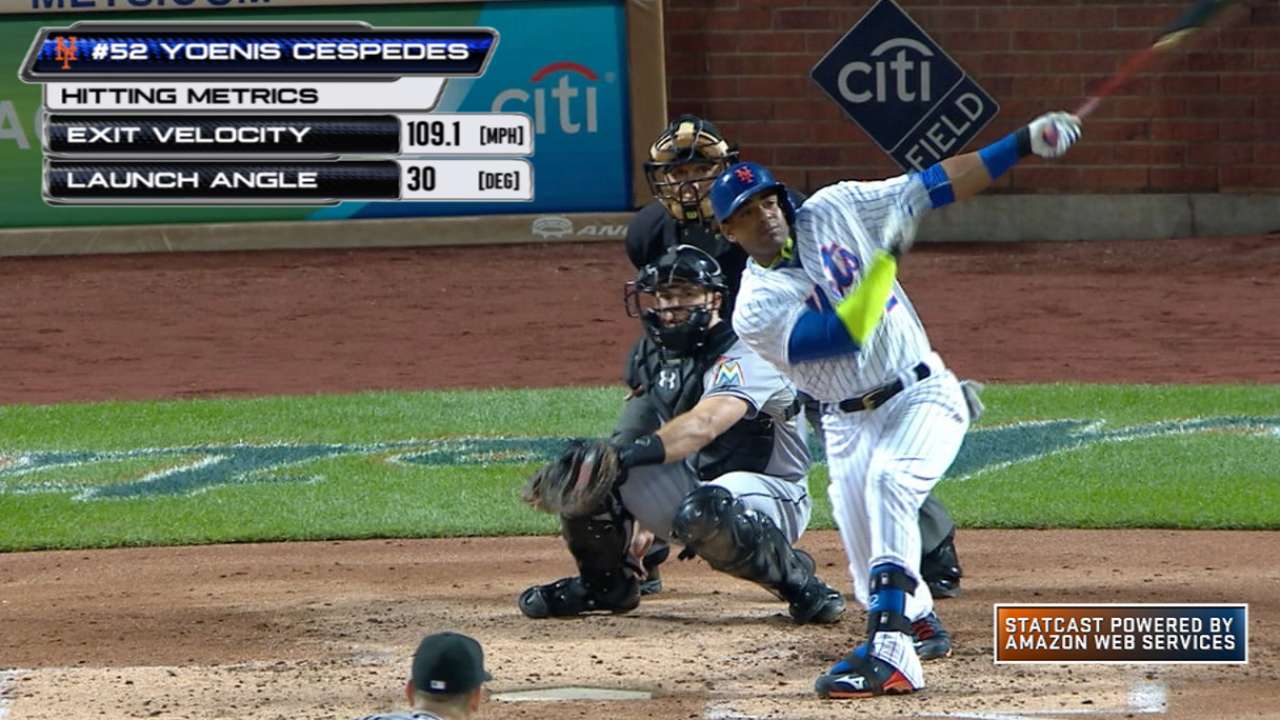 NEW YORK -- The mantra first was heard in the first inning, two innings before Yoenis Cespedes provided his daily RBI with what seemed like his daily home run in a 4-3 victory over the Marlins. Beginning in the stands beyond in left field, folks barked, "MVP, MVP, MVP," with the cadence, though without the passion of "Let's go Mets." And then, in the third after Cespedes had one-handed one to where the barkers were seated in the second deck, more passion was audible. The Citi rocked.
Passion is a good thing in a ballpark, and goodness knows those who flocked to Citi Field on Monday night in hopes of seeing their team move closer to coronation came armed with almost as much emotion as anticipation.
Certainly Cespedes deserves all the applause and cheering directed at him. His performance has been magnificent. What he does not deserve is the National League Most Valuable Player Award.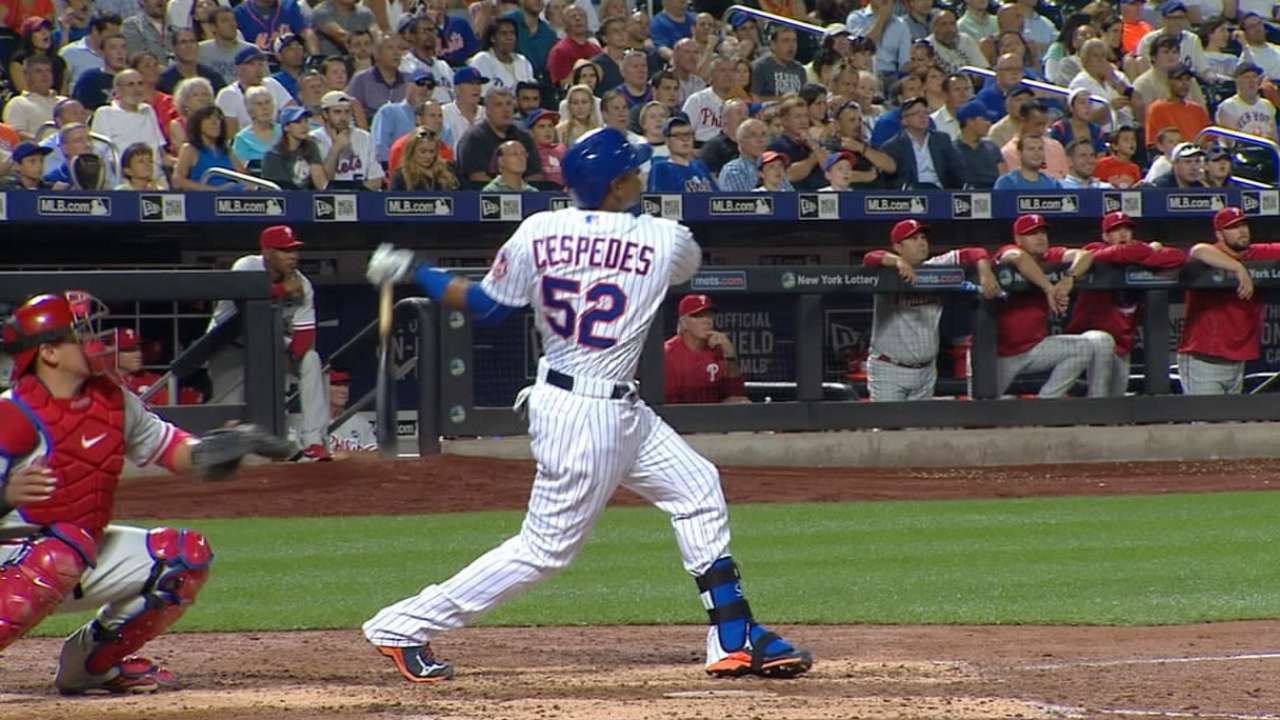 Cespedes fits the MVP criteria in several ways. He is sorely lacking in one critical area, though -- games. If Cespedes plays in each of the 18 games remaining on the Mets' schedule, he will finish the regular season with 59 games as a Met. He will have played in 36.4 percent of New York's contests. And that won't satisfy the criteria, as noted in the letters sent with the ballots to the 30 members of the Baseball Writers' Association of America who will vote.
That letter includes the following paragraph: "The rules of the voting remain the same as they were written on the first ballot in 1931: (1) actual value of a player to his team, that is, strength of offense and defense; (2) number of games played; (3) general character, disposition, loyalty and effort; (4) former winners are eligible; and (5) members of the committee may vote for more than one member of a team."
No minimum of games is called for, yet the second point makes it quite clear -- "number of games played" is important. And that number isn't 59 any more than it's 10.
Cespedes unquestionably has made the greatest difference in the Mets' Silky Sullivan season. Without him, the Big Citi would have few games of chants and little chance being used beyond Oct. 4. But to recognize Cespedes as the team's MVP would minimize the contributions of his colleagues.
If criteria for a Mets MVP award were in place, and it included number of games played, Cespedes wouldn't qualify even for that. Half the job, they say, is showing up. Cespedes wasn't in position to show up until Aug. 1, by which point New York had played 103 games.
This is a case of tough bazookies for a player who fits the other criteria as well as he fits into the Mets' batting order. Other considerations exist though. What of Curtis Granderson, who has appeared in all but two of the Mets' 144 games and who, from April to August, provided relatively consistent production? Remember when most of the Mets of 2015 B.C. (Before Cespedes) couldn't reach the warning track? Granderson did.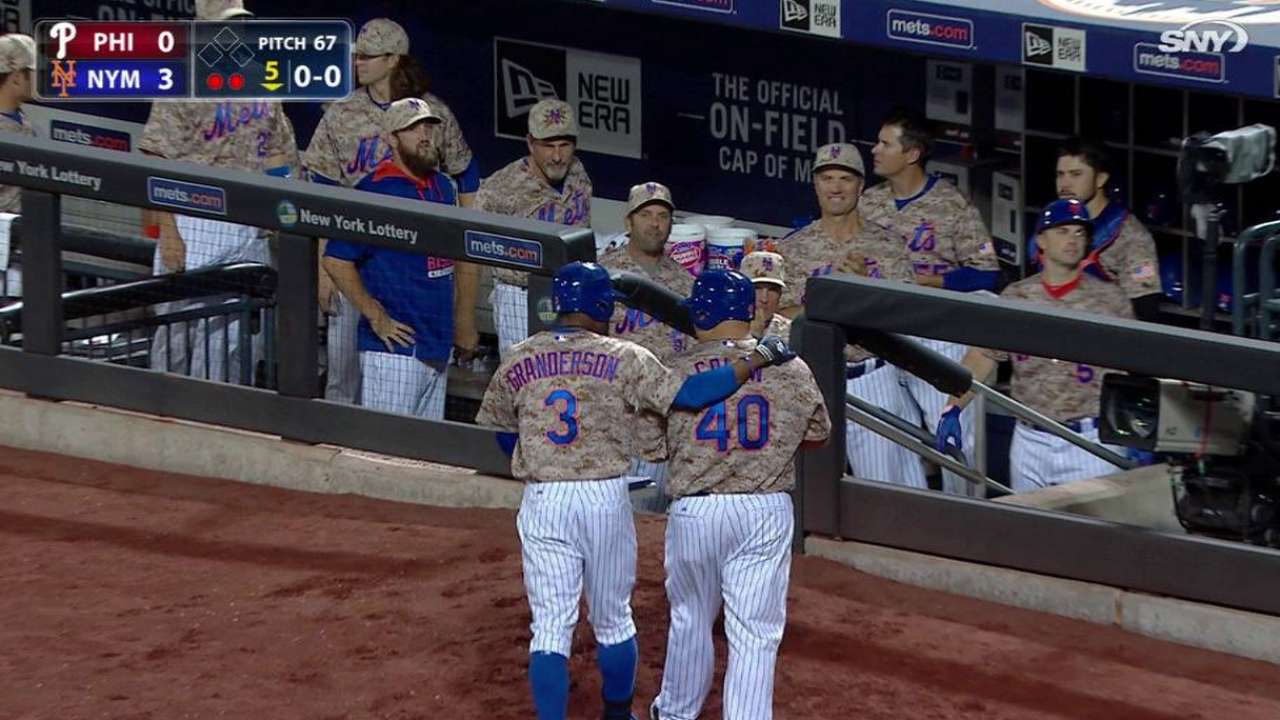 What of Daniel Murphy, who has appeared in nearly twice as many games as Cespedes and is one of four players with more Mets RBIs (Wilmer Flores, Lucas Duda and Granderson are the others)? And what of Jeurys Familia, who has saved 41 games? He too has appeared in more games (69) than Cespedes.
To recognize Cespedes as the NL MVP would be to minimize, if not ignore, what others have done on other teams. No legitimate MVP comparison exists involving Bryce Harper and any other National League player. Moreover, the sense that some folks have that the MVP must come from a division champion or Wild Card team isn't written or even suggested anywhere.
The Nationals were contending into September, to a large degree on Harper's performance, which includes 106 runs, 86 RBIs, 37 home runs, a .652 slugging percentage, .464 on-base percentage and 136 games. He's done enough already to warrant the recognition.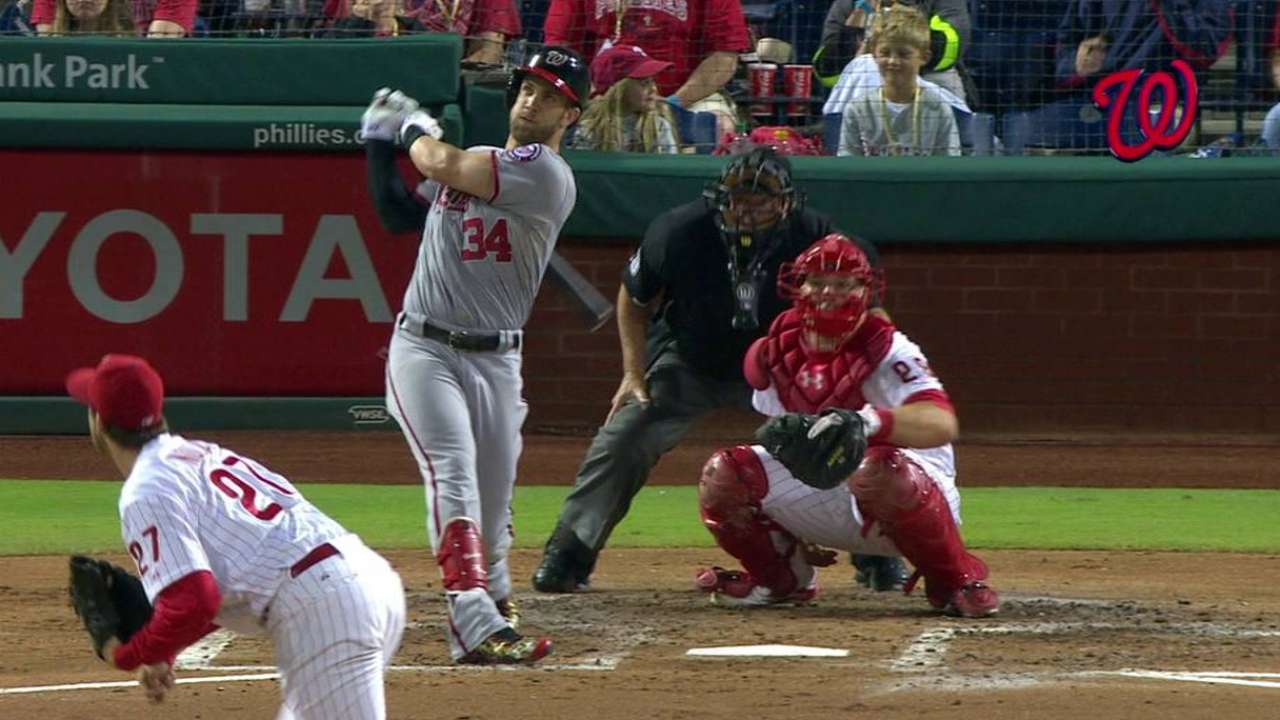 * * * *
In the years when I voted, I examined a player's contributions to see whether his best work coincided with his team's best performance. If it did, if his best work came in a stretch of games when the team made its move, that was a strong point in his favor. In that regard, Cespedes clearly deserves some consideration.
But he made no contribution to the Mets' 11-game winning streak in April, to their four straight victories that directly preceded the All-Star break or to their five victories in six games in mid-June. Those successes weren't nearly so compelling as the six games the Mets have won against the Nationals this summer. But they count as much, and those games against the Nats were important because of all the victories that preceded Cespedes' arrival.
The Mets have won 30 of 41 games since Cespedes joined them. And what if they finish the regular season with a better record than the Dodgers, the likely NL West winner? It would be one more factor to favor the hero. But he won't have the games to warrant a vote.
The Mets never have had an MVP. (Should have had winners in 1984, and maybe '88). But this is not the year to fill that void. Cespedes can't win, shouldn't win. But he is a most compelling candidate. He must be eliminated from consideration, must be dismissed. But he can't be ignored.
Marty Noble is a columnist for MLB.com. This story was not subject to the approval of Major League Baseball or its clubs.