MLB.com Columnist
Richard Justice
Wild opener just beginning of Texas tussle
Rangers cut Astros' division lead to a half-game with comeback win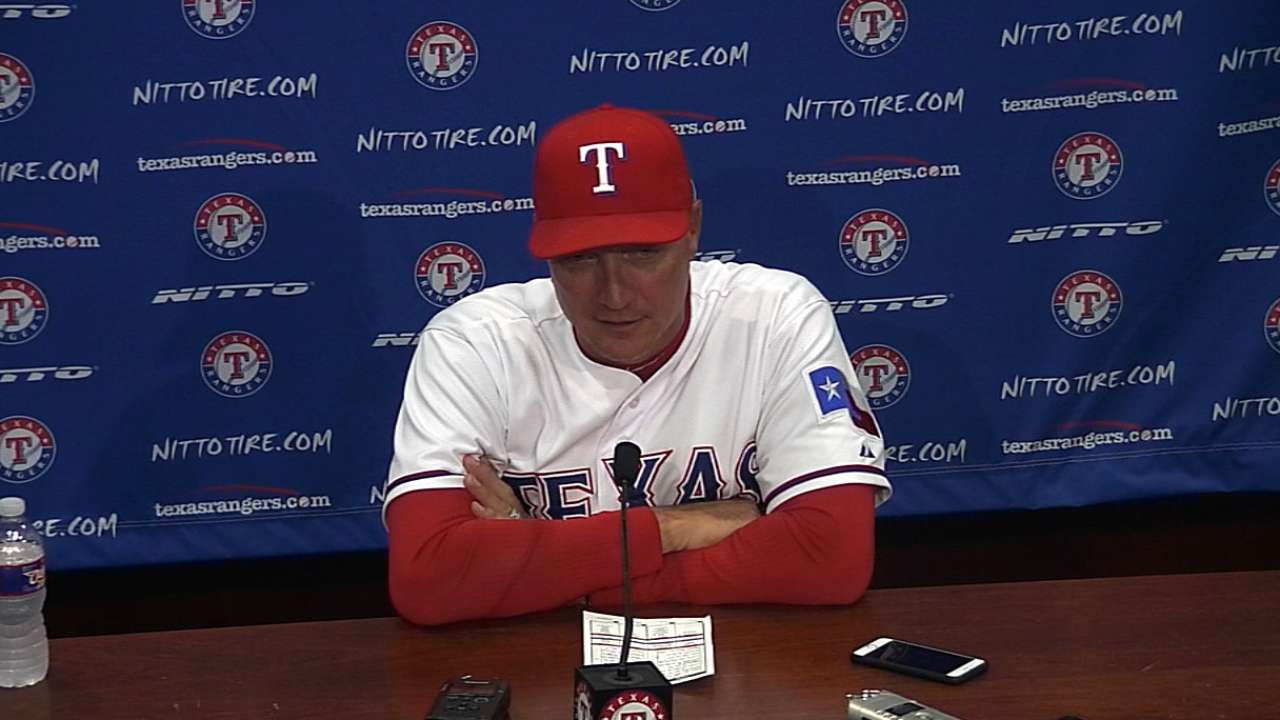 ARLINGTON -- This is as good as it gets. It wasn't just great baseball. It was equally great theater.
"This is what you train for," Rangers left-hander Cole Hamels said after defeating the Astros, 5-3, on Monday night at Globe Life Park to close to within a half-game of first place in the American League West. "This is what you prepare for. It's everything."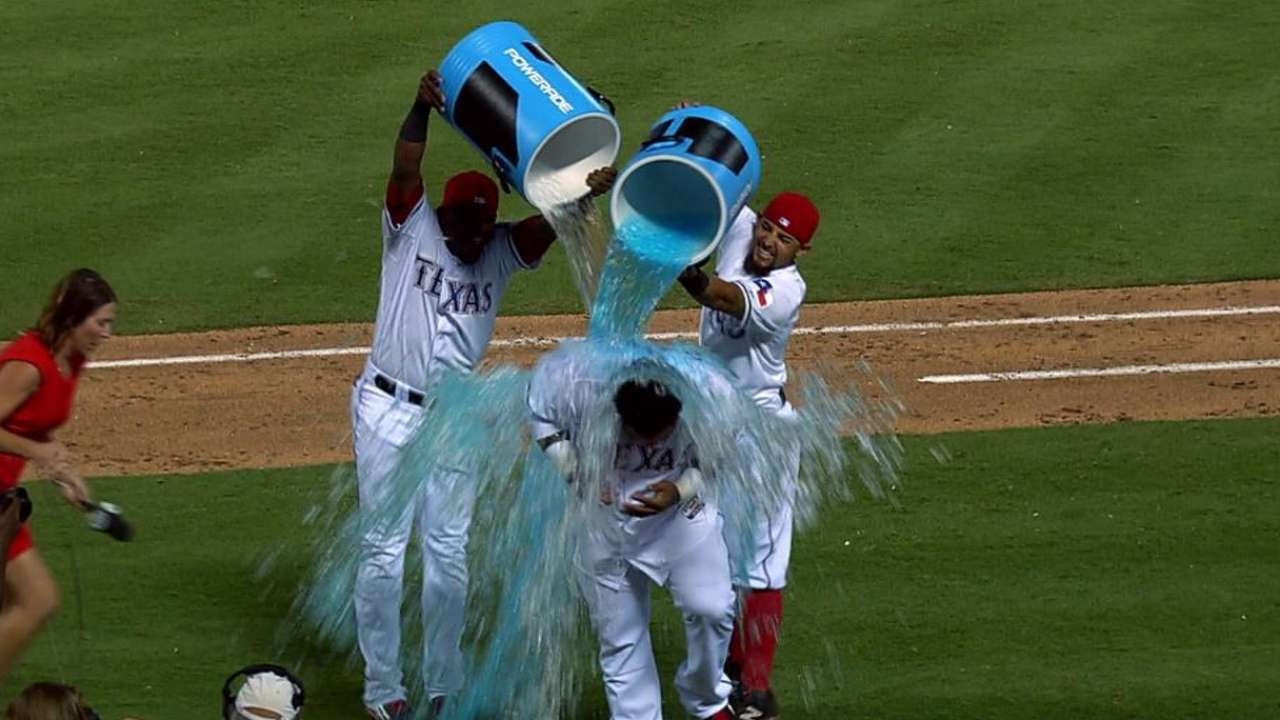 The Astros (77-67) have spent 138 days atop the West, but their margin is down to almost nothing.
The Rangers (76-67), once 9 1/2 games out, are close enough to see and feel and taste the postseason. With the Yankees (79-64), Twins (75-68), Angels (72-71) and others still fighting for the two AL Wild Card berths, nothing is guaranteed.
Maybe that's why these guys love it so, and why they thrive on the challenge. To have gone through something like this is to have a memory that may last forever.
"These opportunities are why I train everyday," Hamels said. "You don't get them back."
Houston and Texas will play six more times over the next 13 days, and if those games are even close to being as good as this first one, it'll be must-see baseball. This one had the look and feel of a postseason game, with players from both teams on the top step of the dugout, cheering, screaming, etc.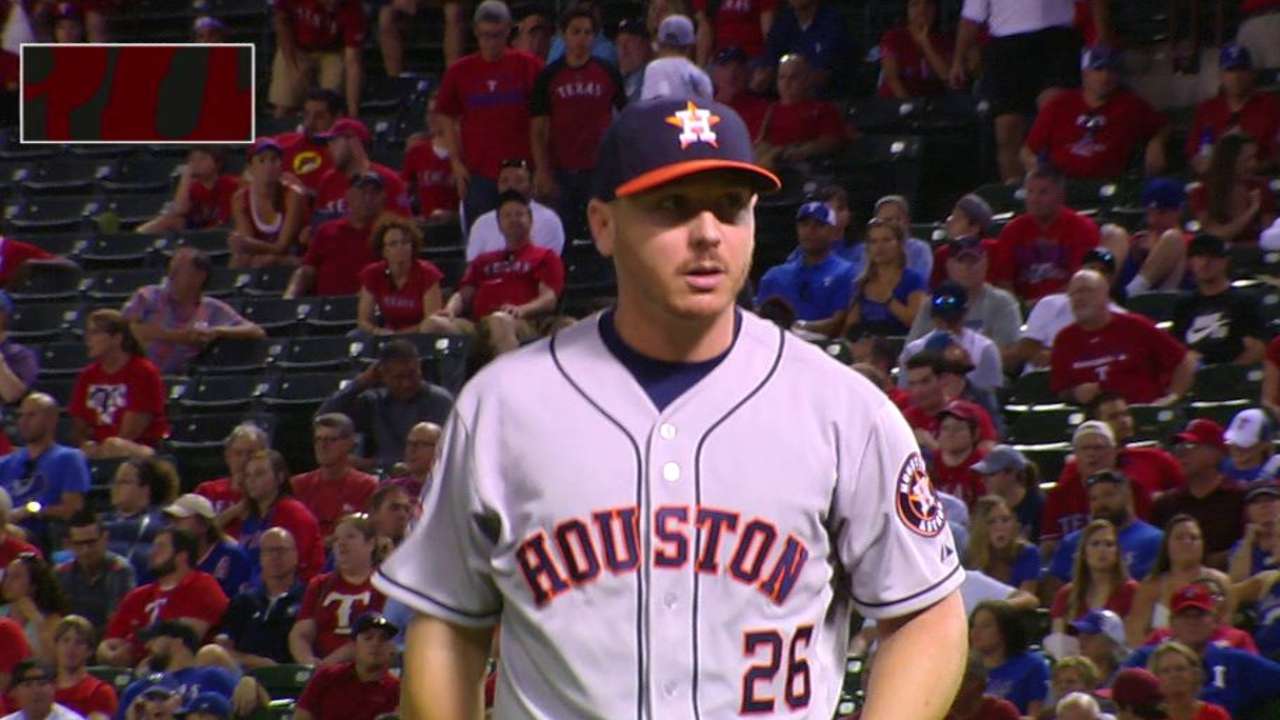 "Just the back and forth, two teams fighting it out for the top, trading blows," Rangers manager Jeff Banister said.
Down the hallway, the Astros were dealing with and feeding off of some of the same tension.
"We are going to have such a good time through this stretch," Astros manager A.J. Hinch said. "We ought to relish the opportunity to be in this position. We earned it. We played very well all year in order to put ourselves in this position."
This baseball season's long and winding road has come to this place. These two teams are an eyelash apart. This is about bragging rights in the state of Texas, but for the players and coaches, it's about so much more than that.
"It's a lot of fun to play these games," Rangers first baseman Mitch Moreland said.
This one had everything, including a good, healthy second-guess in the late innings. First things first. Both starting pitchers were solid. Hamels allowed three earned runs in seven innings. Astros starter Scott Kazmir also went seven innings and allowed two earned runs.
The Astros had leads of 1-0 and 2-1. Moreland's two-run home run gave Texas a 3-2 lead in the sixth. Houston came right back to tie it in the top of the seventh, but in the bottom of the eighth inning, Prince Fielder settled it by drilling a full-count fastball from Astros reliever Will Harris over the center-field wall.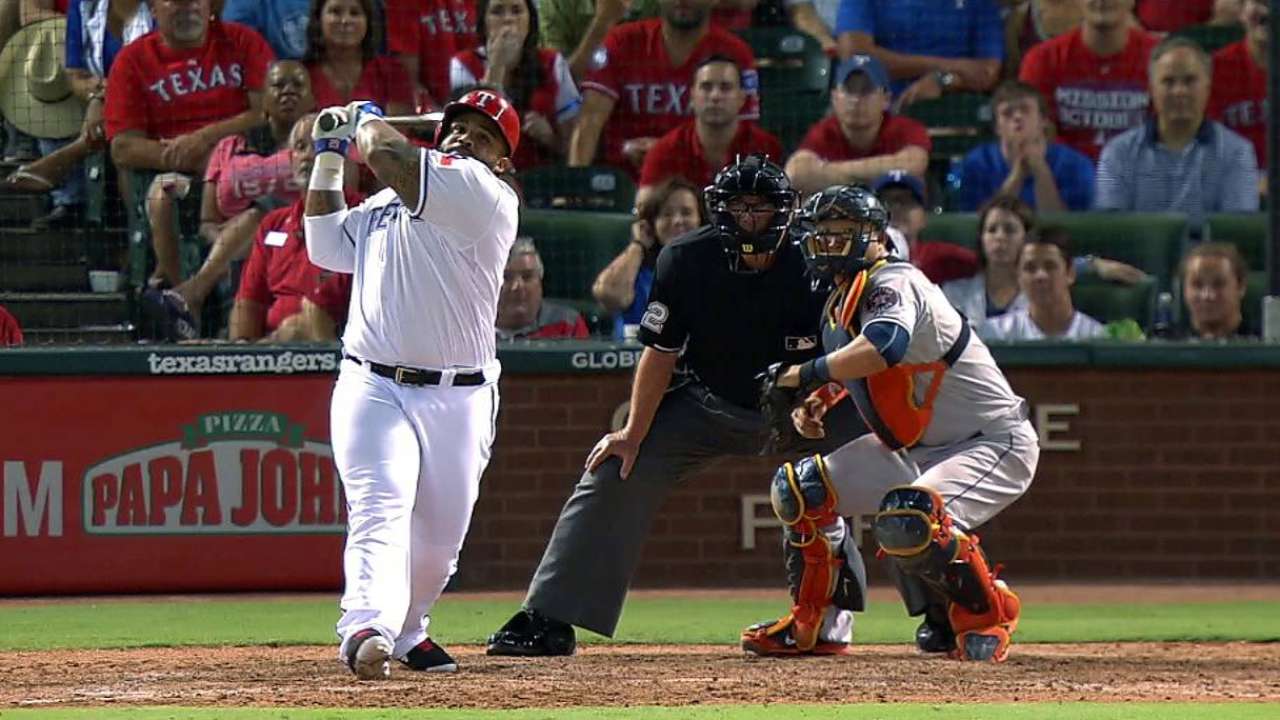 Adrian Beltre had led off the eighth inning with a single and scored on the Fielder homer. The Astros will remember the night as one of missed opportunities. They left 11 runners on base and went 1-for-9 with men in scoring position.
At a time when every at-bat is important, the Astros stranded runners on third base in the third, fifth, sixth and seventh innings. Houston might have been one hit from winning.
Hinch will be second-guessed for allowing Harris, a right-hander, to face Fielder, a left-handed hitter. Here's why the second guess is wrong: In a pennant race, a manager wants his best players deciding the games.
Even though Hinch had lefty Tony Sipp warming up in his bullpen, he stayed with Harris, who has been one of baseball's most reliable relievers -- 58 appearances, 1.70 ERA.
And Harris has been better against left-handed hitters than right. At the start of the day, lefties were hitting .135 against him, righties .188.
So Hinch was correct to have his best guy in the game.
"He did what good hitters do," Harris said bluntly. "He made me pay for my mistake and won the game."
That half-game lead for the Astros is the closest the Rangers have been since April 17. But it's also just the beginning of the meaty part of the race unfolding, an inning at a time.
"We've got a lot of games left," Hinch said. "Every day, we're going to talk about, someone's going to have the lead. WE have it. We've had it for a long time. We've got to play good baseball."
Richard Justice is a columnist for MLB.com. Read his blog, Justice4U. This story was not subject to the approval of Major League Baseball or its clubs.