Norris, Shields OK after injury scares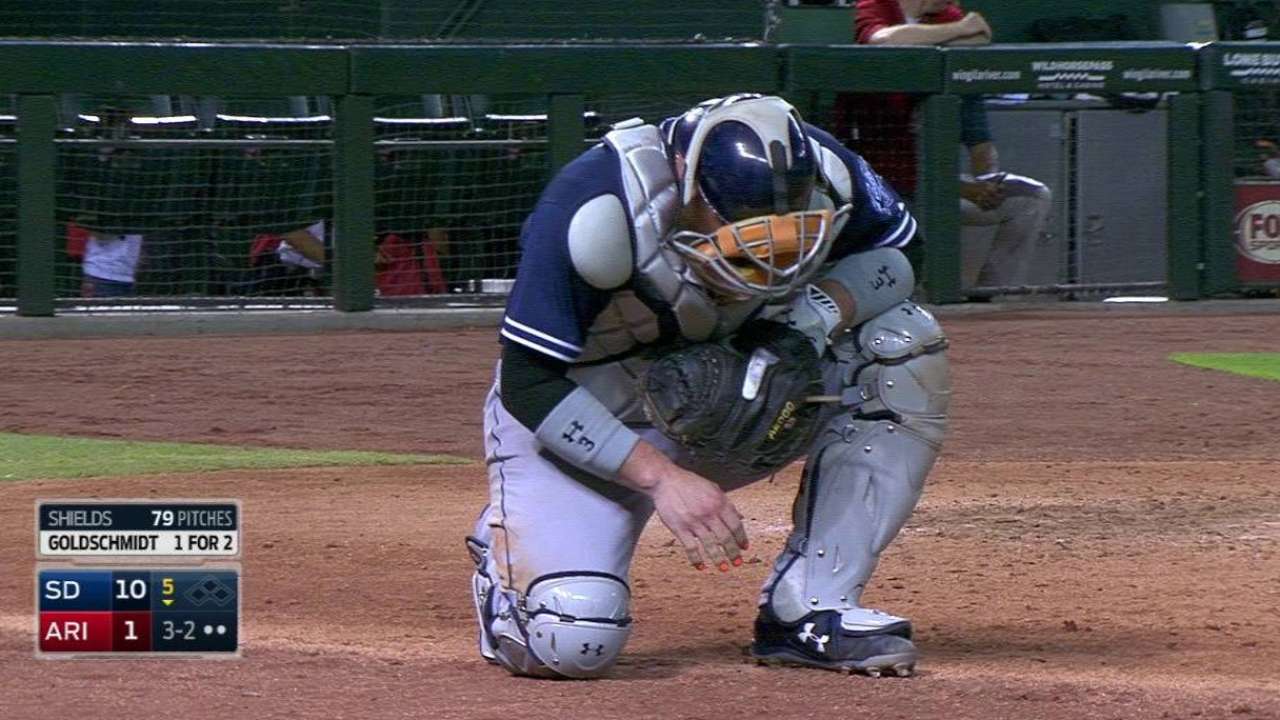 PHOENIX -- The Padres seemed to have ducked what could have been a couple of serious injuries on Monday in their 10-3 win over the D-backs at Chase Field.
Catcher Derek Norris had to leave in the fifth inning when a foul tip off the bat of Paul Goldschmidt deflected off the side of his mitt and caught him on the back of the right hand. X-rays were negative and the club is calling it a bone bruise.
Two innings later, pitcher James Shields took a grounder hit by Brandon Drury off his right forearm. He made the play and then remained in the game to get the final out of the inning.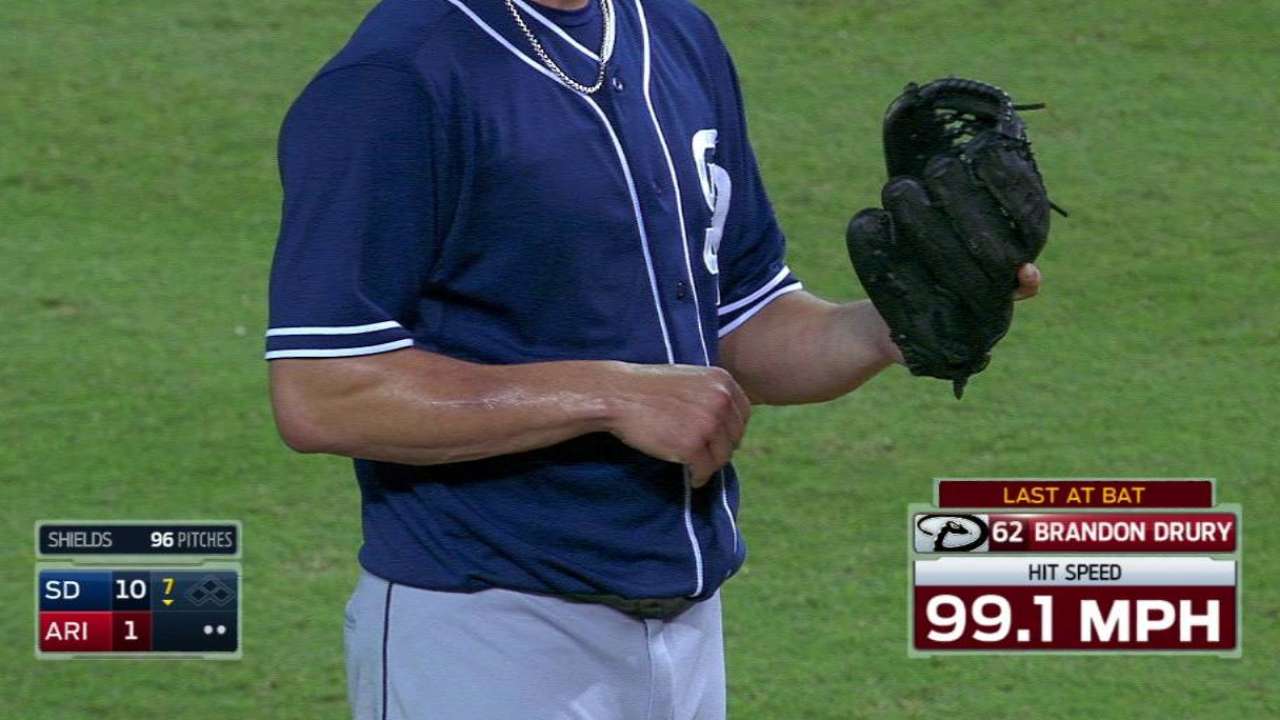 Shields said he's no worse for the wear.
"I mean, [when you get hit] it stings pretty good right away," said Shields, who allowed only four hits and a run in seven frames, walking two and striking out six as he registered his 12th win. "My first instinct is to go get the out. I've been hit quite a bit in my career. As long as they don't hit me in my head I'm going to be all right."
Norris' hand might be a little more serious. He left the clubhouse wearing a bandage around it and said he was planning to see a hand specialist on Tuesday "just to rule everything out."
"They're still looking at it," Norris said. "There are some areas of concern they're going to look at with the hand specialist that's here. So we'll wait to hear from them, but as of now it's looking like it's good news."
Asked to be more specific about the "areas of concern," Norris added: "Exactly where I got hit is not necessarily where I'm feeling the most pain. So they're going to go back and take a good glance at it, at some of the bones in lower part of the hand. Sometimes when you get hit your hand will extend downward. So they just want to take another look."
Shields and Norris have been two of the stalwarts of the team this season. Norris has played in 132 games and Shields has made 31 starts. Padres manager Pat Murphy said Austin Hedges will catch on Tuesday night, but that was the plan all along. Hedges usually is paired with Tyson Ross, who's slated to start.
Shields would have come out of the game anyway after seven because he had thrown 101 pitches. With the six strikeouts, Shields reached the 200 plateau for the third time in his career. His 73 walks are third in the Majors and his 29 homers ties him for second. Ross leads the Majors with 76 walks.
More importantly to Shields, at 189 1/3 innings he is nearing the 200 mark for the ninth season in a row.
"The strikeouts mean something to me, but not really, I'm more of an innings guy," Shields said. "I like the 200 innings every year. I feel like if you go deep into games and throw a lot of innings, your strikeouts are going to be there."
Barry M. Bloom is a national reporter for MLB.com and writes an MLBlog, Boomskie on Baseball. Follow @boomskie on Twitter. This story was not subject to the approval of Major League Baseball or its clubs.